It didn't look promising and it came down to the wire, but the Toronto Raptors won their 10th straight and a franchise-best eighth consecutive road game Thursday, beating the Indiana Pacers 106-99.
Here are takeaways from the latest Raptors win:
When there's a will…
There have been prettier games, more impressive performances, and far easier outings for the Raptors but Thursday's win over the Pacers was as encouraging a win as any during their 10-game win streak.
Facing a Pacers team that has been climbing the standings all the way to the East's third seed — thanks in part to a 6-1 record in March — the Raptors managed to pull out a victory in a game that, for most of the night, it seemed they had no business winning.
I guess that's just what really good teams do. Like rising to the occasion against the Houston Rockets, or maneuvering past a classic trap game scenario against both the Knicks and Nets with wins to show for it.
Make no mistake, this is uncharted territory for both the Raptors franchise and its fan base: The Raptors are a first-place team that plays like one.
It's no reason to get too comfortable — particularly with the post-season around the corner and more stressful nights like this ahead — and many long-time fans who have been watching this team reach new heights may forever be at best cautiously optimistic anyways.
It also doesn't mean that they'll always win close games like this where they've been struggling in many facets of the game. But perhaps by now we should… expect it?
The Raptors turned the ball over 20 times. They lost an early first quarter lead and didn't get it back until midway through the fourth, the Pacers extending a lead to double digits twice in that span.
But they stayed poised, got to the free-throw line to break up the Pacers' pace of play and converted 24 of their 28 attempts. They made shots down the stretch, including a pair of C.J. Miles three-pointers, and when the game was up for grabs in the waning minutes, Kyle Lowry and DeMar DeRozan were there to do their job.
DeRozan led all scorers with 24 points, including a timely and-one layup and a breakaway dunk to ice the game before the buzzer sounded. He also dished seven assists — six of them by halftime.
Miles had 10 against his former team and Delon Wright was effective on both ends of the court in the fourth quarter. Pascal Siakam came off the bench and provided — are you sitting down — a boost of energy down the stretch and finished with 12 points, 8 rebounds, and two assists on 5-of-7 shooting in 20 minutes of action.
If there is a podcasting odd couple, this might be it. Donnovan Bennett and JD Bunkis don't agree on much, but you'll agree this is the best Toronto Raptors podcast going.
Pacers tough to beat
Thursday's game had a playoff atmosphere from the opening tip and it wasn't hard to imagine how the Pacers have been winning so many games of late.
While every team holding a playoff spot in the East has its challenges, Indiana is near the top of the list.
The hosts played tenacious and measured defense on Thursday, doing a good job of playing physical and not biting on Toronto's fakes, which stalled the ball for the visiting Raptors more than a time or two.
The Pacers continue to be one of the NBA's biggest surprises, but games like this remind you why maybe we should have taken Indiana a little more seriously heading into the season.
Victor Oladipo has unexpectedly emerged as an all-star (he forced his way to 18 points on 19 shots), but looking at their roster it's as if the team figured, "Hey, what if we just had a bunch of solid players who played hard?"
Indiana is like the Raptors in that sense; it almost never has to put players on the floor that suck.
It's more than many teams can say.
The Pacers' rotation is deep with veterans, and both leading scorers tonight — Darren Collison and Al Jefferson — came off the bench. Collison was killer down the stretch for the Pacers and finished with 22 points on 8-of-11 shooting, including 3-of-4 from deep.
Oladipo didn't have his best performance on Thursday, and not having that go-to star to turn to at the end of games like the Raptors do made a real difference closing out the contest.
Livestream the Raptors and other marquee NBA Playoffs matchups, including Games 2, 3 and 6 of the Raptors-Cavaliers series. Plus, get coverage of the NBA Finals, NBA Draft & NBA Awards.
Battle of the bigs
It was a throwback night in Indy in an unexpected battle between Jonas Valanciunas and Jefferson.
Valanciunas missed some easy put-backs, going an uncharacteristic 5-of-14 from the floor, but he was active and noticeable whenever he was on the floor, finishing with a loud 16 points and 17 rebounds. The Lithuanian big man has been locked in all season and is playing the best basketball of his career. He's still a player whose matchup will in part determine his effectiveness, but Valanciunas is shaping up to be a crucial difference-maker come the playoffs.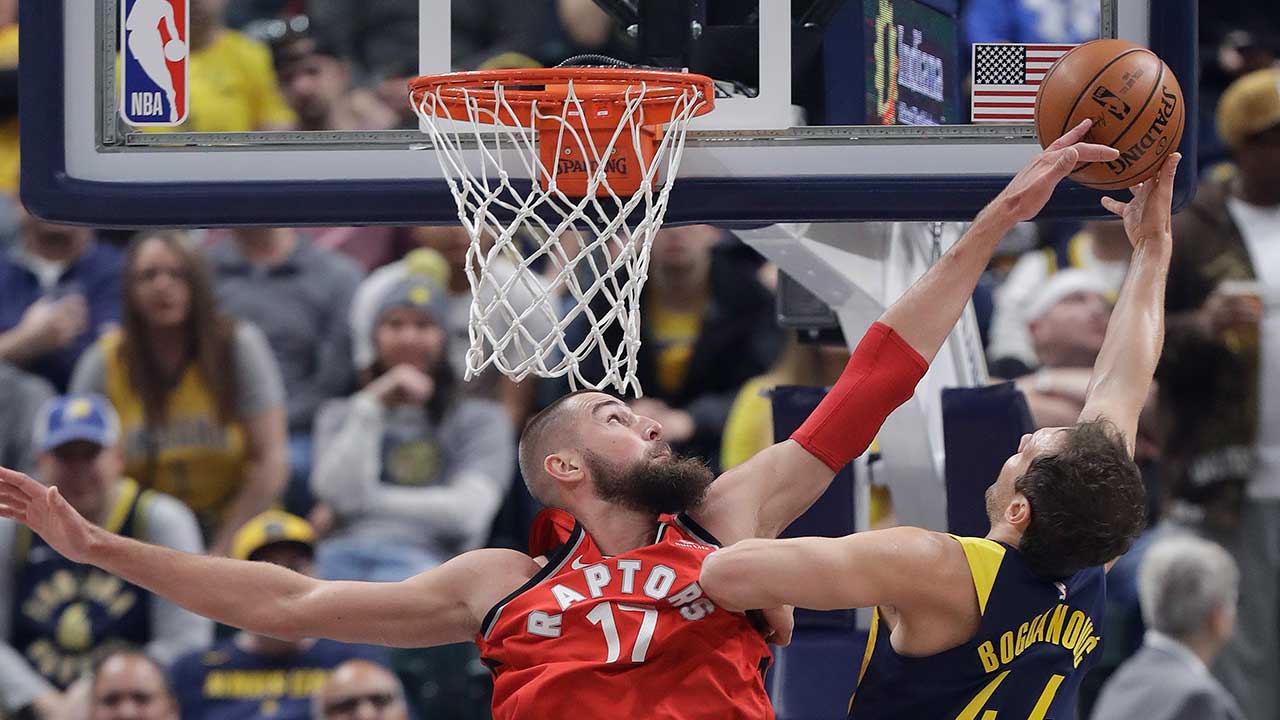 As for Jefferson, he got extended burn with forward Domantas Sabonis out of the lineup and proceeded to turn on the time machine, taking us all back to 2014. Jefferson used his deep pool of old-man moves down low and showed off his sturdy mid-range game en route to 20 points and 12 rebounds — both season-highs.
Serge Ibaka had a quiet double-double with 13 points and 11 boards and was a team-best plus-15, while his counterpart, Thaddeus Young, was a handful with 13 points of his own, along with six boards and a game-high four steals.
Toronto and Indiana will meet once more this season, on April 6th.
Next up for the Raptors are the Dallas Mavericks, who visit the Air Canada Centre on Friday.