OAKLAND — Kawhi Leonard was determined. He was taking the shot. Beginning the second half against the league's best third quarter team, he wanted to make a statement. He wanted to throw the first punch. So, when Fred VanVleet dropped him a little bounce pass on the run at the right elbow, he didn't hesitate.
The rims have been kind to Kawhi, haven't they? This time it was a rattle, a touch of the glass, another rattle, and in. It was right before the second rattle that Leonard started pumping his fist. It was not a long celebration. Only eight seconds later, he jumped on a botched entry pass to Draymond Green and turned up court. Same determination, same spot, same mentality.
Bang.
During a game that played out like some sort of Toronto Raptors fan fiction — in which the boys in red went into the home of the two-time defending champions and snatched a second consecutive road victory, 105-92, continuing a hostile takeover of the NBA Finals that they now lead three games to one — the third quarter was where the game turned. And what was the key to that turnaround, Danny Green?
"Kawhi," Green said, shrugging his shoulders. "He's very good, man. He's a special guy."
In hitting those two early shots, Leonard didn't only give his team its first lead, he didn't only match the number of threes the Raptors hit collectively in the first half, he didn't only produce the latest intoxicating moment in a nearly two-month string of them — he issued a statement of intent. He threw a damn haymaker. He swung for the seats. He said the Raptors were seizing the quarter.
"Kawhi Leonard came out and hit two big eff-you shots," said VanVleet. "There's no defence for that. There are no schemes for that. That's two big-boy shots that he came out of the half with — two back-to-back threes. And that just kind of let you know how we were going to approach the third quarter."
—
Klay Thompson was not going away. At the end of one of those classic Warriors possessions, when the ball's flying, players off of it are constantly relocating, screens and pin-downs are being thrown left and right, and the court must feel like it's spinning as a defender, Thompson pulled up from the right elbow and just drilled it.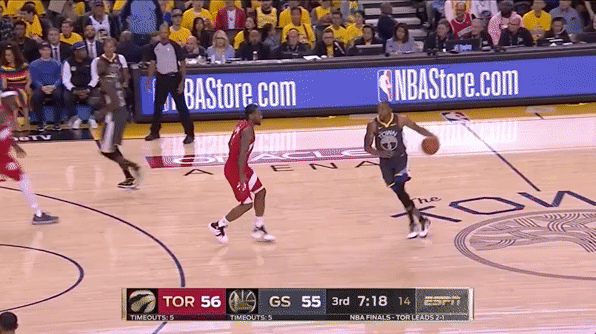 If anyone was going to halt the Raptors in the quarter, it was him. After his playoffs ironman streak ended at 120 games on Wednesday, Thompson took the floor on his gimpy left hamstring two nights later and provided Steph Curry with the running mate he was so sorely lacking in Game 3.
Curry scored only eight in the first half, missing five threes, as the Raptors continued defending him aggressively, doing everything possible to stop him from heating up. And while neither team shot particularly well from distance in the first half, Thompson hit a pair of threes and found success in the midrange, going into halftime with a team-high 14 points.
And in the third, it was Thompson who kept Golden State humming. He was providing emphatic responses to the volley Toronto threw, hitting three shots in the quarter that gave his team a lead and forced the Raptors to dig deeper.
"He makes our entire team better," Curry said. "He showed that tonight, with injury, to come back playing aggressive, hitting big shots and giving us a chance to even be in the game. He's a gamer. You love to go to war with guys like that. We've been doing it for a long time."
—
Kyle Lowry was peeling himself off the floor. He'd just met Curry in the air, as the Warriors star tried to get to the rim in transition, and ended up flat on his back. Curry was laid out, too. And Andre Inguodala added his 215 pound frame to the wreck, as Marc Gasol sent him flying while they battled for the rebound off Curry's miss.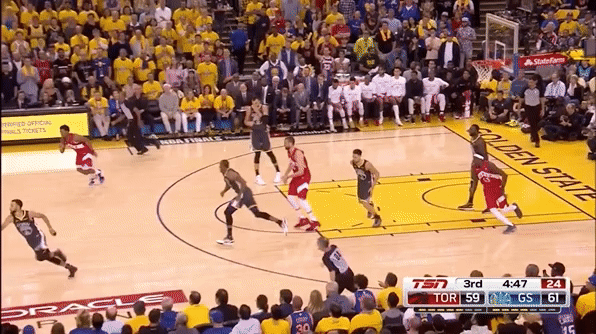 Seeing that many bodies on the floor was not uncommon. The third quarter was easily the most intense and physical of the series to this point, as the Raptors and Warriors traded body shots beneath each other's baskets.
Draymond Green was whipping elbows and forearms, at one point simply chopping Leonard in the midsection when he beat him off the dribble. Gasol and DeMarcus Cousins were entangled with one another hunting for every rebound. In the fourth quarter, VanVleet took a Shaun Livingston elbow under the eye and went off for seven stitches.
The Warriors were challenging the Raptors physically. And Toronto was standing up to it. Danny Green and Pascal Siakam were each playing their 102nd games of the season. Serge Ibaka, his 96th. For Lowry, No. 87. VanVleet only one behind with 86. Leonard and Norman Powell not far off at 82. It's the ninth consecutive month of professional basketball at the highest level for all of them. And they were all involved, clashing with a desperate Warriors team determined to push the Raptors around.
"It's what it takes to win. Everybody's sacrificing their bodies to get the win," Powell said. "We know that's what it's going to take. Doing those little things. Getting a little dirty. Getting bumps and bruises. It's blood, sweat, and tears to get these wins — to come in here and play physical and give yourself up for the team, for the greater good of the goal. That's what everybody's doing."
—
Ibaka was everywhere. He was in his team's paint, turning away an Alfonzo McKinnie attempt for his eighth block in two games. And he was charging up the floor, taking a feed from Lowry at the other end, spotting up, and knocking down a three to break a tie with four minutes remaining in the third.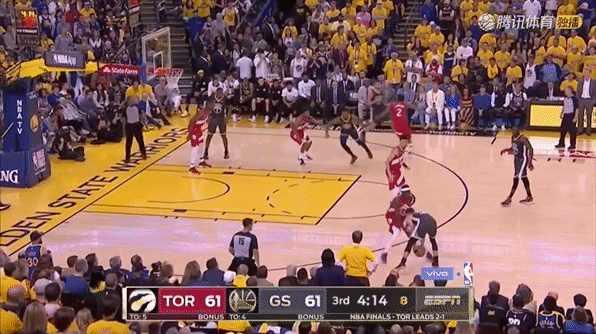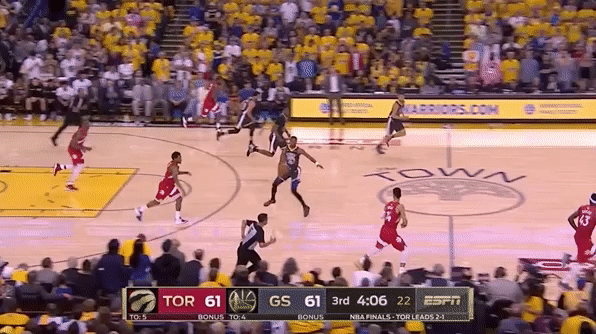 Ibaka was having one of those nights. One of those performances that makes it seem almost unfair that the Raptors can pull this long, active rim protector with a three-point shot and multiple ways to attack from the pick-and-roll off the end of their bench to pitch in relief of an NBA centre as steady as Gasol.
"You know, once he gets into the series, which he did in Game 3, with the blocked shots and the rebounding and stuff, he seems to stay in the series," said Raptors head coach Nick Nurse. "Once he starts blocking a couple shots and the offence comes and the rebounding comes and a put-back here and there — and even his jump shot seems to come once he gets into the game defensively with a blocked shot or two."
Ibaka's jumper was crucial, as six of his nine field goals came from seven or more feet out. He finished a couple at the rim, as well, and hit that big three. It all came together for a 20-point night, as the Raptors improved to 8-0 for the playoffs in games in which Ibaka scores double digits.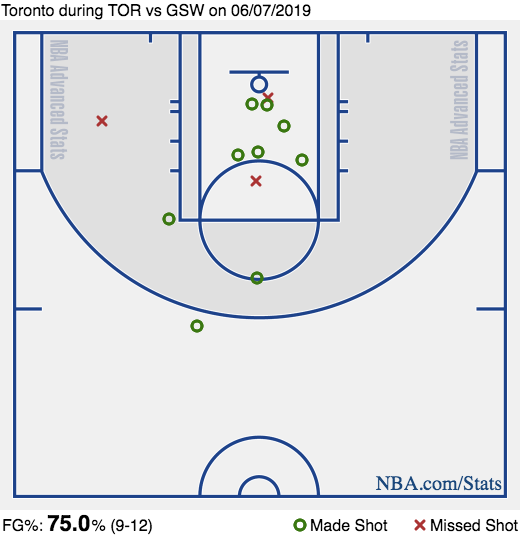 Of course, Ibaka's playoffs have also been marked by inconsistency. There have been occasions when he was borderline unplayable. But he was exactly the version of himself the Raptors needed Friday — energetic, engaged, effective, everywhere.
He was so impactful that Nurse didn't dare take him off the floor. After he left the bench with four minutes 30 seconds remaining in the third quarter, Ibaka played nearly 12 consecutive minutes as Gasol kept his cushion warm on a night that the Raptors' starting centre was far from his best. The Raptors' third quarter takeover doesn't happen without him. And it began at Toronto's rim.
"When Serge is at his best, it's on that defensive end," Lowry said. "And when he brings that intensity and that fierceness, it's kind of tough to stop him on both ends of the floor. It makes a big difference when he can do that."
—
The Raptors were relentless. Up four with 2 1/2 minutes remaining in the third quarter, they played a near flawless defensive possession, denying the Warriors every look they tried to create, rotating seamlessly to shooters after help was needed, and taking away both space and time until that time ran out. Golden State settled for this contested, non-paint two taken by a guy playing with a broken collarbone. The result was a shot clock violation.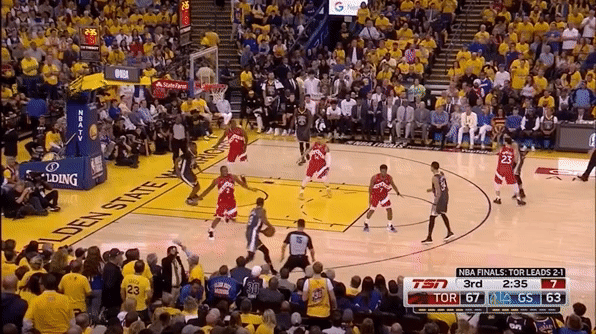 At their best, like they were in Friday's third quarter, the Raptors are a truly special defensive team. In Leonard and Gasol, they already have two defensive players of the year. In Siakam, they have an emerging future candidate. In Danny Green, an NBA all-defensive second team selection.
In Lowry and VanVleet they have a couple heady, hyper-active guards who aren't blessed with the game's most impressive physical tools but overcome that with intelligence and determination. In Ibaka, they have a terrific rim protector. In Powell, a springy, energetic wing. In OG Anunoby, size, athleticism and versatility they haven't even needed in this series. In Patrick McCaw, a lightning quick, versatile athlete waiting to be deployed from the end of the bench.
So, sure, Leonard had 17 of his 36 points in that third quarter, shooting 5-of-8 and playing all 12 minutes on one of those overwhelming tears he goes on. Yes, Ibaka's seven points off the bench were a massive factor in sustaining Toronto's run. And no doubt, the five assists VanVleet dished out in 10 third-quarter minutes were unheralded and necessary.
Stream all Sportsnet games of the NBA Finals as the Toronto Raptors take on the Golden State Warriors for the Larry O'Brien Trophy. Plus, get the Stanley Cup Final, MLB, IndyCar and more.
But where the Raptors can be most pleased with that quarter is on the defensive end. Limiting Golden State to 21 points on 7-of-20 shooting. Holding the Warriors to fewer than 104 points in a game for the first time in these playoffs. Keeping a team that averaged 114.9 points per 100 possessions in the regular season to 107.2 over the first four games of this series, and 103.6 over two games at Oracle Arena.
It's been the hallmark of this Toronto Raptors team. It's what got them through five games against the Orlando Magic, seven games against the Philadelphia 76ers, six games against the Milwaukee Bucks. It's what got them two wins in California, in the home of the NBA's modern dynasty. And it's what might just win them a championship.
"The key to tonight's win was pretty much playing defence," Leonard said. "We were confident. We're on the road, down four, we wanted to come in and have a good third quarter coming out the first five minutes, stay aggressive on both ends of the floor, keep our energy up.
"And that's all we did."