The Toronto Raptors are close to completing a blockbuster trade with the San Antonio Spurs that would see Kawhi Leonard head north in exchange for a package including DeMar DeRozan, ESPN is reporting.
Adrian Wojnarowski reports that an agreement has been reached between both sides.
Earlier this morning Wojnarowski and Chris Haynes reported that a deal could be completed as early as Wednesday, after the teams spent the last two weeks discussing the trade and different packages.
In addition DeRozan, it has been reported that the Spurs are also seeking a promising young player like Pascal Siakam or OG Anunoby, along with draft picks.
The Spurs had been underwhelmed by offers from other teams. Given Leonard's impending free agency, other teams in trade talks like Philadelphia, Boston, and Portland all reportedly unwilling to include an all-star calibre player in trade offers, which led Raptors to take pole position in negotiations with San Antonio.
The report also states that neither Leonard nor DeRozan are "expressing enthusiasm" about the trade.
Wojnarowksi reports that DeRozan and longtime teammate Kyle Lowry spoke earlier this morning.
According to Haynes, sources close to DeRozan have said that the Raptors brass met with their all-star guard in Las Vegas during Summer League and was told he would not be dealt.
Early morning Wednesday, DeRozan posted some vague messaging to his Instagram account that would suggest a trade could be imminent.
The notes began with: "Told one thing & the outcome another. Ain't no loyalty in this game. Sell you out quick for a little bit of nothing…"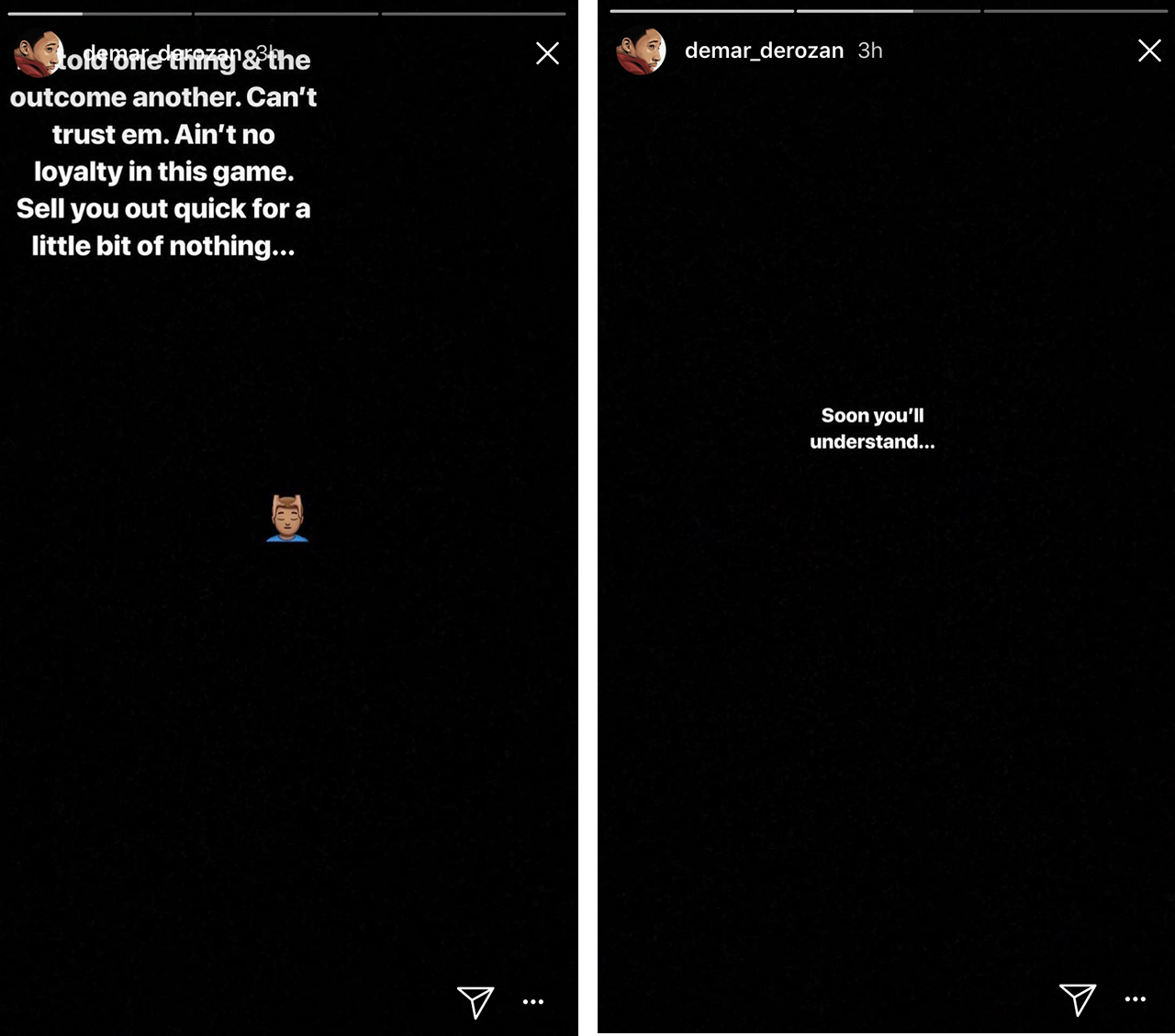 DeRozan is coming off his third straight all-star campaign for the Raptors, averaging 23 points and a career-best 5.2 assists per game. He was named to the All-NBA second team for the first time in his career after helping lead Toronto to its best regular season culminating in a franchise-record 59 wins and the number one seed in the East.
Leonard appeared in just nine games last season due to a nagging right quad injury. Disputes over the diagnosis, recovery timeline, and subsequent treatment of the injury between Spurs team doctors and Leonard's private doctors helped a spike through the all-star's relationship with the team.
Leonard's contract expires following next season, making him one of the biggest targets in the 2019 free-agent class. It is widely believed that he prefers to sign with the Los Angeles Lakers next summer and if a deal with the Raptors goes through, selling Leonard on a long-term future in Toronto will be one of Masai Ujiri and the Raptors' top priorities.
The 27 year-old forward was named Finals MVP in 2014 after winning the championship with San Antonio. He is a two-time Defensive Player of the Year award winner (2015, 2016), and was the NBA's MVP runner-up in 2016.
More details to come …