Any time you get a potential Eastern Conference Finals matchup between two teams that have faced off in the post-season for two years straight, there's bound to be plenty of chatter.
And while those north of the border are, rightfully, riding high on the Toronto Raptors, Wednesday night's tilt against LeBron James and the Cleveland Cavaliers hasn't gotten mixed reactions in the United States.
Here's a roundup of what they're saying about the Raptors ahead of the marquee matchup.
• On ESPN's First Take on Wednesday, hosts Max Kellerman and Stephen A. Smith debated what a potential Cavs-Raps playoff matchup would look like.
Kellerman notes that he thinks the Raptors could beat the Cavaliers in six games. And while Smith noted that he had "profound" respect for what Dwane Casey has done with Toronto this season, he was characteristically emphatic the Raptors wouldn't stand a chance, citing among other reasons that "LeBron's presence will overwhelm DeRozan."
• Fox Sports talking head Skip Bayless took to the airwaves following Cleveland's victory over the Milwaukee Bucks on Monday and offered his, um, take on why the Raptors don't stand a chance against the new-look Cavs.
The Eastern conference is over. It's a cakewalk … And just stop it with Toronto. Toronto, right on schedule, is turning back into Toronto. You know what's going to happen against [the Cavaliers]. They just shrink at the sight of LeBron, don't they?
You can check out the full clip here.
• Cleveland.com's Joe Vardon previews the game, and it seems like the wounds remain from the last time these two teams met, a 133-99 Raptors blowout win at home.
Yep, Toronto's 34-point victory was the worst defeat the Cavs suffered this season. How bad was it? Cleveland made 25 foul shots to the Raptors' nine. So if you ask Toronto, it should've been worse. … Of course, half the players from the team that got blown out like that are gone. The new Cavs are trying to get it going.

So, yeah, Toronto's good. The Raptors have won 19 of their last 21 games. They're third in the NBA in scoring (112.5 ppg) and defense (103.1 rating)….Their bench is way better than it used to be, ranked fifth in scoring this season and 26th the past two years. VanVleet is a big part of that, so is Delon Wright. He scored 15 in a loss Sunday to OKC and 10 last night.
• This cartoon, from artist Ted Crow, appeared in the Cleveland Plain-Dealer today.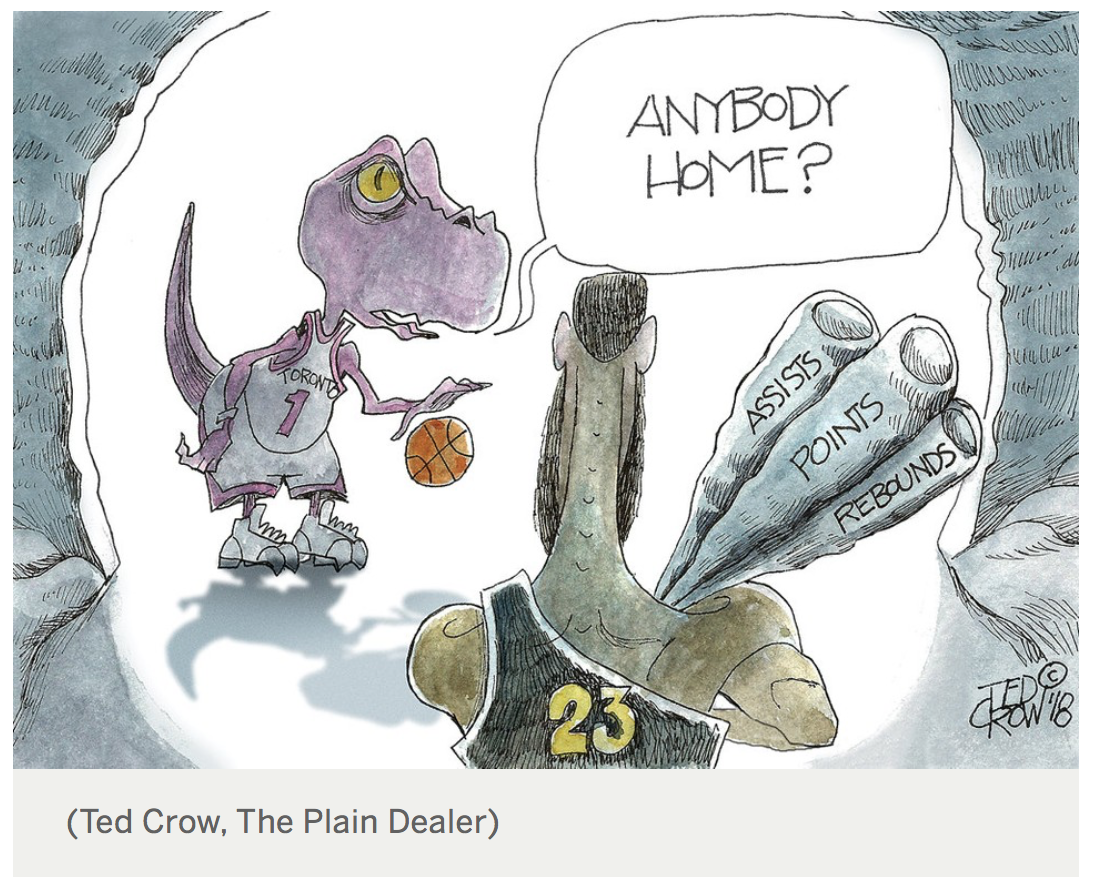 • SB Nation published a feature on LeBron James and his gravitational pull in the NBA, which included this about the Raptors' role as the Cavs' biggest roadblock to another Finals appearance.
These Raptors are different. That's what everyone keeps saying and there's reams of anecdotal and empirical proof available to make their case. They won't be the same old postseason Raptors again, the one that wears down and takes too many bad shots while waiting too long to make lineup adjustments. That's what they say, anyway.

It's not as if the Cavs have faced pushovers. It just seems that way in retrospect. The Hawks won 60 games (and got swept.) The Raptors won 56 games and even took two during the 2016 conference finals (not that LeBron and his crew were really worried.)

This postseason should be different, but we've said that a lot the last few years.
• Meanwhile, SLAM Magazine released it's newest issue Wednesday, warning readers not to sleep on the Raptors. It turns out Toronto has a "King" of its own.
Don't . DeMar DeRozan and the @Raptors are for real.@DeMar_DeRozan covers SLAM 215: https://t.co/pDrwI6JW02 pic.twitter.com/IrbPO8G4yE

— SLAM Magazine (@SLAMonline) March 21, 2018
Also over at ESPN, a video essay from Scoop Jackson on why the Raptors "have turned doubters into believers" this season.
• LeBron James himself weighed in on the Raptors during his media availability Wednesday morning and explained why he thinks Toronto is a better team than in previous years.
The Raptors and Cavaliers tip-off at 7 p.m. ET live on Sportsnet One.