SAN FRANCISCO — In simpler times, before his Achilles tendon ruptured, before some fans in attendance at Game 5 of the NBA Finals responded embarrassingly to his unfortunate injury, before the circumstances surrounding his decision to play at all were so thoroughly debated and before he became a signifier for everything from the extraordinary physical demands of professional sports in this era to the often unreasonable personal scrutiny athletes face in the social media age, Kevin Durant was talking a little trash to Fred VanVleet.
It was late in the first quarter, and the indefatigable Toronto Raptors guard was poking and prodding at the Golden State Warriors star in front of him, trying to find his way into the paint. VanVleet feinted in one direction and quickly backed off. He dribbled left and right, through his legs, behind his back, trying to get Durant's feet to commit one way or the other. Eventually, VanVleet took off, racing to Durant's right and crashing into his shoulder. VanVleet carried on and Durant did, too, bodying the Raptors guard until the official's whistle blew.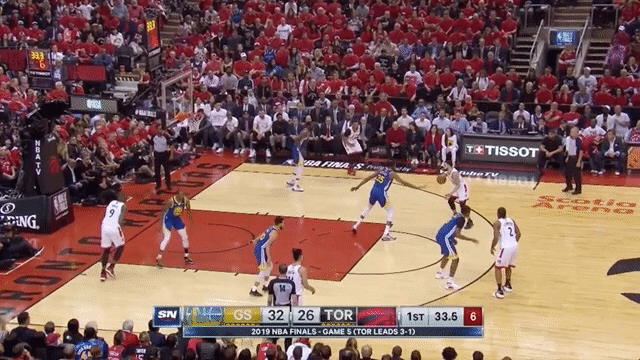 Durant told VanVleet there was no foul. VanVleet disagreed. As he stood face-to-chest with Durant, looking up at the seven-footer, grinning and chirping, VanVleet looked like Canelo Alvarez facing off with Deontay Wilder. And he wasn't backing down.
"K.D.'s a baller, man. He's great. He's great for the game — a guy like that who's probably one of the best scorers of all time, who really tries to get after it defensively," VanVleet said Wednesday at Oracle Arena in Oakland, where Game 6 between the Raptors and Warriors tip-off Thursday night.
"There's a mutual respect there. Just good old fashioned going back and forth. Nothing malicious. Obviously, I have a ton of respect for him and I think he has respect for me. It was just two guys trying to compete and play their butts off."
That's what VanVleet's done essentially his entire life, starting with a rough upbringing in Rockford, Ill., through a four-year college career at Wichita State, to going undrafted in 2016 and winning a job with the Raptors on a summer league deal — play his butt off. It's continued in the NBA where VanVleet's earned every opportunity he's received, going from part-time D-Leaguer as a rookie three seasons ago to averaging 32 minutes per game in these NBA Finals.
VanVleet's first taste of playoff basketball came in that rookie season, and he, of course, remembers it well. The Raptors played LeBron James' Cleveland Cavaliers in the second round, and although he wasn't playing big minutes, VanVleet still found himself matched up with the best player in the game on a handful of possessions. He went at James with the same mentality he took to Durant.
"I'm like, s—, I've got to try to get a bucket. You know, let's grind," VanVleet said. "Same thing for K.D. K.D.'s trying to guard me in [isolation], I'm trying to get a bucket. You grew up watching these guys, they're greats in the game. And I have confidence in myself. So, when you get in those situations, you try to show what you can do."
If VanVleet can show that Thursday, playing a starter's workload off the bench for the Raptors, it could go a long way to Toronto winning its first NBA title. He's scored double figures in seven of Toronto's last eight, aggressively driving to the rim when opportunities have presented themselves and hitting a number of timely, often off-balance threes.
That shot-making has been nothing short of critical for the Raptors after VanVleet broke out of an extended slump midway through the conference finals. Since going 3-of-3 from deep in Game 4 of that series, VanVleet's shooting 54 per cent (25-of-46) from beyond the arc over eight games. At one point in these playoffs, VanVleet missed 30 of 35 attempts over a disastrous 14 game stretch. But the regression's hit hard, and VanVleet's shot chart for the playoffs now tells a much more impressive story: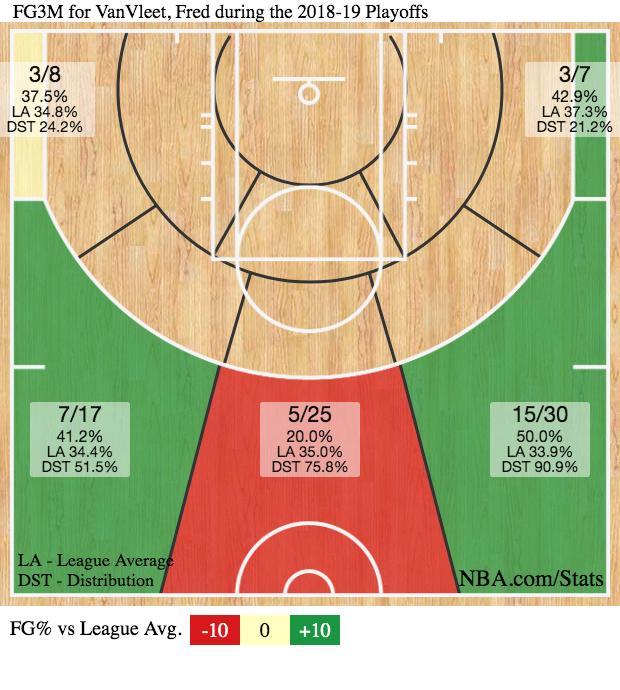 "I think that I've found another step up of just trusting yourself and trusting your shot. And not being swayed by the moment," VanVleet said. "Not changing your technique. Not getting down when you miss a couple or changing anything. You don't do anything drastic. Just trust the work.
"The work is the only thing that will stay constant and remain steady the whole time. And the same form that you shoot with when you practise is the same one you've got to go out there and shoot with when there's a championship on the line. There's another level of mental focus and being locked in where you can kind of find that groove and that rhythm."
And on the defensive end, he's been tasked with chasing around Steph Curry, who's only the greatest shooter of his generation and perhaps all-time. And he's operating within a Warriors system designed to get him open. Golden State possessions often resemble Family Circus cartoons, with Curry darting around an endless series of screens and obstacles until he finds the mailbox of space he needs to get his shot off.
It's been VanVleet's job to navigate that maze, and of the six players to guard Curry for 100 possessions or more this post-season (per NBA.com matchups data) he's held the Warriors star to his lowest field-goal rate at 33.3 per cent (11-of-33). That includes a 26.3 per cent mark from beyond the arc (5-of-19). It's a significant win against a player who's shot 43.6 per cent from deep over his career and 38.2 per cent in these playoffs.
It's not the kind of role anyone expected VanVleet to be playing on this stage when he was passed over by all 30 NBA teams twice in his draft year. And it's not the life many expected VanVleet to wind up leading when he was just a kid in Rockford, population 150,000.
It wasn't the easiest place to grow up. The 2010 United States Census found that 14 per cent of Rockford's population lived below the poverty line, including nearly 20 per cent of those under the age of 18. Rockford has often been cited on lists of America's statistically most-dangerous places to live, and in 2016 averaged close to 17 violent crimes per 1,000 residents, the highest rate of any large city in the state.
Those statistics touched VanVleet personally in his youth. His father was murdered when he was five. And several of the friends he grew up with were lost to violence as well.
"Yeah, it's tough. It's tough. You know, there's bad stuff everywhere. And I grew up in a city where there was some bad stuff," VanVleet said. "I don't try to glorify that or make it seem like I'm the toughest, roughest guy in the world. But because of those moments, growing up in that type of environment where it's easy for a young kid to get into trouble, to go down the wrong path, to be victim to the streets or whatever the case may be — I was lucky enough to be able to navigate through that and not have to dibble and dabble."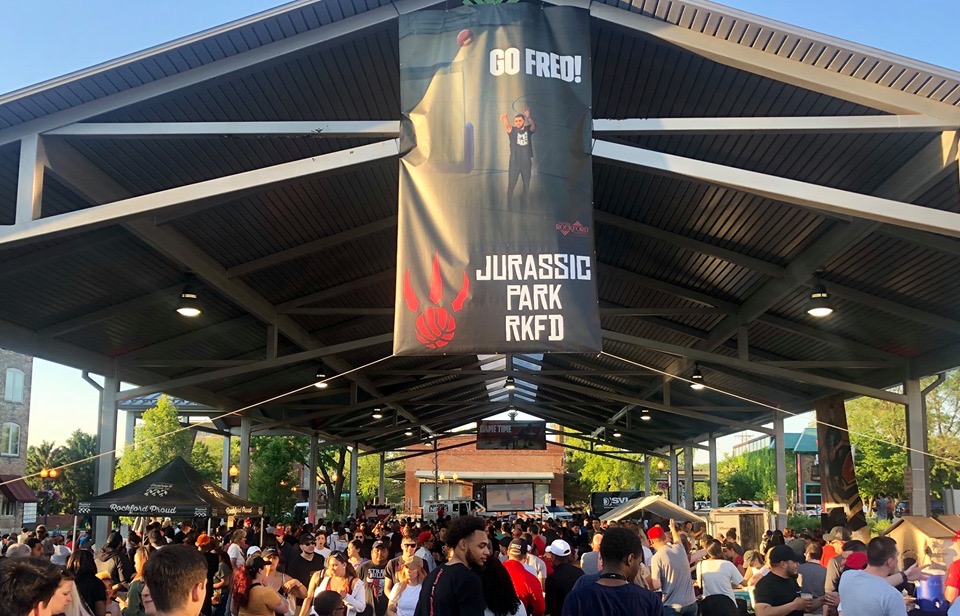 It's why VanVleet was so moved seeing Rockford stage its own iteration of the outdoor Jurassic Park watch parties that have sprung up across Canada during this Raptors playoff run. More than 3,500 filled City Market Pavilion at the corner of East State and Water Streets in central Rockford to watch VanVleet play in Game 5. And they'll be back out there for Game 6, watching on two large screens erected by the city.
"It means the world to be revered like that in your hometown, where you come from, where it all started," VanVleet said. "It's hard to get 100 of our people in a place like that in a positive environment and have no incidents. So, it's a big deal. That's what's special about our game, that's what's special about sports. My entire journey in this and for Rockford is to create a better city than what I grew up in. I think that we're on the right track to doing that."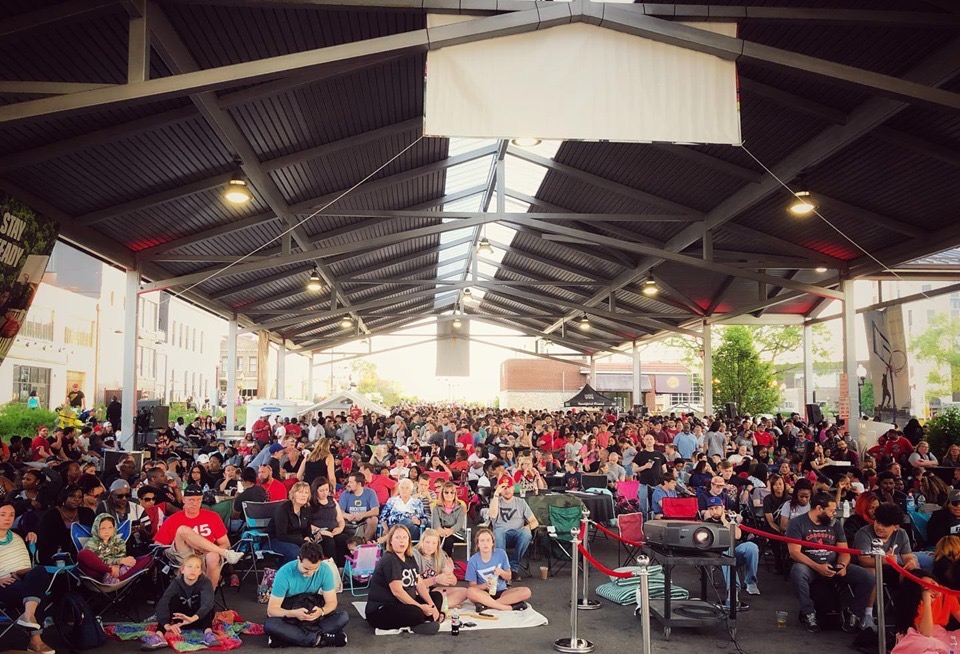 VanVleet still lives in Rockford, and made several trips home during these playoffs to be with his girlfriend, Shontai Neal, who delivered their second child, Fred Jr., between Games 3 and 4 of the Conference Finals. VanVleet holds youth events in Rockford during off-seasons, running basketball camps and organizing book bag giveaways prior to the start of the school year. One of his best friends, Marquez Beeks, runs a non-profit organization called Touching Soles that gives shoes to young athletes from disadvantaged families.
"We're trying to do a lot of things for the city," VanVleet said. "I feel like it's my responsibility to keep creating opportunities, creating a better situation, opening doors, going back and giving back. You're not going to solve all the world's problems. But it's about just giving people more choices, so it's not such an easy choice to go down the wrong path."