More and more, it's looking like the new head coach of the Toronto Raptors will be an inside hire.
When Masai Ujiri held a press conference announcing the firing of Dwane Casey after a 59-win regular season and with one year left on his contract, the Raptors president said his search for Casey's replacement would have no pre-conditions.
"I'm open. We'll look everywhere," Ujiri said. "I'm not [ruling out] anything. We're looking at 50 people. We'll have hopefully a good (candidate). I'm going to look at a range, not ruling out anything. We'll do a thorough job investigating, finding. We're looking for the right person."
The "50 people" reference was always taken as a bit of hyperbole, but the Raptors have a way to go to even interview 10 serious candidates. With nearly a week gone since Casey's dismissal, Toronto has interviewed four candidates for the role, one of three remaining head coaching vacancies across the NBA.
Only one of those, Mike Budenholzer, was an external candidate. The others are familiar names to Raptors fans: Nick Nurse and Rex Kalamian — Casey's lead assistants — and Jerry Stackhouse, the head coach of the team's G League franchise for the past two years and a past Casey assistant.
Now Budenholzer is off the table. As first reported by ESPN's Adrian Wojnarowski, the former Atlanta Hawks boss agreed to a four-year deal to be the head coach of the Milwaukee Bucks on Wednesday night, a move telegraphed by Budenholzer going out for breakfast with Bucks superstar Giannis Antetokounmpo and right-hand man Kris Middleton.
Once news of that got out the deal was a foregone conclusion. Breakfast with the franchise player is the final blessing.
Where that leaves the post-Casey era Raptors is an open question.
There is no doubt the team went after Budenholzer aggressively. He was their first interview and had dinner in Toronto with Ujiri and his staff on Monday. The 2015 coach of the year was objectively the leading candidate going into the process. He had the most robust résumé of any of the experienced head coaches on the market: four playoff appearances in five years, a near-perfect 60-win season, three playoff rounds won and a trip to the Eastern Conference Finals.
The awkward bit?
He was 0-8 against LeBron James and the Cleveland Cavaliers, his Hawks teams the only other team in NBA history besides the Raptors to be swept in consecutive years by the same team, with one of those sweeps coming as the No. 1 seed.
But even with that blemish, Budenholzer as an upgrade or a logical "new voice" for a roster that will likely have minimal turnover would have been saleable.
There are different ways to interpret Budenholzer taking the Bucks job without even, per league sources, receiving a formal offer from Toronto.
The simplest and most obvious might be that the interview didn't go particularly well. Ujiri is a big believer in strong working relationships and chemistry and, Budenholzer's reputation — his basketball acumen aside — is that he can be awkward socially and not always comfortable to work with or for.
So, after spending time together, the Raptors had second thoughts about Budenholzer being the right long-term fit.
Entirely plausible.
Another is that Budenholzer was eying Milwaukee all along — exceeding expectations there with Antetokounmpo as a talisman would be a lot easier than lifting a 59-win team with an inflexible roster to new heights — and Toronto represented leverage to get a longer, richer deal with the Bucks sooner rather than later.
Also plausible.
The third is the Raptors are more excited about their internal prospects than what is out there on the market, Budenholzer included.
Great head coaches have to get their start somewhere and the surest way to miss out on the next head coaching star is to rule them out because they haven't been an NBA head coach before.
One long-time league executive I reached out to said that the Raptors haven't advertised a laundry list of other external candidates they're planning to interview suggests Toronto's next head coach will be an internal hire.
Which is plausible too.
If there is a podcasting odd couple, this might be it. Donnovan Bennett and JD Bunkis don't agree on much, but you'll agree this is the best Toronto Raptors podcast going.
All three of Nurse, Kalamian and Stackhouse have résumés that deserve serious consideration. Nurse and Kalamian were empowered by Casey and should rightfully share in the success of a team that has been consistently one of the NBA's best offences (Nurse's department) and steadily-improving defences (Kalamian's role), playoff woes aside.
Nurse can point to an outstanding track record in the G League as a head coach before coming to the Raptors as an assistant, while Kalamian was the offensive co-ordinator with Oklahoma City when it consistently had one of the NBA's most-potent offences, even in seasons when either Kevin Durant or Russell Westbrook missed long stretches due to injury.
Stackhouse comes with bona fides as a player — 18 seasons that spanned the arc from all-star and primary scoring option to elite role player to sage vet — and can also boast of being the first former NBA scoring leader to put himself through a G League coaching apprenticeship.
Personally, I'd be very surprised if Ujiri doesn't spread out his search over the next few days or even week.
If you replace a coach of the year candidate with one of his assistants, you need to be sure you've done a thorough review of the external candidates. But a quick perusal suggests the field of possibilities isn't all that inspiring.
Former Cavaliers coach David Blatt, now coaching back in Europe? He wore out his welcome quickly in Cleveland without making a lot of NBA friends.
Ettore Messina, a legendary European coach and current San Antonio Spurs assistant who was runner-up for the Bucks job? There are concerns his uncompromising approach — an easier sell in Europe where the coaching culture is traditionally less player friendly — wouldn't translate into the NBA well.
There has never been any indication the Raptors are interested in either of the Van Gundy brothers or the likes of Jason Kidd or Mark Jackson. Do Steve Clifford or Frank Vogel get anyone's motor running or seem like a fit with the Raptors as they head for Year 2 or their up-tempo, pass-heavy offensive makeover?
After that the field of former elite-level head coaches with résumés that compare favourably with Casey is pretty slim.
Will Ujiri go off the board and outside his organization to find the next up-and-coming star among the assistant coaching class?
Spurs assistant Becky Hammon would be a great story as the first female head coach in NBA history, but there is a "What's the catch" trepidation when the Spurs are seen to be pushing one of their assistants out into the market. That and the reality that Hammon's NBA experience is pretty lean for someone being considered for a high-expectation job like the Raptors would make it surprising if she even made it to the interview stage with the Toronto, Ujiri's willingness to consider women for basketball roles aside.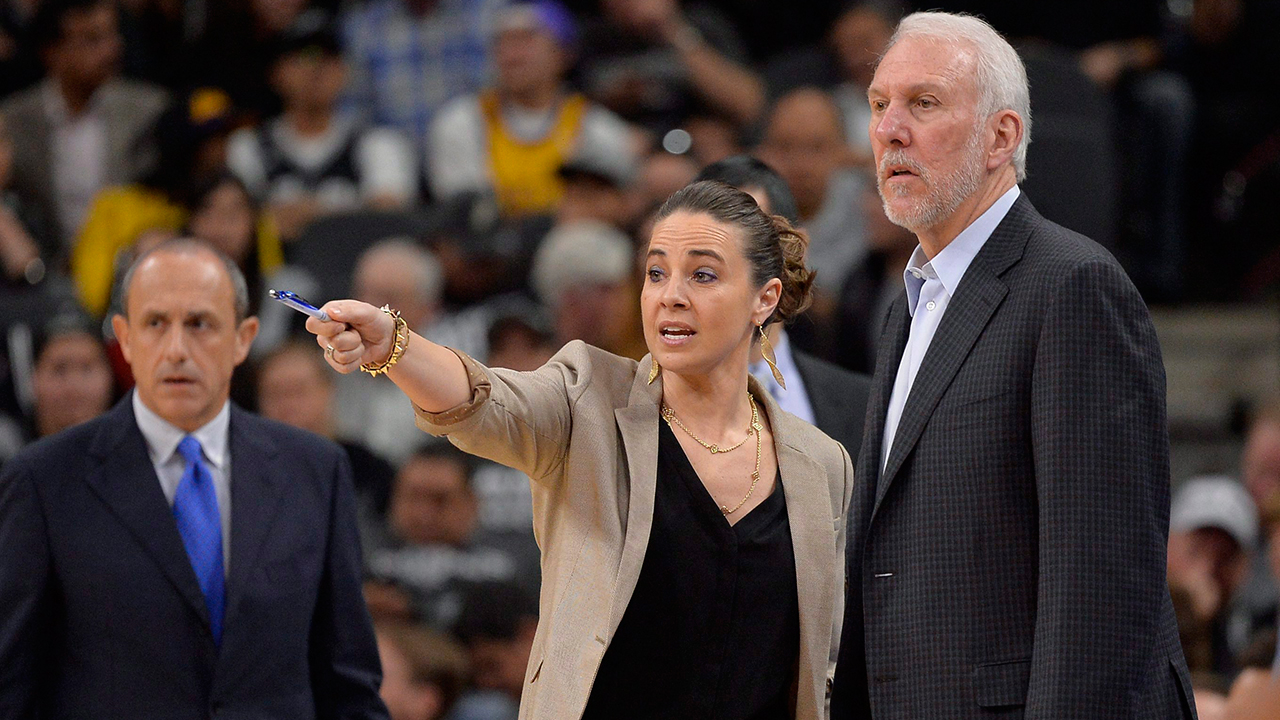 Jarron Collins is one former player who has paid his dues as a scout and assistant with the Golden State Warriors, but he'll be tied up for a while. Long-time Portland Trail Blazers assistant David Vanterpool has been on various teams' radars for a while and knows his way around downtown Toronto as a former assistant with the Canadian national team.
But if Ujiri is willing to consider candidates without NBA head coaching experience, he might as well shop at home.
Of the three — Kalamian, Nurse and Stackhouse-– Nurse almost certainly would have the inside track given his role in revamping the Raptors offence and his close work with the second unit this past season. He is highly regarded as an outside-the-box thinker with strong people skills.
Nurse is also the most likely to have a little bit of leverage given former Raptors executive Jeff Weltman is looking to fill his head coaching vacancy in Orlando and could have interest in Nurse.
Is hiring one of Casey's assistant really an upgrade on the original?
That's for Ujiri to decide and, should it go that way, subsequently assure Raptors owners, players and fans that it is.
As always, the proof will be played out on the court.