If a picture tells 1,000 words, a high-performance shoe tells so much more – at least when it belongs to Stephen Curry. That's what I learned after attending the launch of the Under Armour Curry 6, the latest in Curry's signature shoe series that hits stores on Jan. 4.
Professional athletes are some of the most competitive people on the planet. And they're constantly looking for ways to maximize their performance. Curry is no different. That's why he has a golf simulator in his house to improve at his second hobby.
It's no surprise the two-time MVP and three-time NBA champion feels he isn't done improving at his main job. The tattoo on his right bicep is "WOE" short for "working on excellence," a slogan borrowed from one of his favourite rappers, Torontonian Devontee.
And while training and repetition may be more traditional avenues in pursuit of excellence, Curry is also a believer in the power of equipment. He is unusually hands on, like a race car driver, working with his engineers and pit crew to improve the performance of his car.
On his shoe, Curry worked hand-in-hand for 18 months with Leon Gu, senior footwear designer at Under Armour. Although Gu just started wearing the Curry 6, he is already working on the Curry 8 and is quick to point out the 'Easter Eggs' in their creation. For example: the brushed aesthetic reflects the stucco pattern of the wall of Curry's childhood home – the one he used to shoot against with Seth as a kid. And the cable lacing system was inspired by the hoop that Curry's grandmother built for his father Dell in the backyard, the one that he too learned to play on when he was young.
The biomechanics team behind the shoe calculated that Curry changes direction every two seconds during a game. He also runs 2.4 miles per game, more than 95 per cent of players in the league. It equates to seven marathons per season. Based on that intel, the design of his shoe – from a cushioning standpoint – is closer to a running shoe than traditional basketball shoe.
Curry's personal trainer, Brandon Payne, started training Curry in 2011, before his game-altering all-star appearances, MVPs and NBA titles. Payne met Curry at a rehab clinic during the 2011 lockout. And like Curry, Payne is obsessed with doing anything and everything in pursuit of excellence. Everything is done at game speed and drills often involve props like VR headsets, flash cards and colour-changing lights. Of the 600-1,000 makes in a workout, no shot is taken twice consecutively from the same spot. Why? Because it never happens that way in a game. Payne and Curry try to replicate game scenarios so much that they'll take Curry's shot chart data and replicate it throughout workouts. Every shot, both in-game and in-practice, is charted. Everything detail is scrutinized.
If there is a podcasting odd couple, this might be it. Donnovan Bennett and JD Bunkis don't agree on much, but you'll agree this is the best Toronto Raptors podcast going.
The show-stopper is a drill that Curry finishes his workouts with called "21." He starts at half court and takes a three, worth three points. He then runs a shuttle back to half court and back in to the elbow to take a jumper worth two points. Then back to half court he goes, before sprinting all the way to the basket for a layup. Once a circuit of those shots is complete, he repeats the three in succession until time is called. Functioning as both a conditioning and shooting exercise, mere mortals are given 90 seconds to try and tally a score of 21. Most people can't do it, as eventually, form breaks down. To push himself, Curry usually takes the two closest shots left handed. The quickest he's ever gotten 21 points? Forty eight seconds. He didn't miss a shot.
Payne, the founder of Accelerate Basketball Training, is a former division two player and assistant that has now become a go-to for many NBA players and skill coaches trying to replicate Curry's success. He counts rookie of the year favourite Luka Doncic as a recent high profile client.
Although Payne's tutelage is pushing Curry's horizons, they were originally broadened during Curry's time in Toronto as a child.
His father Dell was a beloved Toronto Raptor, so from the age of 10 to 12 the family lived in Canada. On weekend game days, Steph would watch Raptors shootaround then play Vince Carter one-on-one afterwards. Carter never let him win, but the task of a grade-schooler trying to get his shot off against a 6'6'' pro with a 40-inch vertical taught him angles. Lenny Wilkens would then write down sets for the upcoming game on the white board and educate him on adjustments. It was essentially an NBA internship.
Curry also had his own game day routine back then, which included his brother Seth.
During the first quarter, they'd shoot in the Raptors practice gym. During the second, they'd hit up the PlayStation consoles in the 300 level concourse. During the third, it was back to the gym for more shooting, and in the fourth they'd watch the game, hoping to see some of Carter's eye-popping highlights and their dad's clutch shooting.
Everything comes full circle, as not only did Curry end up playing against Carter, but Carter's daughter now attends Charlotte Christian School, the same school that Curry did. And she now considers Curry her NBA role model.
Under Armour's ascension as a basketball brand has been in direct correlation with Curry's rise. An analyst from Morgan Stanley estimated Curry's value to Under Armour at $14 billion.
Young kids are worshiping the basketball prophet that is Curry, wearing his SC30 gear and Warriors jerseys and shooting so many deep 3s that the NBA and USA Basketball issued new guidelines to discourage 3-pointers in youth basketball.
His presence has helped catapult the NBA to the top spot on the GIF-sharing site, GIPHY – with 20 billion views, thanks in large part to his highlight-reel plays and patented shimmy shake basket reactions, which get shared at a staggering pace.
He is a basketball phenom and one with a deep love for Canada. His wife, Ayesha, was born in the Toronto suburb of Markham. Even his stylist is Canadian.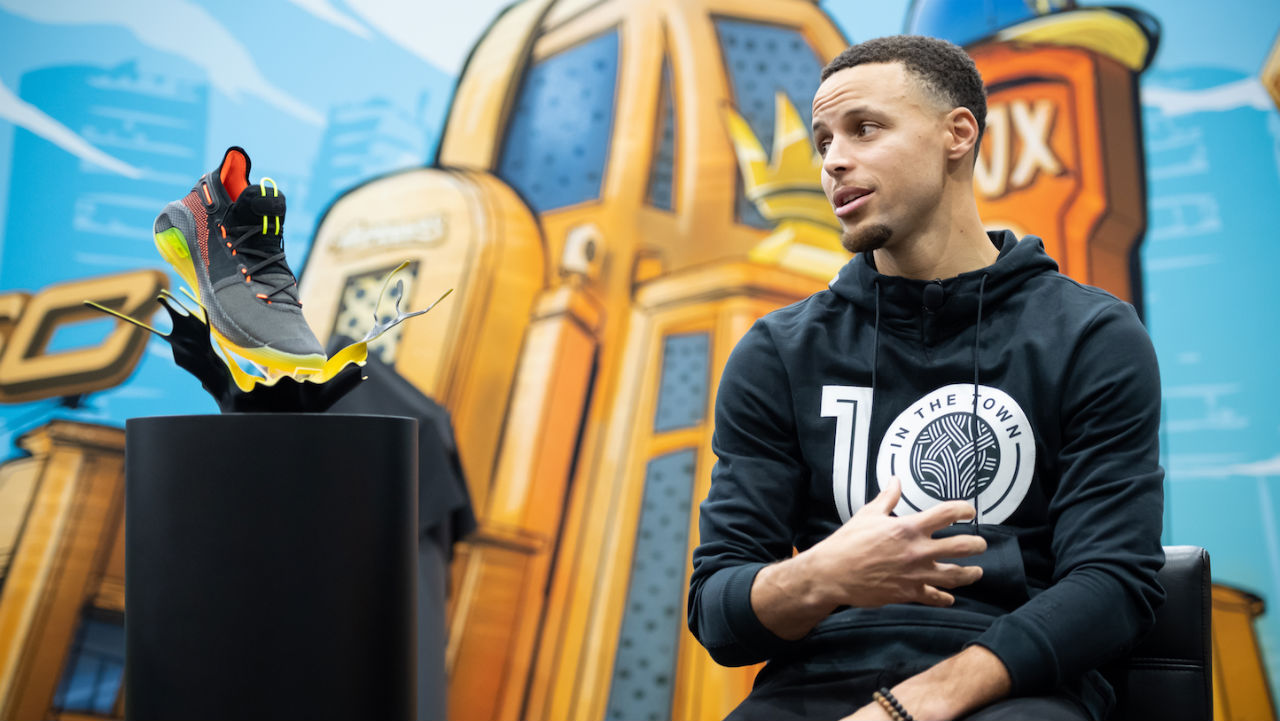 And when he plays in Toronto, he plays exceptionally well. His career numbers against the Raptors are the best in most major categories such as points (28.6), PER (30.7), ORtg (130), TS% (.679) and minutes (37.0).
It's a bit of a double-edged sword, our Canadian relationship with Curry. We love to boast about the fact that he's essentially an honourary Canadian at this point. But as an opponent, we'd also prefer that he steer clear of this country.
Thanks to all the lessons he learned in Canada and all the learnings he's put in to his shoe and his game, Curry in the Finals might be the best version of him we've seen yet.