Steve Nash will be remembered for many things.
The back-to-back MVP seasons; his 48-point night against the Dallas Mavericks; the 23-assist game in the playoffs against the Los Angeles Lakers; those four 50-40-90 seasons (three consecutively); an enduring legacy as Canada's greatest basketball export; that magnificent flow.
Nash will officially be welcomed into the Naismith Memorial Basketball Hall of Fame Friday and with it will come a plethora of stories, anecdotes and tributes remembering just how great he was.
It is of this writer's personal opinion that Nash is the greatest athlete Canada's ever known, so for me, Friday's induction ceremony will be a special moment.
Thus, when I think of Nash's many moments of glory, there are quite a few that jump out. None more than May 6, 2007 when Nash's Phoenix Suns opened their Western Conference semifinal series against the San Antonio Spurs.
A quick glance at the boxscore shows that while his 31-point, eight-assist effort on 11-of-18 shooting was very impressive, this wasn't his best individual effort ever, and it's a performance that came in a loss.
Despite all that, this was a game that perfectly encapsulates what Nash's career was all about, both good and bad. So humour me, and let's take a small stroll down memory lane and look back at the most Steve Nash game in the soon-to-be Hall of Famer's career.
The performance
Although I just downplayed them, Nash's stats for this game are nothing to sneeze at and were indicative of a maestro point god guard near the very apex of his abilities controlling the ebbs and flows of a nigh-unstoppable Phoenix attack.
Although he didn't invent the pick-and-roll, Nash optimized the use of it to nearly its maximum potential during his career, and this game is a good example of how he did it. Here are a few examples: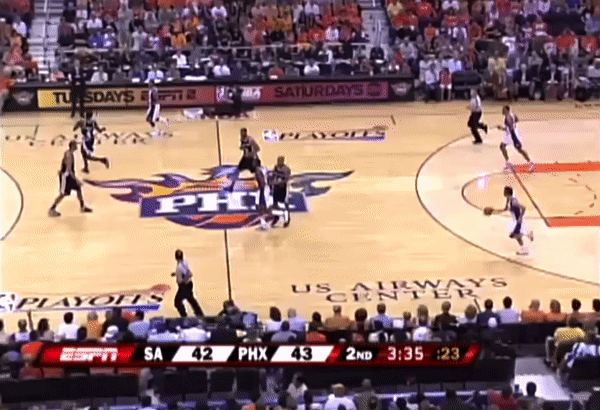 In this first clip you see above Nash comes up along the left wing and makes use of an Amare Stoudemire screen to get to the baseline. As Nash drives towards the basket the San Antonio defence has no choice but to collapse on both him and the rolling Stoudemire, setting up an easy, wide-open triple for Leandro Barbosa.
In this one you can see an example of how Nash was able to create for his teammates off the pick-and-roll. Through this entire possession, Nash is trying to set something up for Stoudemire, his devastating roll partner at the time, but ended up getting stymied in his first attempt as the Spurs wisely had Robert Horry on Stoudemire in movement.
Instead of panicking, Nash simply reset the play by finding Raja Bell on the perimeter and getting it back again immediately. In the confusion of this, Nash recognizes that Tim Duncan has now switched onto Stoudemire, so they go to the well again and it results in an easy two as Duncan doesn't have the lateral quickness to stay with a rolling Stoudemire.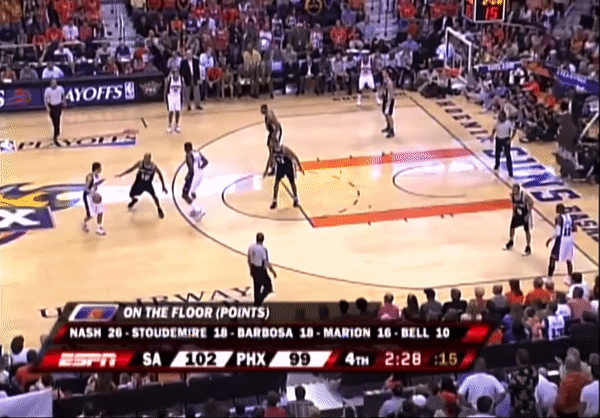 And then this one that shows Nash busting out the Steph Curry before the Golden State Warriors superstar was even in the league yet.
All three of these examples illustrate what the pick-and-roll action can do for an offence, and few, if any in history, ran it better than Nash did because of his unique combination of acute passing ability, strong ball-handling and deadeye shooting. You know, kind of like the aforementioned Curry.
The incident
More so than just his individual performance, the lasting image of Nash from this contest will always be a result of a foul Nash accidentally committed at the 2:53 mark of the fourth quarter.
After having a pass picked off by Tony Parker, Nash was desperately trying to get back and prevent a layup. He did so successfully, but after cutting Parker off at the three-point line he attempted to reach in and clocked Parker with an inadvertent headbutt while cutting his own nose.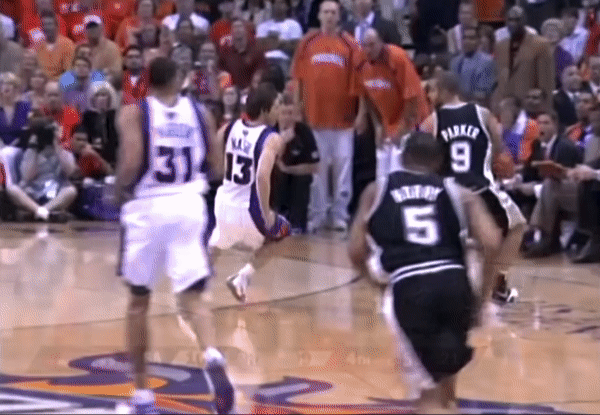 In the immediate aftermath of this play, Nash was less concerned about his own safety and, like a true Canadian, was much more worried about Parker's well-being as the Spurs guard appeared to take the brunt of the impact between the two.
After that brief scare everything seemed OK as Nash was getting bandaged up and then proceeded to hit that big triple you saw in the clip earlier to pull Phoenix even at 102-102 with lots of emotion and momentum on the Suns' side.
But then disaster struck and Nash's bleeding just wouldn't subside and wasn't allowed onto the court with 54.8 seconds left in the game.
As a result, all he could do was look on and see the Spurs steal Game 1 of this crucial series with a 111-106 victory.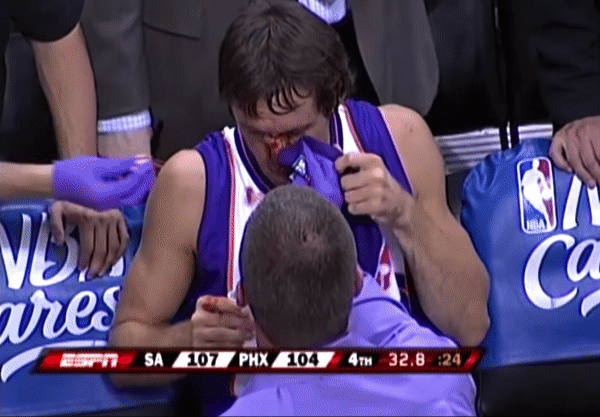 The aftermath
This unfortunate circumstance proved to be eerie foreshadowing to how the rest of this series would turn out.
Phoenix ended up losing this series in six games thanks to a few controversial decisions such as Game 4's infamous Horry hip check of Nash that caused the benches to clear and earned Stoudemire and Boris Diaw one-game suspensions for Game 5, a contest the Spurs won en route to closing out the Suns in San Antonio in Game 6.
There was also the bombshell report that former NBA official Tim Donaghy was match fixing certain point spreads from 2005-07. Donaghy was infamously one of Game 3's officials, a game that featured a relatively even distribution of personal fouls called on each side, but still 46 total, suggesting the officials had a heavy hand in determining the outcome, a 108-101 San Antonio victory.
Regardless if you believe in NBA conspiracy theories, however, Nash was certainly a hard-luck loser in all of this. That 2007 playoff run was, perhaps, the Suns' best bet to win a championship as the No. 1 seed Mavericks had been shockingly upset by the Warriors in Round 1, and had Phoenix made it past San Antonio there would've only been the Utah Jazz and Cleveland Cavaliers standing in its way, a pair of teams that were more or less just happy to get as far as they did in the first place.
It's bittersweet for Nash, but it happened. As such, that Game 1 on May 6, 2007 just seems like the perfect microcosm of his entire remarkable career.
Nash plays great, he makes his teammates play great, but outside forces prevent him from reaching that ultimate prize no matter how hard he tries. Whether it was his chronically problematic back issues or his team experimenting with changing up its style of play, despite its obvious success, there was always something outside of Nash's control that had him fall just short.
Now, however, when he makes his acceptance speech in the hall where he belongs, Nash will finally come out on top.