•Final nine minutes could alter the course of Raptors' season
•Toronto's locker room felt much different after this loss
•Raptors ironically put together one of their better games of late

TORONTO – With nine minutes left in the fourth quarter on Sunday night, the dark cloud that has been following the Toronto Raptors around for the better part of six weeks seemed to finally be on the verge of lifting.
The Raptors had earned a comfortable 15-point lead over the Detroit Pistons. Offensively, the ball was moving well and there were contributions flowing from all over the roster. Defensively – the Raptors' sore point through much of their 10-13 tail spin since Jan. 1 – they were locked in, holding the Pistons to 37 per cent shooting through the game's first 36 minutes.
And if they weren't at full health, they were close. Patrick Patterson's troublesome knee responded well to a hard practice on Saturday and he likely could have played on Sunday, but the Raptors chose to be cautious and held him out of the lineup. But his return is expected in days not weeks.
Close the game out and Toronto would be winners of three of its past four. Momentum would be in hand.
That didn't happen, though. Toronto blew that lead, losing 102-101 to fall to 32-23 on the year, leaving them just a half game ahead of Washington in fourth place in the East. They unraveled bit by bit as the clock wound down.
With the Raptors up five with 1:23 left, the Pistons got a free-throw off an offensive rebound by Andre Drummond; a pull-up jumper by Kentavious Caldwell-Pope and then an uncontested three by Caldwell-Pope after a defensive breakdown to put them up one with 13 seconds left.
With a chance to win on their final possession, the Raptors ran a play that ended up with DeMar DeRozan in isolation that Detroit easily defended. He missed – although he argued vehemently he was fouled by Marcus Morris – and the Pistons' comeback was complete.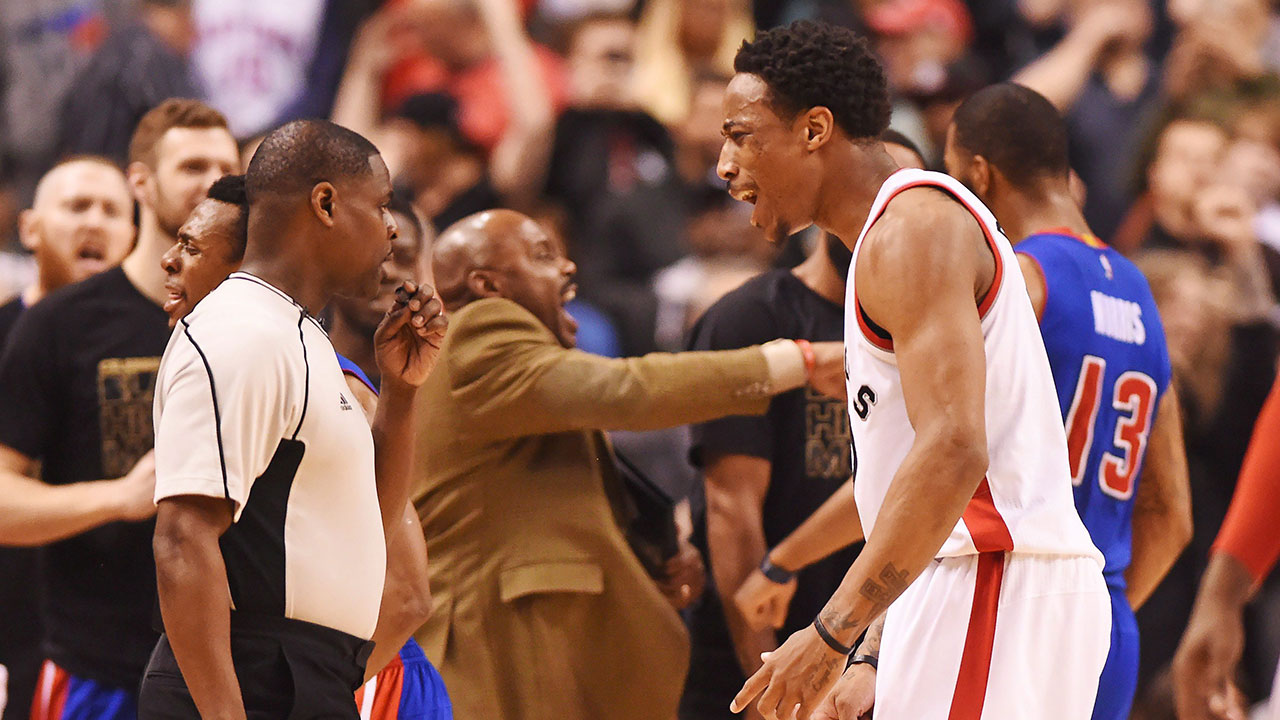 DeMar DeRozan argues with referee Leroy Richardson after missing the would-be game-winning shot. (Frank Gunn/CP)
---
Can nine minutes change the course of the Raptors' season or even beyond?
If it seems outlandish, it may not be.
The scene in the locker room later was something new and different than has been on display with this generation of Raptors. There was no sugar coating. No brave talk. No topic seemed off-base.
Kyle Lowry spoke plainly and honestly and authored his own manifesto that could be entitled: Change Must This Way Come.
You don't have to read too far between the lines to hear him questioning both coaching and personnel – normally taboo topics – in the wake of the loss.
What went wrong down the stretch, he was asked.
"Everything. Everything. Keep putting in the same situations over and over and not being successful, something's gotta give, something's gotta change," he said.
Asked to elaborate he said:
"I have an idea but [I'm going to] keep my mouth shut, keep it professional."
Was he referring to the Raptors' approach in the final moments, when head coach Dwane Casey almost exclusively went to isolation plays even as the Pistons seemed to be sitting on DeRozan and Lowry?
Could be. Lowry had a heated exchange with Casey at one point in the fourth as the Pistons were storming back. It's not the first time they've butted heads, but the timing seems ominous.
Is Lowry worried?
"Yeah. I am. I'm starting to get worried, yeah," said Lowry, who had 15 points and five assists while knocking down four threes. "It's not going the way we're supposed to be going and things aren't changing, so yeah, I'm starting to get worried."
And in one quote Lowry empowered an already-anxious fan base to freak right out.
As for DeRozan, for the second time in the space of a few days, the Raptors' all-time leading scorer walked the delicate line between signalling loudly that Raptors president Masai Ujiri and general manager Jeff Weltman needs to get to work with the Feb. 23 trade deadline approaching and not completely undermining his own dressing room.
Do the Raptors need some help?
"I mean, help is always beneficial," said DeRozan. "I never look at help as a negative thing at all. So if help is an option, why not?"
And yes, he's worried too. The Raptors have always maintained that they can solve their own problems, but this time DeRozan wasn't sounding so sure.
"We can [fix things]," said DeRozan, who had 26 points on 21 shots. "But we have to be quick. 27 more games, that's going to fly by. We don't have much time."
The view was the same on the role-player side of the room.
"We're in every game, we're just killing ourselves toward the end of the game," said DeMarre Carroll, who had 15 points on eight shots through three quarters as he continued his run of strong play, but saw the ball just once in the fourth quarter as Lowry and DeRozan took 12 of Toronto's 19 shots, making just three combined. "Especially us as role players. We're so used to [DeRozan] and Kyle handling the ball [down the stretch] so we sit and watch, whereas earlier in the game we're kind of playing.
"I guess we just have to figure out, man, how we can help these guys in some form or fashion because I feel like every play we run they're double-teaming or something."
It's the full gamut. In one post-game dressing room you had questions raised about coaching, personnel and roles and the answer across the board was 'affirmative, we have problems.'
The irony is that it was one of the Raptors' better games in some time. There were positive signs defensively and offensively. A healthy lineup is just around the corner.
But once a team's faith is shaken it's hard to restore it. After weeks of believing that their struggles were temporary and repairable, the Raptors told the world that they might not be, at least not with how things are constituted now.
The cloud that has been following the Raptors? It just got darker. And the thunder and lightning?
It's getting closer.