TORONTO — If you've been watching the Toronto Raptors of late, you know a result like Sunday's 117-106 loss to the Los Angeles Clippers was long overdue.
For several weeks now, the Raptors have been fiddling with tinder, gasoline, and matches, seeing how big of a first-half deficit they can build themselves, or how far they can let an inferior foe back into a game, before locking in and overcoming in the end.
They've escaped unburned time and again. But Sunday, as the mercurial Lou Williams went off for 18 points in the fourth quarter (he hit 7 of 11 shots, including several with hands in his face) and the towering Boban Marjanovic made life impossible at the Clippers basket, it finally caught up to the Raptors.
But maybe that's what they needed. Head coach Dwane Casey was much less livid after this loss than he has been after recent victories, when the Raptors didn't play particularly well at all but still came out on top. He'd no doubt prefer his team won. But maybe, deep down, he's a little happy they received the wake-up call.
"In a crazy way, it's good for us," he said. "That we're facing it now. We're not cakewalking through these last eight games, nine games. But, at the same time, we have to improve and get better."
No doubt about that. Here are some other takeaways from a Raptors loss.
A hot start goes to waste
For the last few weeks, the Raptors have shown a tendency to sit back through the first 36 minutes of a game before turning on the jets in the fourth quarter and pulling away. Sunday couldn't have been any different.
The Raptors came out flying, much of it thanks to Jonas Valanciunas, who scored a dozen of his team's first 14 points, never doing the same thing twice.
He tipped in a DeMar DeRozan miss; he hit a three from the top of the arc; he drew an and-one against DeAndre Jordan down low; he drove on Jordan from beyond the arc before pulling back for a fadeaway; and he took a dump-off from Kyle Lowry before flushing a short jumper.
And it turned out to be just the beginning of a blistering start for the Raptors, who pulled out to an 18-point lead less than eight minutes in. Many were contributing, but OG Anunoby had his best first quarter in weeks, finishing several strong post moves at the rim and ended up a team-high plus-16 for the quarter.
But from there, the pace slowed. The Raptors started to coast, let the Clippers fight their way back into it, and got caught waiting for a late-game burst that never arrived. For the first time in a long time, Toronto's second unit struggled to find its rhythm, as the Clippers bench outscored Toronto's reserves, 53-49.
That hot start demonstrated just what the Raptors are capable of when they're engaged and energetic from the jump. But the rest of the game — a porous fourth quarter in particular, in which the Clippers shot 15-of-25 — showed the Raptors are still a team searching for consistency.
"There's a number of things throughout the game that cost us — pick whichever one you like," said Fred VanVleet. "A 37-point fourth-quarter is not going to get it done defensively. There's a lot of things from that game that we didn't do well."
DeRozan's cold night
With only 11 points on 3-of-12 shooting, this was one of DeRozan's least productive games of the season. He still looked to facilitate, dishing out seven assists. But on nights like this, when his teammates are struggling as well (Toronto's second unit in particular), it's always going to be hard to win without a vintage DeRozan performance.
The Clippers didn't do anything particularly unique to limit DeRozan — the blitzes he saw weren't anything new. But Los Angeles did switch Jordan onto DeRozan in pick-and-roll and dribble hand-off situations, which was a slightly different wrinkle and put a very large impediment in the way of DeRozan's midrange game.
"That was the only thing that was different," Casey said. "You know, tough night. Tough night for him offensively."
The Raptors are in an extremely demanding section of their schedule, playing 14 times in the 24 days since March 2. DeRozan's been averaging nearly 35 minutes a night throughout, twice playing more than 40. It would be understandable if the workload was catching up to him.
But, asked after the game if his performance had anything to do with the strenuous stretch, DeRozan wasn't having it.
"No, I wouldn't say that. It's just one of those nights," he said. "You can't play how you want to play every single night. And when you play bad, you can't cry about it. You've got to understand it happens.
"Not just me, but us as a team. We weren't supposed to come out here and lose on our home floor but we did. We've got to use us getting knocked down, adversity, as a positive. That's the way we have to look at it."
Play in the paint
Beyond the ridiculously hot hand of Williams, Toronto's biggest issue defensively came at the rim in the second half.
It was a bit of a startling reversal, considering the Raptors held the Clippers to 40 per cent shooting in the first half, and were particularly strong down low, protecting the rim well and forcing plenty of misses in the paint. Note all the X's in the key on the Clippers first-half shot chart: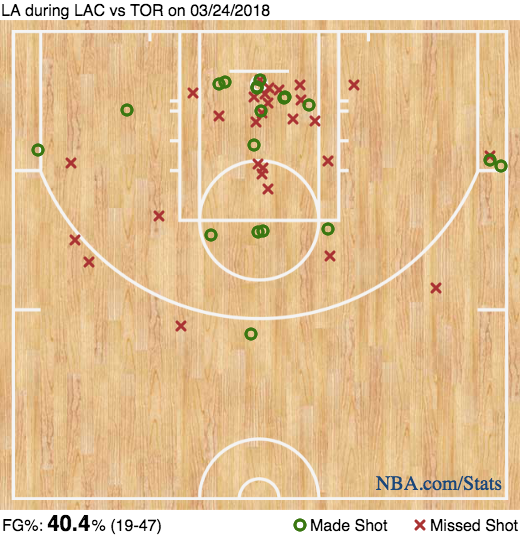 But the Clippers adjusted at halftime, and were much more effective in the paint in the third and fourth quarters: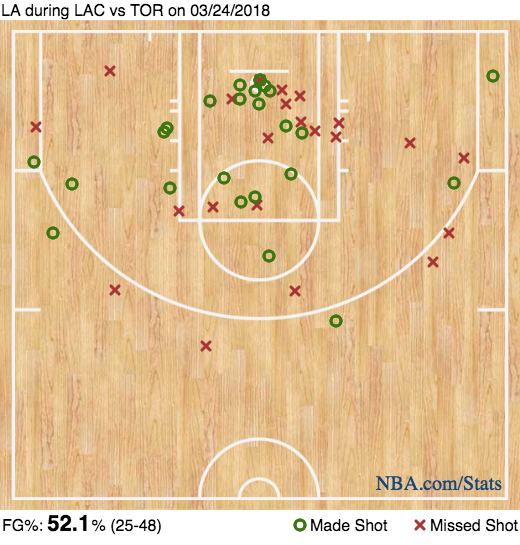 The work of the 7-foot-4 Marjanovic was a big part of that. He scored just four points, but his presence down low had an unmistakable effect. Montrezl Harrell was another big factor, scoring all 10 of his second-half points from the paint.
Jordan also had a much stronger second half than his first, and even Williams snuck in to grab a pair of offensive rebounds in the fourth. All around, the Raptors struggled to match Los Angeles's physicality in the latter half of the game.
"The 25 second-chance points is an indicator of that," Casey said. "We talked about it before the game. How Harrell and Jordan and Boban were going to come in and bombard us. They did. They did a good job of it. I liked our energy to start the game. But we've got to sustain it."
Casey cycled through various frontcourt looks in the second half, but never found a winning combination. The only centre who didn't see the floor was Lucas Nogueira, who was a bit of a puzzling omission considering he played strong stretches in each of the Raptors last three games.