Whether you liked him or not, Kevin Garnett will go down as one of the more unique— and polarizing— players of his generation.
The 40 year-old retired before this season, after returning to the team that drafted him and the club he carried on his back for so many years, the Minnesota Timberwolves. Though he never got a ring in Minny, in his final pro season he played a crucial role in helping to develop future all-star Karl-Anthony Towns and left a legacy in the twin cities that no athlete is likely to replicate.
Drafted 5th overall out of high school at a time when that was still quite rare, 'The Big Ticket' went on to have one of the most accomplished careers in NBA history: a 15-time All-Star, 12-time All-Defense, 9-time All-NBA, the 2004 league MVP, '08 Defensive Player of the Year, and, of course, in 2008 he won his first and only championship with the Boston Celtics.
With an incredibly vast skill-set, Garnett was foundational big man who helped change what we thought 7-footers were capable of on the court. Today it's common— if not practically required— for a big man to be able to handle the ball and bring it up court in a pinch, or step back to just in front of the three-point line and knock down jumpers with ease and regularity. He also had a maniacal work ethic and an equally manic intensity that he brought to the court each and every game that often irked opponents and, at times, made it easy to dislike. As any Raptors fan can tell you from experience.
Do you remember the time he got into it with Jose Calderon?
Or got up-close-and-personal with Chris Bosh on defence?
Surely you recall the time he tried to pick a fight with Matt Bonner (only one of the top 5 moments in Raptors franchise history):
Simply put, Garnett was memorable. As the Raptors get set to visit Minnesota for the first time since KG's retirement, I asked the players for their thoughts on the future Hall of Famer's legacy and to share some of their best stories.
Patrick Patterson: There was one moment when I was in Houston and we were playing against him, and we were winning. I think we were up by something like 20 points. It was the fourth quarter, five minutes left, the game is out of reach. KG's on the court, he makes a shot and just starts talking trash. I'm looking at the scoreboard and I say to him, "Yo, you guys are losing. The game is over and you're talking smack?"
He turns to me and just goes, "Young fella, you will never be as great as I am." I just thought [nods head], "…yeah. This is one of the greatest players of all-time, it's an honour to stand next to you on an NBA court." I couldn't come back with anything. KG hit me with some truth.
Kyle Lowry: I know KG personally, and he's taught me a lot. He's taught me about basketball, about life, about what it means to put work in. I just tip my hat to him and appreciate the things that he did for the game and for myself.
Terrence Ross: KG has always been known for his infamous trash talking. When I was a kid I was at a Trailblazers game— Minnesota vs. Portland. I was sitting close to the court and I just remember he was constantly talking to himself. And I thought it was the weirdest thing ever. "C'mon, KG, c'mon KG!" and he was hitting his head on the base of the rim. I thought it was the oddest thing, but then years later playing against him I understood it and could see why he is the way he is.
Dwane Casey (coached Garnett in Minnesota, 2005-07): One thing with Kevin that I had to get used to was his pre-game ritual. He had to get stretched at the same time at the same spot on the court before every game, he had to put up the same number of shots during warmups, the ball boy— the same kid every game— had to throw him specific passes, and then he had to give Malik Sealey daps before he left the court (Sealey was a teammate of Garnett's on the Timberwolves who passed away in a car accident at the age of 30). And if any part of that ritual was messed up, he'd get very upset about it. He's very emotional, but you love him when he's on your team.
One day the ball boy was sick and wasn't able to make it to the game. The story goes that Kevin had somebody go and find the ball boy and have him come to the arena just for the warmups. I don't know how true it is, but that was the story: He went and got the kid out of his sick bed to pass him the ball. He was so superstitious and an absolute creature of habit.
He's also the biggest, most ultimate competitor I've ever been around. You see his competitiveness form start to finish in games, but he was the exact same way in practice and in the film room. We'd be watching video and he'd always stop me and say "Case, Case, run it back. Who's supposed to be in position there?" He takes the role of the coach in those situations. An ultimate team-guy, team-player. The game is going to miss Kevin Garnett.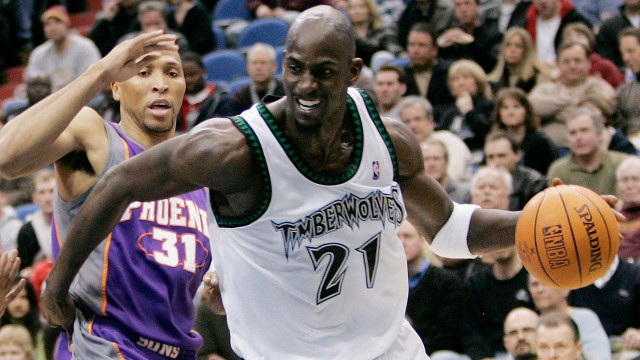 DeMarre Carroll: KG is a close friend of mine, and one thing he told me was: Once you sign a big contract, save your money. He told me you don't need a financial advisor, it's just simple math. If you make $100,000, save $80,000, and do what you want with the $20,000. Save your money.
Cory Joseph: We all hear stories about him, but for me just watching him when I was growing up and he was playing for Minnesota, he had a huge impact on the game of basketball. We know how great of a superstar he was and he inspired a lot of kids like myself with the passion that he played with. It was unmatched.
Delon Wright: My favourite moment was when he yelled, "Anything is possible!" when he won the championship in 2008 and he kissed the floor. That was his best moment, to finally win a title.
Jared Sullinger (played with Garnett during his rookie season in Boston): Ok, I'm going to leave some names out of this…
It's the fourth day of training camp and we're in Istanbul, Turkey. We're scrimmaging and KG gets fouled, and the guy who fouled him yells— excuse my French, mom— "Hell no, that ain't no f***ing foul!" KG was at the free throw line, dribbling the ball and about to shoot.
He turns his head and goes, "What the **** did you just say?" to his teammate. He threw the ball back to the ref and says, "Hold on— I have more f***ing turnovers than you have minutes played in this mother******* league. Don't ever f***ing talk to me like that again." I was just, like…frozen. I thought to myself, "Welcome to the NBA, Jared."