This story originally appeared in Sportsnet magazine. Subscribe here.
The most surprising thing about Bryan Colangelo's mid-career detour is that he's spending it in Toronto. It's a frigid January morning—"Minnesota cold," he calls it—as he settles in for a coffee near his Yorkville home.
"Did you cab it?" I ask him.
He laughs. "I walked," he says. "I'm not that soft."
Credit where credit is due. Born and raised in Phoenix and married to a movie-star beautiful Italian woman, Barbara, Colangelo remains in the city where he once walked on water, even if it's ice-fishing weather.
Toronto is the site of the one moment in his career that didn't work out, where—for a time, at least—it appeared he'd failed. The Raptors had missed the playoffs for five straight years by the time the club's first celebrity GM was given the cold shoulder by incoming MLSE boss Tim Leiweke to make way for his former protégé, Masai Ujiri.
Ready for the irony? Even as Leiweke's departure is imminent, Colangelo is in the final stages of earning permanent residency status. "I didn't give any consideration to leaving at all," he says. "My family is happy and content here. My kids are on very solid paths that I don't want to disrupt."
---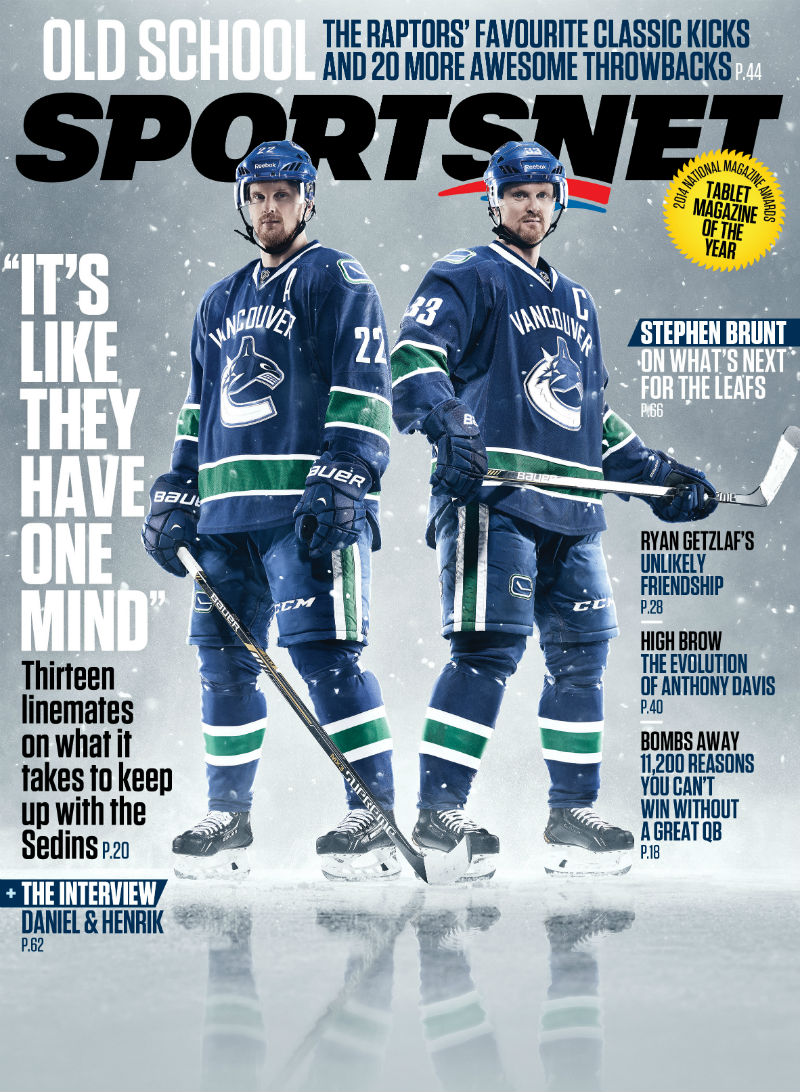 ATTENTION Rogers and Shaw customers. Already enjoying Sportsnet ONE? Now get access to digital editions of Sportsnet magazine at no extra cost.
---
But perhaps more strange is that Colangelo hasn't had a compelling reason to leave. The league has not come calling for the two-time NBA executive of the year. For the first time in his life, he's an outsider. "Your life has a different cadence all of a sudden," Colangelo says. "In the NBA, everything is consistent and timed out, year after year. You have training camp, pre-season, regular season, All-Star Weekend, various league meetings throughout the year. Then you get to draft preparation and the draft itself, then free agency, summer league… it's a constant cycle. You peel out a day or two where you have an opportunity to take a breath, but that's what I was doing for 20 years."
Colangelo could be back in soon enough. He's been linked to a group including former NBAers Grant Hill and Junior Bridgeman that is positioning itself to bid on the Atlanta Hawks, a development that he would neither confirm nor deny over coffee. "I'm working on a few things," he says.
But work means something different than it did for the seven years he ran the Raptors, which covered the gamut from building a playoff team out of thin air upon his arrival in 2006 to seemingly leaving it adrift prior to his official departure in June of 2013.
Colangelo and Leiweke have not talked since. Told that they live in the same general neighbourhood, the Raptors' former GM can't resist a mild dig. "Does he rent?" he says, in reference to Leiweke's fast-coming departure after what will be just two years on the job.
For now, Colangelo may be Canada's most overqualified basketball dad. His son, Mattia, is emerging as one of the city's better high-school players (his daughter, Sophia, dances), starring at Upper Canada College and a fixture on an elite AAU team.
That's where he gets his fix. "You get up, you take the kids to school, you have a coffee, you read everything about the business, you make the calls you want to make," he says. "Three times a week, you run out of the house to go work out. I've had lunch with my wife occasionally. There are things that are definitely occupying my time. But when there's a game in the afternoon, you tend to build a day around that."
Colangelo is genetically incapable of being completely still. Even while out of work, he attained Super Elite frequent-flyer status as he accompanied Mattia on the AAU basketball circuit, did some informal scouting at the FIBA World Cup in Spain last summer and made a point of scouting a number of NCAA games in person.
He's taken on a role as what he jokingly calls an "affordable consultant" for other NBA executives and agents, in some ways closer to the game than when he was feverishly pursuing the interests of the Raptors. "It's opened some of those relationships up for me a little bit," he says. "You think you're close, you think you're a friend, but you've got barriers. There are natural barriers in business that you don't cross. You're protecting your interests, so it's been eye-opening that way, too."
Colangelo's time on the sidelines has served him in ways he couldn't have predicted. He sounds absolutely sincere in relishing how engaged he is with his kids as they enter their teenage years, something that would have been impossible on a GM's schedule.
Professionally, the benefits are finally coming. The Raptors' rise to Eastern Conference contender has required a significant reconsideration of Colangelo's legacy. The Raptors are Ujiri's team, but they're built on Colangelo's foundation. Acquiring Kyle Lowry for what turned out to be the No. 12 pick in the 2012 draft? Extending DeMar DeRozan for four years at just $9.5 million per season? Drafting Jonas Valanciunas and Terrence Ross? Hiring Dwane Casey? All Colangelo. Ujiri himself was hired in part due to Colangelo's endorsement.
Even Leiweke acknowledges that. "Bryan's role got lost in the shuffle, in the emotion of the moment," he says. "But I think when the story is told, the part of the story that is about Bryan should be a very big part. He deserves a lot of credit, and I give him a lot of credit."
On a cold winter day, Colangelo seems the same as he ever was as GM, if a bit calmer and more rested. But having the team he built pulled out from under him left him shaken. "Everything was being questioned so much; it was almost starting to make me wonder: Did I lose my [way] of thinking? Is the league changing?" he says. "I started questioning myself a little bit."
With each Raptors win, the doubts dissipate. He's cautious about sounding like he's swooping in to take credit, but realistic enough to know that the Raptors' rise looks good for him. Some things have worked out even better than he could have predicted. "I knew Kyle was a top-10 point guard," he says, chuckling. "I just didn't know he'd be a top-five point guard. [But] selfishly, it's helping me potentially re-establish the credibility required to stay alive in this business."
The longer Colangelo remains in Toronto, the better his future looks.