The Philadelphia 76ers have done it again. The (Woj) bomb dropped just a few hours after the Toronto Raptors beat the Sixers 119-107 on Tuesday night, with ESPN's Adrian Wojnarowski reporting that Philly had swung their second major trade of the NBA season — this one coming just one day prior to Thurdsay's trade deadline.
After landing Jimmy Butler in November, Philadelphia has now acquired their second all-star calibre player this season, acquiring 26-year-old forward Tobias Harris from the Los Angeles Clippers.
It's a fairly mammoth move that few would have seen coming, and one that holds major implications both in the East and around the NBA. Here's a look at the fallout of this stunning blockbuster deal:
What it means for Philadelphia
There's no more powerful trade chip than draft assets, and the 76ers utilized their bevy of picks to make this deal happen, sending two second-round picks and a pair of first-rounders to the Clippers in exchange for Harris. The 2021 unprotected Miami Heat pick that L.A. acquired is the most valuable of the bunch, and could be a top-three calibre pick if Miami's regression continues as expected.
But for a team looking to contend for a championship in the immediate future, it's a worthy risk.
Harris is wildly underrated and in the midst of his best season to date, averaging a career-high 20.9 points and eight rebounds per game while shooting 49.6 per cent from the field. His stay in L.A. was short, having been traded to the Clippers as part of the Blake Griffin deal with Detroit this time last year. Just 26, he's already eight seasons into his career and seemed to have turned a corner this year, developing into a consummate modern-day power forward. Just hours before he was dealt, he hit this game-winner over Charlotte:
What's more, he should be a terrific fit on the Sixers, who'll slot nicely alongside centre Joel Embiid in Philly's starting lineup. Harris is shooting over 43 per cent from beyond the arc this season and will help give more room for Embiid to operate in the paint where he's most effective, while providing his new team with a truly versatile offensive weapon capable of fluctuating between being a go-to scorer and complimentary threat.
The 76ers have a seriously potent starting five in Ben Simmons, J.J. Redick, Jimmy Butler, Tobias Harris, and Joel Embiid — likely the best in the East.
But now they need a bench. Ironically this deal comes just four days after Sixers head coach Brett Brown declared to reporters that "depth is the holy grail." His team has less of it than ever following this deal after trading important supporting cast members in Wilson Chandler, big man Mike Muscala and promising rookie shooting guard Landry Shamet. They did acquire low-post depth in the form of Boban Marjonavic and Mike Scott, who was a handful for the Raptors in the first round of the playoffs last season when he was with the Washington Wizards. Expect Philly to be particularly active on the buyout market.
You can also expect them to make the race for first place in the East considerably tougher now thanks to the addition of Harris.
What it means for the East
Needless to say, the competition just got a lot tougher.
For the four teams currently ahead of them in the Eastern Conference standings, there should be legitimate concern for the fifth-place Sixers catching up to them. Just one game back of a top-four seed and six games back of first place, the trade gives Philadelphia a good chance to make a push for a top seed as the playoff stretch nears.
The Indiana Pacers are in tough after losing all-star guard Victor Oladipo to injury. The Boston Celtics have ran hot and cold this season, and before their current 9-1 streak have underperformed to expectations thus far. The Raptors meanwhile have also underwhelmed as of late, despite an impressive 39-16 record, and a nagging back issue for Kyle Lowry is the latest question mark hanging over the team.
The Harris trade now makes for an even more interesting playoff race, and gives Philadelphia the firepower to make a legitimate run at reaching the Finals.
What it means for the West
The Clippers were an early surprise in the NBA this season, at one stretch holding first place in the West thanks in part to Harris' career year. They've since cooled, and at 30-25 are currently in eighth in the conference.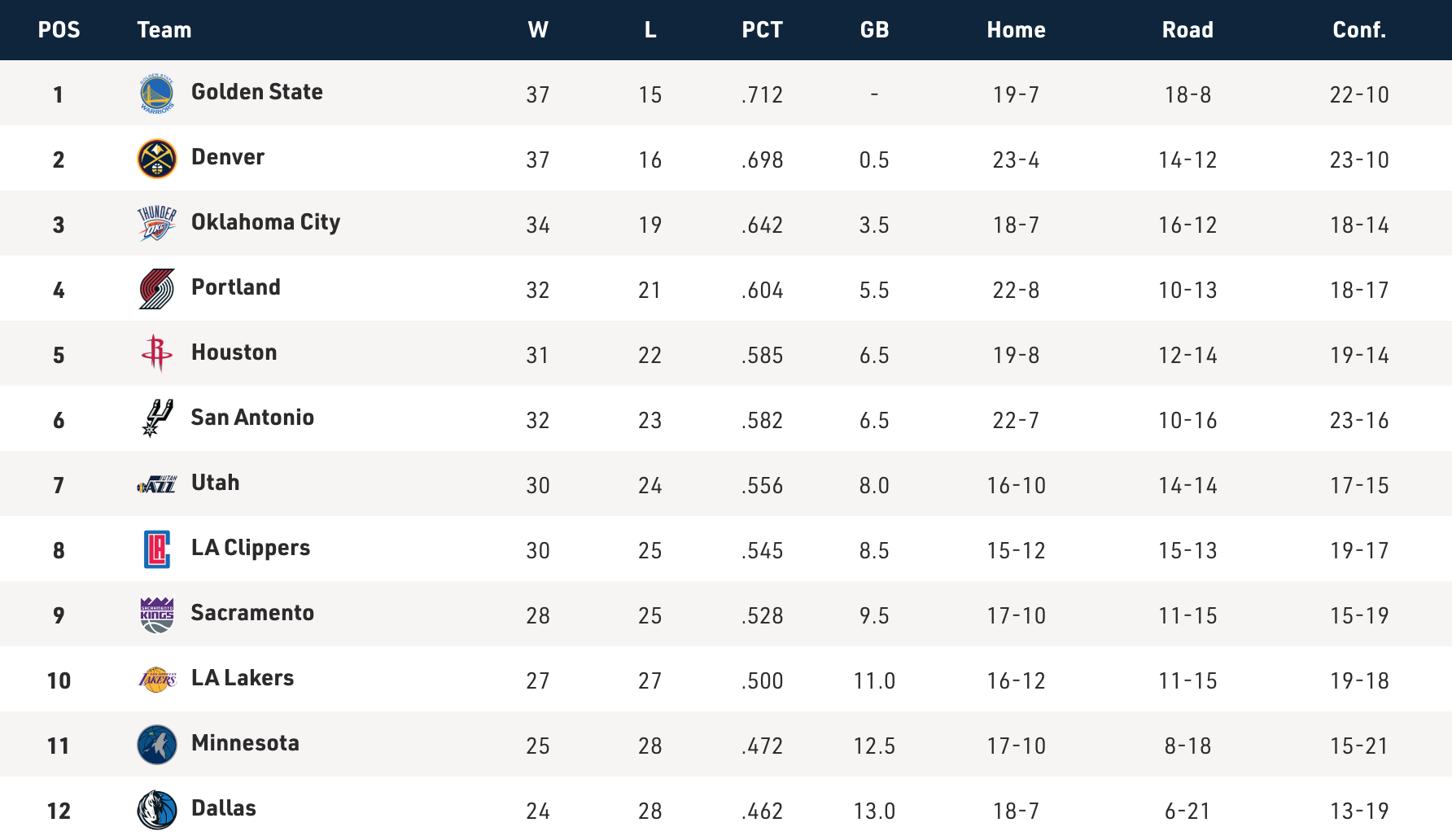 After losing their best player and not acquiring any "win now" players in return, you can expect the Clippers to dive a bit in the standings (which should open the door for more playing time for Canadian rookie point guard Shai Gilgeous-Alexander).
With the Clips trending downward, it opens the playoff door for a few teams that have been quietly knocking as of late. The no-longer-a-laughing-stock Sacramento Kings, roster-TBD Los Angeles Lakers, Minnesota Timberwolves and even the Luka Doncic-led Dallas Mavericks all have a stronger shot at making the post-season as a result of this trade.
What it means for the Raptors
How will the Raptors respond? Apart from establishing tougher competition atop the East, this deal may also light a fire under the Raptors' brass, who has seen their team look more mortal than ever over the past month.
The team has already been actively engaged in trade talks leading up to Thursday's deadline, with links to home run targets like Anthony Davis, Kristaps Porzingis, and, most recently, Mike Conley Jr. and Marc Gasol. It should come as no surprise, given the potentially short window to reach the Finals — which could be as short as one season should Kawhi Leonard depart in free agency this summer. The Raptors already had plenty of reasons to make a splash ahead of Thursday and acquire another big-name talent to help maximize Leonard's time here.
The Harris deal puts the ball in Toronto's court to respond and bulk up their own roster— and with only one more day to do so before the trade deadline passes.
What it means for this off-season
The Sixers are set to have among the most cap space of any team this off-season, and are reportedly planning to re-sign both Butler and Harris. Should they re-sign in Philadelphia, the two pending free-agents will help solidify the club's status as a perennial threat in the East. Throw in the continued development of Embiid and Simmons and it's a scary notion for the outlook of the conference.
The trade is surprising on the Clippers front if only because Harris provided some sort of insurance should they swing and miss on marquee free agent targets this off-season. But given their seemingly obvious courting of the Raptors' Leonard and big-picture plans of drawing superstar talent to the organization, the deal to free up cap space makes sense, with the draft picks acquired helping to cover some of the risks involved in building an off-season plan around free agency.
The Clips are now expected to have cap space to sign a pair of big name stars and will be aggressive in going after the likes of Kevin Durant, Kyrie Irving, and, of course, Leonard, as they aim to completely rebuild their image around one of those stars.