We know what you're thinking: 50 means nothing if they don't win in the playoffs. And you're not wrong. But it's undoubtedly a significant milestone for the Toronto Raptors, who earned their franchise-best 50th win of the season Wednesday night versus Atlanta.
So to celebrate, we compiled a list of 50 of the standout moments from the 2015-16 season thus far. The list is in no particular order, so without further ado:
1. Kyle Lowry's statement shot/game-winner versus Cleveland
It was the best night of Lowry's career, dropping 43 points, nine assists, five boards, four steals, and just two turnovers, while shooting 75% from the floor. But it was this dagger that Raps fans won't forget anytime soon:
2. The win streak
The Raptors went nearly undefeated in the month of January, firing off 11 straight wins between the 6th and 30th, including victories over the Clippers, Heat, and Celtics.
3. Raptors almost ruin the Warriors perfect season
The defending champion Warriors had an eleven-game win streak of their own, undefeated on the year heading into their early season matchup with the Raptors in November. Toronto gave Golden State its biggest scare yet before ultimately losing a hard-fought contest 110-105.
4. Dunk of the Year?
DeMar DeRozan puts Jazz centre and noted rim defender Rudy Gobert on a poster.
5. Cory Joseph buzzer-beater vs. Wizards
6. Kyle Lowry named All-Star starter
The second consecutive season the Raptors point guard was named a starter.
---
Check out Sportsnet magazine's Kyle Lowry profile, on how he went from 'uncoachable' backup to perennial All-Star
7. DeRozan becomes Raptors all-time leader in wins (currently with 515, Bosh 2nd with 509).
8. Drake chats up Bulls' Justin Holiday, inducing a 5 second violation in the process.
9. Lowry trolls Demar over math during an interview in London
10. Comeback win in Oklahoma City
It was only the fifth game of the season, but the Raps made a statement rallying from eight down with five minutes to play on the road versus the OKC Thunder.
11. The Biyombo Game
Bismack Biyombo put an exclamation point on a terrific run of ball in place of injured Jonas Valanciunas with a monster 16-point/25-rebound performance in a March road win vs. Indiana.
12. Mood? Under-utilized [sic]
Perhaps water under the bridge now given JJ's started 27 games since his infamous tweet, but his minutes continue to be irregular…
13. Luis Scola dunks on the fast break
Scola has been a big surprise this season, excelling as a starter, but this may have been the 35-year old's biggest surprise yet.
14. DeMar's big night out
DeRozan dropped 38 points, along with ten rebounds and seven assists as the Raptors beat the Miami Heat in overtime.
15. Bebe from downtown!
16. The first three minutes of the 2nd half in the Raps' blowout win in Milwaukee
Aka the most improbable 10-0 run in team history, in which James Johnson and Norm Powell trade three-pointers while routing the Bucks.
17. Role players getting star treatment at All-Star Weekend
It was impossible to miss the gratuitous shots of the likes of Biyombo and DeMarre Carroll courtside amid the festivities at All-Star Saturday night. Hey, speaking of…
18. DeMarre Carroll's All-Star outfit.
And you didn't think it was possible to overshadow that Wiggins jacket…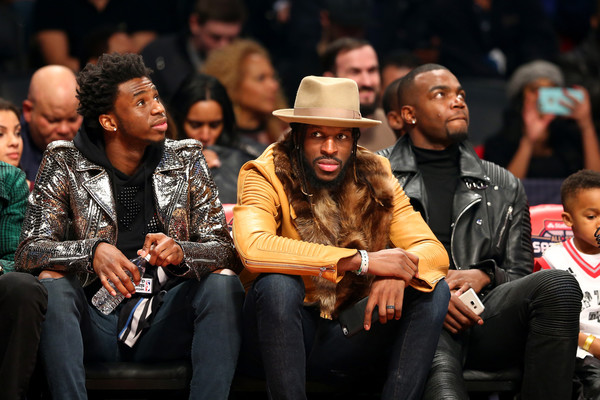 19. Lowry torches Lakers from beyond the arc with career-best seven triples:
20. Raptors nearly topple the undefeated Warriors….AGAIN
Second verse same as the first. The Dubs came to Toronto with a 20-0 record in December and kept their perfect record in tact following a narrow 112-109 win.
21. Patterson seals the OT win on St. Patrick's day
22. Drake anoints Biyombo "Big Bizness"…
23. …And is quickly put to shame:
23. Raps lay the hammer on the Clippers in L.A…
DeMarre Carroll and DeMar DeRozan each scored 21 while Luis Scola chipped in with 20 of his own en route to a sound victory over a tough Western opponent.
24….And later soundly beat the Spurs at home.
Five Raps scored in double figures, led by DeRozan's 28 in maybe the most impressive win on the year.
25. Amir Johnson's video tribute in ACC return.
26. All-Star Weekend descends on Toronto
From having two players suit up in the All-Star game for just the second time in team history, to several Raptors playing host to the NBA's best, All-Star Weekend was a stunning success for the team, its city, and basketball in Canada.
27. Stunning ball movement leads to Powell three
28. Dwane Casey gets caught making a swear
29. Carroll's amazing ad for the Toronto Humane Society
His debut Raptors season may have been a disappointment thus far, but Carroll is finding plenty of ways to contribute off the court.
30. A backcourt duel for the ages
In a showdown of two of the three best backcourts in the NBA, the Raptors and Blazers lived up to the billing in a thrilling 117-115 Raps victory. Lowry and DeRozan combined for 66 points, while Damian Lillard and C.J. McCollum went off for 74 of their own.
31. DeRozan sets NBA record
In that same Blazers game, DeMar DeRozan set the single-game record for consecutive free throws made with 24.
32. JV's horrible shooting right around the cup (note Bruno Caboclo's amusement)
33. DeRozan and Lowry receive All-Star jerseys.
34. Biyombo blocks Michael Carter-Williams, then forearms him in the face.
35. Is anybody still reading this?
36. Raptors finally get the monkey off their back
After six seasons and 12 head-to-head matchups with former franchise player Chris Bosh, the Raptors finally got the monkey off their back on Dec. 18 in Miami.
37. Block party vs. Denver, Pt. 1: Lowry vs. Jokic
38. Block party vs. Denver, Pt. 2: Powell vs. Gallinari
39. Pretty cool SLAM cover
40. DeRozan, Lowry, and Masai Ujiri appear on Ellen show to support Sam the Barista
41. Lowry's circus and-one against the Celtics
42. Bruno's hard work paying off
Yes it's the D-League, but Raptors fans couldn't help but get excited after Caboclo recently posted a career-best 31 points, flashing all of his offensive tools in the process:
43. Jonas Valanciunas' beard crosses over from 'scraggly' to 'hipster'
44. Joseph's spin-o-rama and-one against the Pistons
45. MoJo (More Joseph):
46. Amir Johnson stays classy
47. Terrence Ross breaks out
After a worrisome slump to begin the season, Ross, who was handed a lucrative contract extension right around the same time, finally turned things around. His contributions in the early parts of 2016 helped fuel the Raps, the most impressive perhaps being his 22 point performance in L.A. versus the Lakers, in which he was a tidy 4-6 from beyond the arc.
48. Lowry multi-tasks during Villanova game
49. DeRozan abuses the lowly Sixers
50. Future Prime Minister Norm Powell with the nightcap during a historic evening.
Check out the entire highlights from win #50 below, where Powell's second half fast break slam steals the show.