When the Toronto Raptors drafted OG Anunoby with the 23rd pick in the 2017 NBA Draft, they couldn't believe their luck. Rarely does a player of his size — 6-foot-8 and 232 pounds — with such NBA-ready defensive tools, like a 7-foot-2 wingspan, fall so low.
Part of the reason Anunoby fell so low was that he wasn't supposed to play competitively until, well, right around now. Instead, Anunoby has appeared in all 46 games so far this season— starting 34 of them — and has pulled his weight offensively with the occasional breakout game: 16 points on 6 of 8 shooting in a win against Houston; 16 points on 6 of 9 shooting in a win against Phoenix; and 20 points on 6 for 7 from three in a win against Charlotte.
Anunoby's better-than-expected scoring production impressed not just those inside Raptors circles — Kevin Durant named OG as one of his favourite rookies — it's fair to say most people around the league are exceptionally high on the 20 year old.
Since the turn of the new year, the Raptors have continued their impressive play on their way to a 8-4 record for the month of January and sit just one and a half games behind the Boston Celtics for first place in the Eastern Conference. Yet Anunoby is having his worst offensive stretch to date.
Despite a solid ten-point showing against Atlanta on Wednesday night, a quick glance at his stats shows how far Anunoby has fallen off offensively in January.
OG is averaging his lowest in points per game and three-point percentage of any month this season, and his overall offensive rating— which measures a team's points per 100 possessions while a player is on the court— has taken a significant dip compared to the gaudy numbers he put up in November and December.
But as is often the case, offensive numbers literally tell only half of the story, and it's on the defensive end that the rookie's value has remained instrumental since the new year.
Anunoby's defensive rating — which measures a team's points allowed per 100 possessions while a player is on the court — has remained fairly solid throughout the season. But like every statistic viewed without context, using only defensive efficiency to measure an individual's effectiveness has its flaws. In this case it's the fact that four other Raptors are on the court with Anunoby at all times.
Combined with Anunoby's defensive rebounding so far in January — both his rebounds per game (2.7) and his percentage of the whole team's rebounds (11.4 percent) — it's not a stretch to say that Anunoby isn't anywhere near hitting the so-called 'rookie wall.' One could even argue that he's having his best defensive month of his career to date.
Anunoby's numbers on defence become all the more impressive when taken into account the fact that five of the Raptors' 12 games this month have come against teams in the top 10 in offensive efficiency. It's games against the likes of Golden State and Minnesota that'll do significant damage to a player's defensive numbers, and yet the Raptors rookie has managed to absorb this and still post stellar numbers.
In fact, on a game-to-game basis, Anunoby has put together six games so far in January where his defensive rating has been below 100, a mark considered as a top defensive performance.
Evaluating Anunoby's overall efficiency on both ends of the floor, the 20 year-old stands among the best in the league. While his 21.5 minutes per game rank 15th among all rookies, what he does in those minutes separates him from the rest of the field. Of those rookies who average at least 15 minutes per game, Anunoby's net efficiency rating of 11.8 is almost four points better than Milos Teodosic in second, and almost double Jayson Tatum in third.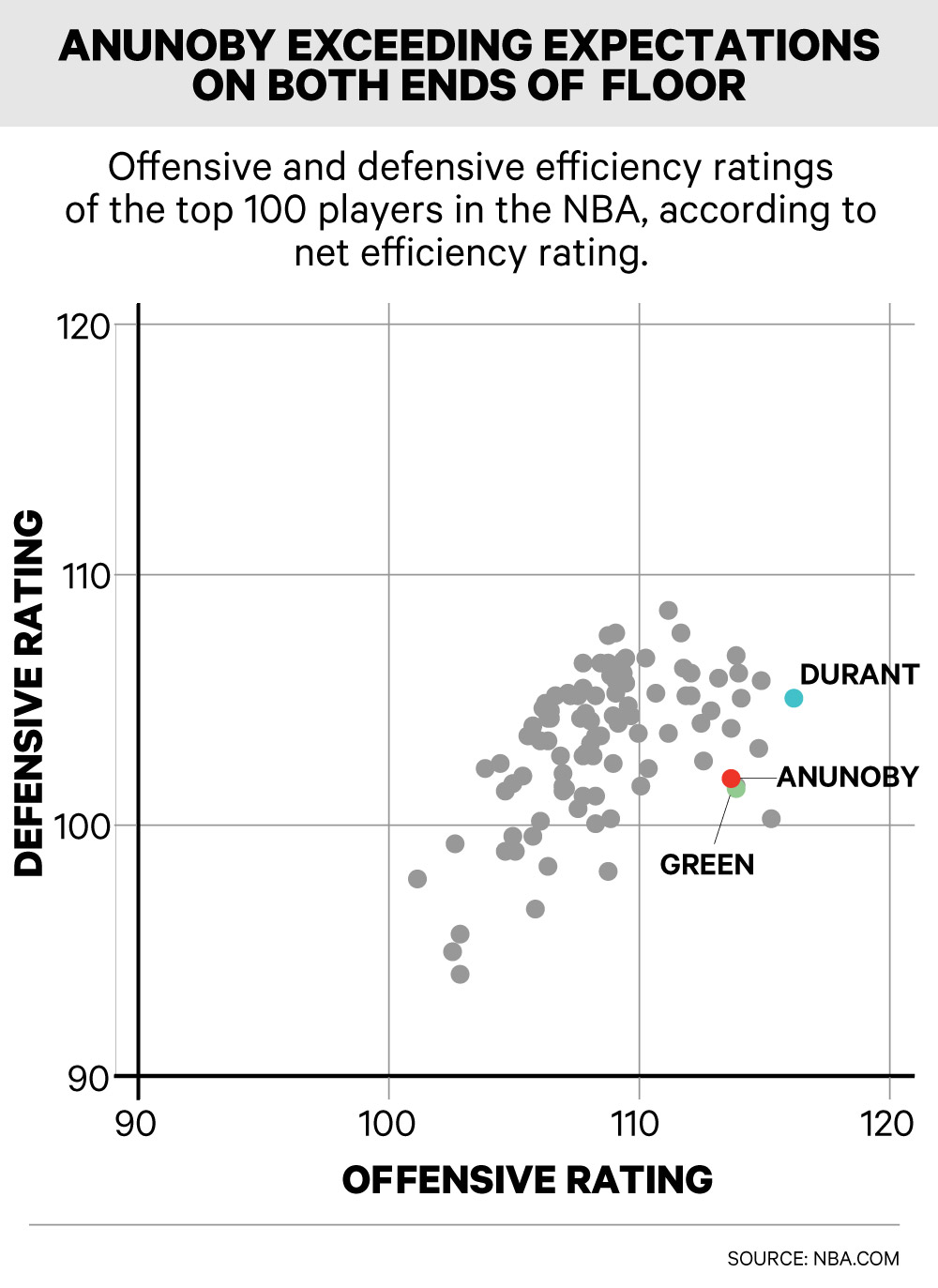 And when it comes to measuring Anunoby against the rest of the league, he remains among the elite. Of players across the league to play in 70 per cent of their team's games and average at least 15 minutes per game this season, Anunoby is currently fourth in net rating — which leads all Raptors — and is joined by the likes of Kevin Durant and Draymond Green at the top. Whether or not this is the result of the play of his teammates, Anunoby is doing a lot of things right.
As he continues to struggle with his scoring and shooting, the Raptors' brass, and fan base, shouldn't be too worried. It's a part of being a rookie. Besides, offensive production isn't even why Masai Ujiri drafted him in the first place.
Instead, Ujiri and Co. chose Anunoby because of his size and defensive skills, which they knew would carry him through tough times on the other end of the floor. And so far in his fledgling career, Anunoby has shown that his defence is indeed immune to his offensive woes.