It's the start of the second quarter in a meaningless early-April game for the playoff-bound Cleveland Cavaliers. The Cavs are already up 14 on the scrappy but decidedly not-playoff-bound Milwaukee Bucks. Still, Cleveland forward and Brampton native Tristan Thompson is playing like it's the 2015 Finals.
Thompson sets a pick at the top of the three-point arc on fellow Canadian Tyler Ennis and dives back toward the hoop, catching a tough pass in traffic from Matthew Dellavedova and putting up a quick shot over Miles Plumlee and Giannis Antetokounmpo. Plumlee slams into Thompson and sends him to the ground—hard—as the ball drops through the hoop.
The whistle blows for an and-one, Thompson gets up and high-fives a couple teammates before hitting his free throw and running back on defence. No confrontation, no controversy. Just a hard-nosed if low-key play on the way to a blowout win. Thompson finishes with 11 points and seven rebounds on just five shots in 18 minutes.
This kind of sequence is standard for Thompson. He rarely makes headlines—though the NBA's current ironman got some love from the Cleveland press a couple weeks back for becoming the Cavaliers' all-time leader in consecutive games played with 362—and hasn't caused much of a ripple since the off-season. For a few days back in October, though, he was the talk of the NBA, and not for the reasons you want to be.
After a long negotiation process that lasted into training camp, Thompson signed a five-year, $82-million deal to stay with the Cavs. That made him a top-10 power forward by salary—it's the same money likely all-NBA selection Draymond Green got a few months earlier—and looked like an overpay to many. Even though he was just 24 at the time and was coming off a long Cavs playoff run that accentuated the value of his grinding play and offensive-rebounding ability, he seemed to most like a known commodity with limited upside.
Thompson isn't a true centre and doesn't have gaudy block totals to belie above-average rim protection. He also rarely shoots outside of five feet, which makes him a square peg in the round hole of today's stretch-four loving NBA.
What's more, he plays fewer minutes than just about all of the guys paid comparably. So did the Cavs overpay for a workmanlike homegrown player? Or does the deal properly reflect his contribution as a key understated cog in the Cavaliers' machine?
It kind of depends on your criteria. But if you dig deep enough into the stats, Thompson starts to look easily like one of the most valuable bench guys in the league.
On first glance, Thompson's numbers from the 2015–16 look pretty subpar. In 27.9 minutes he's averaging 7.9 points and 9.1 rebounds, with less than one assist, steal and block. He's also taken just 5.2 shots per game, which helps explain the low scoring output.
A look at Thompson's shot chart shows an impressively risk-averse player who takes only the shots he can make: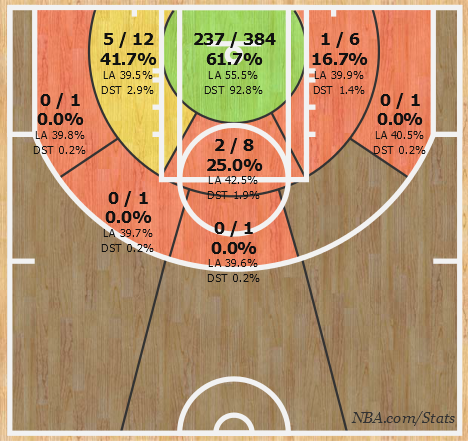 Variety is clearly lacking in that chart, but the green in the middle is nice—and that's where we get to Thompson's value. The 25-year-old is shooting a career-best .592 from the field this season, and hits nearly seven of 10 inside three feet. He's also adding his now-emblematic 3.3 offensive boards a night—his third straight year collecting that exact number—and taking care of the ball to the tune of a career-low 0.8 turnovers.
That all plays into his league-leading offensive rating, a stat that estimates the points produced per 100 possessions by a given player. This season Thompson is at 130. Stephen Curry, second overall, is at 124. LeBron James is 18th on the list with a 116 rating.
And that's not the only advanced stat that likes Thompson. He's 18th in the NBA in offensive win shares with 5.5 (all the more impressive because he doesn't play starters' minutes), and 17th in overall win shares per 48 minutes.
Addressing a long-held minor grumble, Thompson is producing at the other end of the floor as well. Despite playing a quarter of his minutes out of position at centre, he's got career highs in defensive rebound percentage (23.2 percent), defensive win shares (3.1) and defensive box plus-minus (1.2). In that last stat he was actually a minus player three of the first four years of his career, which shows the Cavs are actually getting more for their money than they bargained for—or they are getting rewarded for their faith that the now 25-year-old Thompson is still improving as he learns the game.
So back to the question: Is Thompson worth $14 million to the Cavs this year, and an average of $16 million per year over the length of the contract? While it remains incredibly difficult to compare contracts across teams and the rising cap continues to muddy the picture, if we pull up the list of power forwards making $14 million or more this season we see Thompson is contributing apace on offence and defence.
| | Salary | ORtg | DRtg | OWS | DWS | WS/48 |
| --- | --- | --- | --- | --- | --- | --- |
| C. Bosh | $22,200,000.00 | 114 | 104 | 4.1 | 2.3 | 0.172 |
| L. Aldridge | $19,500,000.00 | 115 | 99 | 5.6 | 4.5 | 0.216 |
| K. Love | $19,500,000.00 | 112 | 102 | 4.6 | 3.8 | 0.168 |
| P. Millsap | $19,000,000.00 | 109 | 96 | 4.3 | 6.0 | 0.190 |
| B. Griffin | $18,900,000.00 | 108 | 104 | 2.2 | 1.6 | 0.156 |
| T. Harris | $16,000,000.00 | 112 | 107 | 4.0 | 2.5 | 0.127 |
| D. Lee | $15,500,000.00 | 111 | 102 | 1.7 | 1.3 | 0.163 |
| T. Thompson | $14,300,000.00 | 130 | 104 | 5.5 | 3.1 | 0.184 |
| D. Green | $14,200,000.00 | 115 | 100 | 5.9 | 5.1 | 0.191 |
Thompson doesn't offer eye-popping counting stats or highlight-reel plays. But if the true test of value is contributing to wins then he's definitely been worth it so far. Thompson has been a part of the Cavs' four most successful five-man lineups who've played at least 100 minutes together, whether they want to play him alongside Kevin Love or as the de facto centre alongside four perimeter players.
He's adapted to an increasingly less-ball-heavy role in an offence with a lot of mouths to feed and come out of it statistically speaking the biggest contributor to its success. And that's a rare feat worthy of both praise and dollars.