The last time a Canadian men's team had a week this good at an Olympics or a FIBA world championship, James Naismith was the one to give them their medals.
They were silver and a reward for Canada losing to the United States 19-8 in the gold medal final at the 1936 Olympics in Berlin.
The international high points have been few and far between since for the home country of the sport's founding father.
But on Sunday evening in Cairo, Canada reached a new peak as the under-19 men became the first national team to win gold in basketball at any FIBA or Olympic event. Naismith could only be smiling, somewhere, after Canada's win at the FIBA U19 Basketball World Cup.
Things have changed since 1936. The game is played indoors, for example, and Canada got to the gold medal game by sweeping aside the U.S. in the semifinal on Saturday.
That was the breakthrough, the moment when years of promise in Canadian basketball finally coalesced into something tangible.
With that wall knocked over, Italy didn't stand a chance in a dominant 79-60 win that made Canadian basketball history.
"It was surreal from the opening tip," said Canadian head coach Roy Rana. "We're all trying to celebrate, but I'm not sure the gravity has sunk in yet."
The gold medal game was a team effort. Four Canadians cracked double figures in scoring and the essence of the win was an active, switching team defence crafted expertly by Rana as his team went 5-1 in the tournament.
Canada held Italy to 29 per cent shooting and 4-of-25 from three. Canada led 14-4 early and 24-10 after the first quarter and were never challenged.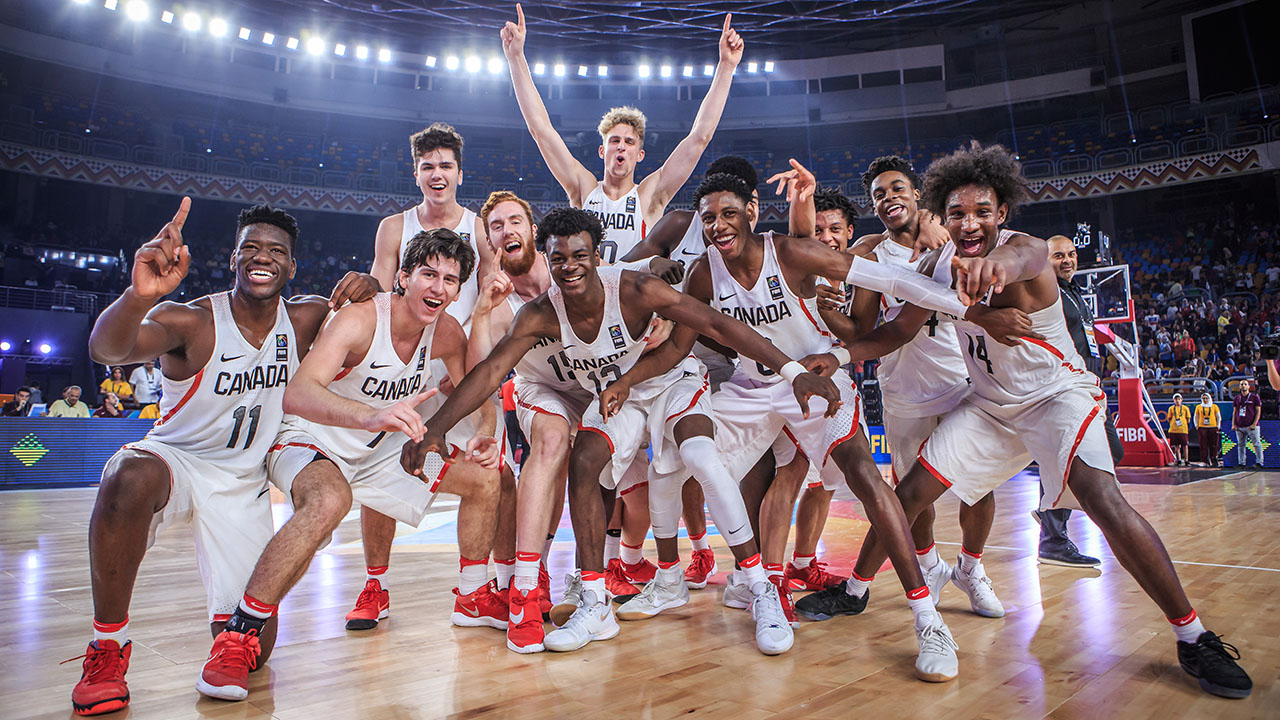 But getting there? The week in Cairo will be pointed to as the moment when 17-year-old Rowan Barrett Jr. made a dent in the mainstream consciousness as the next basketball player – hell, athlete – of note in what is becoming a well-worn path to the international stage for Canadian basketball players and athletes, generally.
Playing two years above his age group, Barrett scored 27 points in a quarter-final win over highly-regarded France, taking over point guard duties while Nova Scotia's Lindell Wigginton – another top prospect – was out with concussion-like symptoms.
But that was just a warm-up. Facing a U.S. team coached by Kentucky's John Calipari, Barrett logged one of the great performances in Canadian basketball history as he dominated every facet of the game, finishing with 38 points, 13 rebounds and six assists.
It was epic stuff.
As one NBA scout said, "He has a switch and loves the bright lights."
"You thought France was pretty special and then he goes out and does this," Rana said in an interview with DraftExpress after Canada's semifinal win. "It's up there with one of the greatest Canadian performances at any level. Hopefully he's got one more in him."
Canada shows it will be a prolific provider of NBA talent for years to come
July 10 2017
That set the stage for Sunday. With Wigginton back in the lineup, Barrett showed an unprecedented level of maturity for his age. He resisted the urge to force his game against an Italian zone designed to make life difficult for a six-foot-seven slasher pegged by many as the top NBA prospect in either the 2019 or 2020 draft.
He moved the ball willingly, crashed the boards and pushed the pace in transition. It was perhaps his most understated performance of the elimination round, but it was essential, regardless.
"For a 17-year-old to lead us to the first world championship in our history is unique and unbelievable," said Rana on a conference call from Cairo. "He's going to be part of our success for years to come. Hats off to the kid – and what can you say, he's a kid – but he knows what it takes to win, on and off the floor."
There was never a question that Barrett would be named the tournament's MVP after averaging 21.6 points, 8.3 rebounds, 4.6 assists and 1.7 steals in 30 minutes a game to go with his playoff round heroics. He was joined on the tournament all-star team by Abu Kigab, a do-everything wing from St. Catharines, Ont., headed for the University of Oregon.
Barrett has been on the radar of basketball fans everywhere for a couple of years, but his work in Cairo is the beginning of him becoming Canadian basketball's next household name, just like his godfather, Steve Nash, Barrett's father Rowan's point guard at the 2000 Olympics.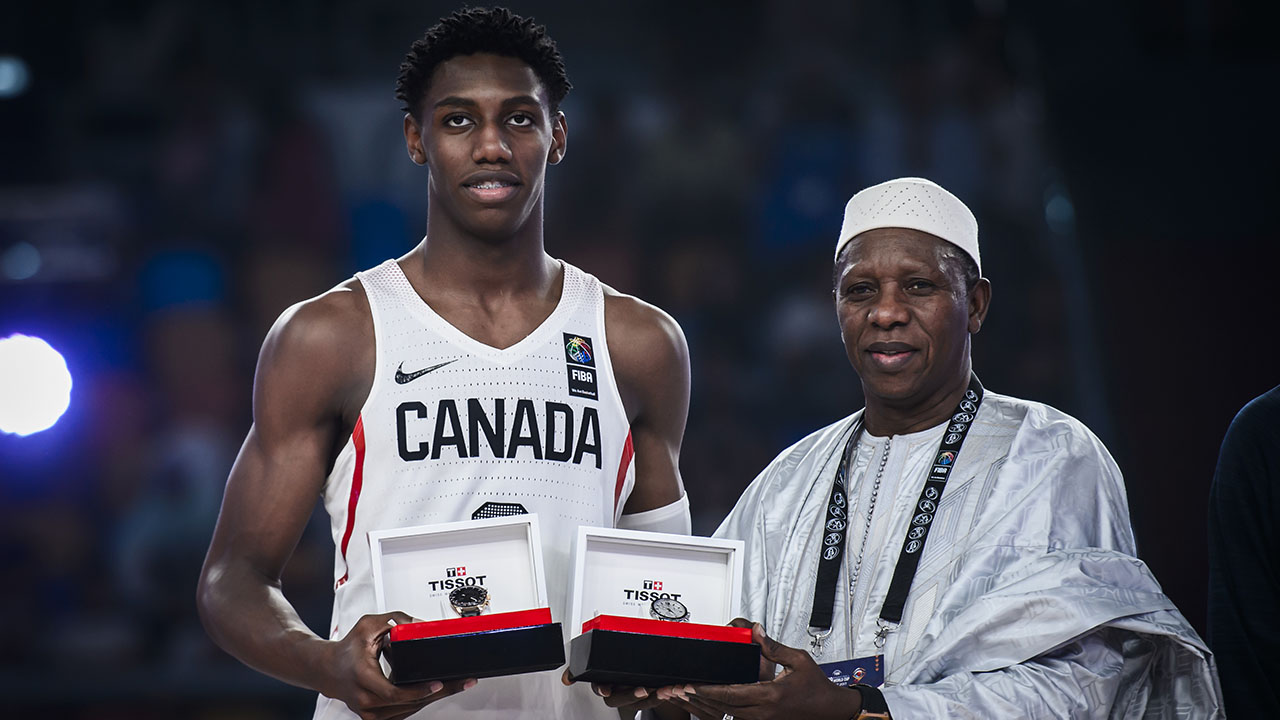 He finished with 18 points and 12 rebounds in the final, leading everyone on the floor in both categories while leading Canada with four assists to boot. Wigginton – one of the best players to ever come out of Nova Scotia and an NBA prospect headed to Iowa State this fall – had 11 points and handed out three assists. Kigab had 12 points and 10 rebounds and Nate Darling, another Nova Scotian star who plays for the University of Alabama-Birmingham, had 12/4/2.
Stateside, Canada's win over the U.S. prompted some to point out that Team USA was lacking a large swath of their top players in the age group, which is a fair point. Summer is a key recruiting period for kids hoping to land American college scholarships and the urge to be seen at various high-profile AAU events is strong.
But that argument is easily deflected as Canada had perhaps another 10 players that would have challenged for a spot on the under-19 entry were they not playing in those same summer tournaments. Canada's prospect depth is now routinely 10 or 15 deep at every age cohort, which is why this kind of international success has been so feverishly anticipated. They have come close before, winning bronze at the under-21 worlds in 2005 and bronze again at the under-17 worlds in 2010 (a team coached by Rana). Canada's under-17 women's team won bronze in 2012.
Canadian success at the Olympics and world championship hasn't yet followed however, which is why this group winning gold at this stage of their international careers is so important. They now have a standard to hold themselves to and proof for everyone else that there is a place on top of the podium for Canadians, too.
For those that haven't been paying attention, it may seem like it's all come out of nowhere. For those that have been watching every step forward and every two steps back for years, it's an old story. It only took decades of striving to be recognized as an overnight success.
In the dark of a Cairo night, a special group of teenagers will be able to stare at their gold medals and know that they never have to take a back seat to anyone on a basketball court, ever again.