Loyalty is a wonderful thing and over the next three or four months, the limits of Masai Ujiri's commitment to his roster will be tested.
On a trade deadline day that began quietly and finished with a remarkable crescendo of deals, the Toronto Raptors general manager was at the back of the room, nodding to the music without actually playing any.
As he had telegraphed earlier in the week it was a quiet afternoon even as so many deals got done in the final minutes before the 3 p.m. deadline that Ujiri joked he had to double-check to make sure he hadn't got looped into something.
The Raptors will be the same team heading into their game against the Atlanta Hawks Friday night as they were just over a week ago when they were winning their third straight at home against three borderline elite teams heading into the All-Star break.
Ujiri's stated reasoning is simple: The existing group has figured out a way to win 36 of their first 53 games, putting them on pace for a 56-win season while remaining in control of the second seed in the Eastern Conference and they deserve a chance to finish the job.
No Raptors team has been this good – ever – at this late in a season and they've gotten here despite DeMar DeRozan missing 19 games with an injury. The Raptors didn't make a deal and weren't particularly close to making one, in part because Ujiri didn't push very hard.
"It's a huge vote of confidence [to the existing team]. We really had nothing from the beginning. We feel confident in this team in terms or growth," he said. "…It was a vote of confidence to our team, our players, our coach to keep plugging away."
But at the same time Ujiri didn't come across as an executive who is too in love with his talent to recognize the potential limitations of the roster.
He just didn't think he could make a meaningful upgrade now, or at least not at the price he would have been required to pay.
Some of the players believed to have come across the Raptors radar include Suns big man Miles Plumlee (eventually moved to Milwaukee); Larry Sanders, the troubled Bucks centre expected to be bought out of his deal; the Brooklyn Nets' Kevin Garnett (eventually traded to the Minnesota Timberwolves) and Alexis Ajinca of the New Orleans Pelicans.
"We are still a long way away, we understand that, but a lot of things that were put in front of us maybe immediately makes you slightly better, but also takes away from your younger guys continuing to grow," said Ujiri.
The risk is that being more aggressive could have allowed the Raptors to leverage a low ebb in the East when – for the moment – there is no well-established hierarchy.
But again Ujiri believes long-term thinking is the way to go at the moment.
"The East is going to get better, we know that, but that's why we have to try to plan for the future rather than do something now. We have to build a program here that is going to sustain long-term."
---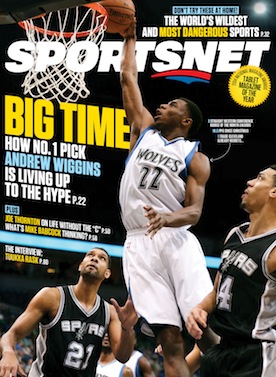 ATTENTION Rogers and Shaw customers. Already enjoying Sportsnet ONE? Now get access to digital editions of Sportsnet magazine at no extra cost.
---
But here's the catch: The group they have together and kept together need to show signs of growth, and progress may not come as easily as it has to date.
The Raptors are heading into the most difficult portion of their schedule and not just because their next five games – with four on the road – are against some of the best teams in the NBA, beginning with Atlanta and bookended next Friday with Golden State.
But because 18 of their last 29 games are on the road and 12 of their next 21 game are against teams that are currently over .500. The Raptors schedule softens up considerably in April in terms of opponents, but only two of their last eight games are at home.
Moreover two teams that could be first-round playoff opponents have made upgrades. The Miami Heat were the day's winners with the addition of Goran Dragic from the Suns for a pair of future first-round picks while the Detroit Pistons added OKC guard Reggie Jackson. As long as the Raptors remain in the second or third hole in the East the Heat will be a looming threat, with Dragic rounding out a lineup that could be a load as long as Dwyane Wade is healthy.
Getting to the playoffs with some semblance of momentum will be one sign of growth and finding a way to get out of the first round, favourable match-up or not, will be an even more important one.
But after that, all bets are off, and Ujiri made clear that this coming off-season will be when he finally rolls up his sleeves and gets to work trying to fine tune a roster that came together almost by accident just over a year ago and has continued to out-perform expectations with only minor tinkering from him.
"In summer you can do more due diligence and study it more and you have a little bit of space, you have guys to re-sign, you have the draft, we have future picks," he said.
"I understand the moves a lot of teams make, but it depends on your situation. For now we're second in the East. It could go up and down, but I think we have good placement for now and in the summer we'll evaluate again."