TORONTO — At some point in the first quarter of Monday night's loss to the Chicago Bulls, Jonas Valanciunas caught his left hand in someone's jersey and felt a familiar pain. It was eerily similar to the sensation he felt nearly four months ago, when Kobe Bryant fouled him on the same hand and fractured Valanciunas' fourth metacarpal, which you know as the bone below the knuckle on your ring finger. This was obviously cause for concern.
Valanciunas was ferried to the Raptors locker room for X-rays, which came back negative, but the swelling and soreness in the area was significant enough for the Raptors medical staff to hold him out of the rest of the game. A couple hours later, with the hand bundled thick in a tensor wrap and poking out from the sleeve of his black hoodie, Valanciunas said he didn't know much more than the rest of us about the injury.
"It feels better than last time, but it's almost the same spot," he said. "It's not broken. I didn't re-break it. The X-rays were negative. So, we're going to take it day-by-day."
This is no doubt alarming for the Raptors, who will be counting on a healthy Valanciunas to be productive in the playoffs when teams begin to clamp down on Toronto's primary scorers, Kyle Lowry and DeMar DeRozan. Valanciunas was one of the better Raptors on the floor against the Bulls until he left the game nine-and-a-half minutes into the first quarter, scoring eight points on three-of-three shooting, pulling down a couple rebounds and blocking a shot.
Officially, the team is calling Valanciunas' injury a left hand contusion and saying they'll treat it symptomatically. The 23-year-old will travel with the team to Milwaukee late Monday night, but it's unclear if he'll play against the Bucks on Tuesday. It's also unclear if Valanciunas could have continued in the game Monday night if there were more on the line than the Raptors' losing streak against the Bulls (it's at nine in a row now, by the way), as the seven-foot Lithuanian dodged a question about whether the injury was something he might be able to play through.
"I went back, the doctors checked it, and they told me to not come back into the game, because they wanted to examine it more. So, I did what they told me to do," Valanciunas said. "We'll see. We're going to talk with [Raptors athletic trainer] Scott [McCullough,] see what he thinks about it. And we'll see."
Bismack Biyombo and relative newcomer Jason Thompson combined to play the rest of the game at centre for the Raptors, with Lucas Nogueira nailed to the bench, possibly because he played 31 D-League minutes earlier in the day for Raptors 905. Biyombo was actually one of the more effective Raptors when it came to trying to swing the momentum of the game, as he blocked six shots and grabbed four offensive rebounds, both team highs.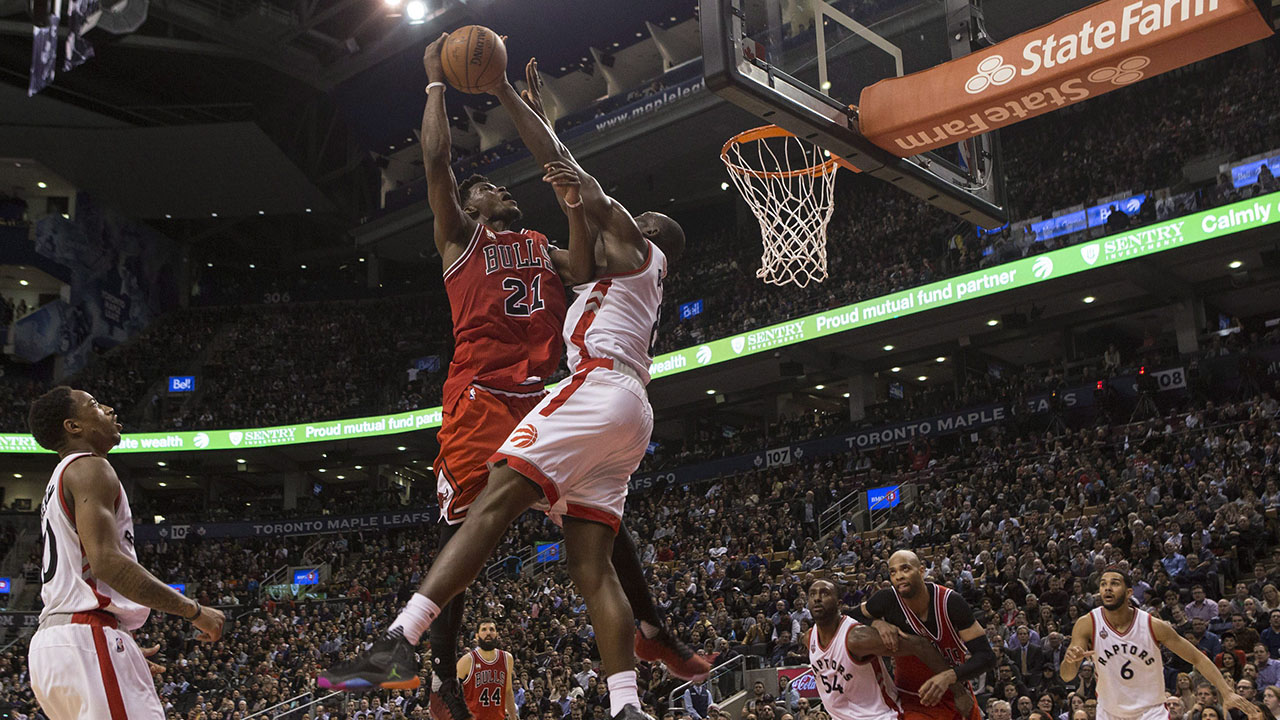 Bismack Biyombo of the Raptors blocks a shot from Bulls forward Jimmy Butler Monday. (Chris Young/CP)
"That's what I was trying to do—trying to find a way to get the energy going," Biyombo said. "I take pride in that. But it's no different for me. I just go out there and try to do the same thing I do every day; try to do my job like I always do. More than anything, I'm trying to get my teammates a win. But tonight wasn't our night."
Biyombo, who normally logs about 22 minutes per game, played almost 26 on Monday, while Thompson, who hasn't even seen the floor in four of his seven games as a Raptor, chipped in nearly 13.
Thompson considers himself a hybrid between a power forward and a centre, with the ability to play both positions and even switch between them within a game. But the 29-year-old is still learning the Raptors offence, which limited what he was able to contribute Monday night.
"I thought he came in and gave us a punch; gave us a little lift," Raptors head coach Dwane Casey said. "He's definitely behind at the centre position. But we needed his activity because they were smaller with [Taj] Gibson and [Bobby] Portis at the five. So, we needed [Thompson] to run around, and I thought he gave it to us."
Thompson has been busy during his time with the Raptors, logging long hours in the video room with his coaches as he works to pick up his new team's systems. He's also had plenty of help from his teammates, especially Luis Scola who is constantly offering his take on Thompson's progress.
When Thompson started in the veteran power forward's place last week—as the 35-year-old Argentinian earned his first full night of rest this season—Scola spent practically every stoppage in play coaching Thompson up on the particulars of the Raptors' offensive and defensive schemes.
"It's a good situation, because the guys are so informative when it comes to teaching me things. I'm trying to soak up all this information like a sponge," Thompson said. "It gets better day by day. I've only been here a couple weeks. So, I'm still learning and always asking the guys about different spots and where to be and things like that. I feel like my timing is getting better."
If Valanciunas misses any action going forward, it will be interesting to see how Casey divvies up his minutes at centre. When Valanciunas was out with the broken hand earlier in the season, Casey often used Scola as his centre while mixing and matching at power forward. He could opt to return to that strategy or to use a combination of Biyombo, Thompson and Nogueira to fill Valanciunas' absence.
Either way, any games on the bench for Valanciunas will likely result in more playing time for the versatile Thompson, who says he's ready to fill in wherever the team needs him.
"You just gotta stay ready. That's the work you put in behind the scenes that nobody sees, just to make sure you're in shape and you're ready to do things offensively and defensively whenever the team needs you," Thompson says. "I'll be ready regardless. I'll keep talking to all the guys, asking questions of Pat [Patterson] and Luis, trying to notice spots during the game. And hopefully a couple weeks from now they won't have to tell me anything, and we'll all just be on the same page all the time."