BROOKLYN, N.Y. – It's always fun to speculate about what the Toronto Raptors might do in the post-season with their unusually large rotation, which commonly runs 10 and sometimes 11 deep.
Shorten it? Let it ride?
We'll see, I guess. But count on Fred VanVleet having his fingerprints all over it, no matter the configuration. Starting, finishing, playing extended minutes? All are on the table for the increasingly productive and instrumental implement in Raptors head coach Dwane Casey's toolbox.
[gamecard id=1947589 league=nba date=2018-03-13]
VanVleet left smudges all over Toronto's 116-102 win on Tuesday night in Brooklyn. It was much more than his 15 points and four assists in 27 minutes, it was little plays like draping himself all over a previously wide-open D'Angelo Russell as the Nets guard – who had made seven threes on the night – set up for a shot in transition at a pivotal moment in the fourth quarter. VanVleet closed him down. The play-by-play shows the Raptors stop was sandwiched around a DeMar DeRozan three and then a layup in transition that put Toronto up 10, salting away an otherwise very close game with 2:27 left to play, but VanVleet was making little plays all game long that made just as big a difference.
"Just trying to bring that spark," said VanVleet afterwards. "That's my job, that's what I try to do, try to be a game-changer and try to change the energy, the tempo and the feel of the game."
[snippet id=3636937]
No one did it better. While plus-minus can be a misleading statistic, sometimes it speaks volumes. In this case it was the latter, as VanVleet was +31 on the night; the next best Raptor was +7.
He had help. In particular C.J. Miles exploding for all 12 points of his points in the space of three minutes in the fourth quarter as part of a 14-6 run that finally gave Toronto some breathing room. He was 0-3 from the field until that point.
"They don't pay me to remember my misses," said Miles, who finished with three triples in six attempts in 19 minutes. "I got one open look I was ready to go."
That was much-needed in what was another tough game for the Raptors at the Barclays Center, having been stretched to overtime here in their last visit.
The win was the Raptors' ninth straight, extending their season-high winning streak as they head to Indiana with a chance to push it to double figures on Thursday against the Pacers. Notably, Toronto won its 50th game for just the third time in franchise history and the third straight year, but the club has never done it with 15 games to play. Its lead atop the Eastern Conference is now four games over the Boston Celtics as Toronto has won 15 of its past 16.
"I didn't know we won 50 games," said DeRozan, the only Raptor on the roster from when the team went 22-60 in his second year. "But hearing it, it's definitely an accomplishment, especially these last few years. We got to keep going. That's why we play – bigger goals. Success during the regular season is great but we playing for something bigger than all of us and that's to get in the post-season and win all them rounds and get that gold trophy."
The Raptors were led by Jonas Valanciunas, who handled himself well against a series of smaller Nets lineups, punishing them at the rim with 26 points and 14 rebounds – four on the offensive glass. DeRozan and Kyle Lowry were otherwise subdued, finishing with 15 and 11, respectively as the Raptors shot 48 per cent from the floor and made 11-of-31 threes while getting 50 points from the bench.
The Nets were held to 12-of-43 from the field and 3-of-14 from three in the second half after converting 23-of-43 and 12-of-22 in the first half.
[pullquote]
"Success during the regular season is great but we playing for something bigger than all of us and that's to get in the post-season and win all them rounds and get that gold trophy."
[/pullquote]
In the third quarter, the game was slipping away from the starters for third time when Casey went to VanVleet earlier than normal, bringing him in for an ineffective Norman Powell barely four minutes into the second half. The Nets had pushed their 10-point halftime lead to 15 and the visitors needed a fresh look.
VanVleet picked the starters up first with his defence, sticking to the ball like glue, slipping around screens as if he were greased.
On offence he knocked down a pair of key threes and assisted on a Valanciunas hoop that tied the game 74-74 in the space of three minutes as the Raptors were able to take an 87-85 lead into the fourth quarter.
But it was his defence that changed the game. The Nets' Russell, who had exploded with 24 first-quarter points on seven shots – all threes – along with three free throws, was beginning to open the floor up again early in the second half. VanVleet had shut him down in the first half and was on him again like roll-on deodorant.
"I'm not sure the guys who were in there already were doing anything wrong," said VanVleet. "I tried to get up into him a little bit more and make it tougher on him. He got really hot. In this league when guys do that there's not much you can do defensively. So I just put a body on him, keep pressure on him, he missed some, I was able to force a couple of turnovers but really I just wanted to attack him before he was able to go on the attack … that's kind of how I play defence anyway. I get into guys."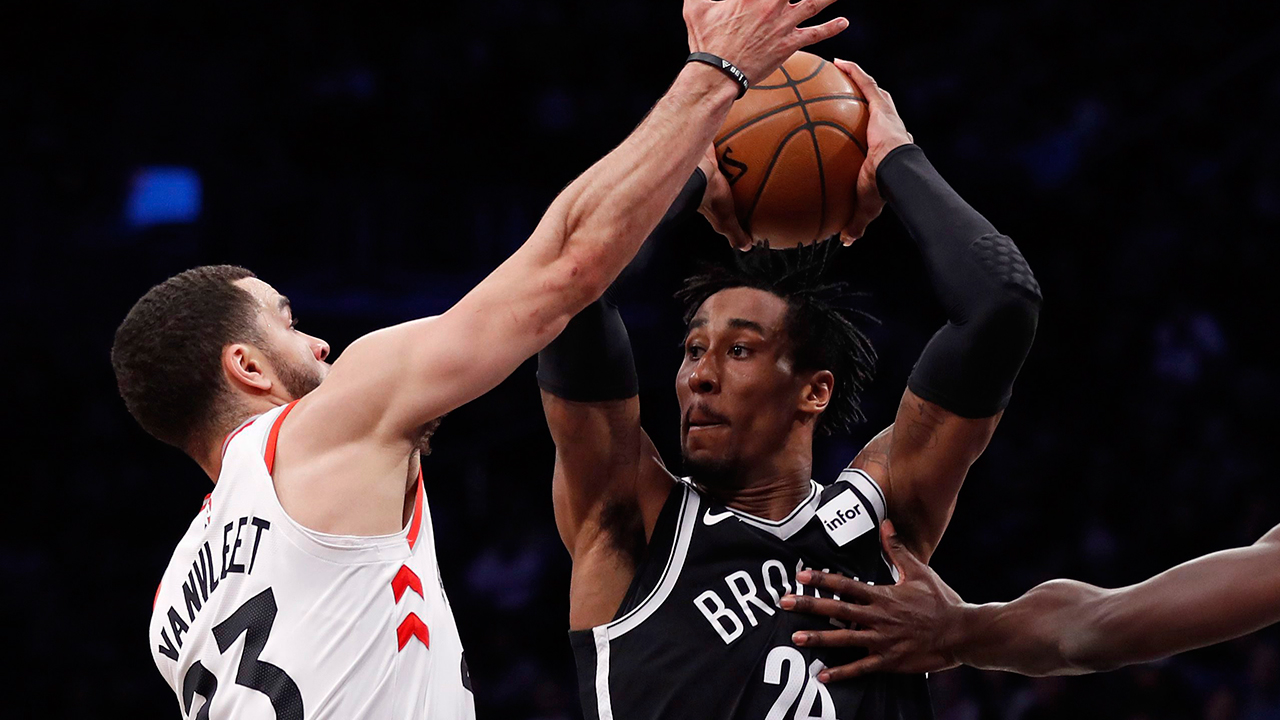 VanVleet's effort sparked the team in the second half, but Casey was frustrated that it came to that.
"[Fred] was good, guys played hard," said Casey. "That's what it's all about, it was nothing magical, but again, I shouldn't have to yell and scream to get guys to play hard at half … we're in uncharted territories … until we understand that there are [29] other teams out there that are trying to come into your house and and take your food."
The Raptors played a very impressive first quarter in that they shot 58.3 per cent from the floor but they didn't account for Russell. The No. 2 pick by the Los Angeles Lakers in the 2015 draft quickly fell out of favour in LA but has shown flashes with the Nets, who having traded away three years of first-round picks in the infamous Celtics heist of 2014, are more than happy to take a flyer on some young talent.
Russell is just working his way back to form after missing 32 games after knee surgery, but he had 26 points in his last outing against Philadelphia and picked up where he left off against Toronto. The last person to have 24 points in a quarter against the Raptors was LeBron James in 2008.
By the time the opening frame was over Brooklyn led 40-32, but then VanVleet went to work on Russell.
"He's a solid defender, he's pesky," said Russell, who finished with 32 points but shot just 3-of-15 the rest of the game.
[snippet id=3360195]
VanVleet's effort helped the bench – which finished with 50 points collectively — fix the starters' mess. His layup tied the score, finally, midway through the second quarter. The starters began filtering back in, only to let go of the rope again as Brooklyn went off on a 16-4 run with five quick points from former Raptor DeMarre Carroll as the Nets took a 67-57 lead into the half before the Raptors took control of the game in the fourth quarter.
For one half, the Raptors – and their starters in particular – struggled.
But VanVleet answered the call again, taking the game in his hands, leaving a very welcome mark.
[relatedlinks]