TORONTO — Before the team became a dynasty, before the darting and dashing point guard became a perennial all-star, before the three titles, the two MVP awards, the season after season of NBA dominance, Stephen Curry and the Golden State Warriors were just a 36-win club.
It was the 2010-11 season, Curry's second in the league. In the midst of four consecutive losing campaigns, the Warriors were still very much figuring it out. They had Steph Curry, but he wasn't Steph Curry just yet. They were still a year away from drafting Klay Thompson; two years from Draymond Green. They were only a few days into constructing Rome.
Jeremy Lin was on that team. Maybe that's generous. He was in the organization, after signing a partially guaranteed deal with Golden State following an impressive Summer League stint. He split his time between the Warriors and the Reno Bighorns, Golden State's affiliate in what was then known as the D League. But when he was up with the big club, he got to rub shoulders with Curry, the starting point guard who was averaging 19 points and six assists a night.
That season was a tough one for Curry. He sprained his right ankle repeatedly, missing games on several occasions in order to manage the injury. When he rolled it again in Golden State's second-last game of the season, everyone around the team assumed Curry would sit out No. 82. The Warriors were 11 games under .500 and long since eliminated from the playoffs. There was nothing on the line. Lin was called up from the Bighorns. He was hearing he might start in Curry's place.
"I was excited," Lin, now with the Toronto Raptors, remembers. "And then they were like, 'Actually, Steph might play tonight.' And I was like, 'What?'"
Oh, Curry played. Only 24 minutes, mind you, but he still poured in 18 on 7-of-11 shooting with nine assists, finishing plus-16 in a 24-point blowout of the Portland Trail Blazers. A month later, he had surgery on that right ankle.
"The fact that he actually did that, swollen ankle, Game 82, and just got out there on the floor against everyone's suggestion — I was like, 'Man, this dude loves the game. He cares about it. He doesn't take it for granted,'" Lin says. "Like, honestly, I've been around now a lot. And I don't know how many NBA players — if anybody — would be like, 'Yeah, I'll just go play in the 82nd game that means nothing, risking my health.'
"And I'm not saying that was the smartest thing to do. But it showed his passion for the game. And when you have someone who loves the game that much and is that talented, they're going to be great."
And now we're here, on the other side of Curry becoming great. His career's already Hall of Fame-worthy, and he's only halfway through it. A shooting savant, a generational talent, a player who literally changed the game, Curry just finished his 10th consecutive season of at least 45-per cent shooting from the field, and 41 per cent from beyond the arc, something only one other man — Steve Nash — has ever done in the history of the NBA.
If Curry does it again next season — and, really, why wouldn't he? — he'll stand alone statistically as the greatest shooter the league's ever seen. And in spite of all that, he might currently be playing the best basketball of his career.
Midway through Game 5 of Golden State's Western Conference semifinal against the Houston Rockets, Warriors star Kevin Durant took an awkward step after draining one of his too-easy, step-through, mid-range two's and came up limping. He couldn't make it back up the court. It was a strain of his right calf. He hasn't taken to the floor in the five games since.
All Curry's done in Durant's absence is average 35.8 points, 7.6 rebounds, and 6.6 assists per game, shooting 46 per cent from the field and 41 per cent from beyond the arc. He's posted game scores of 22.3, 30.6, 27.2, 19.5, and 35.7 over that span. One night, he hit 9-of-15 threes. On another, he hit 7-of-16.
the BEST of 2018-19 NBA Regular Season & #NBAPlayoffs from @StephenCurry30! #StrengthInNumbers

: GSW / TOR, Game 1
: Thursday, 5/30
: 9pm/et : ABC pic.twitter.com/CWS4PMjrNh

— NBA (@NBA) May 27, 2019
He's maintained that absurd shooting while layering in a level of rebounding we've seldom seen from him, and an assist rate more in line with the seasons of his mid-20's, which were among the best ever. He's taken exactly 100 free throws in these playoffs and missed only six. Many players would have a hard time doing that on the practice court.
"He's just a different kind of player," says Raptors guard Fred VanVleet. "He changes the entire dynamic of their team."
A lot of Warriors possessions can resemble a Benny Hill skit, in which Curry's in constant motion, running around an endless array of screens and impediments until he's created the phonebooth's worth of space he needs to get a shot off. Warriors head coach Steve Kerr acknowledged as much last week:
Oh yea, we run that play a lot. We call it 'fist side.' https://t.co/Qa22rlVxtB

— Steve Kerr (@SteveKerr) May 21, 2019
But sometimes he doesn't even need an action to hit his shot. If Curry's demonstrated one thing throughout his career it's that he'll let it go from anywhere at any time with any amount of space.
Off the dribble, pull-ups, catch-and-shoots. From 23 feet or the logo. When he's wide open or with a hand right in his face. In this post-season alone, he's hit 48 per cent (24-of-50) of his wide-open threes and 62.5 per cent (5-of-8) of his very tightly guarded ones, per NBA.com. That second sample's small, sure. But dude still hit the shots.
Just look at his shot chart in these playoffs. If you moved the line back a few feet, he'd barely lose any of his threes: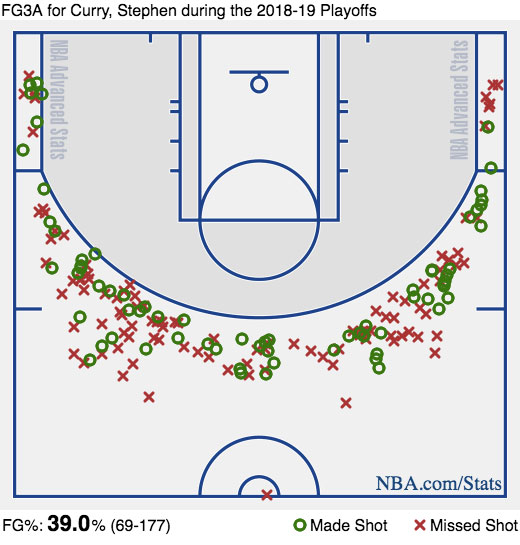 "I don't know if he was the first person to ever do it, but I know he's certainly done it at the highest level for the longest amount of time. He literally changed the game, the last however many years, and kind of revolutionized how people think about offensive shooting," VanVleet said of the sheer distance Curry will pull up from. "Obviously, from a guard, just being able to shoot from that far out opens up the floor so much."
It's a big factor in Golden State's offensive efficiency. Defenders have to stay way out on the perimeter to protect against Curry's range, and get lost in rotation as they chase him all over the floor, which creates plenty of space in the paint for his teammates to play with.
The Warriors have scored at a rate of 118.7 points per 100 possessions when Curry's been on the floor in these playoffs, which is second in the league only to his teammate, Green. Of course, if you order all players to see significant minutes in the post-season by offensive rating, you get five Warriors at the top. They're a really, really good team.
"Yeah, it's tough to game plan for these guys," VanVleet says. "They don't leave much margin for error. You've got to understand going out there you've got to be really locked in and just the mental focus it's going to take to try to win against this team. Our mental focus has got to be at an all-time high."
Kyle Lowry and VanVleet will likely be Curry's primary defenders in this series, chasing him around off the ball and trying to contest his shots as closely as possible. And their ability to limit Curry will go a long way in determining whether Toronto has any hope in these NBA Finals or not.
They will not stop him. There's no stopping a player like Curry. He's taking his 20-25 shots — 10-15 of them threes — every night, whether you like it or not. You just try to make life more difficult. You do everything you can to keep greatness in check.
You play him as physically as you can within the rules, and you make him work on the defensive end, attacking him in the post, making him move his feet and trying to goad him into foul trouble. You figure out his favourite shots, the ones he's most comfortable with, and you try to eliminate those. You study the spots on the floor he most likes to get to, and devise ways to direct him towards other areas. You live with the extra long threes, the off-balance attempts, the ones he takes with a defender in his face.
And then you watch his shots go up, and hope they catch just enough rim. And you keep an eye on him when that ball's in the air, so he can't sneak his way to four offensive rebounds, as he did in Game 4 of the Western Conference Finals. You never lose focus and attention to detail when he's on the floor.
That way, if you really nail every last detail, maybe you get one of Curry's rare off-nights. Or maybe that dislocated finger on his left hand ends up bothering him more than usual. Maybe he rolls an ankle. But like Lin learned back in the day, even that's not always enough.
"I vaguely remember that. You say ankle rolls, I have to go through the whole rolodex of all 50 different times," Curry says, asked about that 18-point night on one ankle in game No. 82, circa 2011. "When you talk about guys on struggling teams trying to make it, with that bond and that work ethic and just the attitude of we're just going to appreciate every opportunity we have to play basketball — that means a lot, for sure."