It's common to hear basketball players yell on the court. But when the yells consist of, "I promise you," and "I swear to God. I'll [expletive] you up. You and your wife," something is clearly amiss.
That's what Russell Westbrook was heard yelling at a spectator during the second quarter of a game on Monday night, when the storyline should have been his 23 points, 11 rebounds and eight assists.
Instead, those stats took a backseat to what Westbrook called "racial" verbal abuse he suffered at the hands of a Utah Jazz fan.
By mentioning the heckler's wife, Westbrook lost the moral high ground and by responding at all, he gave the couple more credence and legitimacy then they deserve.
Nonetheless, Westbrook's anger, and his seriousness, were palpable both in-game and afterwards. In his post-game availability, he didn't take questions but stated that his outburst was in response to a fan saying, "Get down on your knees like you're used to," something he perceived to be rooted in racism.
This isn't the first time there's been an issue involving Jazz fans and Westbrook. In the first round of the playoffs last April, he got heated with fans on two separate occasions.
At the time, Westbrook said, "Here in Utah, man, a lot of disrespectful, vulgar things are said to the players here with these fans. It's truly disrespectful. (They) talk about your families, your kids. It's just a disrespect to the game and I think it's something that needs to be brought up."
Jazz fans have a history of altercations, going back to 1987, before Westbrook was born, when members of the Golden State Warriors actually got in a fist fight with fans in Utah.
But back to last night — the fan in question, Shane Keisel, shared his side of the story with Jeremiah Jensen of KSL TV.
Keisel suggests the back-and-forth was initially amicable, until it wasn't.
"I told him, 'Sit down and ice your knees, bro.' He turned to me and he was like, 'It's heat.' And I was like, 'Well you're gonna need it,' — then it turned into not safe for work.'"
He added that Westbrook was "classless" and encouraged him to "be a professional." He also insinuated that his wife's first NBA experienced was ruined — an experience that he decided should include screaming at a grown man trying to do his job.
Since it's 2019 and everyone keeps receipts, Keisel's own social media history was quickly unearthed. He tweeted about Westbrook on the night of the incident last April.
"Westbrook is a piece of classless [expletive]." Keisel tweeted. "Somebody needs to kick his [expletive]."
Before the 45-year-old Keisel deleted tweets, and then his entire Twitter account, several racially insensitive and 'Make America Great Again'-referencing tweets were unearthed by people on Twitter. (As was the fact that he claimed to be a pilot for SkyWest Airlines, which the company confirmed was a fabrication.)
Donald Trump has in the past used Twitter to share dissenting views about athletes. The toxic discourse that has permeated social media by high-profile individuals like Trump, and is readily directed at athletes, has spilled over to human interaction at live events. The difference in the arena is that the athletes can hear and see what's being said in person, rather than just scrolling through their timeline.
Jazz players Donovan Mitchell and Thabo Sefolosha spoke out against their own fans in support of Westbrook.
We have to do better… we will do better! pic.twitter.com/heBO4z66TY

— Donovan Mitchell (@spidadmitchell) March 12, 2019
Post-game, Westbrook's teammates came to his defence as well.
Raymond Felton corroborated Westbrook's account of what was said, but then took the conversation further, saying, "They're coming at him first. When is there going to be a point where there's going to be protecting those players? People can say whatever what they want to say to us during games and yell out stuff and talk about our families and talk about our kids."
Westbrook and Felton are right. There needs to be consequences, and it appears there have been, for both parties involved.
Westbrook has been fined $25,000 by the NBA for the "derogatory" and "threatening" language he directed at Keisel.
Keisel has been permanently banned from all arena events in light of his "excessive and derogatory verbal abuse directed at a player," effective immediately.
And five other Jazz fans received 'warning cards' in light of their player-directed comments, gestures and/or behaviours. They were in clear violation of the NBA's Code of Conduct, but nonetheless, they were able to return to their seats.
Warning cards? Really? Is this soccer? Do two warning cards equal a straight red? If they violated the guidelines set out by the league, they should be ejected, full stop. They shouldn't be able to return. If it sounds harsh, it's because it's intended to be. I'm guarding against an ugly scene where Westbrook goes into the stands, or worse, things boil over and an in-person meeting between a fan and player in real life, away from the court, gets out of hand.
Sound far-fetched? In the era of social media where in close to real time, followers can find out where players are at — it's not out of the realm of possibility.
The culture that has been created around how fans treat opposing players needs to change. The NBA prides itself on being progressive and this is a chance to be an industry leader on this issue.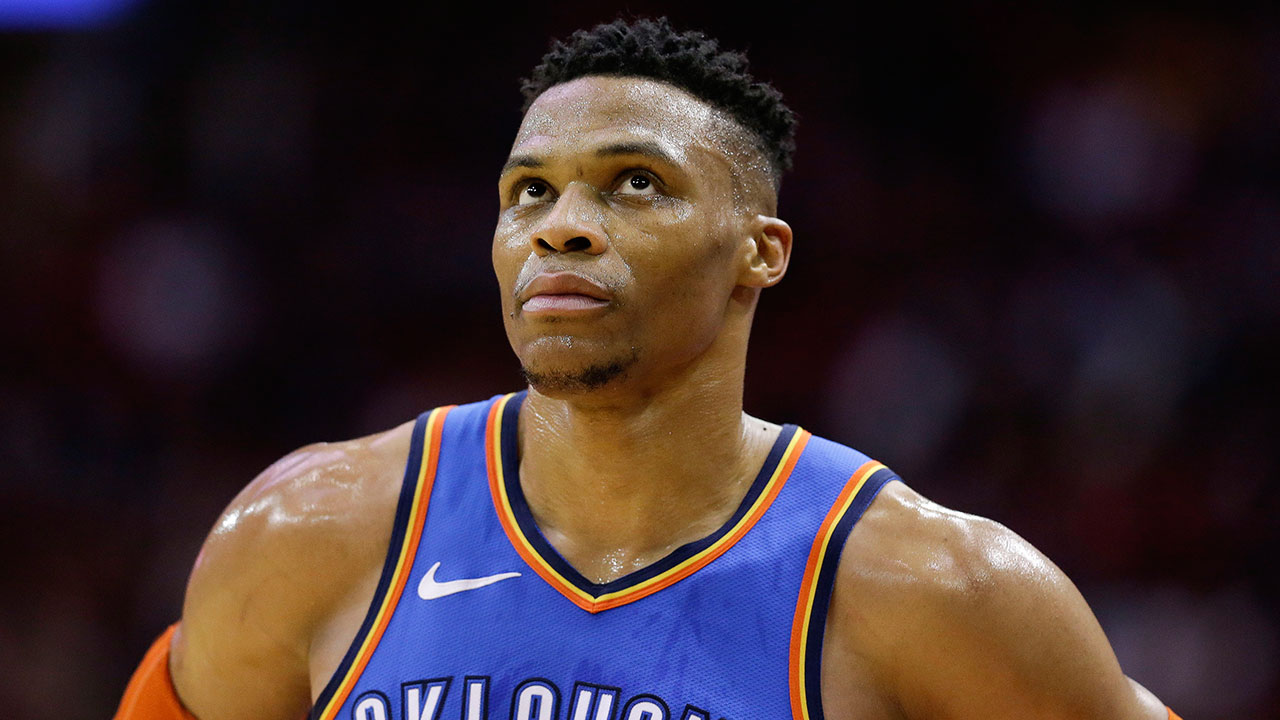 Though ticket-buying fans don't lose their right to free speech, that speech should not be able to include personal attacks. Yet some fans believe that ticket-purchasing power gives them the power to say whatever they want from their seat.
What was telling about the video was that in the moment, none of Westbrook's Thunder teammates reacted or seemed surprised — despite acknowledging that they heard it too. It's as if this type of interaction is so commonplace, it's white noise to some.
The 'Malice at the Palace' taught us that no matter what fans do, players should not engage. If that's the case, it's incumbent upon security to adequately protect players, and the league to enforce adequate deterrents to curb poor behaviour.
This could be a tipping point.
One of the unique appeals of the NBA is the fan interaction and intimacy, but the reality is most fanbases aren't as multicultural as those at Scotiabank Arena, which adds another layer of nuance to this conversation.
I've been in NBA arenas across North America and in many I have thought to myself about the uncomfortable optics — thousands of (generally) white fans hurling personal insults at (largely) black players, being paid to entertain to them but unable to retaliate.
Nowhere in the league are the fans closer to the action than in Utah, where the atmosphere is college-like. But that privilege shouldn't be abused. Fans don't have the right to hurl insults without consequence.
Maybe it's because of social media — fans feel like they know players. They know the player's kids' names and their wives' hobbies. They know what will make a player tick and they're protected by the anonymity of a social media account and the metal barriers in the stands.
But what about the players? The power imbalance needs to be addressed.
The NBA has an obligation to protect its fans, but it can't forget about its own employees, or as Adam Silver calls them, "partners" — players who feel more empowered with more agency, and who night in, night out, step in front of a crowd to do their job. They deserve to do it while feeling like their employer has their back.
Black History Month T-shirts and PSA's are easy and obvious. Real support of the league's black players requires a nuanced approach to situations like the one we saw in Utah. In a world becoming more vitriolic, the NBA's ruling on Tuesday was a first step.