The Jimmy Butler "situation" in Minnesota is exactly what Andrew Wiggins needed. It's exactly what NBA fans needed. And exactly what Canadian basketball fans needed.
However it unfolds — and a star player throwing the "trade me" bomb through an organization a few days before training camp opens at minimum provides some extraordinarily high drama in the one time of the year when NBA teams are in hugs-and-kisses mode — everyone will finally know what 2014's No. 1 overall pick from Thornhill, Ont., is really about.
To this point Wiggins has often received the benefit of the doubt, certainly in Canada. He's young and even now his best should be ahead of him. It's always felt a bit too early to render a full and lasting judgement, even though there have been some warning signs.
But it's not often a player gets called out the way Wiggins has been called out by his peers, and so the whispers about his lack of passion and commitment to the task are gathering to full-blown shouts.
How Wiggins responds could well define an NBA career that has certainly shown promise — the only players in NBA history to score 6,000 career points at a younger age than Wiggins did are LeBron James, Kevin Durant, Carmelo Anthony, Kobe Bryant and Tracy McGrady — but has often been dismissed as too many empty calories, leaving observers and (apparently) teammates wondering if he's ever going to give all that his package of ability and skill would suggest is there is to give.
I've heard Timberwolves executives wonder about the exact same thing.
[relatedlinks]
To recap: This time a year ago, the T-Wolves were the sexy pick to break through in the Western Conference, to snap an NBA-high streak of 14 years without a playoff appearance.
Butler, picked up in a draft-night trade from Chicago in June 2017, figured to be exactly what was needed to push the T-Wolves' talented yet wholly unaccomplished young core into the mainstream NBA conversation.
But it didn't take long until tension began to surface. Wiggins — having just signed a five-year, $148-million contract even as T-Wolves owner Glen Taylor said he was being paid for what he could become rather than what he'd produced — found himself marginalized as Butler became Minnesota's primary offensive option.
Wiggins' usage rate dropped from a career-high 29 per cent in 2016-17 to 23.4 per cent last season. His three-point shooting regressed and his attacks on the rim did too. In theory, he was supposed to be a cutter and finisher after offence initiated by Butler and Karl Anthony Towns — except Wiggins has never shown signs of being an effective off-the-ball player. Whispers of "unhappiness" ensued.
After the season came reports that Butler, now 29 and evaluating where he's going to spend the rest of his prime a year before heading into free agency, was less-than-enthused about the prospect of finishing his career waiting for Wiggins' work ethic and defensive approach to sharpen up.
For anyone paying close attention, it was only a confirmation (if offered by anonymous sources) of what was too often too plain to the naked eye: Wiggins has always had the look of a prototypical small-ball wing, but never the production. Where were the steals and the blocks and the tips and the rebounds? Why the tendency to settle for long twos, and when was the elite three-point shooting going to reveal itself? Why did Wiggins so often look like he was going through the motions? How could one of the fastest athletes in the NBA so often lag in transition?
For Canadian fans in particular, Wiggins' seeming indifference to the senior men's national team (which often overlooks that he did play for Canada in 2015's Olympic qualifying in Mexico City) fed the narrative conveniently: Wiggins simply wasn't all that excited about playing basketball, whether it be for money in the winter or for country in the summers.
So much of this was speculative, but in the space of 24 hours it's congealed into something firmer.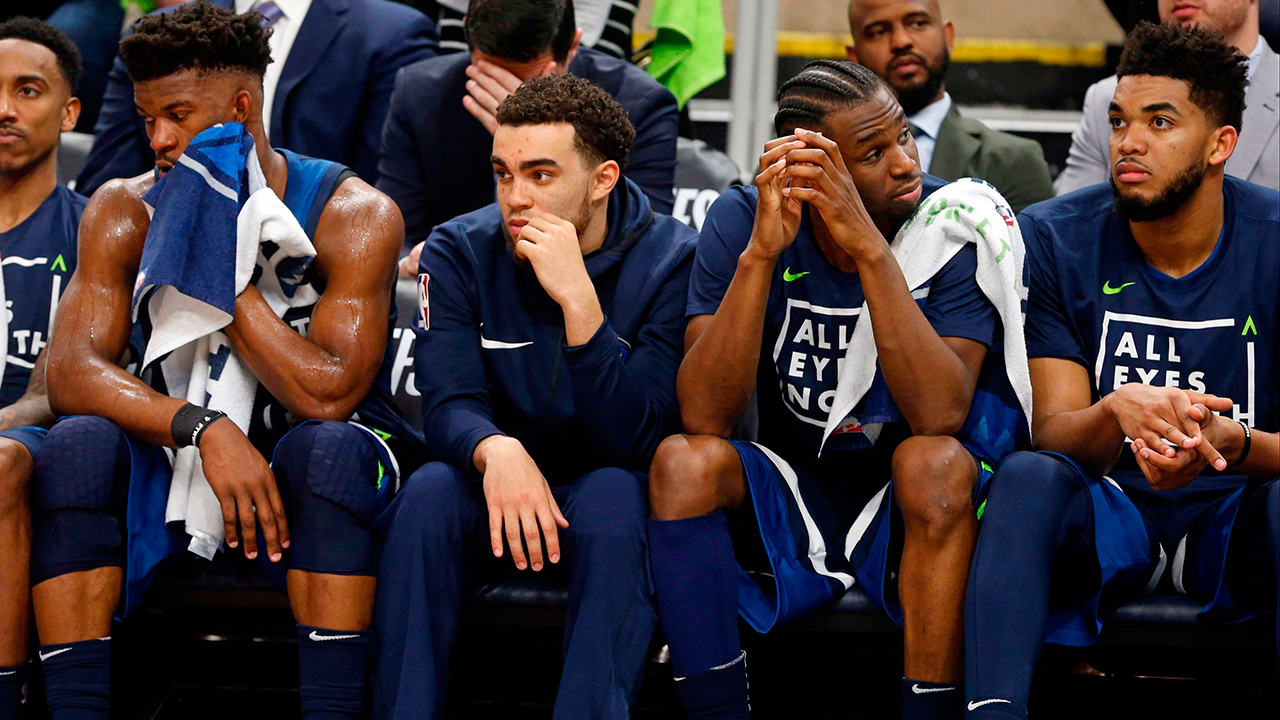 If there were any questions about the accuracy of reports of tension between Butler and Wiggins, Andrew's older brother Nick seemed to confirm them when he tweeted 'Hallalujah' — which was quickly deleted — in response to Butler's reported trade request.
Butler shot back, in the manner of 2018 NBA locker room beefs, with an Instagram post of him working out and the heading Hallalujah — and a dig the Nick Wiggins tweet.
Next, former NBA tough guy Stephen Jackson weighed in with a seemingly out-of-nowhere evisceration of Wiggins on a social media post of his own where he compared Wiggins to the Tin Man in the Wizard of Oz: No heart.
Wiggins responded with a post saying: "Old Dudes, stay hating like he was anything special, bum ass."
Jackson then seemed to indirectly threaten Wiggins another post – "Make sure your hands are straight when you see me. … I'll catch you in traffic."
What prompted Jackson to weigh in isn't clear, but the thrust of his message cut directly to the chase: With all the talent and all the rewards, Wiggins lacks the single quality required to reach his full potential — the desire to be his best.
It's not a novel concept. As far back as high school, when Wiggins was rising to the top of what was supposed to be a league-changing 2014 draft class, there were questions about his will.
Most famously, Pete Thamel wrote a hard-hitting article for Sports Illustrated that questioned Wiggins' drive and attempted to lump him in with a list of other Canadian hoops hopes that had fallen short of expectations. Wiggins went out the next day and scored 50 points, his high school best.
Wiggins' career mark against the LeBron-era Cavaliers is another example of what he can do when the mood strikes. Remember James' letter upon his return to Cleveland? The one that neglected to mention Wiggins, Cleveland's No. 1 overall pick that summer, an oversight that certainly seemed intentional after Wiggins was traded by the Cavs to the T-Wolves for Kevin Love.
Wiggins never seemed to forget it: In eight career starts against James and the Cavaliers, he's averaging 27.9 points a game, remarkable for a career 19.7 points per game scorer.
[snippet id=3360195]
Questioning Wiggins the player is separate than the person. There is all kind of evidence that Wiggins is the kind of loyal, low-key, high-profile athlete that should be properly celebrated. His ties to his high school program at Vaughan Secondary remain deep; he'll fly to Halifax to help at a friend's basketball camp but wants no recognition for it. Upon graduating from Huntington Prep in small-town West Virginia, Wiggins took out a full-page ad in the local paper to thank everyone from his billet family to the school's janitorial staff.
There's a lot to like.
But in the NBA, you are viewed as a player first; the rest comes later. And heading into his fifth season at age 23, Wiggins the player has fallen short of what many hoped for him.
The Butler-driven tumult heading into training camp has put what has been whispered in different forms for years out in the open for all too see.
Wiggins doesn't talk much, so that he's even spoken up on social media is noteworthy. But it's what he says on the floor this season that will say everything anyone needs to hear.