A group called WNBA Toronto (@WNBATO) says they want to bring a women's professional basketball franchise to Toronto by 2020.
Headed up by Canadian tech entrepreneurs Daniel Escott and Max Abrahams, WNBA Toronto has created a small buzz on social media, but their initial press release was light on concrete details. And so last week Sportsnet reached out to them in an effort to learn a little more about Escott and Abrahams, the group's ambitions and why they decided to put this bid together.
Escott and Abrahams work for marketing and advertising agency New Media Group. As far as sports experience goes, the most relevant we could find was Escott's time spent as CEO of Canadian startup Stealth Esports Venture.
So why the WNBA? As their story goes, a few months back, Abrahams, who attended Canadian high school basketball factory Eastern Commerce Collegiate Institute, was talking to an old high-school friend named Sami Hill – a member of Canada's senior women's national basketball team – when Abrahams turned to Hill and said, "We need to bring a WNBA team to Toronto."
And so Abrahams, with Escott, went to work on an ambitious bid they hope will have a Toronto WNBA team fully operational in time for 2020.
"What it means is spring tip-off 2020 here in Toronto with the WNBA team commencing," said Abrahams. "Over the next seven to nine weeks we'll be raising our round of investment for the end of the summer. We'll be presenting our bid to the WNBA, and then even before that we'll be attending NBA Summer League as well to speak with ownership groups. So we've definitely got a lot on the go."
Added Escott: "And as ambitious a timeline as that sounds like, the Atlanta expansion in 2008 was announced in October of that year and they just launched the following spring. So it's been done before."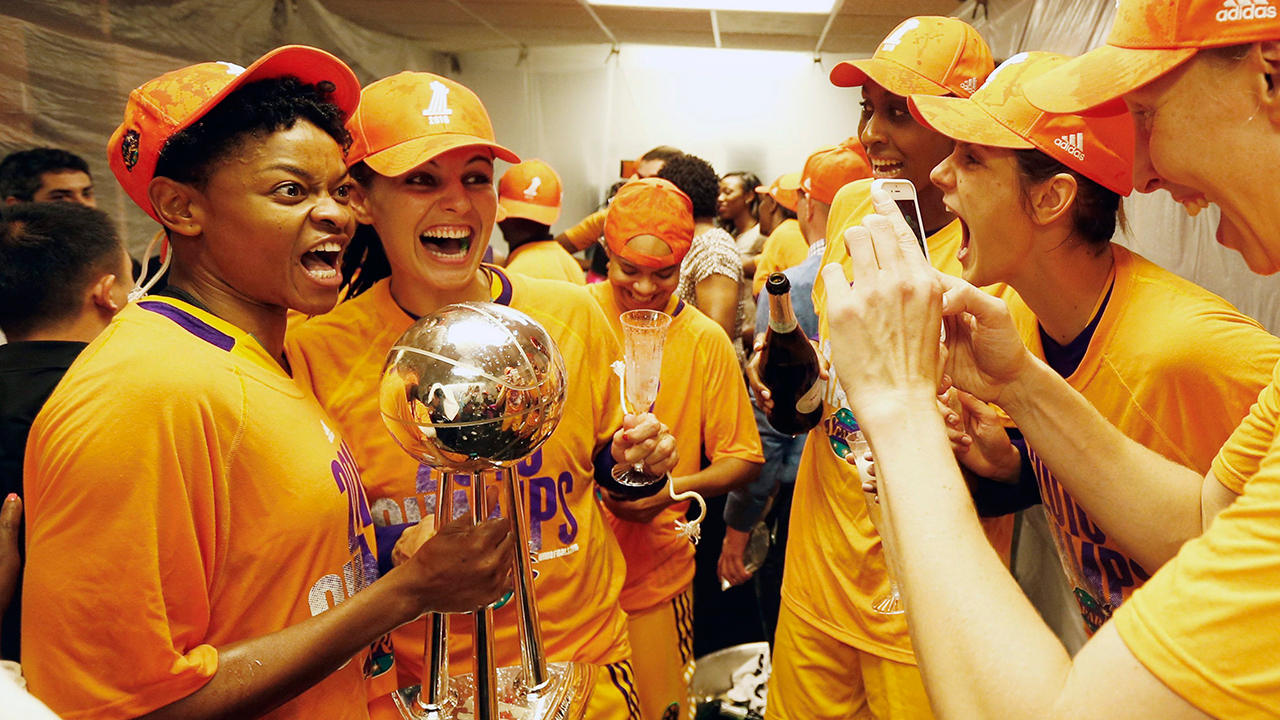 Another reason the Atlanta Dream are a model for WNBA Toronto is because despite sharing the same market as the NBA's Atlanta Hawks, the Dream aren't affiliated in any way with the NBA team.
Last week, Sportsnet contacted Toronto Raptors ownership, Maple Leaf Sports & Entertainment (MLSE), and asked whether they are involved in WNBA Toronto's bid.
"MLSE isn't involved in any WNBA bid for Toronto," the company replied via a statement.
At least for now.
During his end-of-season press conference last week, Toronto Raptors president Masai Ujiri was asked whether it's time for the WNBA to come to Toronto.
"I can't say with ownership here," Ujiri said when asked about rumours of Toronto getting a WNBA club. "We haven't discussed that, honestly, per se. But maybe in the future. And now that we've won a championship we can go and demand more."
If Escott and Abrahams are to be believed, an ownership structure without MLSE suits them just fine.
"Max and I have really kicked things off in the last couple of months with this thing, and one thing that's become very apparent to us is when you approach something like a WNBA bid or a bid for any team across any sport, there's always an air of caution when it comes to corporatizing it and using it as a larger marketing opportunity for another brand," Escott said. "We're not an institution. We're not a massive corporation saying that this is a good business opportunity.
"We want to be able to use this opportunity to inspire a new generation of women and girls in sport. And 20 years from now, when they're Olympians, they can trace their success to this team and this moment."
Of course, in order for WNBA Toronto to get a franchise, the WNBA has to be willing to grant them one. And so far that doesn't seem to be the case.
"Toronto is a terrific market and we appreciate the interest in the WNBA," a representative from the WNBA emailed Sportsnet when asked for comment. "However, the league's main focus right now is the overall health and competitiveness of our existing 12 teams."
WNBATO views this differently, however, citing last week's announcement of the most expansive WNBA television coverage ever in Canada as evidence their bid is legitimate.
"We recognize the public comments by critics that the WNBA Toronto bid wouldn't move forward," said Escott in a statement when asked to respond to the statements from MLSE and the WNBA. "If the WNBA weren't interested in the Canadian market, they wouldn't have just announced a television distribution agreement with NBA TV Canada, TSN and Sportsnet.
"The writing is on the walls, the WNBA is coming to Canada. Now it needs a home, and we have a lot more to reveal in the coming weeks about our plan. We know what the critics don't, and that's who our partners are. We're confident that our team, along with the incredible team of partners we have supporting us, is the right team to bring the WNBA to Toronto."
But until those anonymous partners become public, there will remain an understandable amount skepticism surrounding this bid.
Lots of #WNBATO tea to spill after the long weekend. Might drop some nuggets early, idk yet. #wnba #canada

— Daniel Escott (@WolfOfWaterSt) June 27, 2019
And as for where a team would play, once you rule out Scotiabank Arena — which WNBA Toronto has — the options become smaller and for one reason or another, less desirable.
"Right now it's coming down to each of these venues putting down a business case and we want to keep every option open," Escott said. "When we make the final decision on what venue it is, it'll be a combination of accessibility, capacity and the partners we'd like to bring in. So it's a fluid conversation right now, but we're engaged with pretty much every major venue in the GTA."
But like a lot of things about WNBA Toronto, it's hard to know what the organization is and can be until those conversations become formal, public partnerships.
"The outpouring of support we've seen has been further beyond than what we could've originally anticipated," said Escott. "We've had everyone from current and retired WNBA and professional basketball players all the way up to Team Canada, through grassroots organizers and coaches, academics, professionals who have been in the industry for 20 or 30 years.
"It's pretty much unanimous that this is something that not just Toronto but Canada wants and they're ready to see this move forward."