In 2015, the Stephen Curry-led Golden State Warriors won their first NBA title, launching a half-decade of near-unprecedented dominance.
In the regular season that preceded that 2015 championship, the Warriors led the league in scoring, averaging 110 points per game, a marked leap over the 107.9 per game the Los Angeles Clippers topped the NBA with in 2013-14.
Flash-forward to this past regular season, 2018-19, where the average scoring mark was 111.2 points per game, more than a full point over what the Warriors and their revolutionary pace, space, ball movement and three-point bombing style first established four seasons ago.
That 111.2 per-game average is the highest the NBA has seen since the 1970-71 season's 112.4, when the league only had 17 teams. It's a figure that indicates where the NBA is at right now and where it's heading: A league built on spectacular offensive attacks, helped by more analytical data than ever before that tells coaches and general managers exactly how and where to execute from.
This is why what the Toronto Raptors accomplished on Thursday night was so remarkable.
In an era where getting buckets and scoring has never seemed easier and more efficient than ever before, the Raptors won an NBA title on the strength of their swarming, lock-down defence.
Here's how they did it:
Playoffs total
| Regular Season | | Post-season |
| --- | --- | --- |
| 106.8 | Defensive Rating | 104.1 |
| 108.4 | Opponent PPG | 101.1 |
| 44.9% | Opponent FG% | 42.4% |
| 34.5% | Opponent 3P% | 32.9% |
| 24.5 | Opponent APG | 23.6 |
| 14.9 | Opponent TOV | 15.4 |
What you see above is a comparison of some basic measurements of the Raptors' team defence, comparing their regular season and their post-season.
As it's plainly illustrated, the Raptors' D really tightened things up during this playoff run and finally lived up to the promise that had been teased before the team took a single dribble during last off-season as a special group of stoppers, improving defensively across the board.
Even more impressive than just looking at the overall picture, however, is looking at how the Raptors stymied their opponents in the post-season, suffocating any offensive hope or momentum their opponents may have been coming into their matchup with the Raptors to begin with.
Vs. Orlando
| Regular Season | | Vs. Raptors |
| --- | --- | --- |
| 108.1 | Magic Offensive Rating | 95.8 |
| 107.3 | Magic PPG | 92.0 |
| 45.4% | Magic FG% | 38.8% |
| 35.6% | Magic 3P% | 29.9% |
| 25.5 | Magic APG | 19.0 |
| 13.2 | Magic TOV | 15.6 |
This table is a comparison between the Orlando Magic's regular-season offensive production compared to how they fared against the Raptors in the five-game first-round series with Toronto.
Now keep in mind that Orlando was never much of an offensive juggernaut to begin with, ranking among worst offensive teams in the league, meaning stopping them wasn't exactly a Herculean task for the Raptors.
With that said, Toronto made a pedestrian Magic offence just look outright putrid, choking Orlando's attack to near flat-line levels.
In particular, Magic star Nikola Vucevic had a rough time of things in his primary matchup against Marc Gasol, being limited to just 11.2 points, shooting 36.2 per cent from the field in the series after an all-star regular season campaign that saw him score 20.8 per game on 51.8 per cent shooting.
This clinic of a defensive series served well as a solid prelude of the kind of basketball that was to come for this Raptors team's playoff run.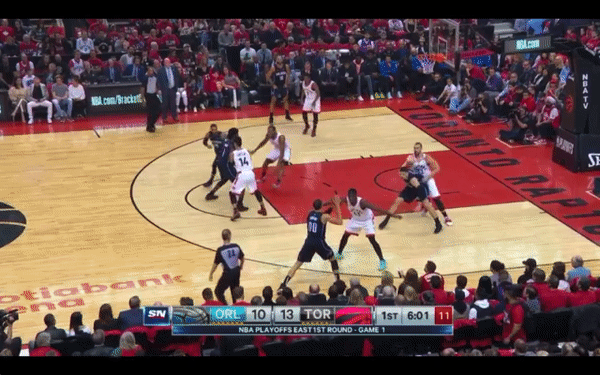 Vs. Philadelphia
| Vs. Nets | | Vs. Raptors |
| --- | --- | --- |
| 115.7 | 76ers Offensive Rating | 103.6 |
| 122.4 | 76ers PPG | 98.9 |
| 49.4% | 76ers FG% | 43.1% |
| 33.6% | 76ers 3P% | 32.9% |
| 27.0 | 76ers APG | 22.6 |
| 16.4 | 76ers TOV | 16.6 |
In this table we see Toronto's second-round opponent, the Philadelphia 76ers, and compare how they fared offensively in their first-round gentleman's sweep of the Brooklyn Nets and the brick wall they faced in the Raptors.
The difference in offensive ease is stunning when stacked up against each other. As the 115.7 points per 100 possessions figure suggests against the Nets, the Sixers were able to get anything they wanted against clearly out-classed opponent.
Against the Raptors – even with a star-studded lineup like Philly boasted – it seems like the 76ers would've had an easier time breaking into Fort Knox than scoring on this Raptors defence.
So even though this was a series that went seven games, that had more to do with Toronto hitting dry spells of its own and the Sixers' strong D slowing the Raptors down than anything Philadelphia was doing offensively.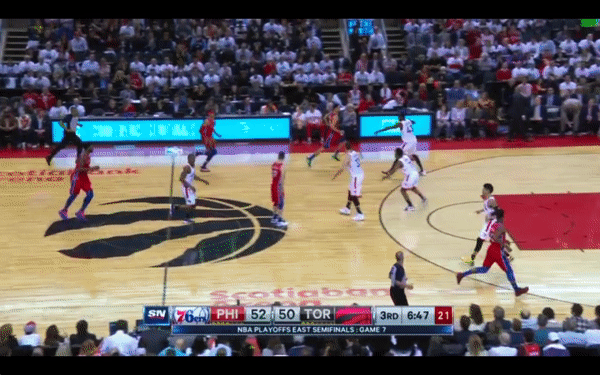 Vs. Milwaukee
| Rounds 1 & 2 | | Vs. Raptors |
| --- | --- | --- |
| 113.4 | Bucks Offensive Rating | 106.3 |
| 116.9 | Bucks PPG | 106.7 |
| 46.8% | Bucks FG% | 42.4% |
| 35.4% | Bucks 3P% | 31.0% |
| 25.6 | Bucks APG | 24.2 |
| 13.3 | Bucks TOV | 12.5 |
The Milwaukee Bucks actually did a better job of taking care of the ball against the Raptors than they did in their first playoff series with the Detroit Pistons and Boston Celtics, but that's the only positive you can point to in regards to their offensive performance against the Raptors in the Eastern Conference Finals.
After steam-rolling through the regular season and their first two rounds of the playoffs as perhaps the NBA's scariest-looking threat, presumptive MVP Giannis Antetokounmpo and the Bucks were stopped in their tracks by a Raptors defence that not only cracked the code on the Greek superstar but was said to give him nightmares, with visions of Kawhi Leonard and Gasol waiting to meet him at the rim.
This, ultimately, was the key that opened the door and paved Toronto's path to the Finals. In finding a way to limit Antetokounmpo's impact on the series, the Raptors also basically broke Milwaukee's entire offensive game plan, removing the star from the centre of the Bucks' solar system and watching while the supporting planets spiralled out of orbit as the Raptors went on to win four straight after dropping the first two games of the series.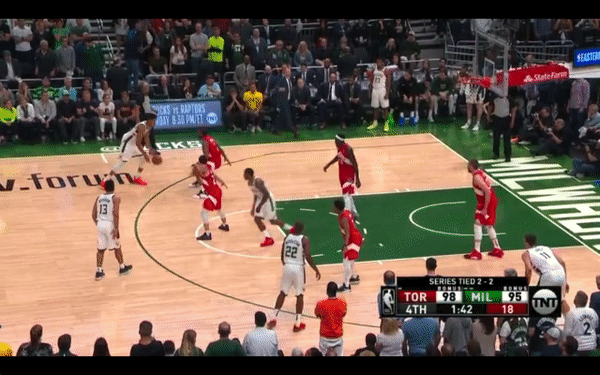 Vs. Golden State
| Rounds 1-3 | | Vs. Raptors |
| --- | --- | --- |
| 116.4 | Warriors Offensive Rating | 109.3 |
| 117.3 | Warriors PPG | 105.8 |
| 48.7% | Warriors FG% | 44.8% |
| 37.0% | Warriors 3P% | 37.8% |
| 28.5 | Warriors APG | 28.2 |
| 14.3 | Warriors TOV | 16.7 |
The numbers you see above are nice and, once again, paint a picture of a Raptors team slamming the door shut on a team that had a lot of offensive flow going and completely discombobulated one of the greatest offensive teams in the history of the NBA.
And while there were a lot of moments of defensive brilliance from the Raptors throughout their Finals series with the Golden State Warriors, you need look no further than that final, championship-clinching defensive possession Toronto managed with 9.6 seconds left in Game 6 and Toronto clinging to a 111-110 lead.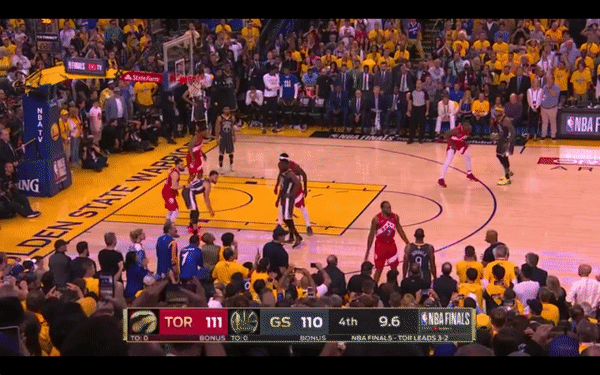 Andre Iguodala, acting as the trigger man along the left side, probes around as Leonard tries to obstruct his view. While the Warriors swingman looks for an outlet, a flurry of body movement on the floor is already in flight.
Leonard starts jumping up and down and forces Iguodala to make an awkward pass to Draymond Green all the way to the right corner where Pascal Siakam has him trapped. While this is happening, Curry was curling around a half-baked screen set by DeMarcus Cousins with a rushing Fred VanVleet coming in tow.
Green makes a desperation pass as he is falling out of bounds to what appears to be an open Curry, who's looking to put the Warriors up two with a decent-enough view at a right wing three.
This bit of daylight would only last a split-second, however, as Serge Ibaka recognized the danger of Curry curling around Cousins and managed to get enough of a hand up on Curry to – maybe – force the miss that would seal the Warriors' fate.
Is Curry capable of hitting a shot like that? Of course he is. But he didn't. And you have to credit the all-out effort by the Raptors on defence to influence that miss — if even only a little.
So it's fitting that the clinching play – no offence to those free throws Leonard hit at the very end – was one the Raptors had to make on D.
The old adage rings true: Defence wins championships – even in an offence-happy era like we're in right now.
And that's exactly how the Raptors won their first title ever.