A five-round fight where two athletes push each other to their limits is great and the artistry of a slick submission can be spellbinding, but nothing gets fans out of the seats like a huge knockout and there were plenty of great ones in the Octagon this year. Here are Sportsnet.ca's top UFC knockouts of 2014.
Spoiler alert: It was not a good year for the Nogueira brothers.
1) Ronda Rousey def. Alexis Davis, UFC 175
This was perhaps the most ferocious finishing sequence in UFC history regardless of weight class or gender. Rousey wasted no time in the co-main event of UFC 175, landing a hard right hand on her Canadian opponent, followed by a knee to the stomach, followed by an Olympic-level judo toss, followed by nine (NINE!) right hands from a headlock position. The entire bout lasted just 16 seconds and the fight-finishing combo took seven seconds. It wasn't your standard KO, but it was remarkable nonetheless.
2) Dominick Cruz def. Takeya Mizugaki, UFC 178
The Jon Jones-Daniel Cormier brawl, Georges St-Pierre's future and Rousey's continuous rise to superstardom were bigger headlines in 2014, but the best MMA story of the year was the return of Dominick Cruz. After three years out of action dealing with a plethora of serious injuries, the former bantamweight champion — who was forced to vacate his title during his layoff — returned at UFC 178 looking like he hadn't missed any time at all. Mizugaki was the victim of 1,092 days of pent-up aggression from Cruz.
3) Dong Hyun Kim def. John Hathaway, TUF China Finale
In his recent fights, Kim has been more aggressive than usual and more willing to show off his creativity. He did just that against Hathaway.
4) Mark Hunt def. Roy Nelson, UFC Fight Night 52
When these two rotund pugilists were paired together, fans knew they were likely going to see something special and they did. Nelson, equipped with an ironclad chin, was known for being able to take more punishment than anyone in MMA, so the thought of Hunt landing his patented walk-off uppercut was unimaginable.
5) Chris Beal def. Patrick Williams, UFC 172
In the opening fight at UFC 172, TUF 18 alumnus Chris Beal knocked out UFC newcomer Patrick Williams with an exemplary flying knee in the second round of their bantamweight bout.
6) Dan Henderson def. Mauricio Rua, UFC Fight Night 38
In one of the most entertaining fights of 2014, Rua seemed to be in complete control of Henderson. That is until Henderson rearranged Rua's face with one of his famous H-Bombs.
7) Roy Nelson def. Antonio Rodrigo Nogueira, UFC Fight Night 39
This one was tough to watch. Nogueira was outmatched from the onset and when Nelson hurt him it became apparent the Brazilian was too tough for his own good. He managed to stay on his feet even though he was dazed, but that only allowed for Nelson to land the devastating finishing punch more easily.
8) Anthony Johnson def. Antonio Rogerio Nogueira, UFC on FOX 12
What's that? You like uppercuts? So does Anthony Johnson, who proved he's a legitimate title threat with this finish of Lil Nog.
9) Louis Smolka def. Richie Vaculik, UFC Fight Night 55
Sweet. Chin. Music. Any pro wrestling fans — especially those that cheer for "The Heartbreak Kid" Shawn Michaels — loved this finish from Smolka. (When you add a Jim Ross audio track into the mix, it becomes that much more impressive.)
10) KJ Noons def. Sam Stout, TUF Nations Finale
These two lightweights agreed to not cut weight and instead competed at welterweight so they'd have more energy on fight night. It worked out in Noons's favour as he became the first person to finish Stout with strikes. In fact, Stout had never been knocked out in his 11-year, 31-fight MMA career before that Noons right hand connected.
11) Andrei Arlovski def. Antonio Silva, UFC Fight Night 51
This was a rematch of a 2010 Strikeforce and to be honest it's not a rematch many fans asked to see. However, with both men possessing serious knockout power and questionable chins, a big finish was expected and that's what we got.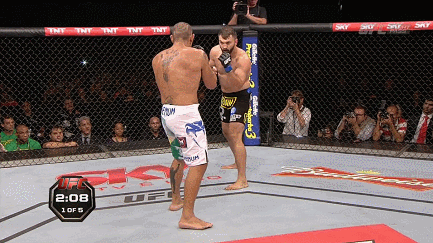 12) Josh Samman def. Eddie Gordon, UFC 181
TUF 17 veteran Josh Samman hadn't fought in a year-and-a-half as he dealt with several injuries including a torn hamstring. He returned at UFC 181 against TUF 19 winner Eddie Gordon and did so in spectacular fashion.
13) Abel Trujillo def. Jamie Varner, UFC 169
Former WEC lightweight champ Jamie Varner always wants to put on a show for the fans, but that got him in trouble against Trujillo in one of the most fan friendly scraps of the year.
14) Danny Castillo def. Charlie Brenneman, UFC 172
Danny Castillo has long been one of the most underrated lightweights in MMA. Just ask Charlie Brenneman.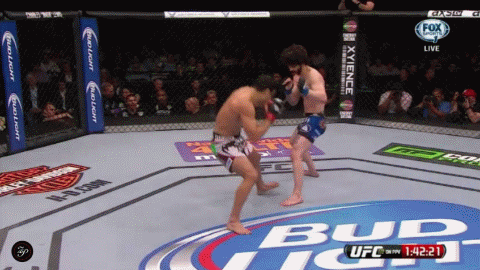 Honourable mention: Fabricio Werdum def. Mark Hunt, Donald Cerrone def. Adriano Martins, Rory MacDonald def. Tarec Saffiedine, Chad Laprise def. Kajan Johnson, Daron Cruickshank def. Erik Koch, Johnny Eduardo def. Eddie Wineland, Marcus Brimage def. Jumabieke Tuerxun, Godofredo Castro def. Noad Lahat, Conor McGregor def. Dustin Poirier, Donald Cerrone def. Jim Miller, Rob Font def. George Roop, Mike Wilkinson def. Niclas Backstrom, T.J. Dillashaw def. Joe Soto