Since the beginning of the year, UFC strawweight Randa Markos has been waiting patiently on the sidelines for her next opponent while the rest of her TUF 20 castmates were booking fights. However, that all changed last week when Ireland's Aisling Daly was pulled off this weekend's UFC Fight Night 64 event – due to an injury to Claudia Gadelha – and onto the UFC 186 card on April 25 against Markos.
The UFC had been searching for an opponent for Markos (4-2), who was booked on the UFC 186 event three days before the T.J Dillashaw injury news went public on March 24. The UFC's bantamweight champion and his opponent Renan Barao were both pulled from the card and the flyweight championship matchup between Demetrious Johnson and Kyoji Horiguchi was elevated to the main event. While these last four months have felt like an eternity for the Iraqi-Canadian fighter, "Quiet Storm" is just happy to be back in the Octagon later this month.
"I was kind of getting worried," Markos told Sportsnet. "I heard there was supposed to be a Windsor card so I was supposed to be booked for that. That fell through, so then I just kind of got pushed aside and everyone else started getting fights booked. I guess [the UFC was] waiting for the next [event] for me, after everybody else had got fights. Everything happens for a reason."
---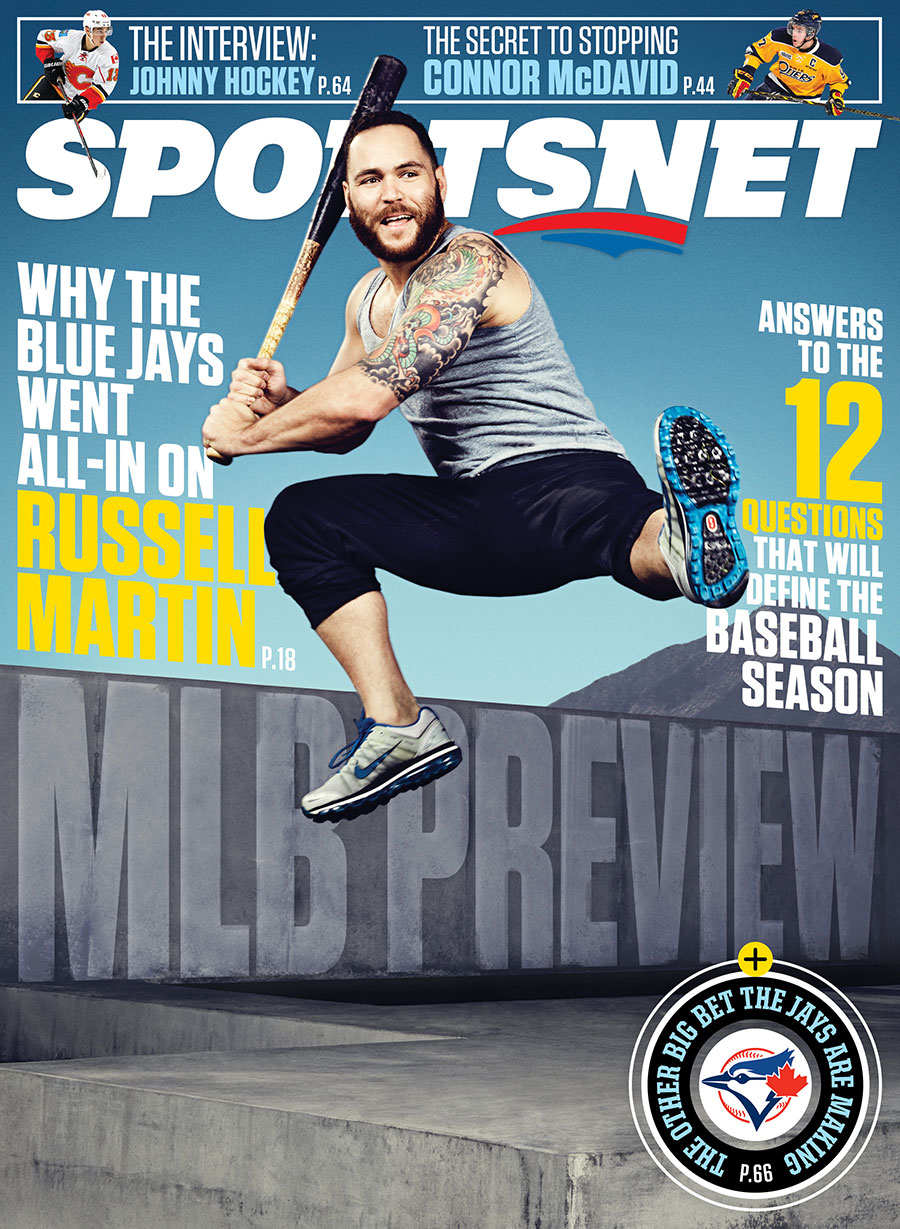 Sportsnet Magazine's MLB Preview:
Why the Blue Jays went all in with Russell Martin, and answers to the 12 questions that will define the baseball season. Download it right now on your iOS or Android device, free to Sportsnet ONE subscribers.
---
While she hasn't been competing, the Windsor native has been refining her skills in the gym in an attempt to get back on the winning track. One advantage she's had this training camp, is the ability to put more hours into training, as opposed to working full-time as a pharmacy assistant.
"Getting that bonus [from the Jessica Penne fight at the TUF 20 Finale] was a huge advantage for me. I got to cut some hours back, and I'm working part-time now. It's helping me train in the morning, train at night and not have to rush. Before I always was rushing or waking up really early. My work's been awesome; they've been totally understanding about all the time I need off. I'm just a workaholic, instead of taking a nap during that time, I'd rather work a couple hours and put in some time. It's been a lot easier."
Another piece to Markos's arsenal for this training camp has been the addition of CrossFit for her strength and conditioning. Since the start of the year, the former PFC strawweight champion has been putting in time at Windsor CrossFit and she believes this will only aid her skill set inside the cage.
"I feel like [CrossFit] helps me improve a lot. They're an awesome team there. They change it up for me because I'm a fighter. We're all on the same page and I told them I want to improve my speed, my conditioning and also put on some muscle. I have a little bit of room there when I cut weight, where I can build some muscle and add some points. I don't feel like I've gained too much muscle or anything like that. I just feel better when I'm striking, training. I don't know, I just feel a lot better than what I [was doing] before."
Unlike some of her fellow competitors on TUF 20, Markos and Daly got along during the taping of the show, primarily because the two were both on the receiving end of insults from some of the other competitors. Still, they aren't good friends and Markos says she's all business heading into UFC 186.
"We all walked into the house knowing that we were going to fight each other one day. It doesn't make a difference for me whether I'm friends or not with somebody. This is what I love to do and if it means I have to fight someone I know then that's fine, it doesn't affect me at all."
During a recent UFC Q&A in Ireland, Daly said "a win against Randa doesn't do much for me in terms of title contention. I think [I'll need] one more [win after that]." This type of talk only fuels Markos ahead of her strawweight showdown.
"I'm a really sensitive person, to be honest when people say things like that, I take that to heart. Who are you to say that about me? If she wants to think that way, if she wants underestimate me, that's her problem."
Daly (15-5) is currently on a two-fight win streak, while Markos dropped her official UFC debut to Jessica Penne at the TUF 20 finale by split decision. In addition to that, Daly has 20 career bouts compared to Markos who has only competed six times professionally. With that said, the 29-year-old believes this will be a closely contested affair.
"I think we're both good, well-rounded fighters. She's got a really difference style, her standup is really different, it's kind of awkward, but that's what makes her better. She's got good ground game, but so do I. My hands are coming along and I think it's going to be a good fight."
With the UFC's 115-pound title changing hands at UFC 185 when Joanna Jedrzejczyk defeated Carla Esparza, the division is wide open at the moment. But Markos can't look past her opponent and is more focused on earning her first official UFC victory.
"I just want to focus one fight at a time. This weight class is stacked with amazing athletes, so anybody I fight is a step closer to the title and puts you in a way better position. It puts a little bit of pressure on you when you're fighting in front of your home crowd. But all you got to do is the best you can and hopefully the fans will like it. I've got so many Canadian fans backing me up, and I'm really excited to put on a good show."
Follow James Lynch on Twitter @LynchOnSports