DIPIETRO Most of us knew from experience [a comeback] could happen. Thirteen points is nothing in a CFL game. They had all kinds of good receivers — we were well aware of their potential.
GREGORY We were down a couple of early touchdowns and then Jeff [Fairholm, Riders receiver] made a great catch and went all the way on a hot route, right down the seam. That was critical in that zone coverage, hitting those seams.
RIDGWAY Jeff was probably one of the fastest players I ever had as a teammate — just incredible speed and great hands — a super athlete. And you could just see Kent's confidence starting to build at that moment.
VANSTONE The Tiger-Cats were still celebrating a touchdown catch by McAdoo when all of a sudden Austin hit Fairholm with a bomb. It just shut down the Tiger-Cats' celebration. From then on it was just an emotional roller coaster. Very stressful. It was absolute murder on your nervous system because you knew that every play could be the decisive play. It ripped your heart out in one second and left you three feet off the ground the next.
The Fairholm touchdown grab came partway through a wild second-quarter run in which both teams went back and forth, combining for five scores on five consecutive drives. At the half, Saskatchewan had clawed within five as the score sat at 27-22.
SUITOR It was this chess match that was happening at light speed.
DIPIETRO There were a few times I said, "Man, these [fans] must be having a great time" because it was a great game. But as a player you're just gnawing inside. It felt like one of those games where the last team with the ball was going to win.
SUITOR It was amazing how little we celebrated when we made a play or how little we mourned when we were beaten on a play. We were in for a battle and we knew it. When you got the opportunities it was important to take advantage.
Near the end of the third quarter, with Hamilton still up five after the clubs traded field goals, the usually reliable Tiger-Cats special teams made an uncharacteristic error.
OSBALDISTON We were punting out of the end zone. It was a pretty tight part of the ball game and I got a high snap I had to jump up for. That throws off your timing and it takes you longer to get the ball off and makes you susceptible to a blocked punt. So when I came down, I took a peek up and there was a period where I probably could have kicked the ball, but I would have had to rush it and my steps were off. This is all going through your head really fast, but I didn't want to give them good field position at that time. I decided I'd rather take the safety than have a short or blocked punt. Play it safe and live another day.
---
[snippet id=4269767]
---
Osbaldiston tucked the ball and hit the ground. The safety narrowed Hamilton's lead to three, 30–27.
BRUNO That was the right decision. I congratulated him afterwards. If he'd gotten rid of it, it woulda been a lousy kick. Those two points didn't beat us.
Saskatchewan scored on a one-yard run by Tim McCray later in the third to take the lead for the first time in the game. After the teams again exchanged field goals to open the scoring in the fourth, Kent Austin was picked off in the end zone by Will Lewis, a controversial interception that was ultimately called back.
STEEN Hamilton was beginning to play very tight. The preceding play had gone to the other side of the field and I was a long ways away out on the left hash mark and my partner was on the boundary. The pass goes into his area and I saw a lot of contact but thought, "He's closer than me, so I'm not getting involved." I knew I had to be very careful with my calls. The next play comes out to my side and Will Lewis got a little grabby, and I banged him with a pass interference call.
ELGAARD I see [Lewis] all the time. He always comes up to me and says, "Hey, you've got my ring on" [laughs].
VANSTONE That looked like an interception to me. If there had been video replay back then, you may be reading a different story. That play could have and probably should have been turned over on video replay. Instead, the Riders keep the ball and kick a field goal to go up 40–33.
STEEN After the game we were in our dressing room and the director of officiating, Don Barker, was there with his assistant Neil Payne, and Neil came running over to me and gave me a hug. He said, "Bud, thank God you got that pass interference call right." I told him, "So I guess that one's going to grade OK, huh Neil?"
Still down 40–33 with 48 seconds left, Hamilton had the ball on the Riders' 10. That's when a controversial non-call set the stage for "The Catch."
SUITOR I remember talking in the huddle with [defensive back] Richie Hall: "Who should we double team?" The coaches wanted me to help on Rocky DiPietro. We thought Mike Kerrigan would go there. And on first down he did.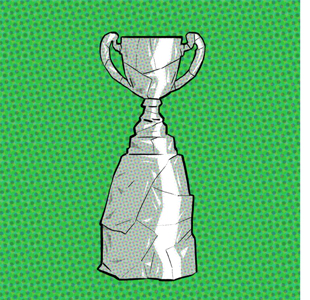 DIPIETRO I had a chance to score but the defence made a good play and got a hand in.
BRUNO The defender held him by the jersey. DiPietro would have caught that ball — I know he would've.
ELGAARD There were lots of calls and non-calls that were a little bit questionable on both sides. There were three or four head-scratchers, but that's the way it goes.
STEEN The term we used was "there has to be blood on the knife." It wasn't enough for a guy to have a knife out — you had to see blood on it before making a call. We didn't want to be the deciding factor.
SUITOR Before the next play, there was the same discussion, "Should we double DiPietro again, or should I go to [Tony] Champion?" The call from the bench was, "Back on DiPietro. Stay hard on the middle." Me and [defensive back Richie] Hall had a quick discussion as to whether or not we should change the call, "Shouldn't we be thinking about Champion?" Richie wanted to make the change, [but] we ended up staying on DiPietro.
BRUNO We had a couple plays lined up and I told Kerrigan to look for Champion. If we're going to score, he's the one who can do it.
Champion had been Hamilton's big-play weapon all season, setting a Tiger-Cats record with 15 touchdowns. Despite his broken ribs, he was still a constant threat to score.
CHAMPION [as told to Vanstone in 2010] I came back to the huddle, and [Kerrigan] looked at me and I looked at him. I knew I was getting the ball, and I was going to do anything I could to get it. The first hand the ball touched was my left. My right hand wasn't on it yet. I turned around but, if you watch the replay, you can see that I never took my eyes off the ball. Then I fell backward and caught it.