It was the first meeting on opening day of Alouettes training camp in the spring of 2002. Don Matthews stepped to the lectern at the military base in Saint-Jean-sur-Richelieu, Que., to set the tone for the season, and begin his era as head coach of Montreal's Canadian Football League franchise.
"There's only one rule around here," Matthews told the team. "Nobody, and I mean nobody gets more (women) around here than I do."
The players looked around at one another, and the session broke up. Six months later, the Alouettes won the first Grey Cup championship of their modern era.
Six years earlier, in his first season as Toronto's coach, he told the players, "this is a dictatorship – and I'm the head dick."
Known across Canadian football as "The Don," Matthews, who died Wednesday after complications from pneumonia following a battle with cancer, was as much an outrageous persona away from the sidelines as he was a genius on it. At the time of his passing, only eight days before his 78th birthday, he had the second-most head coaching wins in CFL history (231), along with a total of 10 Grey Cup rings with six different franchises.
"Quite honestly he's the best football coach I've ever seen," Hall of Fame running back Michael 'Pinball' Clemons told Sportsnet last November. "Don? He's my football savior. My football Jesus."
A players' coach, before being a players' coach was predominant in football culture.
"When you go back and talk to all the guys he's come in contact with, they'll say they loved playing for him," Hall of Fame quarterback Anthony Calvillo told Sportsnet in Oct. 2016. "He believed in you. You believed in him."
Lessons learned from humble beginnings, through a stint in the U.S. Marines, a chance to play college football far from home and a head-coaching trajectory that began at a small high school and ended in the Canadian Football Hall of Fame.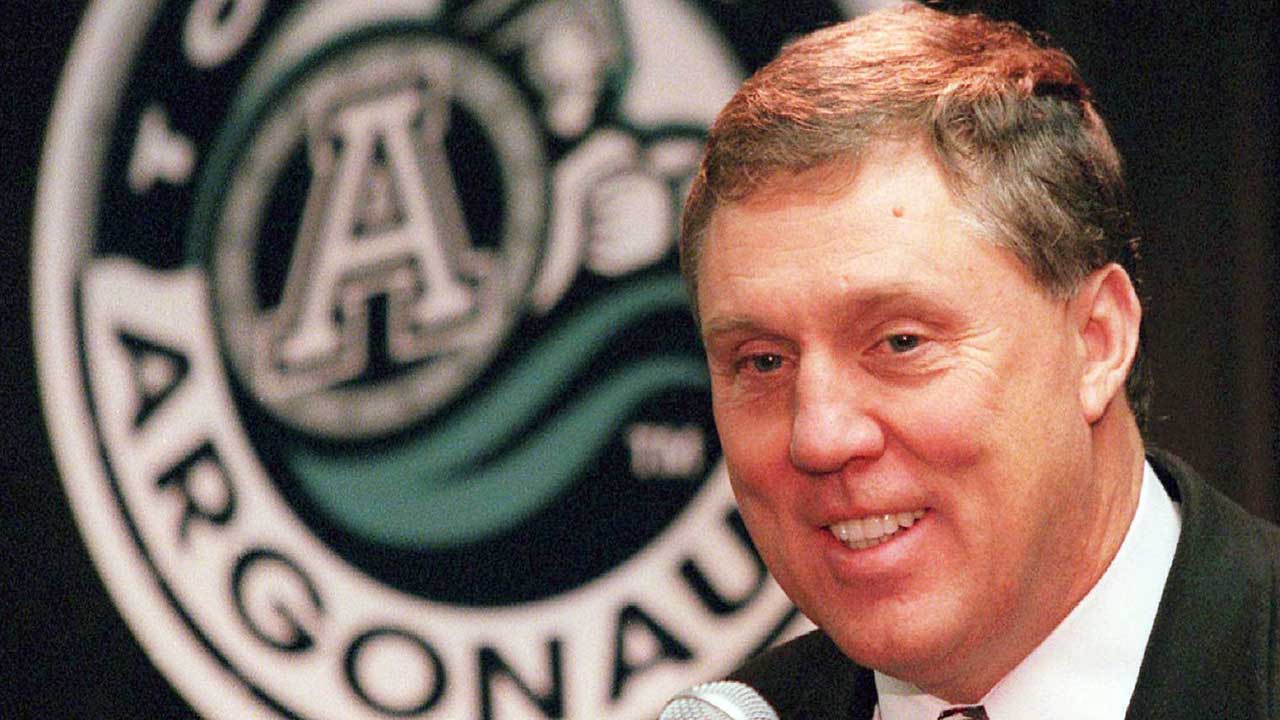 Brash, blunt, fiery and combative, Matthews was an incomparable figure that the CFL hadn't seen until his arrival 40 years ago. He quarreled with the media, yet used them to send messages across organizations he worked for – and to keep the locker room accountable. He'd fiercely protect players, but threaten them that their next meal was "dinner on Delta" if they didn't perform.
Matthews rode motorcycles and motivated his players with testosterone-fueled innuendo.
"Everybody knows him for craziness and outlandish things, but he always took the pressure off the players and put it on himself," said Hall of Famer Lui Passaglia in an interview with Sportsnet last October. "He left you to your interpretation of professionalism. You knew you had a job as a professional football player. He expected you to come to work on time, play hard and win."
In-season workouts were creampuffs. "We'd goof around all week in practice," admitted Hall of Fame receiver Ben Cahoon in a 2009 interview with Sportsnet.
"But you knew on game day, it would be time to perform," said Mark Washington, a defensive back who played for Matthews in Montreal. "It all worked because it made the players ultra responsible. When the ball is in your court, you have to police the team. You can be wild boys, but you better win the game. Or the hammer would come the other way."
Matthews-coached teams never had curfews, in large part because the head coach would be the first to violate it. He sneered at critics and adversaries, unafraid to taunt, talk trash and run up the score on the opposition.
Before 'Spygate' and 'Deflategate,' Matthews was unapologetic after one of his staffers was caught videotaping the Ottawa sideline to steal coaching signals in 2004. Drawing the ire of others was of no consequence to him. When told a former counterpart (turned colleague, turned counterpart again) once said about him: "he'd have his funeral in a phone booth with all of his friends," Matthews burst into laughter.
Said Washington: "He gave us this confidence that, say for a road game, we felt like, we're coming to your town, your stadium, we're going to rip it up and tear it up and go home."
Matthews spent large amounts of money – and time – at adult entertainment establishments across the country, and once happily posed for photos in a Montreal newspaper with his dog, that he'd named B.J., of course.
"Don would always tell us, 'the thicker my wallet, the better looking I get,'" laughed Ed Philion, a defensive lineman who played for him in Montreal, in an interview with Sportsnet during 2010 Grey Cup week.
It's not that there will never be another character like Don Matthews again in pro football, it's that there can't be. From stop-to-stop, he reminded the communities he worked in, and those who followed the CFL, that he was one of a kind. His longest head coaching run before getting fired was five years, sometimes leaving under murky circumstances – only to resurrect his Hall of Fame career shortly after and lead four different franchises to Grey Cup titles.
"Don's identity was all about his swagger," Doug Flutie told Sportsnet last fall. "He was the show and there was no doubt about it."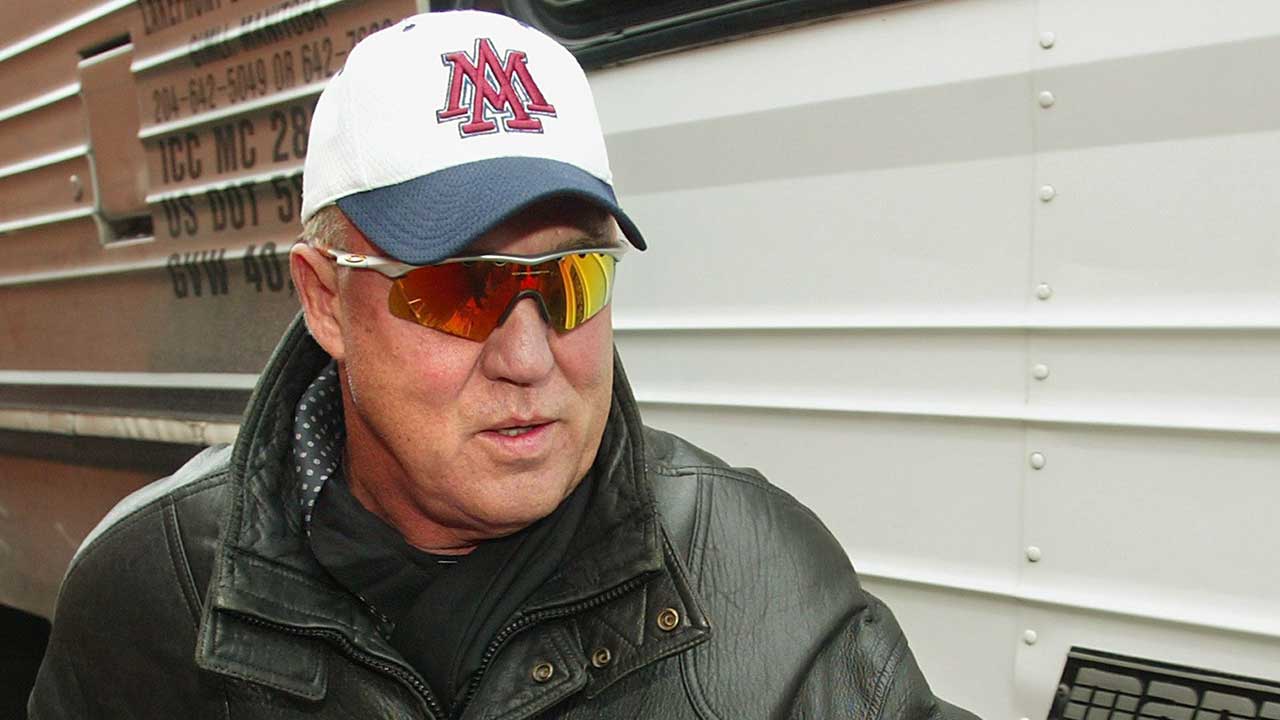 THE JOURNEY
Donald J. Matthews was born on June 22, 1939 in Amesbury, Mass., at the time a mill town, located on the left bank of the Merrimack River at the northern point of the state. Both of Matthews' parents were Canadian – his father, Fred, originally from Prince Edward Island, moved to New England to work as a labourer at a steel plant. His mother, Ida Babin, was from Tracadie, N.B.
Little did their son know, growing up poor – often not having enough to eat – that his life's path would eventually take him north of the border, where he'd be sworn in as a Canadian citizen on Oct. 24, 2004. But long before that ceremony – held on the field at Olympic Stadium before coaching a CFL game against Ottawa, no less – was a frustrated teenager unsure of what his future would hold. In his adolescence, all Matthews wanted was to get away from home.
"I felt if I didn't get out of Amesbury, my environment would have swallowed me up," Matthews said in a 2010 interview with GoVandals.com.
Matthews dropped out of high school as a senior to enroll in the U.S. Marine Corps, looking for an escape from an upbringing he felt ashamed of. Three years later he returned home, calling that experience a mistake, and became a gravedigger – earning $47 a week. Matthews saved the money he made from that job, went back and got his diploma and accepted an offer as a walk-on football player at the University of Idaho. He was promised nothing but a tryout, yet felt it was enough of an opportunity to book a cross-country bus ticket, even if he only had enough money to pay for a semester of college.
Determined not to end up working at the mill in Massachusetts, by Christmas of his freshman year Matthews had earned a football scholarship playing both guard and linebacker. When his senior season rolled around, he was elected team captain.
Needing a few more courses to complete his degree at the end of his eligibility, Matthews became a graduate assistant coach at his alma mater, then moved on to three different high school coaching jobs – in Ely, Nev., Spokane, Wash., and finally, Portland, Ore. In his first two stops, Matthews led those teams to undefeated records. At Sunset High School in Portland, the Apollos won two state titles in the three seasons Matthews coached there.
Watching from afar of what Matthews had accomplished as a young coach was the great Hugh Campbell, then the Edmonton Eskimos' head coach. Campbell hired Matthews for his first pro job in 1977, to work with the team's linebackers, and the next season, promoted him to defensive coordinator – a position he held until the B.C. Lions hired him to be head coach. By the time Matthews left Northern Alberta, he had five Grey Cup rings in six seasons.
THE DON
In his first team address as a professional head coach, Matthews had a different message than the one he would give 19 years later in Montreal. In that opening meeting of the 1983 season he told the Lions, "we're going to play on the edge."
"He lived on the edge, too," Passaglia said.
Matthews' arrival in Vancouver coincided with the opening of BC Place, then the world's largest air-supported domed stadium. In the first football game played there, before 41,810 fans on July 24, 1983, the Matthews imprint was made as soon as they put the ball on the tee. He called for an onside kick, one that Lions receiver Mervyn Fernandez scooped up and took to the Saskatchewan 20-yard-line.
"If that doesn't epitomize Don, what does?" chuckled Passaglia. "When is the last time you've seen an opening kickoff with an onside kick?"
In front of a full stadium, the roll of the dice worked to perfection and two plays later the Lions were in the end zone. The start of the Matthews era in British Colombia was evident: they'd play on that edge, all right.
"Wide open offensive football, and attacking, in-your-face, defensive football," Passaglia called it.
That hallmark defined Matthews' philosophy, and it continued until his retirement 31 years later – 27 of those seasons spent as a CFL head coach.
"He just had a grasp of the overall picture – how to make decisions, and overall, schematically, how to break people down on what they're trying to do," said Chris Jones, now Saskatchewan's head coach and general manager, who was an assistant to Matthews in Montreal. "He wasn't a real detailed guy, but it was about putting the players in the right situation: make it simple, and make 'em play fast. Play fast is what we did."
[relatedlinks]
When Washington returned to the Alouettes in 2002, after being released by the Washington Redskins at the end of the NFL training camp, he showed up to Olympic Stadium on Labour Day of that year to meet with Matthews, whom he hadn't played for before.
Matthews, as usual, was his direct, blunt self when Washington walked into his office, telling him: "Here's the deal: you'll start this week. If you play well, you'll stick around. If you don't, you'll go home."
Washington, mind you, had been a five-year veteran in Montreal before his NFL jaunt. That resume was of no consequence to his new coach.
Matthews then handed Washington a blank spiral notebook with a pencil in it and said, "That's the playbook."
That's the playbook?
"He said, 'this is what we run: press-man, cover zero, cover three and double-cut. That's it,'" recollected Washington, in an interview with Sportsnet last year. "Then comes the game, and lo and behold I had a pick-six and I guess I played well enough to stay. And then two months later we won the Grey Cup."
The ongoing defensive mantras shared with the players and staff who worked under Matthews? Speed kills, run 'cover zero' blitzes over and over again on defence, hit the quarterback every chance you get.
Jones remembers how fundamentally basic some of the lessons could be from his mentor.
"It was pretty simple with Don," Jones told Sportsnet in a 2016 interview. "Get the mission accomplished with a win, and have player satisfaction. That's all that mattered to him."
"I think the number one thing about Don Matthews is that he loved his players, he loved all the guys that played for him," Flutie said from the NBC broadcast booth last fall. "A joy to play for and a winner."
THE INNOVATOR
But more than that, the common sentiment in the Matthews coaching legacy is innovation.
"He'd find ways to take advantage of rule changes," Clemons said in a quiet moment before kickoff on Grey Cup Sunday of last year. "He did things to challenge the game that people hadn't thought of."
"The ability to think out of the box, and have the stones to actually do it and support it," said Washington.
Prioritizing special teams had not yet become an emphasis when Matthews became head coach, but he spent a considerable amount of practice time working on the kicking game – understanding its value in the three-down game. His teams worked situations and clock management prior to that became commonplace. Before the players union pushed for restrictions on the number of practices in pads, Matthews ran more shorts-and-shirt workouts than any other CFL coach to keep the athletes fresh.
"Every phase of the game, he was the first guy who understood how to take it to another level," said Clemons.
And Matthews knew personnel. When others didn't, he was the one who identified Clemons' skill set to be a featured running back at the pro level – not just as a kick returner, or worked into specific packages. Matthews allowed Flutie to help create Toronto's offensive game plan, on the road to winning back-to-back Grey Cup titles in 1996 and 1997.
"He gave the team confidence, made us relax, let us go out and just play," said Flutie, who is regarded by many as the finest player in league history.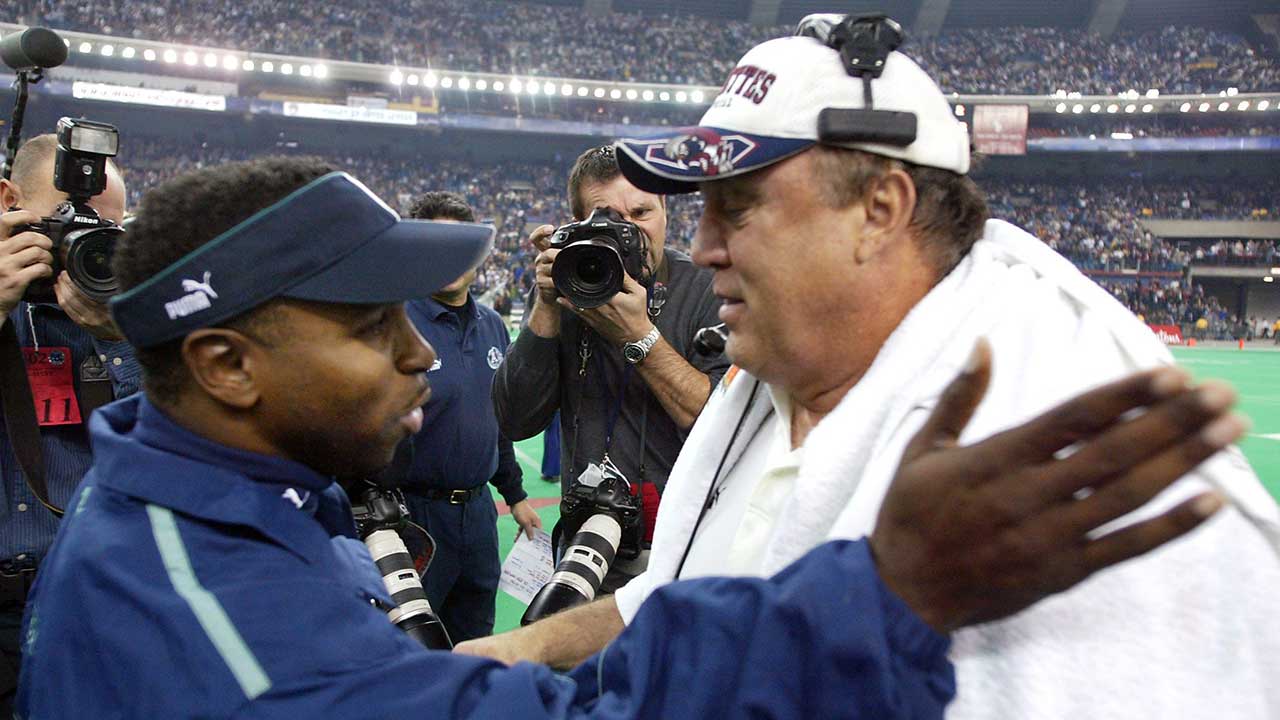 Where Matthews changed the course of Montreal football history was a few months before his infamous team address in Saint-Jean-sur-Richelieu. It was late November of 2001, after the Alouettes defied CFL rules by unveiling Matthews as their head coach during that Grey Cup week in the city, that he called Calvillo in for a meeting.
"I was very nervous because I wasn't sure what he'd do with me," Calvillo admitted last fall. It was long before the quarterback became the standard-setter at the position league-wide. Montreal's offence had revolved around the run game, and tailback Mike Pringle.
Matthews was on the job for less than a week when he phoned his quarterback. He'd spent the first days watching film in the bowels of the Big O. On the sixth, an anxious Calvillo arrived wondering if he'd be traded – or if there may be an open competition for the starting quarterback job.
As it turned out, there was nothing to worry about. In their visit, the head coach outlined a new vision for the Alouettes offence.
"Anthony, we're going to build this team around you," Matthews told him. "We're going to become a passing offence and surround you with great athletes. We are going to build this team and this (coaching) staff where we'll have success with you."
Not long after, Pringle was gone, and in the years that followed, Calvillo re-wrote the CFL history books, becoming a league icon.
"Don Matthews changed my career," Calvillo freely admitted in that interview last year. "To have the confidence of someone you admired and respected, to have him tell you that 'you're going to lead us?'
"I went home and thought to myself, 'That man believes in me, and I'll go out and do whatever I can,'" said Calvillo. "That conversation set the tone for second half of my career."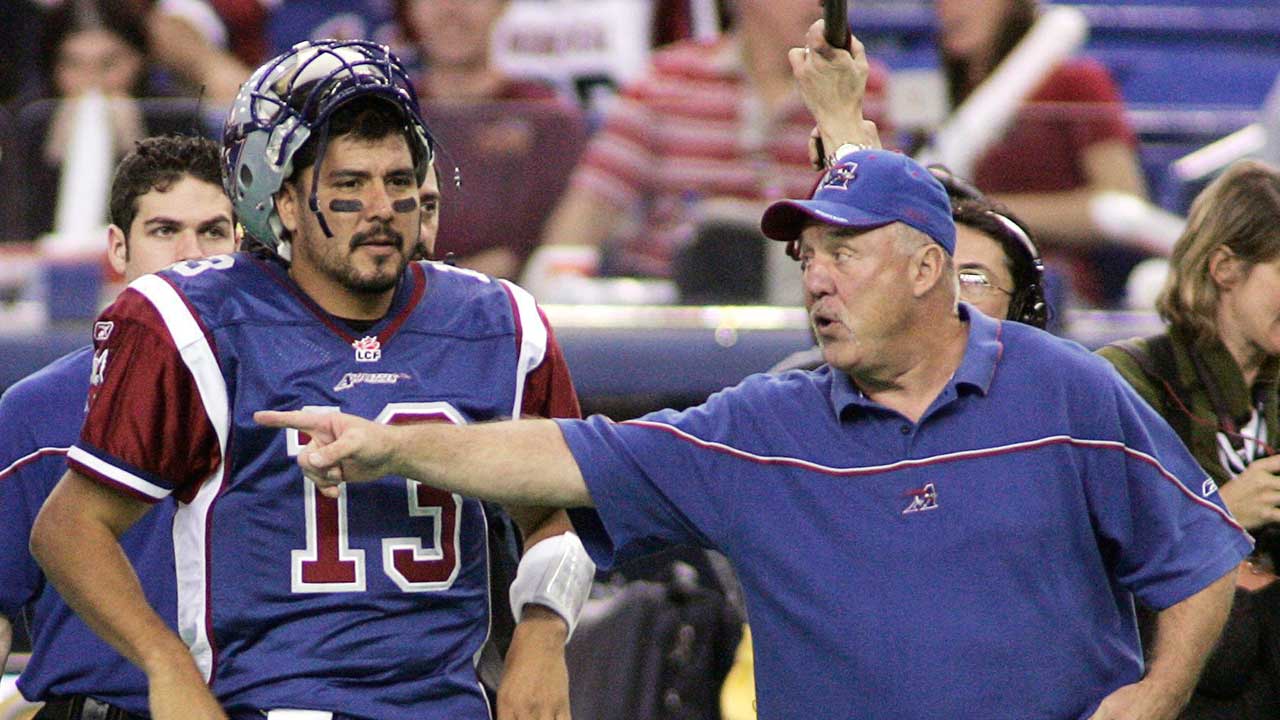 THE RUN
Matthews was a head coach for 365 CFL games, winning 63.4% of them. In that role, his teams won 14 of the 23 playoff games they played in, lifting the Grey Cup in five of nine championship games. Following his time in Vancouver, he bounced from Toronto to Saskatchewan, then to Baltimore in 1994. There, the Stallions became the first CFL champions from outside of Canada. He returned to the Argonauts in 1996, declaring his status as "Head Dick," and overseeing one of the greatest teams in league history.
His last tenure in Edmonton was a two-season run, beginning in 2000, ending in mysterious circumstances that never gained clarity. He was the head coach in Montreal from 2002 to 2006, leaving during that final year in-season under equally puzzling conditions that the franchise would not elaborate on beyond "health reasons." Matthews came back to Toronto for the final half of the 2008 season, before retiring in Oregon.
It was in 2012, through the Argonauts, that he announced his cancer diagnosis. A former player visited him last August, and Matthews had a feeding tube in his stomach, unable to swallow. Current Argos GM, Jim Popp, who worked with Matthews in Saskatchewan, Baltimore and Montreal, told the Toronto Sun that his old friend was unable to speak last week – but could still hear and lift his arm.
Matthews died at Portland's St. Vincent Hospital on Wednesday, about five kilometers from Sunset High School, where the two state football title banners still blow in the wind from four decades ago.
THE LEGACY
Calvillo, now the quarterbacks coach in Montreal, remembers so many of the little things from Matthews. Messages during meetings, a quick comment during practice.
"It didn't take a whole lot, but you'd get so much confidence from him," said Calvillo. "Don would say a few things to each player, and each day he'd talk to me, it boosted my morale."
"Even after a game where we didn't play well, he'd come into the locker room and tell us, 'boy, are you guys fun to watch,'" recalled Adriano Belli, a defensive tackle on that 2002 Alouettes team, in conversation at the 2011 Grey Cup. "He just never stopped motivating."
Jones is part of the Matthews coaching tree, that has its tentacles spread all over the league. Besides Calgary, every team in today's CFL has at least one coach or executive that previously worked for Matthews.
"We still use some of the stuff I learned from him every single week, every single day here (in Saskatchewan)," Jones said. "I can't be more grateful to have learned under him. He was hard on me, and I thought he was picking on me, but he taught me a ton."
"You can say what you will about him. He was charismatic in his own way," said Passaglia, who played for Matthews for five seasons. "He had players in organizations follow him, and more often than not, he delivered. With Don, it was about winning. It was always about winning."
There was a cost that came with his professional success, however. Matthews was married four times, and is survived by his wife, Stephanie, and four boys. His eldest three biological sons (Mike, Mark and Pat, born between 1966 and 1970) kept tabs on their father's coaching career mainly from afar after Matthews' first marriage dissolved in Oregon.
"I don't think anything got him down. He didn't show that outwardly. He just wanted to enjoy life," said Passaglia. "He enjoyed the best things in life, and as players we followed along."
"He taught me how to be a man of action," said Belli. "He'd say, 'shoot all of your bullets today, you'll be able to reload tomorrow.'"
Clemons remembers Matthews as a dynamic leader. "Smart, introspective, found out how to get the best out of people," he said.
"He's a legend. He's someone people will always refer to as one of the greatest coaches to ever live," said Calvillo.
"I will always remember Don as a winner," says Flutie, "and a guy who loved his players."