TORONTO — There's a flood and Michael "Pinball" Clemons is at the centre of it. But that's a good thing. The water leaking into the good ship Argonaut in this analogy are the fans streaming to his side in the Argos' tailgate area. Clemons—along with former Argonaut and CFL all-time leading passer Damon Allen, Heisman Trophy runner-up Raghib "Rocket" Ismail and Super Bowl champion Joe Theisman—has ascended on the various Argonauts tailgates to stand face to face with the customers.
In no time a receiving line forms in front of Clemons, even though neither his football resume nor his stature can measure up to those of the men he's accompanied by. Two by two they wait to greet him and explain just how long they've waited for a football atmosphere that matched the team's Grey Cup aspirations. The preacher takes to his pulpit and blesses the congregation with a demonstration on how social and user-friendly the CFL in Southern Ontario can be. He's the best missionary the franchise has. BMO Field would always be sold out if Pinball were selling tickets door to door. But beyond showcasing the fact that you get more in life with honey than you do vinegar, the scene around Clemons shows what the key to a real bedrock of success could be for the Argonauts: Making their games a social event.
Dressed to the nines with a crisp dress shirt and team-coloured grey-and-blue blazer, Pinball might as well be a statue as everyone posts up up beside him for pictures. Although he doesn't have an Instagram account and just recently got on Twitter, he was all over social media as everyone in line made a story of their chance meeting with the CFL Hall of Famer.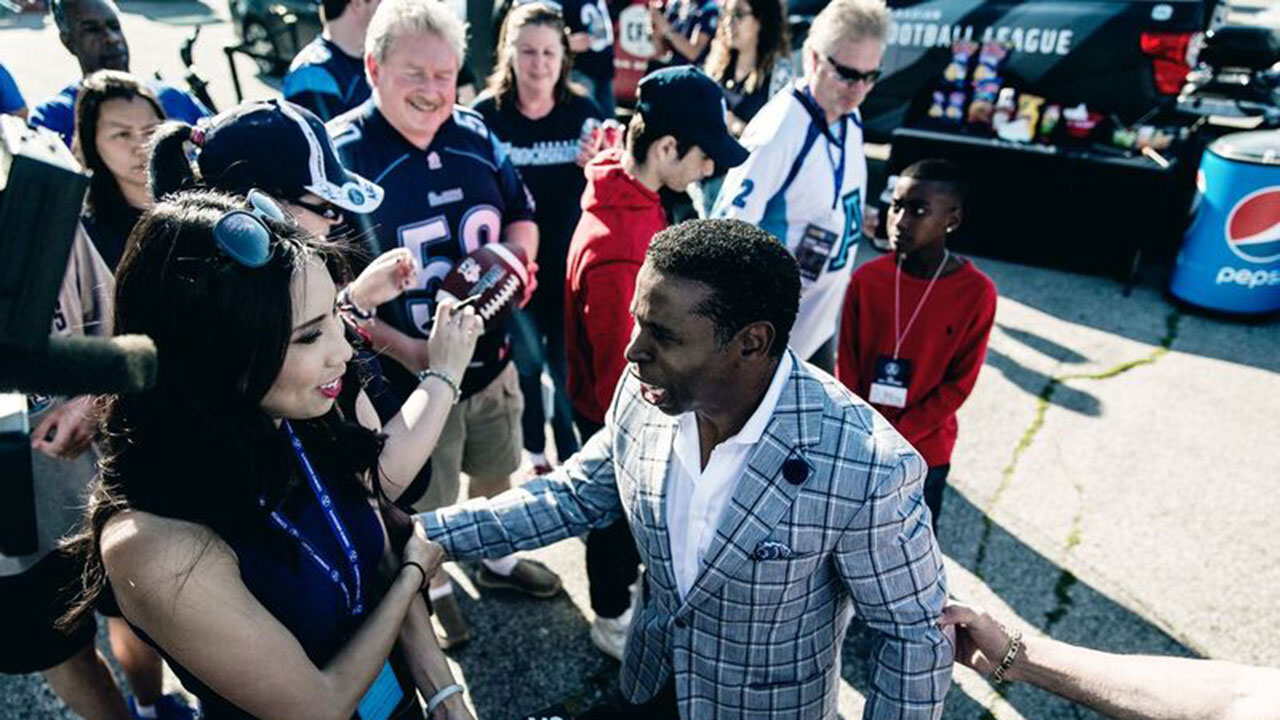 "How are we doing, No. 1?" Clemons belts out as he raises his head from autographing a brand-new football to see Toronto Mayor John Tory waiting patiently to say, "Hi." The city's unofficial mayor and former playmaker embraces its real mayor and political power broker. The two men then reminisce on how long in the making this stadium has been.
Originally opened as a simple, open-air stadium and the home of Toronto FC on April 27, 2007, BMO Field initially housed 20,000 fans. But turning it into a multi-sport facility took multiple partners working through red tape. Now, the amenities and infrastructure have been slowly built up to the point where nothing about the viewing experience seems minor league.
The multi-year, $150-million BMO expansion included adding an upper deck on the stadium's east side, installing subsurface heating and artificial lighting systems to encourage grass growth, and building on a canopy-style roof that keeps in crowd noise while amplifying the stadium sound. Now capacity is up to a CFL-friendly 26,500 seats in the football configuration with the ability to grow to 36,000–40,000 for special events like the 104th Grey Cup. Roughly $20 million of the $150 million was dedicated to the CFL retrofit, although you could argue all of the stadium enhancements benefit football fans.
All of this wasn't done altruistically. Revenue from 10 to 13 extra sporting events at BMO Field annually is good for everyone, including the city and MLSE. It benefits the CFL, too, by bringing new focus to the league in the country's largest market. And while the Argos haven't become better simply because of a new locale and a smaller venue, they sure seem like more of a big deal than an afterthought.
As for the team itself, the Argonauts added key pieces on offence and defence this past off-season in hopes of turning that Grey Cup in November into a home game. But perhaps the club's biggest recent free-agent acquisition might have been the hiring of president and CEO Michael Copeland, formerly chief operating officer of the CFL, last July. Thanks to his previous post, Copeland came in with an understanding of what initiatives were working for teams around the league and what challenges prior regimes in the Toronto marketplace had faced. As he gives me a tour of some of his favourite new additions to BMO's football configuration—like the fan tunnel, touchdown cannon and new locker room—he swells up with pride like a new homeowner showing off their handiwork in a fixer-upper.
"Everything we are doing at the bottom line is with the expressed interest of winning the Grey Cup," he says. "And that starts with world-class facilities to perform and also includes a great home-field advantage thanks to the atmosphere."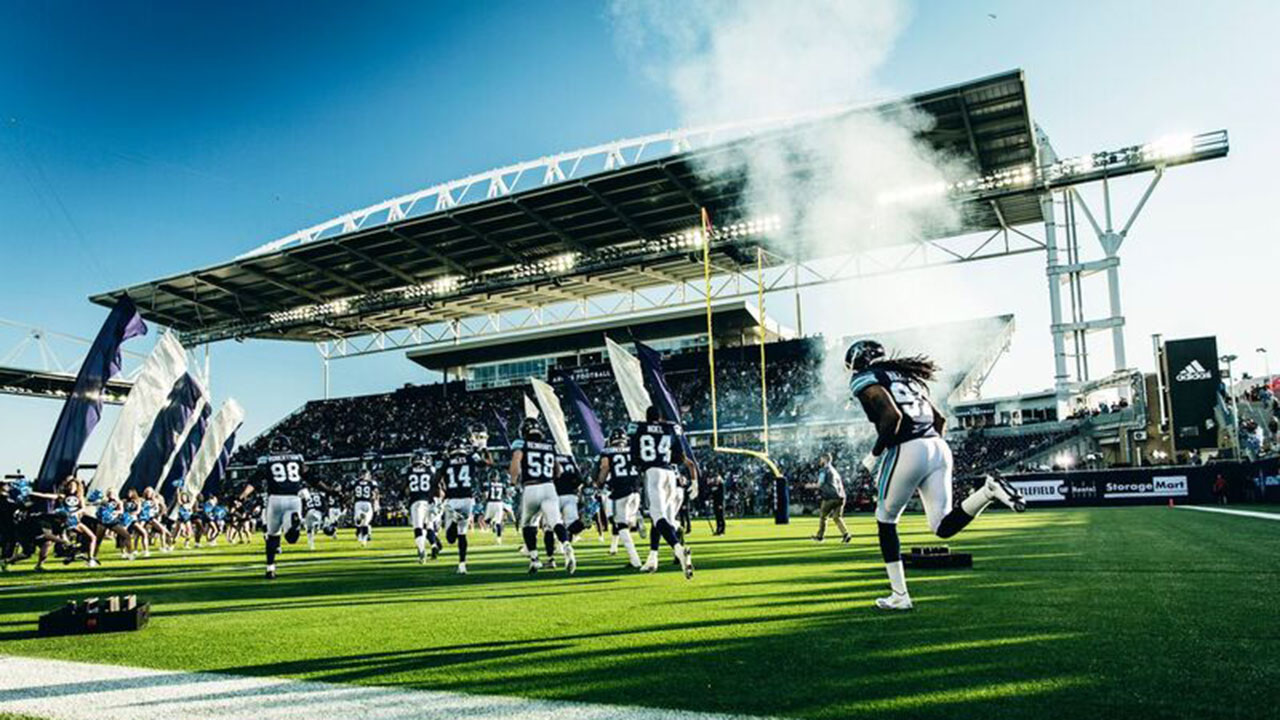 In Copeland's eyes, the physical changes to the stadium also alter the team's relationship with its fans.
"We can't guarantee a win every game or a Grey Cup every year, although that is what we strive for," he adds. "So what we are selling is a good social experience, whether you are a family or a rabid fan."
That social experience begins pre-game. The 416 Beats Drumline—made famous for their inclusion at Raptors games—leads the fan march into the stadium from the Shipyard, a team-sanctioned pregame party zone. That's where Kardinal Offishall deejayed and the Strumbellas performed before game one of the season. While that's going on, the long-standing Argonotes band plays fight songs in the tailgating area.
Tory enjoys the newfound pomp and circumstance both as a football fan and a frustrated observer of what became of his local team.
"It needed to happen. Quite frankly it was overdue," he says. "There is a real civic pride in Toronto right now and there is no reason the Argos can't not only benefit from that but add to it. They had fallen to a point where they were completely off the radar screen, which is unfortunate because there is great history there."
For this movement to truly succeed, however, the Argos won't just need to win in the parking lot and on the field, but online as well. The team's growth on Twitter and social media in general hasn't been nearly as strong as their league counterparts. To rectify that, the Argos commissioned street photographer Adeyemi Adegbesan to take over their Instagram account on the night of their first home game (a couple of those photos appear in this article). The team has also hired photographer Johany Jutras and given her full access for the year to make sure they document their team in the digital era.
The Boatmen have also beefed up their video content and social-media teams, which adds up to an output beyond what any other CFL team is doing. They justify the cost not as sunk but as an arm of their marketing and promotion budget.
Clemons believes despite all that is new, old habits die hard—and new ones take a while to develop. "We have to win our fans back and we have to due it dutifully," he says. "This is a start but it is just that. We have lots of work ahead of us."
It's true. But on this day CFL commissioner Jeffrey Orridge is in the parking lot and he might as well be a club promoter handing out flyers that read "CFL."
"It's a party. Come for the party, stay for the game and then comeback for the party" Orridge raps with a smile.
The challenge is making sure the party doesn't get played out. There have been many improvements but in many ways the future upward trajectory of the league depends on it.