The really good organizations make operations look as easy as common sense.
The Ottawa Redblacks have been a success from the time the first seeds were planted for the CFL franchise more than a decade ago, when John Ruddy honoured his father's dream by bringing pro football back to the nation's capital.
A punishing cornerback for the Carleton University Ravens in the 1970s, Ruddy has football in his blood. His father, John Ruddy Sr., played professionally for the Ottawa Trojans in the 1940s. Long before he died in 2009, John Sr. pleaded with his son to return football to Ottawa, after the brief reign of the Renegades (2002-05) and sad demise of the Rough Riders (1876-1996).
John Sr. was a close friend and neighbour of Frank Clair, the former Rough Riders coach and GM whose statue overlooks today's field. John Jr. loved football, too, but the businessman in him balked.
"Dad, it doesn't make any money," Ruddy told his father. "Why would I get involved in a money-losing proposition?"
Let's just say the old man wore him down. Ruddy, founder and executive chairman of Trinity Developments, would ultimately gather other titans of Ottawa industry, including Roger Greenberg, Bill Shenkman, OHL Ottawa 67's owner Jeff Hunt and soccer builder John Pugh to form the Ottawa Sports and Entertainment Group (OSEG).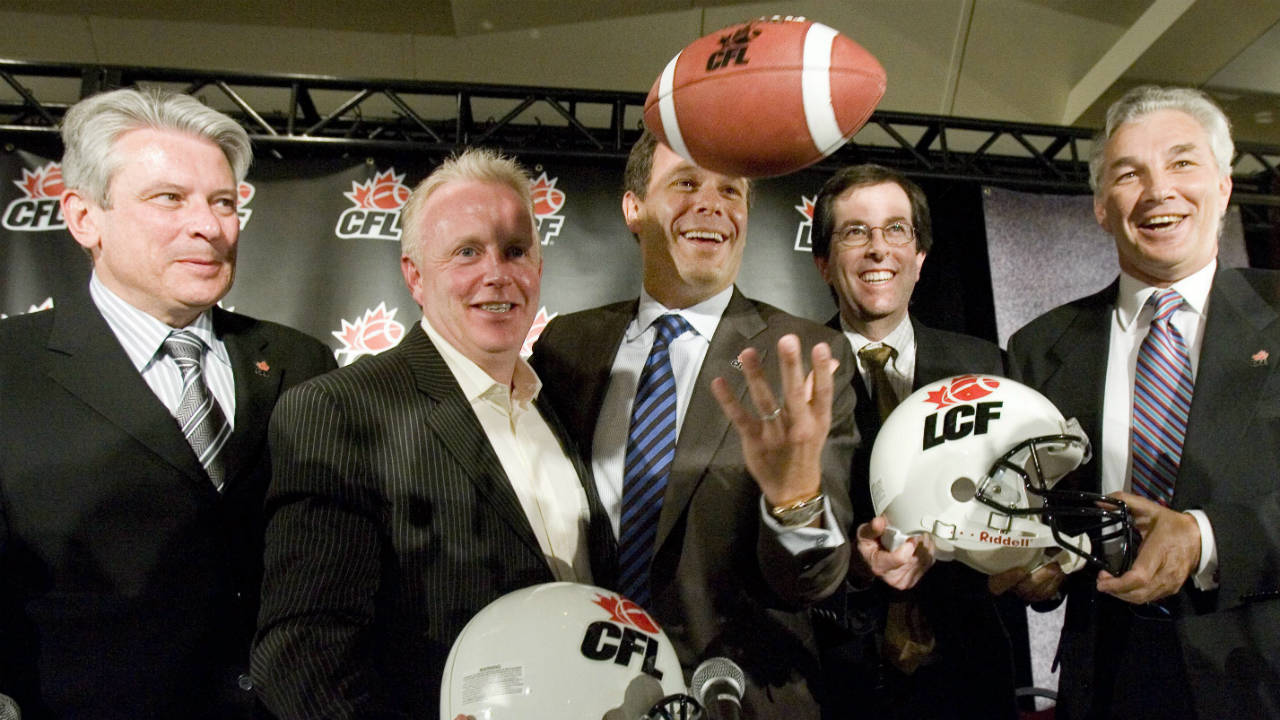 Ruddy wooed Greenberg and Shenkman to help him rebuild Lansdowne Park with condos, restaurants and green space, while also forming a home for football, the soccer Fury and the 67's. Ruddy used a line that would become a running gag among his fellow builders:
"It will take a little time, a little money and provide a lot of fun."
As Greenberg likes to remind Ruddy, the redevelopment project dragged out over years, cost a lot of money – and only in later years delivered on the fun quotient.
With the transformed TD Place barely finished in time for the opening kickoff, the first season, 2014, was challenging – Ottawa won just twice while losing 16 times. Yet even then, as head coach Rick Campbell put it so well, there was a "heartbeat" of a good team.
On Tuesday, the Redblacks boarded a plane bound for Edmonton to begin preparations for their third Grey Cup game in the past four years. In 2016, the Redblacks brought home Ottawa's first Grey Cup championship in 40 years, a touchstone to the day Tom Clements delivered the storied touchdown pass to Tony Gabriel late in the fourth quarter.
Watching that touchdown, from his home in Hamilton was a 10-year-old named Marcel Desjardins. Gabriel, of course, was born in nearby Burlington.
Young Desjardins had goose bumps as big Gabriel hauled in that end-zone pass.
"As a kid, you latch onto something like that," Desjardins would tell me years later. "The Rough Riders became my team."
In 2013, Ottawa's "expansion" franchise became Desjardins' team. He was a football staff of one, hired by Hunt to be general manager. Working out of the team's temporary offices in an industrial warehouse, Desjardins tethered his phone to his personal laptop so he could access the Internet, and build a negotiation list.
His team had no name, no logo, no players and no coach. But they had a GM with enough experience from his time with the Hamilton Tiger-Cats and Montreal Alouettes to know what it took to succeed in this quirky league.
Over time, Desjardins named Campbell, son of the legendary CFL receiving star and Hall of Fame coach Hugh Campbell, his coach. From an expansion draft and free agency he pieced together a roster, understanding that one position mattered above all.
Henry Burris became his quarterback when the Tiger-Cats opted for Zach Collaros instead. Later, Desjardins scooped Trevor Harris from Toronto, as the Argos stayed with veteran Ricky Ray.
After Year 1, Desjardins recognized he lacked quality receivers and put together a group that was as talented as could be found: Greg Ellingson, Brad Sinopoli, Ernest Jackson and Chris Williams.
Three years later, Ellingson and Sinopoli continue to form the heart of a receiving corps that now includes Diontae Spencer and R.J. Harris. Sinopoli, who was a Hec Crighton winner as a quarterback at the University of Ottawa, is a remarkable story of personal re-invention. At the pro level, he taught himself to be a receiver, first with Calgary and then Ottawa. This year he set a record for catches by a Canadian, with 116 for 1,376 yards.
[relatedlinks]
On Sunday, Harris threw a CFL playoff-record six touchdown passes in Ottawa's 46-27 rout of Hamilton in the East final. To say it was an important game for Harris would be an understatement.
In 2017, his first year replacing the legendary Burris, Harris was inconsistent and lost in the East semifinal to Saskatchewan. He tried to stem his detractors in Ottawa by saying, "the perception is I'm 0-for-36 in the playoffs. I've played one game."
Now he's played two playoff games, the last one a beauty. He will be asked to replicate it against a very tough Calgary Stampeders defence in Sunday's Grey Cup game.
Regardless of the outcome, the Redblacks organization will continue on in its usual manner, a sort of understated dignity. Most fans of the team couldn't name the OSEG partners, who remain behind the scenes. They barely know Desjardins, a soft-spoken man who best expresses himself with a twinkle of the eye.
As for Campbell, if there is a more humble football coach in North America, I would like to meet him. Campbell defers to his staff, his players, and will not admit to any big deal about escaping the giant shadow cast by his father.
In just their third season, the Redblacks brought home the 2016 championship – Burris playing on a bad knee and throwing an overtime touchdown to Jackson.
When Campbell was asked about what the win would mean to him and his father, the coach said, "I'm just glad we won it for Ottawa."
Years before the revival, John Ruddy Jr. sat at press conference table to announce the return of CFL football to Ottawa, an old Rough Riders helmet adorned with the single R on the table in front of him. Ruddy would have given anything to bring back the traditional Riders name – ultimately it was blocked by the Saskatchewan Roughriders. And so the group settled on Redblacks, a Shenkman favourite that seems less goofy the more Ottawa wins. It kept the classic R relevant.
Red stands for "desire," Hunt once explained. Black is for "power."
Together the two names add up to excellence in an organization, and make longtime fans wonder how it could have been so hard to contend in a four-team division for most of those lost years.
The Rough Riders went 17 seasons, their final 17 seasons, from 1980-1996, without a winning record. The Renegades served up four forgettable, losing seasons. Football ownership foundered in the hands of outside interests such as Bernie and Lonie Glieberman, the invisible Horn Chen, Brad Watters, and once the league itself as owner.
In one of the most bizarre sights in Ottawa football history, Donald Crump, Harold Ballard's former bean counter, and briefly the CFL commissioner, sat behind a desk in football operations, a Rough Riders cap on his head. It was 1991 and Crump would assume control of the club until he brought in the Gliebermans.
Lonie Glieberman once held an exorcism ceremony at Lansdowne to expel evil spirits. Today we know the "Curse of Lansdoom" was years of inept ownership and management.
The good operations make it look easy.