Mike Babcock loves the Saskatchewan Roughriders the way you love the Toronto Maple Leafs. Or fill in the blank for whatever Canadian professional sports team is closest to your heart.
Following a recent 6-3 loss to the Carolina Hurricaines and an abbreviated practice at the MasterCard Centre, I didn't expect the Toronto Maple Leafs head coach to be in a talkative mood.
But Babcock couldn't stop talking or smiling when talking about his beloved Saskatchewan Roughriders.
My biggest takeaway from my time with Babcock was that his love affair with the CFL as a child was entirely different from mine. I've expressed in the past that growing up in Southern Ontario my addiction to everything Toronto Argonauts or my wife being raised in a Hamilton Tiger-Cats household make us anomalies in comparison to our big city millennial counterparts.
In Babcock's case, his affiliation with the Riders as a teen was an affirmation of what it meant to be a young boy in Saskatoon. As much as times have changed from when Babcock grew up in the Prairies, the one constant has been that everyone, no matter, age, sex, or religion is in on the Riders. In many ways, it is their religion and Mosaic stadium is where they find commune. Home games against teams from neighbouring provinces are seen as civil, civil wars.
Babcock played football in high school at the junior level but didn't play senior because he began playing minor hockey, eventually suiting up for the Saskatoon Blades of the WHL. But long after he traded in cleats for skates he never stopped being a fan of the gridiron game.
To put his fandom in perspective Babcock shares that the first time he coached Ryan Getzlaf, the first thing he did was explain to the Regina-born power forward that he's the second most important Getzlaf in his family. Ryan's older brother Chris, is a star receiver for the Riders. Babcock was joking, but of course there is truth in every joke.
After living in six provinces and four states, Babcock remains fiercely proud of the province in which he was raised and still chooses to call home. Being awarded an Honourary Doctor of Laws by the University of Saskatchewan is one of his proudest honours. You can see the pride come across his face as he beams about the fact his sons chose to hang Pilsner Rider flags in their American university dorm rooms.
Pay close attention to Babcock's language when talking about the team. He uses words such as "our" and "we."
Before we sat down for our interview, as a courtesy I asked Babcock if he was comfortable being on camera wearing shorts. With his face still flush red as he had arrived straight from a workout, he looked at me as if I was crazy. He's not from a time or place where every picture is put in a perfect filter and retouched to garner optimum likes on Instagram. His identity is not a brand he hopes others consume and like.
So don't let the finely-tapered suits and the perfectly combed hair behind the bench fool you. Babcock feels most at home with a Riders hat on around friends and family at Emma Lake or when tailgating in Regina watching the Green Riders play.
As soon as the interview ended, Babcock traded his Maple Leafs hat for a Roughriders hat. The new cap was slapped on as he retreated back to his day job at a brisk pace.
Below are a few photos I showed Babcock during the interview, with some of his thoughts.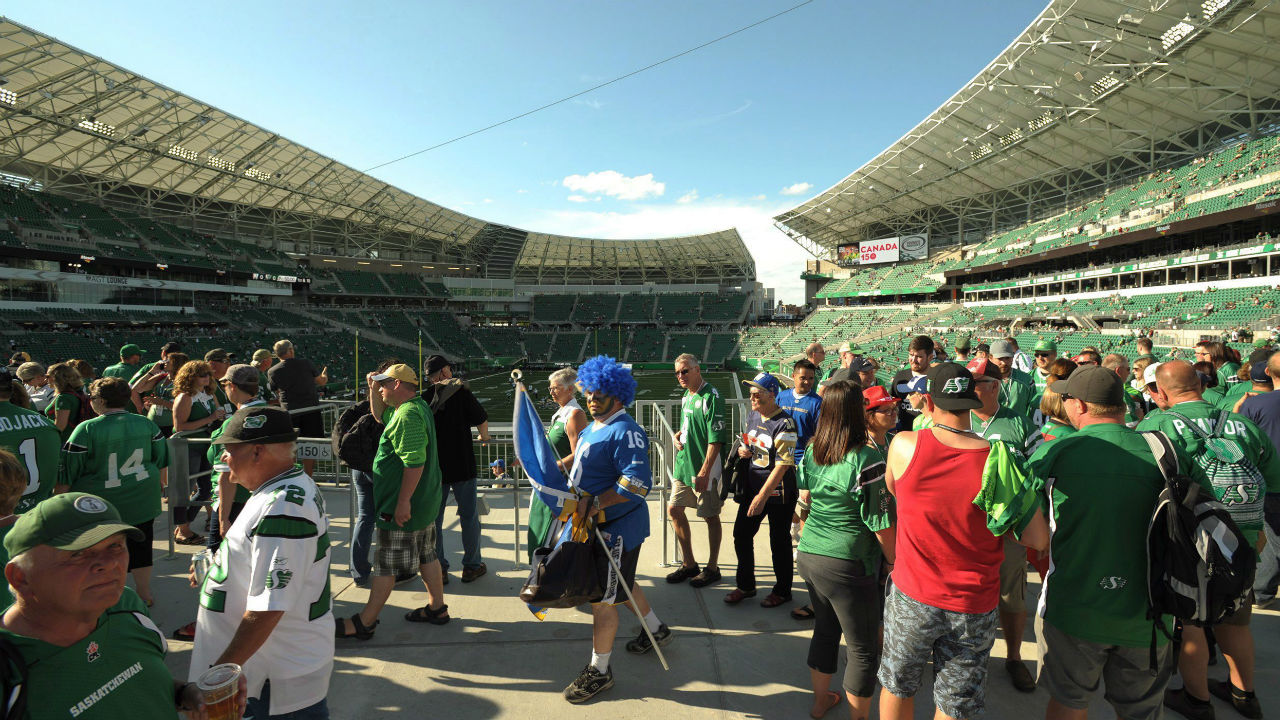 The New Mosaic Stadium
"Any of these places are gathering places for your community. When you're from a place like Saskatchewan you drive from Prince Albert, you drive from the south, you drive from all over to go to these games. Why? Because it's your team."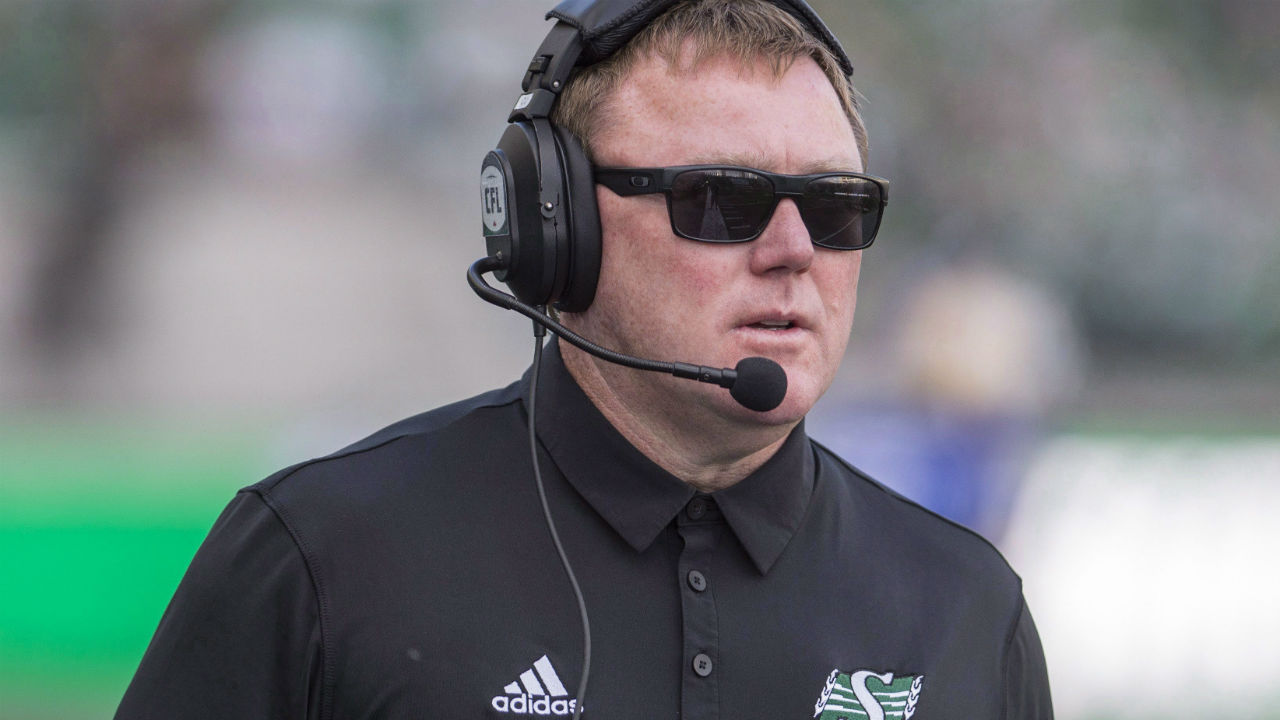 Pressure on Roughriders coach Chris Jones
"The pressure of trying to deliver every day, and deliver on a franchise, a historic franchise that means a lot to the province I think is a special thing. I think it's a real honour. When you accept the job, you have an obligation to that community to get the team to play right and make the community proud so obviously he's doing a good job."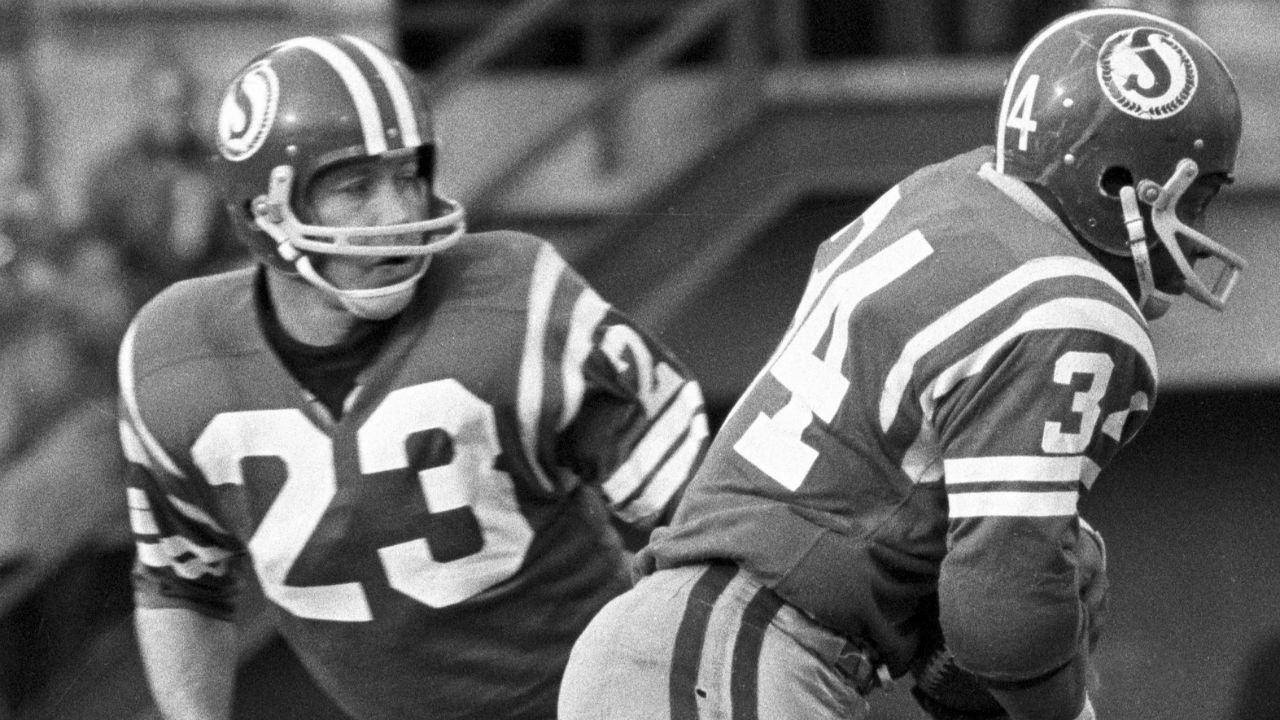 Ron Lancaster and George Reed
"You'd have all the guys standing around you'd ask 20 of them you'd get 10 each way. They are household names. Now my kids might not even know these names to be honest with you because it's so far past to be honest with you but in saying that special times, special memories."