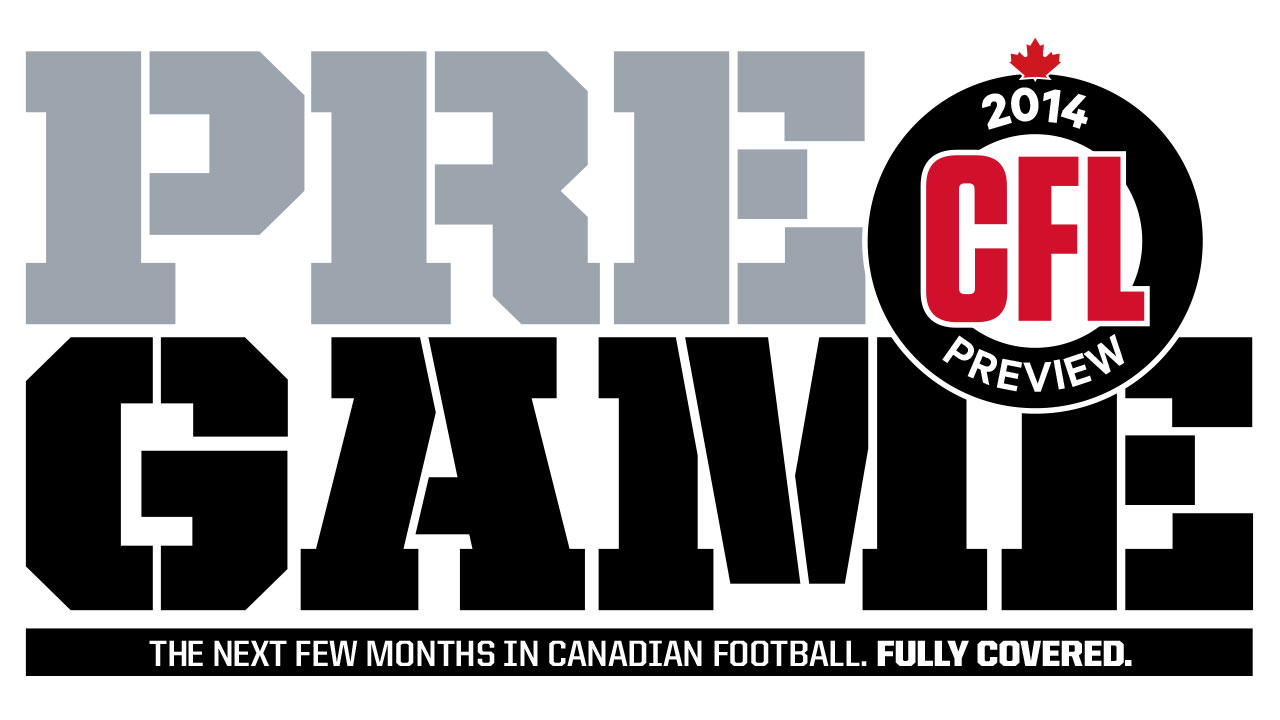 B.C. LIONS: IN THE HOME STRETCH
Unlike in hockey, basketball or baseball, the locations for championship games in pro football are predetermined, so it's pretty rare for a team to play for a title in its home stadium. It's rarer still for a team to win it all in front of its own fans. But this trend is becoming old hat in the CFL as Grey Cup hosts have won the trophy three straight seasons, dating back to when the B.C. Lions hoisted the Cup at home in 2011. Which just puts extra pressure on this year's Lions, hosts again for the 2014 game—no one wants to be the team that breaks the streak.
In the two seasons since winning the Cup, B.C. has gone 24-12 in the regular season, but 0-2 in the playoffs. Mike Benevides is back for his third year as head coach, but the staff around him has undergone a major shift. Former secondary coach Mark Washington has moved up to defensive co-ordinator while Khari Jones has signed on as the team's new offensive co-ordinator. Washington has a solid reputation with his players, while Jones—fresh off two seasons as quarterbacks coach in Saskatchewan—will work closely with Travis Lulay and newly acquired veteran Kevin Glenn.
On paper, the Lions have the best one-two QB tandem in the league, and if Lulay struggles or suffers a setback in recovery from off-season shoulder surgery, Lions fans can rest easy. Glenn is a starting-calibre pivot and had a career year in 2010 working with Jones when both men were with the Hamilton Tiger-Cats.
One X-factor for the Leos should be Stefan Logan, back with the team after a four-year stint in the NFL. Shifty and explosive, Logan is the Darren Sproles of the three-down game—he can beat you with a run, reception or return.
On the defensive side of the ball, the Lions have arguably the best group of linebackers in the league with destroyers Solomon Elimimian and Adam Bighill. Add this to the fact Jamall Johnson is back in B.C. following an outstanding three-year stint with the Ticats and this group will be shadowing quarterbacks and hunting down running backs with a vengeance all year.
The one thing working most against the Lions' chances is competition out West. In 2013, the league's three best teams were B.C., Calgary and Saskatchewan, and that could be the case this year as well. The Lions were a combined 3-4 against the Stamps and Riders last season, which ultimately cost them a home playoff game. If B.C. wants to keep the storybook streak going, the work will start long before the game kicks off Nov. 30. — MIKE JOHNSTON
---
THE MIX 'N MATCHUP

| | | |
| --- | --- | --- |
| Argos defensive coordinator Chris Jones becomes Eskimos head coach (Nov. 27) | Ousted by the Bombers on Nov. 13, Tim Burke becomes Argos defensive coordinator (Dec. 5) | Argos special teams coach Mike O'Shea becomes Bombers head coach (Dec. 4) |
Four CFL teams will boast new faces atop their coaching pyramids this coming season. The Redblacks and Alouettes filled vacancies by hiring Rick Campbell and Tom Higgins away from the Stampeders and the league office, respectively. The Eskimos and Blue Bombers, meanwhile, fired their top men and gutted the Argos' brain trust, kicking off a month-long coaching carousel in the process.
---
FIVE GUYS READY TO BREAK OUT
Mike Reilly, QBThe Esks' pivot keeps defences off balance with his ability to run the football and has lots of targets when he opts to sling it.
Craig Butler, LBWhile the spotlight in Hamilton is on the offence,
this former Roughrider will be expected to lead on defence.
Will Ford, RBA bright spot on a hapless squad last season, Ford is a solid north-south runner who won't stop until the final whistle.
Shea Emry, LBHe was a force with the Als and fills a huge void in Toronto with Jason Pottinger, Marcus Ball and Robert McCune leaving town.
Deron Mayo, LBThe Esks' pivot keeps defences off balance with his ability to run the football and has lots of targets when he opts to sling it.
---
CAN THEY DO IT AGAIN?
Sure, Roughriders fans must be pleased with the recently released plans for their shiny new $278-million stadium, but let's be serious: They'd watch the game in a dirt lot if it meant they could win another Grey Cup. The Riders have appeared in 19 CFL title games, only ever winning four, so last year's victory is hardly going to be enough to satiate the CFL's most ravenous fan base. But will the Roughriders get to march in the Green Mile parade with the Cup again this year? There's a lot working for—and against—them.
WHY THEY WILL REPEAT:
1. There's consistency at the top. Head coach Corey Chamblin and CEO Jim Hopson are back, and the team paid $400,000 to keep Darian Durant.
2. They have a stacked group of receivers, including Chris Getzlaf, Taj Smith and newcomer Chaz Schilens.
3. Defensive back Macho Harris is back from injury and ready to go.
WHY THEY WON'T REPEAT:
1. They lost both Weston Dressler and Grey Cup MVP Kory Sheets to the NFL in the off-season.
2. Not enough? They also lost Geroy Simon and Mike McCullough, who
played all of his 11 seasons in Saskatchewan, to retirement.
3. In the past 30 years only two teams have been able to win back-to-back Grey Cups.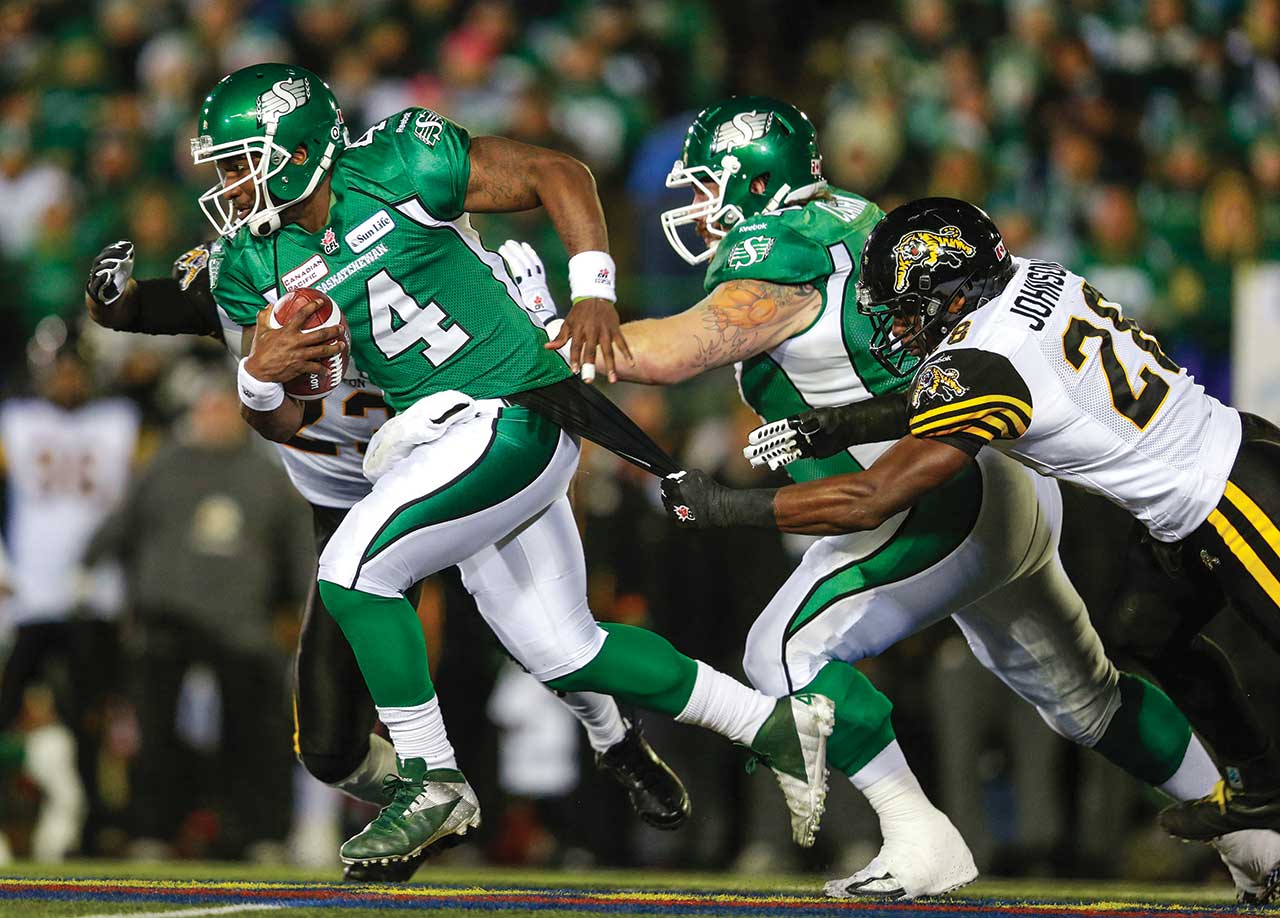 ---
GOOD AND REDDY
There's no telling exactly how the Rough Riders . . . er, Renegades . . . er, the Redblacks will fare in their first season, but one thing's for sure: This isn't your typical expansion team. For one, startup clubs are seldom blessed with an elite quarterback or a quality offensive line. Ottawa has both. They've also got a handful of all-stars, veteran non-imports, and a good mix of experience and young players with potential. Add it all up and it's not out of the question to think the Redblacks could make the playoffs in their inaugural campaign.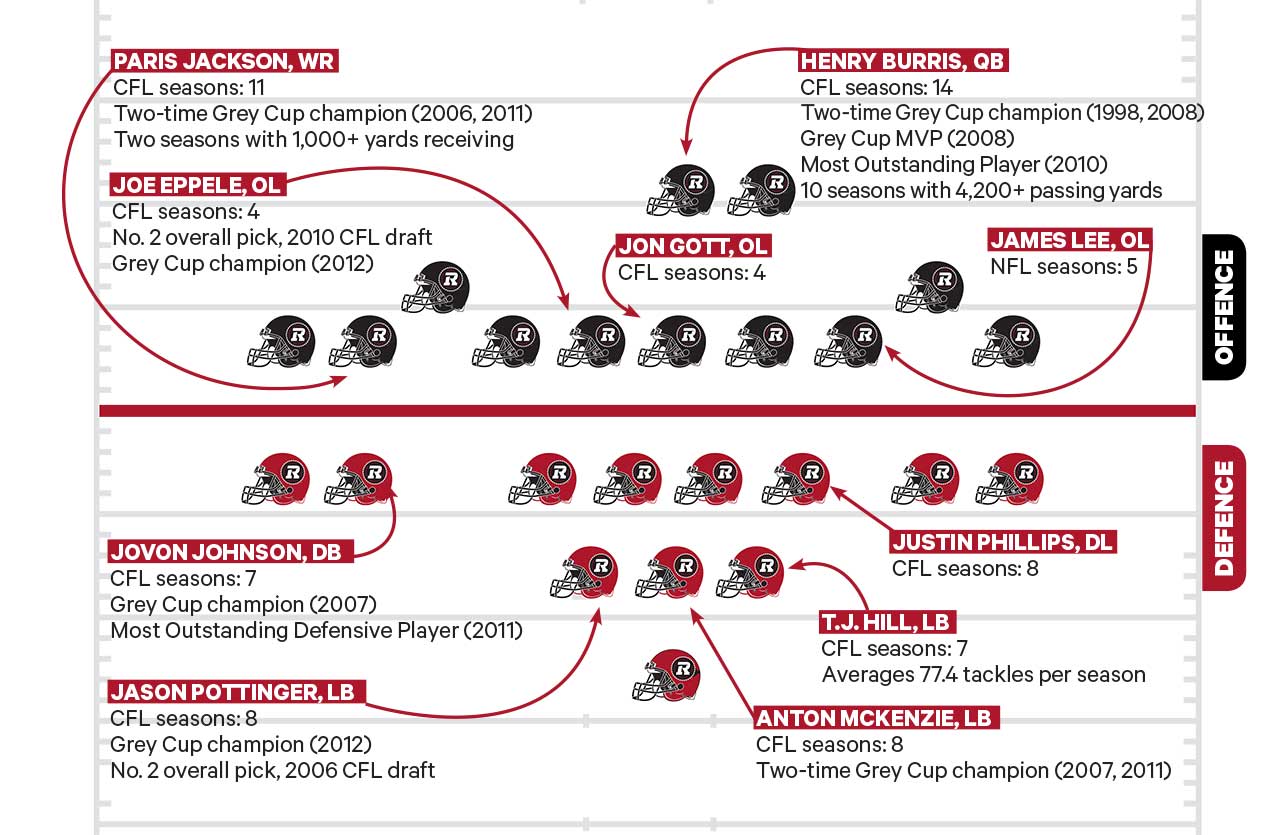 ---
TROY STORY 2
It's never easy to replace a legend—just ask Jay Fiedler or Brian Griese. Less than a year into his CFL career, Troy Smith should be able to relate. Smith joined the Alouettes midway through the 2013 season and now the franchise is being placed on his shoulders after years of elite play from Anthony Calvillo—only the most prolific passer in football history.
Of course, the big stage is nothing new for the 2006 Heisman Trophy winner who made multiple NFL starts with Baltimore and San Francisco. And while Montreal fans can't expect Smith to be Calvillo—at least not in 2014—they can expect a natural leader with solid arm strength and an ability to extend plays with his legs. Plus, he'll have had a full off-season and training camp to get acclimated and learn the complexities of the Canadian game—something it took Calvillo himself a couple years to do.
---
THE FIELD GOAL
All talk of labour negotiations is mercifully behind us (for now). So here are CFL insider Justin Dunk's three storylines to watch to start the season.
1) The Jon Cornish MOP watch

Only four players have ever won back-to-back Most Outstanding Player awards, and all four were quarterbacks (Jackie Parker, Dieter Brock, Doug Flutie and Anthony Calvillo). Further, only one ball carrier in league history has ever won the award twice, period (Mike Pringle, 1995 and 1998).

2) New era of quarterbacks

Troy Smith isn't the only guy taking over a huddle this season. Zach Collaros has been tabbed as the franchise pivot in Hamilton and the same goes for Drew Willy in Winnipeg. Out in Cowtown, either Bo Levi Mitchell or Drew Tate will be asked to replace Kevin Glenn and keep the Stamps galloping.

3) Former NFLers come north

Everyone wants to see what former NFL All-Pro Chad Johnson can do on the wide field for Montreal, but he's not the only import who could make noise. Steve Slaton, the Argos' new five-foot-nine, 199-lb. water bug, has the talent to be the best running back in the league, but it all depends on opportunity.
---
RULE BOOK'EM, DANNO
Another off-season, another batch of new and revised rules. In the biggest change, CFL coaches can now challenge both called and potential defensive pass-interference fouls, becoming the first in any football league with that power. Here are four of the CFL's other amendments.
| | |
| --- | --- |
| New CFL rule | Has the NFL adopted it? |
| 1. No low blocks in the back anywhere on the field except in the area between the tackles and two yards on either side of the line of scrimmage | Yes (except the legal area extends out to three yards on either side of the line) |
| 2. No peel-back blocks | Yes |
| 3. Injured players must leave the field for three plays regardless of whether a penalty was called | No (players must only leave the field for one down) |
| 4. Quarterbacks can use their own team-supplied balls provided they meet the league's "new ball" standard | No |