"A lot of people doubted me. A lot people didn't expect me to be here."
S.J. Green calmly but purposefully delivers that line pausing to let it sink in while breaking away his eye line to turn and stare directly in the camera as if it was being operated by the nameless doubters he was referring to. That was the most interesting and revealing answer from my sit-down with the Toronto Argonauts' leading receiver heading into his return to Percival Molson stadium this week for a matchup with the Montreal Alouettes.
After a two-hour walk-through practice under the hot Toronto summer sun, Green has worked up more than a lather but a full sweat. But as we discussed his CFL journey that has taken him from the height of the game to the uncertainty of an operating table, to a different province with a different team, Green didn't seem worked up, but at peace.
At this time last year, his CFL career was in jeopardy. Green injured his ACL, MCL, PCL and meniscus in his knee making a cut in Week 2.
As I show him a photo of him writhing in anguish on the field, he explains the pain was the prognosis.
"We went back in the locker room, the doctors diagnosed it and confirmed it for me," Green said. "Ultimately, they were beating around the bush not wanting to say how bad it was but eventually they just told me."
Despite the gloomy outlook, the stubborn superstar was still defiant.
"I was still optimistic it was something other than that," Green said. "I was hoping it was a bad MCL sprain or tear, something I could come back on later in the season."
Green didn't come back. There was no late-season return and it was the last time he wore an Als jersey.
A major knee injury is tough to come back from for a skill position player at age 21, never mind 31, which he was at the time. In the off-season, the Alouettes traded him, betting against a medical miracle and the chance that Green, even if healthy, could stave off father time. After 10 seasons putting up nearly 7,000 receiving yards and two Grey Cups, the Alouettes' new front office regime showed him the door.
[pullquote]
"Some of the guys over there are still friends of mine. We'll be lifelong friends. But at this moment and this point of the season they are my opponent and they will be treated as such."
[/pullquote]
Green has responded by being ready to start the regular season fully healthy without restrictions and is the second-leading receiver in the CFL with 673 yards.
Not looking to gloat or even be bitter, I found Green rather thankful for his trials as they, in his estimation, have made him better as he looks forward to his first return to Montreal as a visitor.
The thing he was most thankful for? Getting a chance to reconnect with his former coach Marc Trestman in Toronto.
"The life lessons I learned from Trestman, the attention to detail," Green explained. "Just really the things that can set an offence apart. The things I was missing as a player with him gone. Reuniting with him as a player is something I definitely looked forward to becoming a part of again when the trade occurred."
For Green, the trade was bittersweet. He had envisioned himself as a lifetime Alouette. When he re-signed with the team in 2015, he expected the loyalty to be repaid because fundamentally he doesn't believe in jumping ship.
"I had the opportunity to transfer schools when I was in college," Green said. "The main reason I did not transfer was I just didn't want to start something and not finish it. So I stuck out my four years at the University of South Florida. I always wanted to be a part of one organization. It didn't happen for me but I'm just thankful for my situation."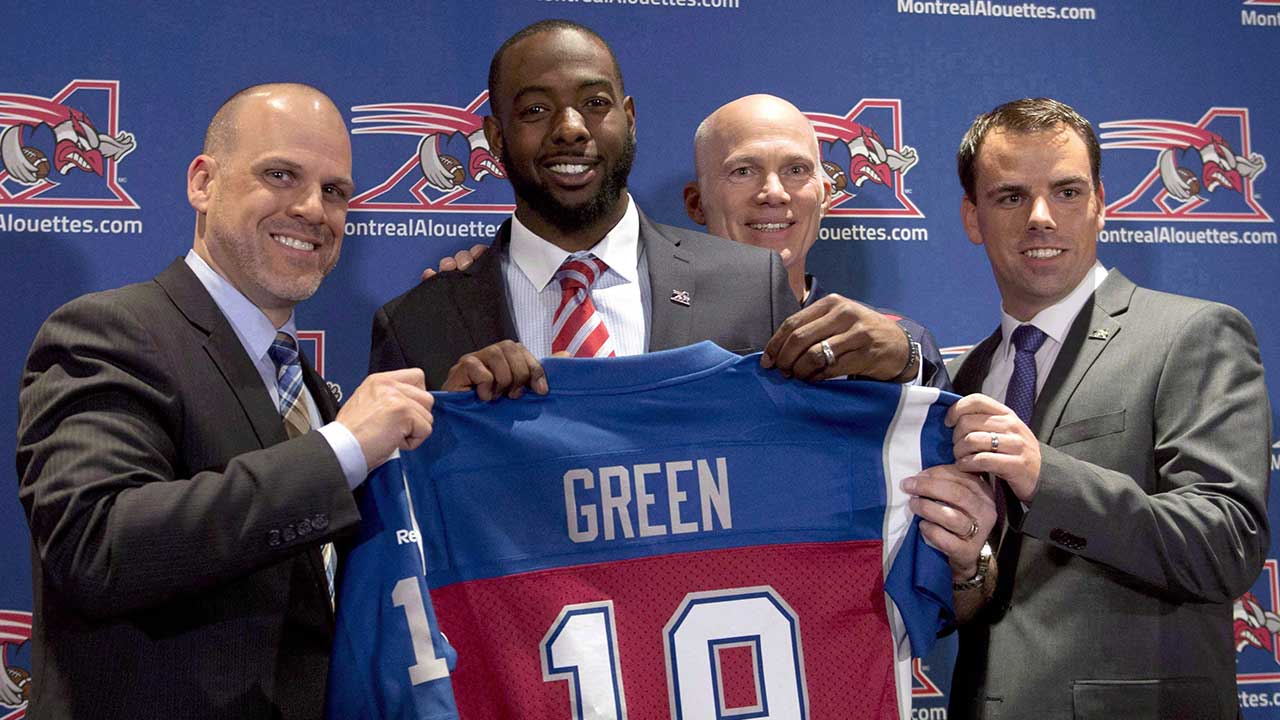 In the wake of the injury, he had the opportunity to spend quality time playing with his two kids and wife Danielle. That extra time has been special, but Green says he has missed his football family in Montreal.
"It was hard to leave, but you know I made a lot of friends over there," Green said. "Some of the guys over there are still friends of mine. We'll be lifelong friends. But at this moment and this point of the season they are my opponent and they will be treated as such."
It just so happens they're an opponent that is currently Toronto's biggest rival for East Division supremacy. The Alouettes are just one game behind Toronto in the standings as the two teams embark in a home-and-home series over the next two weeks.
Montreal, without Green has the worst passing offence in the CFL. The Argonauts, teaming up Green with fellow future Hall of Famer Ricky Ray has been the best.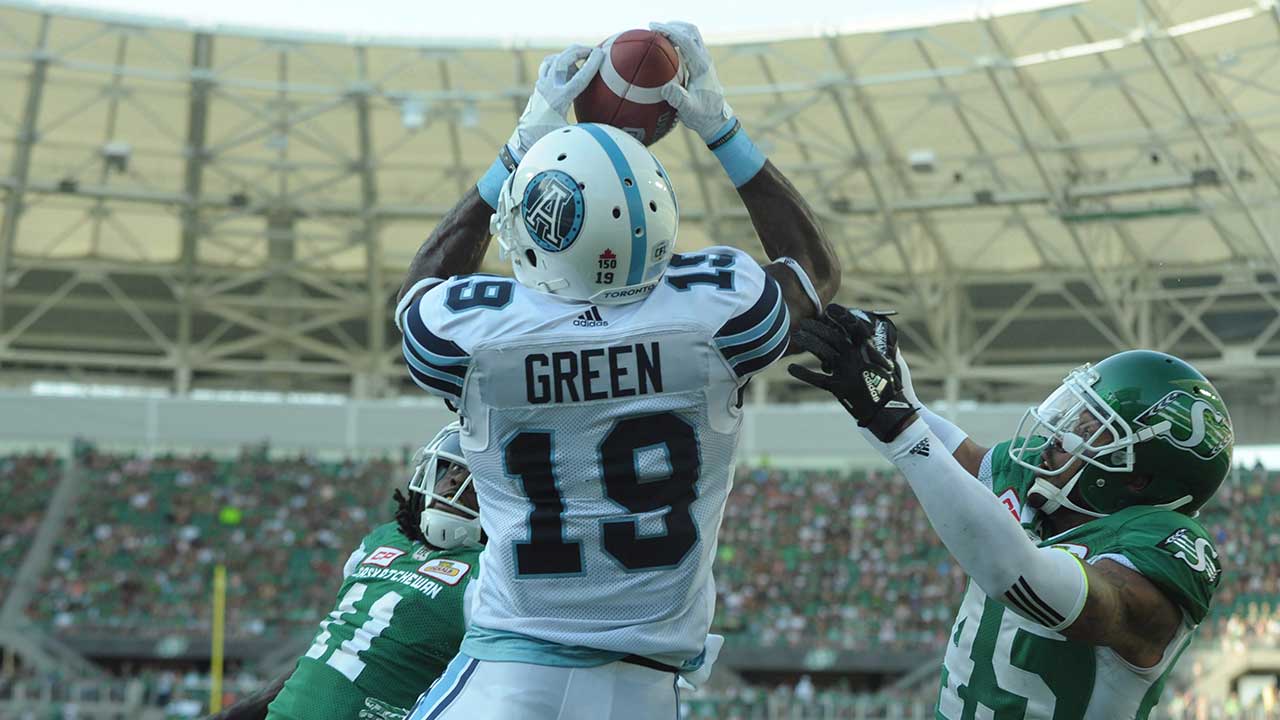 In the year of the catch in the CFL, Green already has 10-plus highlight grabs, coming down with an improbable catch in traffic seemingly once or twice a week. Even after his knee injury, his ability to high-point a football is uncanny but not new.
"I look back on life as a kid, we used to play 500 as a kid. You have to collect 500 points," Green said. "The thrower nominates the points and you have to catch the ball and as a kid I was always good at that. I've always had a natural knack for the ball and God has blessed me with a great talent."
Though talented, the craft is something he continues to work on and tries to teach. Late after practice, he stayed to work with Jeff Fuller, one of the many Argos receivers that he has taken under his wing, on body positioning, ball tracking, and subtle hand gestures to help separate, locate, and survive the catching process.
Anthony Coombs, the young Canadian receiver enjoying a breakout season, is another one of his pupils, who he talked to in the off-season about playing the position before they became teammates.
Trestman calls Green "one of the best leaders he's seen in sport." Green says leading is in his nature as the eldest of five boys.
Green has quickly become one of the beloved leaders in the Argos locker room and the team has quietly talked about wanting to get a Week 8 win for him and Bear Woods, another Alouette casualty to join the double blue this season.
The gesture isn't unnoticed by Green.
"That means a lot because at the end of the day we play this game for the respect of our peers, honestly."
Green isn't looking for revenge in his return to the city in which he spent his first eight seasons.
"I've had my moments to be bitter about it, but I'm not going to make this moment about myself. There are going to be 43 other guys in that locker room trying to get a win. My main focus is going to be the same as it always is. When the ball is up in the air coming to me, make sure you come down with it."
The Alouettes may have bet against him, but with a 50-50 ball in the air he's still a safe bet.
"I've been playing this game since I was eight years old," Green said. "I'm 32 now. So, to be able to do this, play football, is everything to me. A couple words is hard to put it in."
Green plans on doing his talking on the field Friday night.
[relatedlinks]