Remember when it looked like the Kansas City Chiefs had run away with the AFC West, and the New England Patriots' defence was struggling?
Oh, how times have changed.
The Chiefs, Los Angeles Chargers and Oakland Raiders all have 6-6 records and the division is up for grabs just waiting for a team to separate itself from the pack.
The Patriots, meanwhile, can officially book their ticket to the post-season this week for the 14th time with Tom Brady and Bill Belichick at the helm.
Here's how the AFC playoff picture looks as we ready ourselves for an important weekend of football.
AFC Standings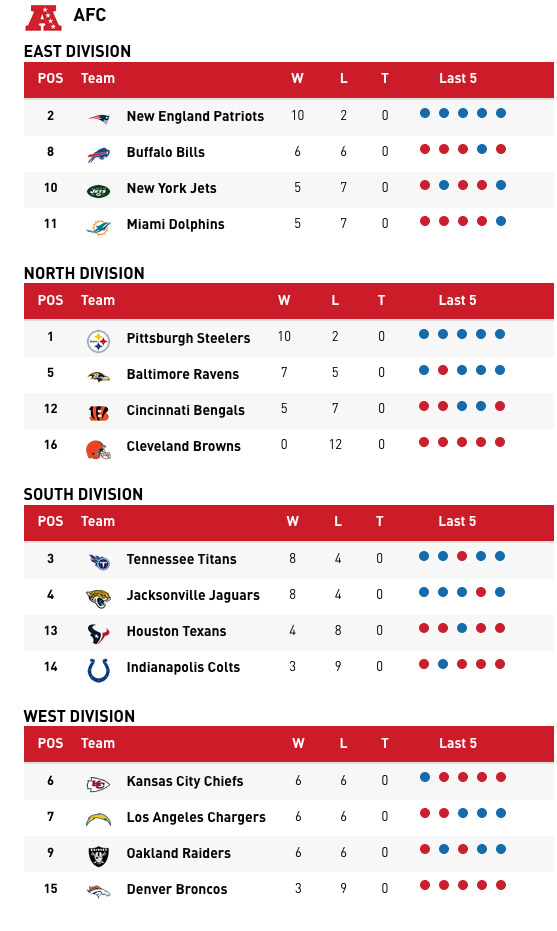 If the season ended today… Wild Card Round
No. 6 Baltimore Ravens (7-5) at No. 3 Tennessee Titans (8-4)
No. 5 Jacksonville Jaguars (8-4) at No. 4 Kansas City Chiefs (6-6)
Divisional Round
Lowest-seeded wild-card winner at No. 1 Pittsburgh Steelers (10-2)
Highest-seeded wild-card winner at No. 2 New England Patriots (10-2)
AFC teams still in the hunt
Los Angeles Chargers: 6-6, second in AFC West
Oakland Raiders: 6-6, third in AFC West
Buffalo Bills: 6-6, second in AFC East
Week 14 clinching scenarios
Game of the Week
Oakland Raiders at Kansas City Chiefs, Sunday 1 p.m. ET
Remember the last time these two teams met up? This one should be fun.
The Chiefs have since whittled away all their wiggle room with six losses in their past seven games, but are still at the top of a three-way tie with the Chargers and Raiders. Kansas City can still control its own playoff fate with a win over Oakland, which would set them up nicely going into Week 15 against the Chargers.
Spoiler Alert
Indianapolis Colts at Buffalo Bills, Sunday 1 p.m. ET
Despite losing four of their past five games, the Bills are still very much in the race, and a victory against the Colts could be the push Buffalo needs as it heads down the final stretch that concludes with three divisional matchups (vs. Miami, at New England and at Miami).
With the exception of a few bad beats against the Jaguars, the Colts have kept things close late into games and are no pushover. While they can't spoil the Bills' playoff hopes altogether, they can hand the division to the Patriots and gift the Steelers a post-season berth with a victory.
Other games to watch
New England Patriots at Miami Dolphins, Monday 8:30 p.m. ET
The Patriots are one of three AFC teams that can clinch this week, though they don't actually need to wait until their Monday night matchup in Miami to see if they're in. New England can lock up the AFC East if the Buffalo Bills lose to the Indianapolis Colts on Sunday.
Washington at Los Angeles Chargers, Sunday 4:05 p.m. ET
The Chargers will be in a two-way tie for first in the division by they time they kick off on Sunday, and can remain in control with a win over Washington.
Tennessee Titans at Arizona Cardinals, Sunday 4:05 p.m. ET
It's a great time to be a sports fan in Nashville.
Seattle Seahawks at Jacksonville Jaguars, Sunday 4:25 p.m. ET
We've been testing the Jaguars all season, but this could be the biggest—and, if the stars align, a win over Seattle could secure a post-season berth for Sacksonville.
It's a longshot, but in order to clinch, the Jaguars need to beat the Seahawks AND each of the following teams will need to lose: Miami (vs. Patriots), Buffalo (vs. Indianapolis), L.A. Chargers (vs. Washington), New York Jets (at Broncos).
Baltimore Ravens at Pittsburgh Steelers, Sunday 8:30 p.m. ET
The Steelers can clinch the division with a victory against Baltimore, but they could already be playoff-bound by the start of Sunday's game as they'll clinch a spot if the Colts beat the Bills on Sunday afternoon.
Meanwhile, bubble teams will be preparing to pounce on that final wild-card spot should the Ravens falter.