David Onyemata is coming off a 2015 Canadian university football season in which he recorded 50 tackles, 7.5 tackles for a loss and five sacks for the University of Manitoba Bisons. That campaign led to the six-foot-four, 304-lb. giant earning the J.P. Metras Trophy awarded to the most outstanding down lineman in CIS football. He also received an invite to play in the prestigious East-West Shrine Game—a showcase event for NFL talent evaluators—on Jan. 23 in St. Petersburg, Fla.
Those are rare achievements for a defensive player from a Canadian university. They're even more impressive when you consider Onyemata—the youngest of six and a native of Lagos, Nigeria—never played football until he arrived in Canada for university in 2011.
Now signed on with Tom Brady's agent, Carter Chow, and working at Exos football training facility in California to try to secure an NFL draft spot, Onyemata shared his incredible rise from non-player to pro prospect.
THE FIRST TIME I heard about football was in high school. Some of my buddies in the same grade were from the United States. We talked about it, but I didn't really know what it was. I watched a couple CFL games on TV when I got to Canada—that was the first football I ever saw being played.
Growing up I played outdoor soccer—just pick-up soccer with my friends. I had the feet and I played defence most of the time. I tried basketball, but I can't make a shot to save my life so I gave that up.
I knew I wanted to get away from home for university early on. Two of my siblings went to university in London, England, and my sister went to Thompson Rivers University in Kamloops, B.C.
I applied to the University of Manitoba because the agency I used knew the university well and it was faster to get my acceptance letter, and I travelled to Winnipeg in May 2011. Once classes started in the fall I went to Coach [Brian] Dobie's office. I walked in like I was one of the players. He sized me up, checked my height and weight, and he told me to come to practice that same day.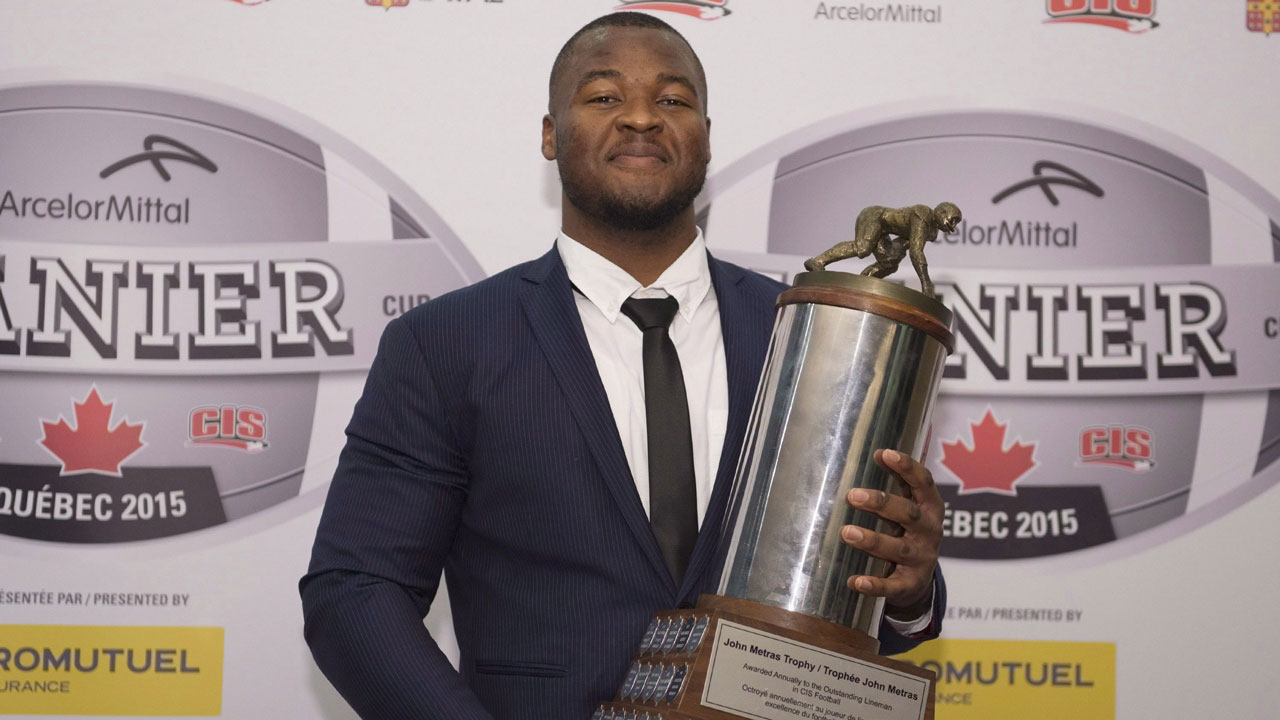 Photo credit: Jacques Boissinot/CP
For the whole first year I was pretty much on the sidelines practising getting in my stance and get-offs. I did a couple one-on-ones, but it was mostly just individual position work. After training camp in second year I got a grasp for the technical aspects of playing defensive line and started to understand defensive schemes—that's when I officially made the team.
It was pretty neat to get an opportunity to put on the jersey and go out there and play. My first year dressing I would sometimes go to the wrong gap. So our defensive coordinator told the linebackers to wait until I went to the wrong gap and have them go to my gap. Essentially they let me pick one and the linebacker behind me would fill the other one.
Officially in my third year I became a starter. It wasn't really until then that I got a feel for things, and I was going out there and making plays. Towards the end of the year I really felt like I could play at a high level. Through watching film I could tell what plays were going to happen.
I just went out there and enjoyed the game. Everyone helped me learn, get stronger and improve—there wasn't just one person. I tried to just put my mind into it the whole time and that played a big role.
My family really doesn't understand the whole NFL process, but at the same time I've been keeping them updated with everything. Right now I'm back to the learning process again. The system in the NFL game is a little bit different. Hopefully I can get my name out there and get a shot on a team. I have to live up to the hype.