Sportsnet is breaking down everything you need to know about each of the 32 teams—including why you should or shouldn't be rooting for them this season—in the month leading up to NFL kickoff on Sept. 4. Today, the Cleveland Browns.
Last year's record: 4-12
Coach: Mike Pettine
2014 is about… Using Johnny Football as a human smokescreen. This is a team that was looking close to a push to the playoffs. OK, OK, stop laughing. They had some talent on D and at receiver, flipped a godawful running back for a first-round pick two seconds before everyone realized he was godawful, and appeared just a solid quarterback away from a couple more wins (last year Browns' QBs completed just 55.7 percent of their passes, second worst in the league).
Then: The off-season. They fired their coach after his first year on the job. Their GM walked away. Their best receiver got handed a year-long suspension (appeal pending) for testing positive for marijuana, a repeat violation of the league's substance-abuse policy. Then they drafted Johnny Manziel, who was subsequently seen partying everywhere. He has talent and could end up being a steal at his draft position, but for the time being he's better employed as a lightning rod for media attention, because this organization is a mess.
---
For a limited time get Sportsnet Magazine's digital edition free for 60 days. Visit Appstore/RogersMagazines to see what you're missing out on.
---
Core players: Joe Haden (CB), Josh Gordon (WR), Jordan Cameron (TE), Joe Thomas (LT)
But they lost… T.J. Ward (S), a hard hitter coming off a career year who makes his living stacking the box, not necessarily out in coverage; D'Qwell Jackson (LB), a guy who gets stops but capped out at 3.5 sacks in each of 2011 and 2012; Davone Bess (WR), which is a name you know only from PPR fantasy-league sleeper lists; Greg Little (WR), who might have the worst hands in the league; Brandon Weeden/Jason Campbell (QBs), who no one is going to miss.
Yeah, but they got… Miles Austin (WR), who had a rough year for the Cowboys but should still be an upgrade over Little on the outside; Ben Tate, a running back stuck in a timeshare behind Arian Foster, who ran for 4.3 yards per carry and caught 34 passes out of the backfield last year, and could thrive in an RB1 role; Karlos Dansby (LB), who played a key role for the Cardinals in 2013, recording 114 tackles, 6.5 sacks and four interceptions, returning two of them for TDs; Donte Whitner (S), who's made consecutive Pro Bowls and has honed his coverage skills in one of the league's best defences; Andrew Hawkins (WR), who will replace Bess in the slot position after getting limited opportunities in Cincinnati following a promising 2012.
Growing from within: Sacrilege as it might have seemed before last season, some during the course of the year were wondering aloud if Gordon isn't quickly becoming a better target than Calvin Johnson—if he sees the field, he should continue to take strides. The 25-year-old Cameron caught 80 passes in his third season. The Browns traded down in the draft to pick up Justin Gilbert (CB) while grabbing Buffalo's 2015 first-rounder, and then—did you hear?—got Manziel later on. Brian Hoyer briefly gave Browns' fans hope last season before he was injured in Week 5 (when the team was 3-2), and new coach Mike Pettine has given him a green light to start the season, potentially picking up where he left off.
Why this team? Because, thanks to LeBron and Johnny Football…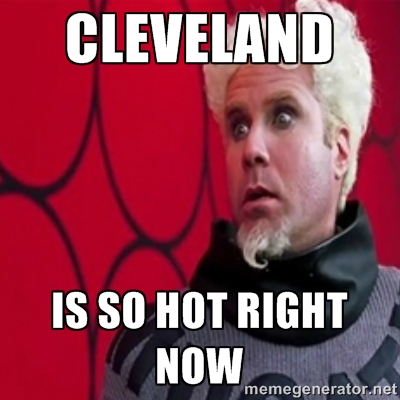 Why not? Because holy cow, they could end up losing a lot. The ceiling is higher than it might first appear, but the floor is super low—especially if Gordon's appeal doesn't get anywhere.
Perfect for fans of… Heartache? When Cleveland Browns fans are walking away from FirstEnergy Stadium after a win they sing a song to the tune of "Louie Louie" in honour of Bernie Kosar. This team's great moments jump from the pre-Modern Era heyday in the '50s and '60s to the Kosar Era in the late '80s to… nowhere. That's it. They've gone 11 straight seasons without a playoff appearance.
How much hope? 3/10. That may seem high, but, I mean, it's not like they play in the NFC West…
Will you be mocked for front-running? Not even close. Fair warning, though, you'll be mocked for just about everything else—the losing, the dysfunction, the number of quarterbacks they've started the past 20 years… you name it. Also, get ready for people derisively rubbing their fingers together at you in the Money Manziel pose.
A Meme To Remember: How could you forget it? It's everywhere!