It feels like we are that much closer after Week 7 to narrowing down the field of potential Super Bowl participants, and yet, further away from figuring out teams who could potentially draft in the top three.
Or is it just a matter of time until the Raiders own ALL top three picks for the 2019 NFL Draft?
This week's takeaways below:
The NFC is the Rams' to lose
People have talked about the Rams and Chiefs on a collision course for a neutral site game in mid-November in Mexico City, but the NFC may swing another way, even before then. The Rams have to play the Saints at the Superdome on Nov. 4 (Green Bay is at the Rams this coming weekend), and a Saints victory pushes home advantage through the NFC playoffs in their favour. But I don't believe for one second that the Saints are equal to the Rams in terms of offensive firepower or defensive playmakers. It's L.A.'s NFC to lose, and I'm not sure how they lose more than two of their remaining games.
The Rams, on the road, obliterated a Niners team that, yes, were playing on a short week after a tight Monday Night Football loss at Lambeau Field, but like most Rams games this year, a one-sided outcome was never in doubt.
Very smart handling of Todd Gurley by head coach Sean McVay, as well — Gurley only had 19 touches in the game (15 carries, four receptions). Keeping him limited late in games the Rams are winning easily could mean so much when January's playoff games come around.
And Aaron Donald? What can you say? He's utterly separated from Khalil Mack as the best pass rusher, and de facto best defensive player in the sport. Donald had four sacks, and seven defensive stops. If you can't run on him, and you can't throw on him, I'm very much out of options for how you gain yards against the Rams defensive unit.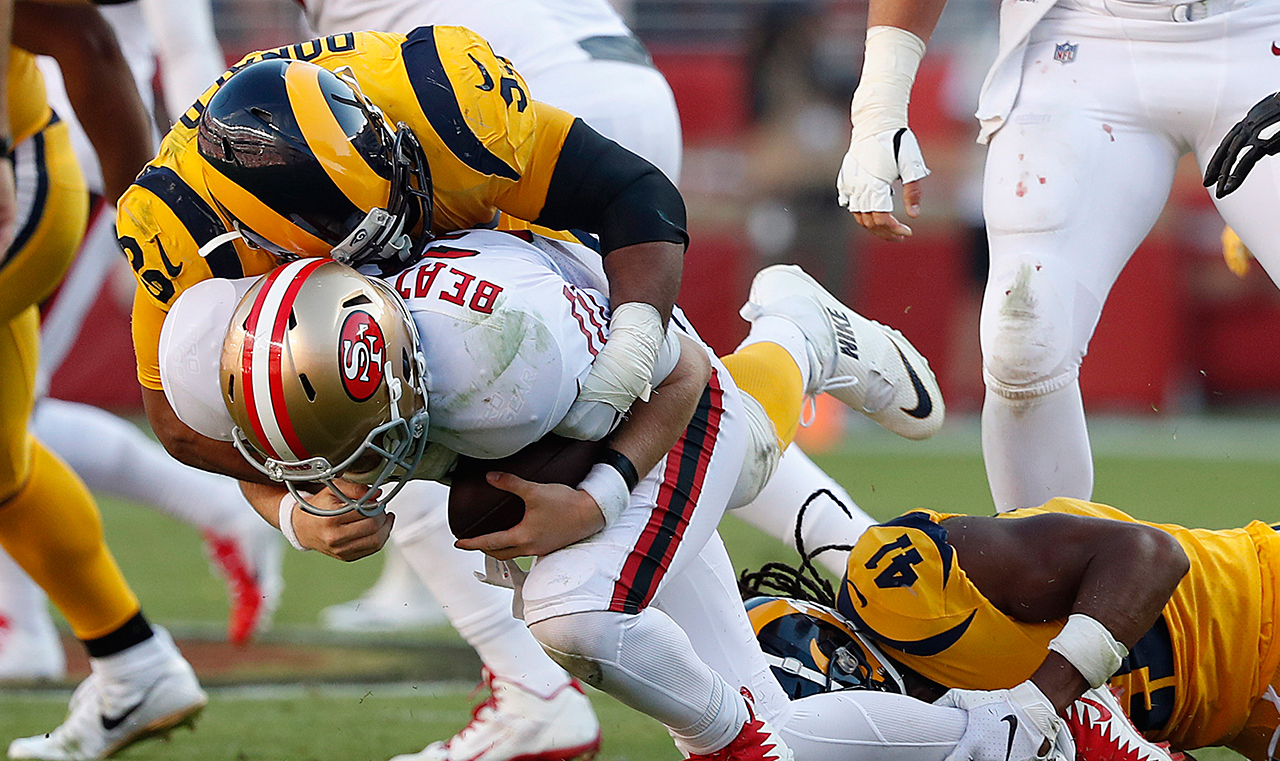 The Jaguars have to ride with Blake Bortles
You don't have to love it, but there's no way around it. The Jaguars made a commitment to Blake Bortles, and through 2019, barring something dramatic Bortles is their guy. Cutting him leaves a ton of dead money on Jacksonville's 2019 cap, and they have a load of young defensive players who need to get paid this coming off-season.
Was there a solution this off-season? Well, sure, but only two, in my mind. One: go deep on Kirk Cousins, and probably you'd have had to outbid the Vikings to convince him to come to Jacksonville. It's tougher to get to the Super Bowl in the AFC, with the Patriots to go through. Only six AFC franchises have gone to the Super Bowl in the past 17 seasons, with New England going eight times, while 11 NFC franchises have represented that conference in the Super Bowl in the same time period, with only Seattle going more than twice. The NFC may seem deeper, but you're more likely to go, and Cousins knew that.
The only other choice was to outbid New Orleans when they traded for Teddy Bridgewater. But remember: several teams wanted Bridgewater, and that trade wasn't made until right before the season started, leaving the Jags' QB situation pretty unsettled and in big trouble if you don't have Bortles as an option.
I think Jacksonville has to make the most of this, and, yes, Bortles was dreadful Sunday against the Texans, but he's still going to be a better option to be productive than Cody Kessler is. I'd surely start him in London against the Eagles.
No white knight is marching into the Jacksonville locker room to save the season.
The Eagles aren't going back to the Super Bowl
It's real difficult to go back and play in that particular game. Only the Seahawks have done it in the NFC since the 1996-97 Packers did, and only the Patriots have in the AFC (just twice) since the 1997-98 Broncos.
But the more obvious reason the Eagles aren't going to pull this off are injuries, ineffective methods of putting teams away, and what still seems to be a work in progress for star QB Carson Wentz getting back to last year's form. It will happen, but it hasn't yet.
Their defence has given up 21 points or more in four of seven games, and when they gave up that many points or more last year, they were 8-2 and equipped for games that turned into shootouts.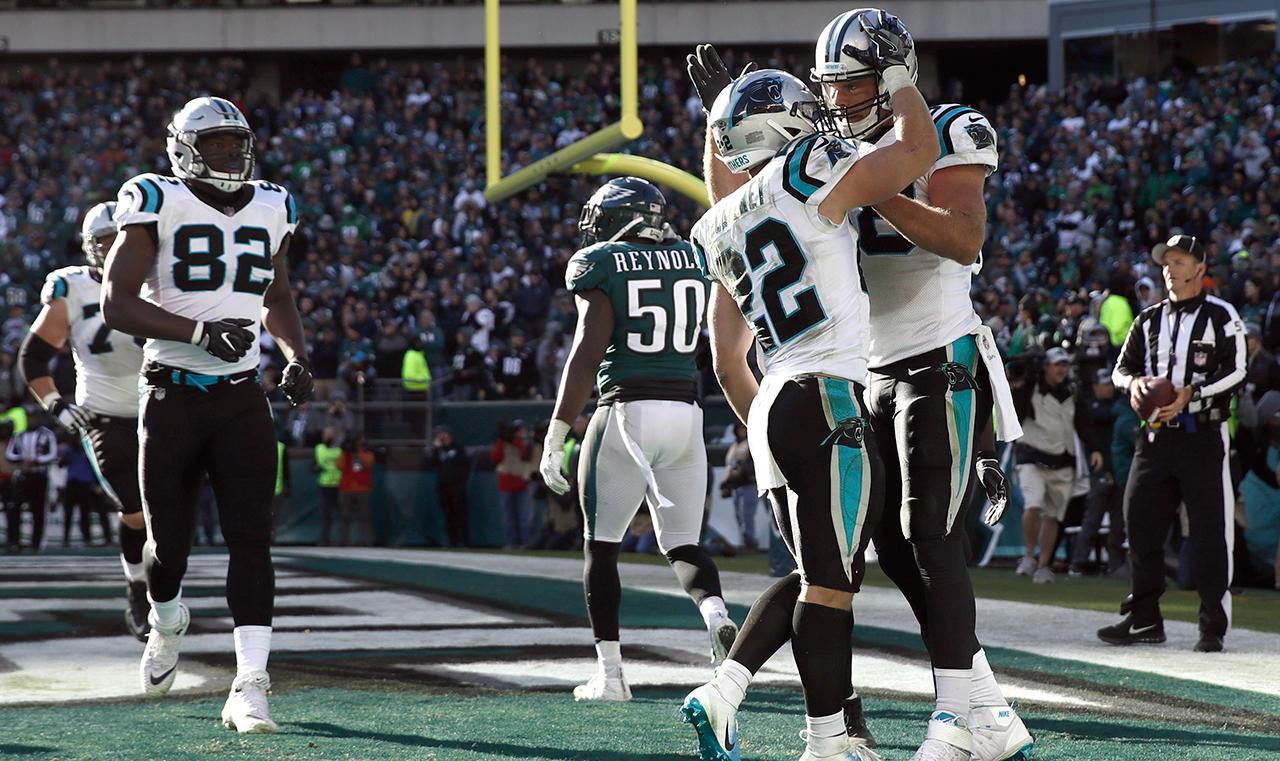 Injuries? Sure, they have them. Jay Ajayi and Mike Wallace are both gone for the season, Darren Sproles is dealing with a hamstring injury, and the loss of safety Rodney McCleod to a knee injury has been devastating to the secondary. But the Eagles thrived despite injuries last season, losing Wentz, and also Jason Peters, Jordan Hicks and, yes, again, Sproles.
It's not happening this year, the Super Bowl Hangover looks especially real. Though I'm sure the Eagles will win the NFC East, they will have a real problem winning their home playoff game against whatever team the top wild-card is, be it Carolina, Chicago, or even, and I'm going to regret this, the Lions!
What is Dallas doing?
Where do we start? So many myths surround the Cowboys, but what can't be denied now is they are way too passively coached, and very unwilling to trust the weapons Dak Prescott provides at quarterback. There's almost a bit of Murphy's Law surrounding the organization, and has been the past few years.
We've mythologized Tony Romo in the 18 months since he was an NFL quarterback. I have never seen a QB more credited for things he actually never accomplished. He never was even close to one of the best five quarterbacks at any point in his dozen seasons. He never played in an NFC title game, and it's highly questionable whether he'd have functioned well without having a well above-average No. 1 receiver, or a well above-average offensive line.
But all you hear is that Prescott isn't Romo. Well, how would you know? Jason Garrett and coaches before him gave Romo wiggle room and a trust factor to win and lose football games, and it sure doesn't seem like they're doing that with Prescott. I know Ezekiel Elliott got off to a poor start Sunday against Washington's run defence, but you have to get that fantastic athlete more than 17 touches of the football. In their previous two wins, the Cowboys got Elliott the ball via ground or air 25 times against Jacksonville and 29 times against Detroit.
And then there's the Amari Cooper trade. Cooper is probably a No. 1 receiver for Dallas, but he sure wouldn't be on more than half the NFL teams, and you cannot trade a first-round pick for a player like that. He'll help, but the Cowboys may have gifted the Raiders a top-10 pick for a receiver when a player like him can be signed as a free agent in the off-season. I don't get it.
The Playbook
Tight race in NFC North leading to unpredictable outcome
October 22 2018
Yes, the Giants had it right going for two
No, the ESPN Monday Night Football crew (a group I'm enjoying, by the way) didn't support Giants head coach Pat Shurmur's choice, and maybe more damningly, didn't seem to even understand it.
Let me help, and I realize I'm not the first:
New York trails 20-6 and score a touchdown with just under five minutes left.\ They decide to go for a two-point conversion, in hopes of trailing 20-14. It doesn't work, but the concept is that you make it, and can win the game with another touchdown and an extra point for a 21-20 victory.
Now, all of the math supporting this is also based on something as simple as not letting the other team score again. The Falcons did respond with a field goal to lead 23-12. Then the Giants get their "eight-point touchdown" to work for them, and a very bizarre and ineffective onside kick (you may not see a worse one this season), and it's a 23-20 final.
But here's why the Giants did the right thing: the PAT conversion rate in the league in 2017 and six weeks into 2018 is 94 per cent. The two-point conversion rate is barely less than half at 48.9 per cent.
There is a higher chance of converting the first two-point conversion followed by the PAT kick, thus, winning the game, than there is for any other scenario. The only other three scenarios are:
1) Convert on the two-point play, then miss the PAT kick — really long odds that's happening.
2) Botch the first two-point play, then convert the second — about a one-in-four chance of that happening.
3) Miss both two-point plays, and you lose the game, assuming you run out of time and can't score again — also about the same chance, one in four.
You give yourself a chance to win the game in regulation, and no other scenario does that. And if you're the less talented team on the road, you do this every single time. There's no reason for the decision to be criticized by anyone within 100 yards of a calculator. If you want to question the execution of their plays, feel free, and hop on board!