Whether it's anthems, suspensions, or anything in between, NFL commissioner Roger Goodell has been at the centre of controversy and criticized for a litany of reasons in 2017.
His reputation and the league's, however, had been consistently and passionately defended by the Twitter account @forargument under the alias "Jones smith."
The Wall Street Journal (WSJ) uncovered the person tweeting from the account was none other than Goodell's wife, Jane Skinner Goodell.
A typical post from the account would usually be a reply to a tweet linking to an article criticizing either Goodell or the NFL as a whole.
Here is an example that the WSJ chose to highlight…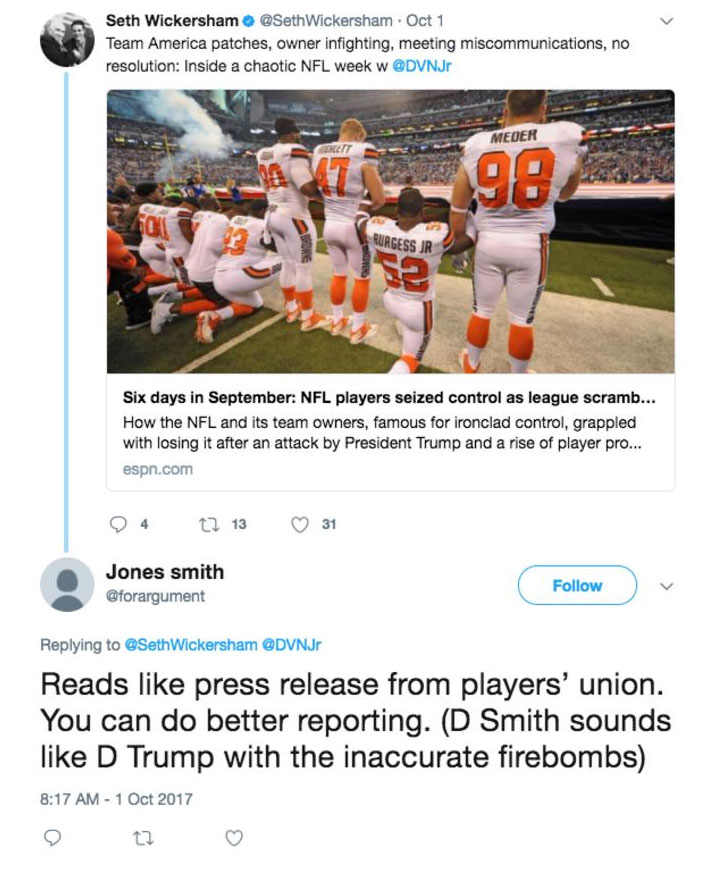 "It was a REALLY silly thing to do and done out of frustration—and love," Jane, who worked as a daytime news anchor for Fox News until retiring in 2010 to focus on family, told the WSJ in a written statement Thursday. "As a former media member, I'm always bothered when the coverage doesn't provide a complete and accurate picture of a story. I'm also a wife and a mom. I have always passionately defended the hard-working guy I love—and I always will. I just may not use Twitter to do so in the future!"
The account settings were changed to private shortly after the WSJ article was published and as of Thursday evening the page appears to have been deleted entirely.
An NFL spokesman told the WSJ the NFL commissioner was unaware of the @forargument account.