With Andy Dalton injured, the Cincinnati Bengals' prospects for ending a streak of first-round playoff exits may depend on how well they've prepared AJ McCarron to fill in at quarterback
By Donnovan Bennett in Cincinnati
Photography by Joe Robbins
It was 4:15 p.m. on a Thursday, the last prep day in the NFL. The first employee to swipe his pass card that morning was still busily working long after the Cincinnati Bengals' 11 a.m. practice had finished. Marvin Lewis, the 57-year-old who's been the team's leader since January 2003, still works like an intern. Although Lewis is the second-longest-tenured coach in the NFL, the difference between him and the No. 1 man on that list is what drives him. His AFC rival Bill Belichick has earned four Super Bowl rings during his time in New England; Lewis has lost six AFC wild card games with the Bengals.
As I walked into his office on the third floor of the Bengals' training facility attached to Paul Brown Stadium, on the other side of a conference table lined with family photos and coaching mementos was Lewis, so intensely watching film he barely noticed my arrival. The head coach was evaluating special teams film on a TV monitor to the side of his desk.
Some coaches are fully invested in special teams and allot significant time towards them, because they're a chance to gain explosive plays or, at the very least, find hidden yards. Others, though, see them as a formality—an intermission between offence and defence. I thought this scene might be a window into where Lewis stood on the matter. Instead, it was a window into his level of preparation: Lewis was watching game tape of the officiating crew. "We've had these guys earlier in the year," he said. "I'm watching to see what they called on us and why. What I'll do is put together a scouting report on the officials so guys know, This is what this crew likes to call."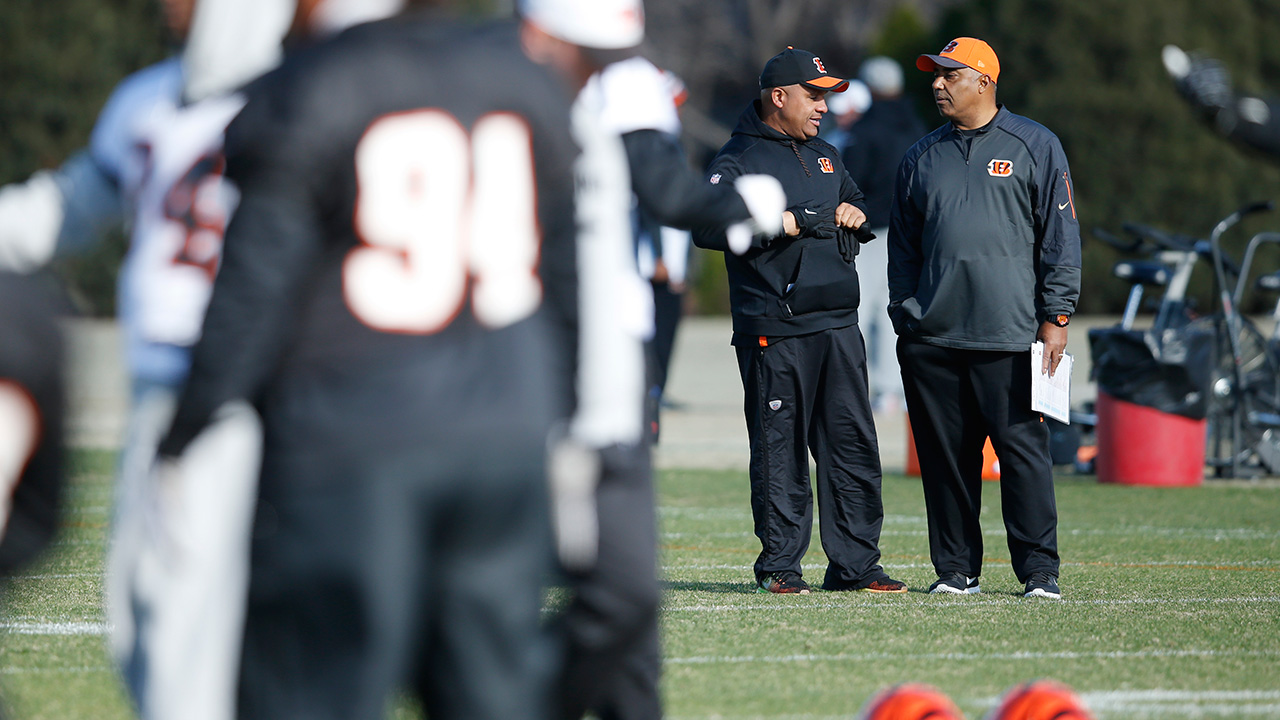 That's the level of detail an NFL coach concerns himself with. No detail too minute. No contingency not considered. So just as you prepare your players with a scouting report of the opposition, you prepare them for the officiating they'll face.
Players no longer have three-ring binders with Hilroy paper as a playbook to prepare. In the new-age NFL the Bengals' entire film study is done via iPad. It's handy for both sides. Management can make evaluations by seeing when and for how long the players are logging in to evaluate the opponent, while the players can go online to view inline run splits with notes curated specifically for them at any time. In the Big Brother world of the NFL all details are monitored—which is why I was fascinated to gain the veteran coach's perspective on the league's current conundrum: how to remain competitive when your starting quarterback is injured.
Despite losing Andy Dalton to a broken thumb, the Bengals have been fortunate: They were the last team in their division to lose their starting quarterback to injury. Sixteen of the league's starting quarterbacks have sustained injuries in 2015. In what has become more and more of a passing league, it's no surprise the Dallas Cowboys have won just one game with Tony Romo out of the lineup after starting the year 2-0 before he got hurt. With a team that was undefeated until week 10 and is in contention for not just the division crown but a first-round bye, Lewis is tasked with keeping the team on the rails down the stretch.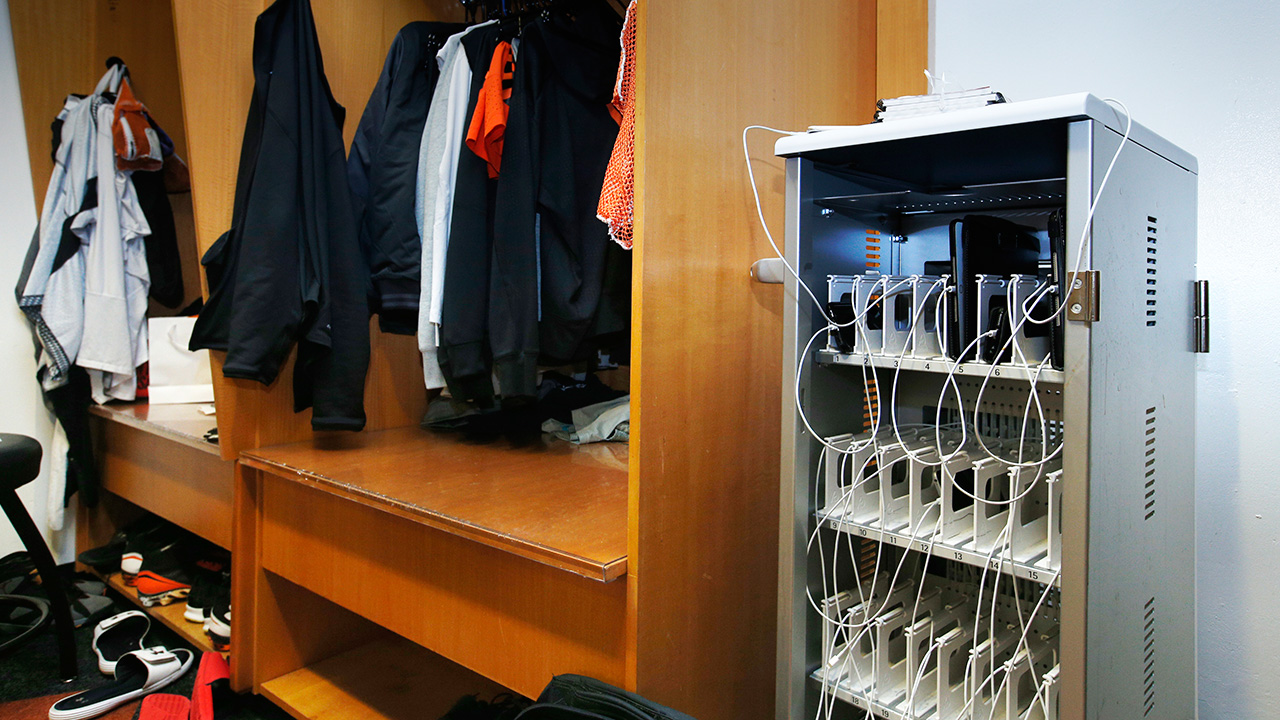 QUARTERBACKS PLAYING IN WEEK 16 WHO DIDN'T START THE SEASON OPENER
Brandon Weeden – Houston
Zach Mettenberger – Tennessee
Johnny Manziel – Cleveland
Matt Hasselbeck – Indianapolis
Blaine Gabbert – San Francisco
Kellen Moore – Dallas
Ryan Mallett– Baltimore
Case Keenum– St. Louis
Brock Osweiler– Denver
AJ McCarron– Cincinnati
Bengals backup AJ McCarron was a fifth-round pick in 2014 with just 36 career pass attempts before his first NFL start, a Dec. 20 matchup with the San Francisco 49ers. But his winning pedigree is what Lewis is always looking for in player acquisition. McCarron won two national championships as a starter at Alabama and was part of a third as a redshirt. He finished second in Heisman voting in 2013.
So how do you continue to play winning football with a player who has yet to make an NFL start, and who is trying to become the first Alabama QB to win in the NFL since 1987? As I learned in talking with Lewis, the process for both the inexperienced McCarron and the experienced Lewis begins well before they are put in a precarious position.
DONNOVAN BENNETT All year you're trying to get your starter ready, but you're trying to prepare the guy who is one play away from being your starter. How do you navigate that fine line?
MARVIN LEWIS Well, number one, you're always making sure that he is paying attention to every single detail. And coaches and coordinator are a big part—I stay on them to stay on him with that. The last five or six weeks we've given AJ time every Thursday with our offensive plan, because we wanted to get him ready for the opportunity. It's the same thing I did With Carson Palmer when Carson was a rookie. And I read about this from coach Dan Reeves when he was dealing with Michael Vick as a rookie and they began to get Michael ready, and I thought that's what we should be doing it with Carson. One day it came to me that's what we should be doing with AJ. So we started doing that and it's been great. He never talks about it, which is good. But we started doing it at the end of practice: He got four or five plays with our plan and he got to work against the opponent. And you know what? During those plays he gained the confidence of everybody, because we watched him throw the ball and handle what he needed to handle offensively.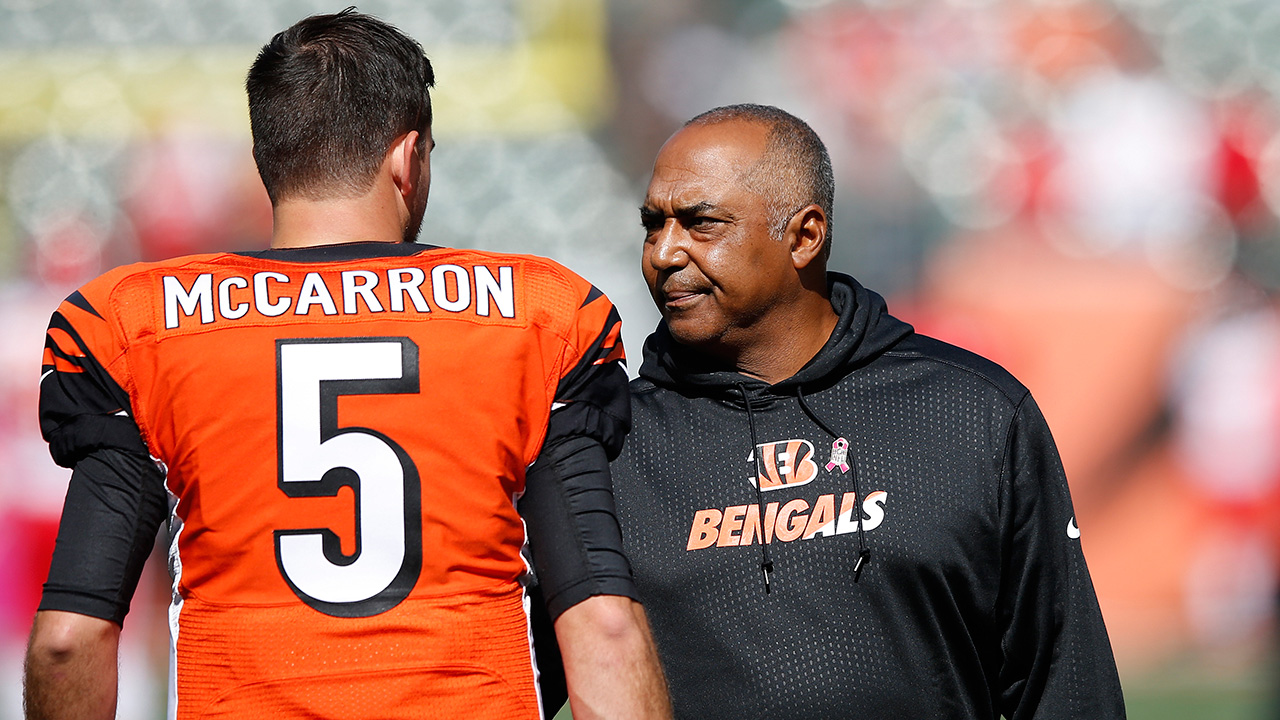 DB I find backups always say, "I prepare like I'm the starter." And then when they become the starter they say, "Well, I'm staying here late now to prepare." Well, then you didn't prepare like you were the starter before.
ML Right!
DB How was AJ in that regard?
ML He's been good. He's been great at it. We've been monitoring him and he is putting time in in the building and away from the building. He was raised right. Hell, he went to Alabama. Shit, he was raised right. [Laughs] He knows how to do this. And that's an advantage that he has—he was coached so well there and their program is run like a pro program, so you know he comes here and already has those things as part of him.
DB That has been a point of emphasis for you in the draft, focusing on players from winning programs. What's the thought process behind it?
ML It's like when you get married to someone—you want to marry into a good family. That's a consideration. We are bringing people into our family; we want them to contribute with good habits and good attitudes—people who expect to win. They don't all come house-trained, but the more you get that are house-trained the better. I don't have to stay up late at night worrying about AJ.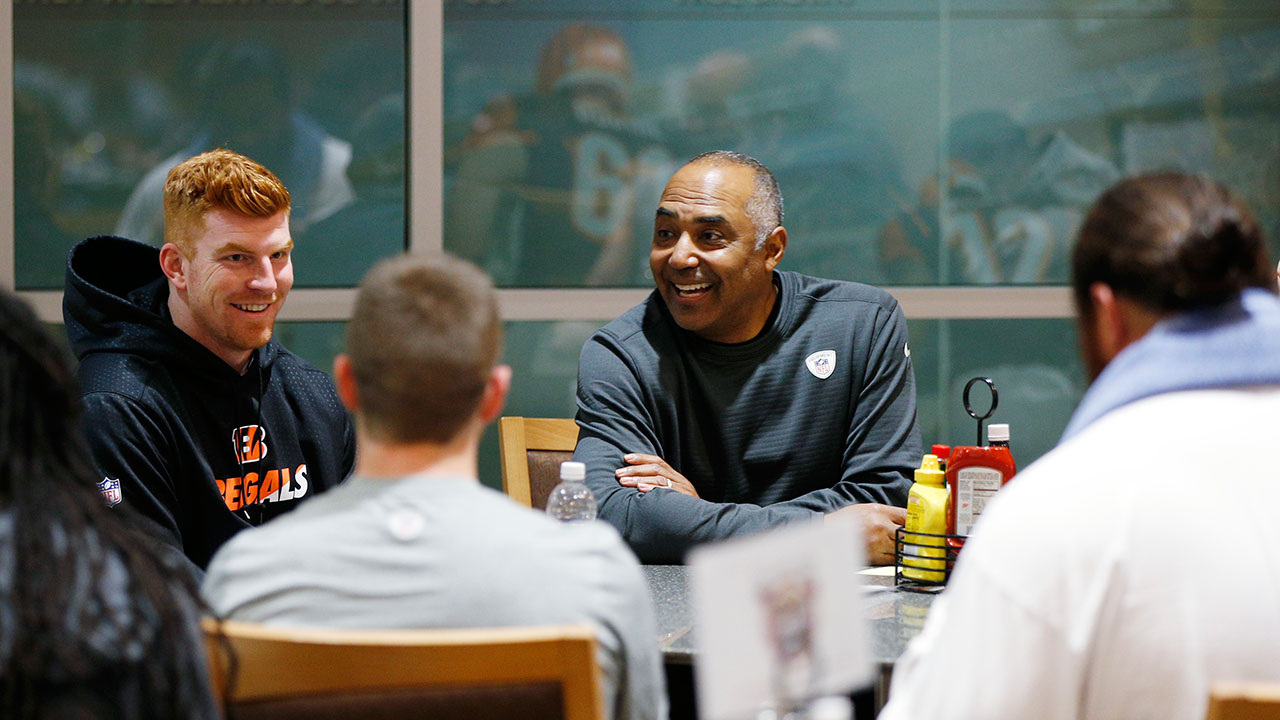 DB You guys have been more aggressive offensively this year. You've thrown 10% more on first down. Can you be as aggressive with him at quarterback?
ML It's going to be dictated by opponent and so forth, and he's going to earn those opportunities, just like we tell all the guys. You earn what you get a chance to do around here. I still see better than I hear. As we go through things and you earn it you are going to carve out more opportunities for yourself.
DB It's sort of like having a second child, where you don't want to neglect the first-born when the newborn comes home. How do you manage Andy while he's hurt, knowing you'll need him to be sharp if and when he returns?
ML That's a big part of everything we do. Making sure he has mental reps now that he can't take physical ones. It's not just physical rust that accumulates for a position that is so mental. He has to continue to practise processing information at a high level so when he returns there is no drop-off. I keep him engaged and a part of the plan. He can't just go on vacation. Your hope is if he is a part of crafting the game plan each week he gets a better sense of why we call what we call and how we attack certain teams with our personnel. That perspective should help him when he gets back in the fire. There is no wasted time and no time to feel bad for yourself. Every thing has to be used as an opportunity to get better.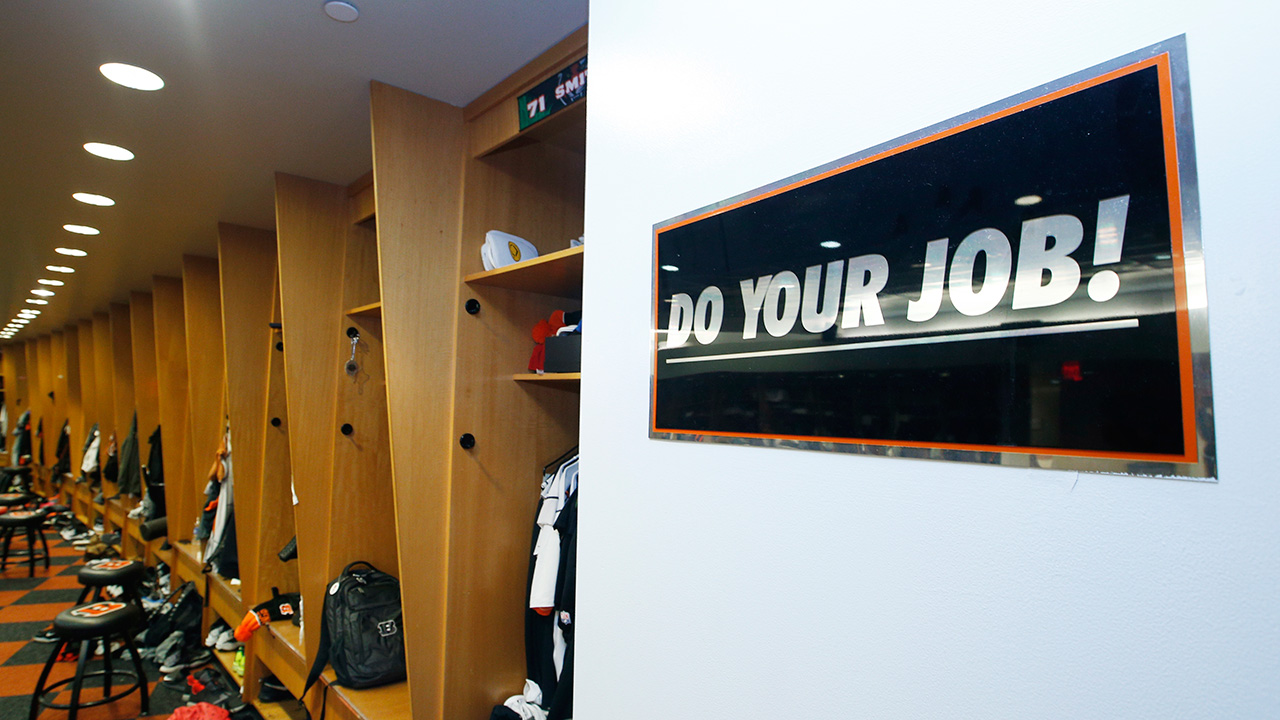 DB The funny thing is, some people look at your team and say, "They can't win in the playoffs with Andy Dalton." And now that he's hurt and they say, "They can't win in the playoffs without Andy Dalton." Is there a facet of your team that makes you less confident now than you were in week one?
ML No. AJ has to go out and play error-free football. And that's the same thing we ask Andy to do. I don't sense any lack of confidence in the organization, because the plan and the blueprint haven't changed.
DB So success for the 2015–16 Bengals in your mind is …
ML Winning the Super Bowl. It doesn't change. [Laughs] That's how success is measured in the National Football League. Becoming World champions. And everybody else goes home sad.