On Dec. 20, 2015, with the Arizona Cardinals up 7–3 on the Philadelphia Eagles, Larry Fitzgerald created something—an 18-yard reception to be exact—out of what looked like nothing. Just like he's done his entire career. Here's our breakdown.
LARRY FITZGERALD is bunched up on the left side of the field next to two other receivers when his quarterback, Carson Palmer, reads the coverage and taps his left foot back behind him. On that signal, Fitzgerald breaks from his teammates and jogs quickly to the right side of the field, then snaps into position two yards back from the line of scrimmage. Six yards to the other side of that line waits Eagles cornerback Byron Maxwell, currently ranked 93rd among NFL cornerbacks at defending the pass. His side, empty a moment ago, now features one of the greatest receivers in NFL history. Consider that image the hype poster for an 11-second disaster movie.
The ball is on the Cardinals' 17-yard line. The drive hasn't started yet. This play doesn't end in a highlight-reel touchdown—it's not that kind of catastrophe. It's a quiet, perfect storm, the sort Fitzgerald inflicts upon defenders several times a week. To that small, miserable club, it must seem a sort of preordained misfortune. You can be as prepared as the most eager of Boy Scouts. You can have a strategy and a contingency plan, and an emergency backup plan. It's still going to end badly.
Maxwell plays back, hoping to keep Fitzgerald in front of him. Linebacker Kiko Alonso shades over to prevent the short pass. Reading and exploiting this sort of coverage is, after all these years, backyard pickup football to veterans like Carson and Fitz—and doing it against a 30th-ranked defence like the Eagles is akin to stacking one team with all biggest kids.
Palmer and Fitzgerald know Alonso has responsibilities beyond the short zone he's showing before the snap. The Cardinals could choose to run, and, if so, the linebacker must be ready to help chase down the rusher. With Alonso shading over, though, Maxwell can give himself some breathing room, can be ready to move backwards rather than try to bump Fitzgerald off his route—a physical confrontation not many cornerbacks win against the six-foot-one, 223-pounder.
The ball is snapped. Everybody starts moving at top speed. Alonso does not bite on the run fak​​e. He rolls towards the sideline to help cover Fitzgerald.
A long time ago, at a Pro Day far, far away, Larry Fitzgerald ran a roughly 4.5-second 40-yard dash. In the context of elite receivers, that was fairly slow (though not slow enough to keep him from being the third pick of the 2004 draft). But even back then, it was noted that his technique—from a perfect starting stance to explosive starts and stops and precise route running—made his game speed something altogether different from the number on the stopwatch. More than a decade later, the clinical elements on his college film have been honed into a blade that can debone any defence.
It takes Fitzgerald six strides to close the distance between himself and Maxwell, who is stuttering backwards, reeling from a punch yet to be thrown. On the sixth step, precise as a ballroom dancer, Fitzgerald plants his left foot, cuts to his right and takes two strides in that direction, forcing Maxwell to halt his hasty backpedal and swivel his hips to turn and guard against what would be a first-down catch. If football really is violent chess, then this is the taunting, pre-emptory "check" designed to force an adversary to spend his next move just struggling to stay alive.
The instant Maxwell starts to turn, he's in trouble. Fitzgerald explodes again into full sprint—another foot plant, another effortless cut and another six assembly-line strides now aimed straight upfield along the sideline. When defensive backs wake up soaked in sweat at 4 a.m., it's from their dread of this scenario. This is their cold, dark fear: the 84-yard-touchdown-hung-all-on-me panic. Fitzgerald has learned to exploit that terror.
As Maxwell scrambles back to top speed to keep up with Fitzgerald, the pocket collapses at the line of scrimmage and Palmer spins away from a would-be sack, rolling to his left. Alonso watches Palmer on the move and, since Fitzgerald is currently in a dead sprint away from him, abandons his zone and hurries to cut off a possible scramble or a dump-off pass to the running back. You can almost hear the thwock of the mousetrap snapping shut.
Vision is another thing that NFL Combine numbers don't measure, and somehow, while racing away from the linebacker, Fitzgerald sees Alonso abandon his spot. With two quick steps he cuts his sprint short—leaving Maxwell flailing past like a bull that's been toroed—and reverses to occupy the area Alonso's vacated. By the time Maxwell halts his mad dash he's past the 40-yard line with momentum heading upfield, and Fitzgerald is hanging back by the 35, wide open and shining like a sunrise to a quarterback under pressure.
When a QB has a receiver like Fitzgerald, the moments when chaos reigns are the moments he must trust him. Before Fitzgerald even begins his comeback, the ball is in the air. Only a drop can ruin the finish, and drops are for lesser receivers. For every 30 passes thrown near enough for Fitzgerald to have a chance at them, he catches 29—a better rate than any other receiver or tight end in football.
When the ball arrives, Maxwell is still 10 yards behind Fitzgerald, and Alonso is five yards back toward the line of scrimmage. Fitzgerald secures it with two hands, splits the difference between the defenders for an extra four yards and goes to the ground before he can take a punishing hit. First down No. 669 of his career is textbook. There was no mistake by the defender: no screw-up, no blame to apportion. There was nothing Maxwell could have done to prevent these 11 excruciating seconds from unfolding exactly as they did, save being as good at playing cornerback as Larry Fitzgerald is at playing wide receiver, and that was never going to happen.
---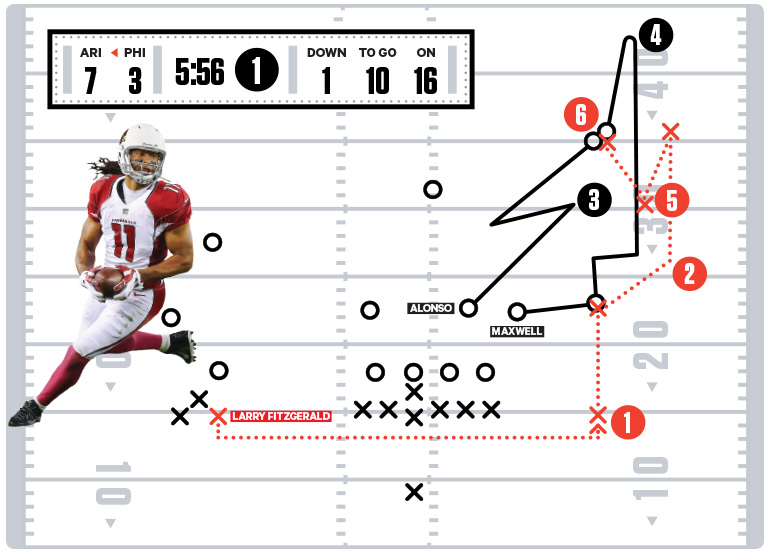 Photo credit: Elsa/Getty
SIX DEGREES OF GAINING SEPARATION
1. Pre-snap Fitzgerald moves across the line and settles to his QB's right. Maxwell shades over and slightly back, creating a cushion.
2. Cut and Bye Fitzgerald sprints upfield then cuts to the sideline. Once Maxwell turns, Fitzgerald cuts again, leaving the DB racing to catch up.
3. Reaction Once Alonso sees Fitzgerald heading deep, he moves back toward the line of scrimmage.
4. Comin' Back As Alonso takes off toward the line, Fitzgerald comes back toward his QB. Maxwell's momentum carries him upfield.
5. Alone, Again Fitzgerald settles into an open area and secures the pass.
6. YAC-ity YAC Splitting defenders, Fitzgerald gains a final few yards before going to ground for career first down No. 669.