Jared du Toit was a 21-year-old amateur when he made a fairy-tale run a year ago at the Canadian Open.
In his first-ever appearance on the PGA Tour, the kid from Kimberley, B.C., played his way into Sunday's final pairing before finishing T-9, the low Canadian for the week. "It was unbelievable," says du Toit, who turned pro earlier this year.
And now, the 22-year-old Mackenzie Tour player is set to make his return to the Canadian Open, and back at Glen Abbey, the site of his 2016 run. Du Toit will be joined by a slew of fellow Canadians including Adam Hadwin, Graham DeLaet, Mackenzie Hughes, Nick Taylor, David Hearn and Mike Weir. The tournament, which begins July 27, hasn't been won by a Canadian since Pat Fletcher in 1954.
This year, the course will feature hockey boards on the first hole, and volunteers will wear ref shirts. As du Toit puts it, "Home ice."
He takes us through some of his favourite holes on the Oakville, Ont., track. Average scores and rankings are from the 2016 tourney at Glen Abbey.
No. 11
Par 4, 452 yards
Avg. score: 4.08
Rank: 11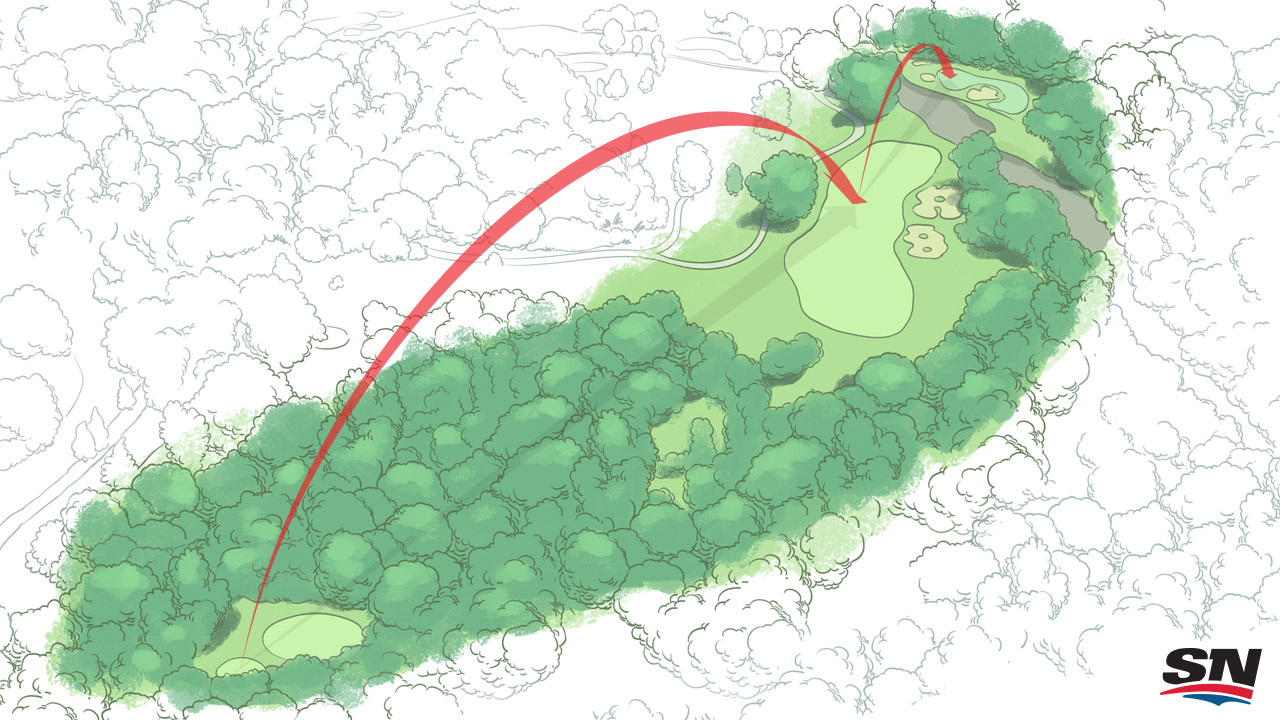 "It's probably the most scenic hole out there. It wasn't the nicest to me, because that tee shot is already kind of nervy and those final two rounds I wasn't hitting it particularly great off the tee. That already narrow fairway looked even more narrow.
"When you're actually down there [the tee box is elevated, and the fairway is in a valley], the fairway's not that narrow, but just from all the way up it's so far down. If there's a little bit of wind, you can't feel it from the tee box because it's crowded by trees, so it makes it tough.
"I think it was the Sunday, I hit it way right and got super lucky that it stayed in play, got lucky to even have a number. I had a shot, somehow got the ball on the green and somehow made a 30-footer for birdie.
"That green, there's some depressed areas, some slope, but I didn't find it too bad. I putted pretty well there all week."
No. 15
Par 3, 141 yards
Avg. Score: 3.11
Rank: 9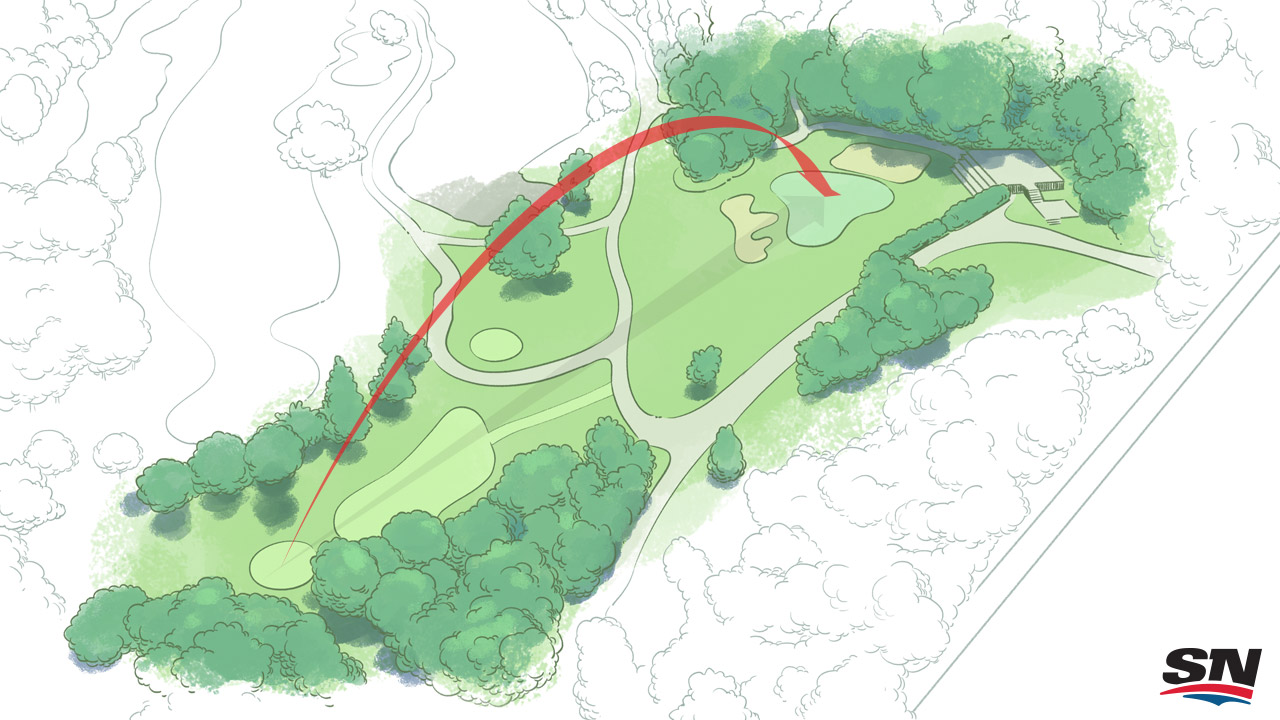 "Great hole to be a fan on. I like that one a lot, just the way the green slopes. They have two pins below the slope and they kind of funnel toward the hole, so if you hit a good shot there's a good chance it's going to be really close.
"When they change it, when they put the pins on top of the ridge, it makes it very challenging, especially with how firm and fast the greens are for the week. It makes it a really tough three.
"It's a really good hole because it can either be a really good look at a two or a tough look at three."
No. 16
Par 5, 516 yards
Avg. score: 4.37
Rank: 18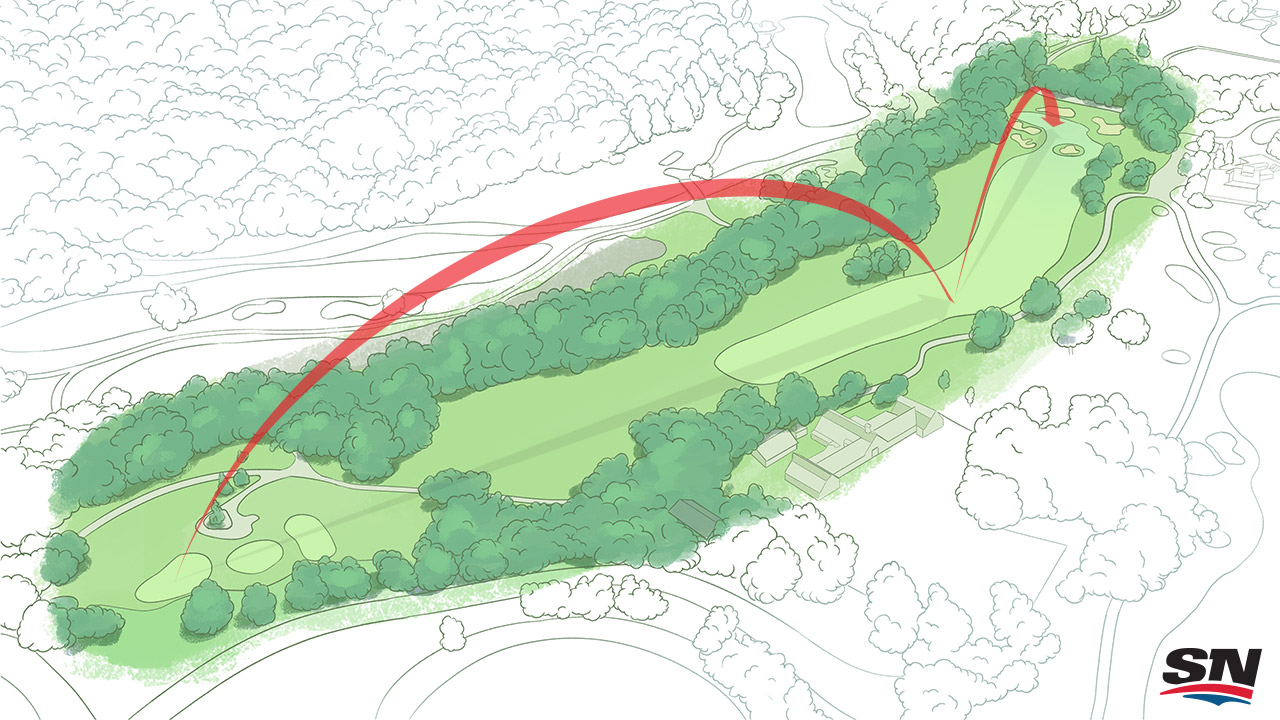 "It's that other par 5 — that whole back 9 is super exciting, there's so many good holes.
"Especially how firm it was playing last year, was very gettable. A lot of guys are using short irons into the par 5. You had this huge crowd there — a lot of fun.
"It's that dogleg left, a little downhill. If you hit a solid tee shot down the left there's a little downslope there and you catch the speed spot. That's when you have pitching wedge or nine iron in, if you do catch that little spot there.
"I'm not gonna say it's tee-ball dependent, but a good ball there definitely makes the hole a lot easier for you and brings eagle into play."
No. 18
Par 5, 524 yards
Avg. score: 4.59
Rank: 17
"My favourite hole would have to be 18. It's a reachable par 5 with the grandstands and everything. It's my favourite, not only because it's a great hole, but because of the great memories there. I made that eagle putt there and gave it the biggest fist pump of my life.
"[Last year,] I hit a massive drive. It actually probably went too far, because I was aiming at the first cut there, almost in that water, which I didn't think was reachable. But I got there, I had a decent line. I think I only had 110 yards or so, so it was a sand wedge. I hit the sand wedge, and if you look at it, it wasn't the greatest swing. It went a little right and a little long of what I was trying to do.
"If you see me hit the shot I yell: "Go go go!" and I'm kind of freaking out because I don't want to give up any more shots after hitting a really good drive.
"Then I get on the green, and obviously there's a slope. You saw guys hit that all week. I probably played that putt too low, but I hit it a little hard so it kind of cancelled everything out. It hit the back of the hole, slam dunk, and I just went nuts. It was crazy. I was going bonkers.
"The coolest thing about that whole moment was my caddie and I Sean Burke, we nailed the celebration. Tiger Woods's great chip on 16 during that final round at Augusta was kind of ruined by a poor celebration. But me and Sean lived up to the hype with that celly."