A four-shot lead dwindled down to nothing, he dropped some NSFW-ish language on the tee of the par-3 17th, and then eventually, finally, he double fist-pumped for the ages.
It seemed like it was always going to be Adam Hadwin's Sunday at the Valspar Championship, but it took the last putt on the last hole to make it so.
The 29-year-old, who shot a 13-under-par 59 earlier this year at the CareerBuilder Challenge but couldn't convert the record-setting score to a victory, seemed as though he was due for a win on the PGA Tour.
"The chance would have to be at least 50-50," said Hadwin about 90 minutes after his victory, about his chances for a win on the PGA Tour during the 2016-17 season. "It's so difficult to win out here and you need a break here or there to pull it out, and this week I got a couple breaks. I made a couple of huge putts on Saturday and Sunday and I'm just happy to be on the plus side of 50."
Hadwin had won on every level of golf he played, from junior and amateur golf in British Columbia, to NCAA golf at the University of Louisville, to the Mackenzie Tour-PGA Tour Canada, to the Web.com Tour where he won twice in 2014 before earning status on the PGA Tour.
He hasn't looked back since.
"Everything's happened at once," he explained of why things are going so well right now. "In my personal life, I'm making big strides in that about am about to start a life with a girl I love, and playing some tremendous golf. I've been at peace with my life and happy with the place that I'm in. I'm taking tremendous confidence into each and every round that I've played this year. It's just a really exciting time in my life."
Now he's the 14th Canadian to win on the PGA Tour, but the second of the 2016-17 season, after Mackenzie Hughes' win at The RSM Classic in November.
It's the first time in a decade since more than one Canadian has won in a single season (2007 was the last time, when Mike Weir and Stephen Ames won a month apart), and with Hadwin's win, it'll mark the first time since 1968 that a trio of Canadians will play in the first major of the year (George Knudson, Al Balding, and Gary Cowan were in the field of the '68 Masters).
"I think that'll probably be a nice thing to do," said Hadwin with a laugh when asked if he was going to join Hughes and Weir for a practice round at Augusta. "I'm just elated to be joining (them).
So why now for Hadwin, who is getting married on March 26th and will have to skip his honeymoon for that little tournament in Augusta, GA?
A product of his steadiness, for starters.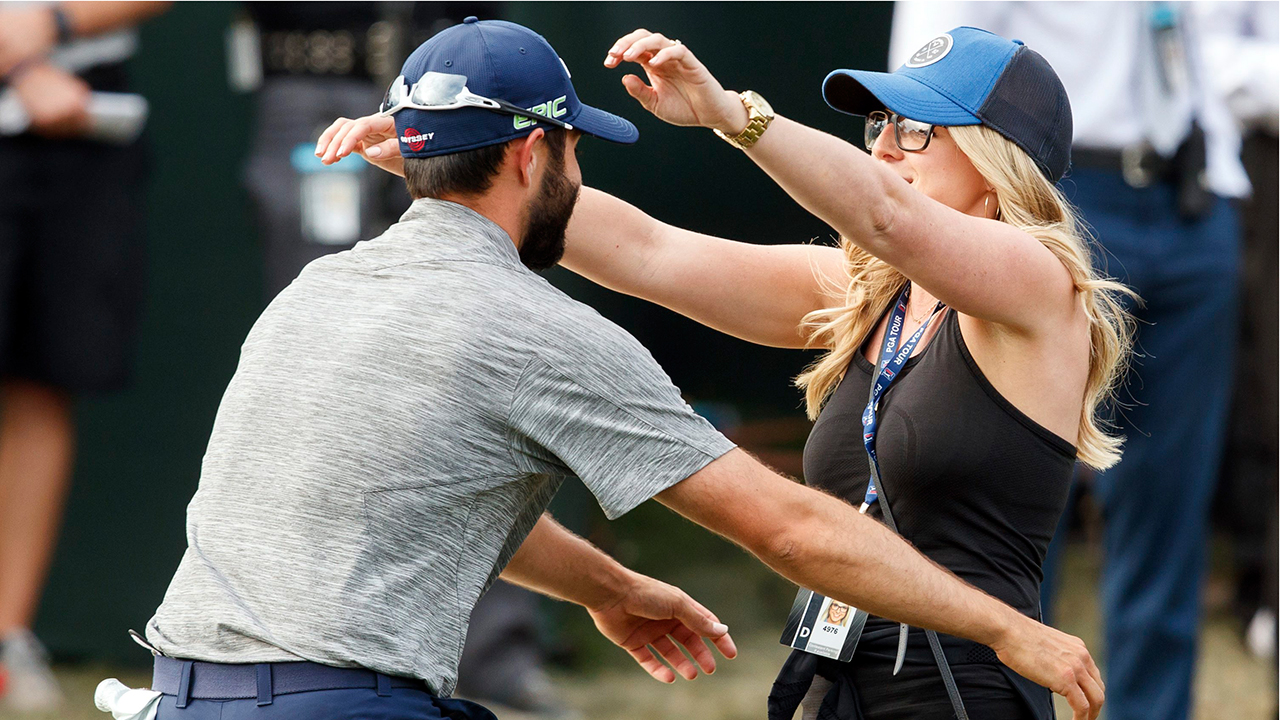 Adam Hadwin hugs his fiance Jessica Kippenberger after winning the Valspar Championship. (Mike Carlson/AP)
Hadwin has only missed one cut so far this year – at the first event of the season – and hasn't finished outside the top-50 at any tournament. His short game has played a major role in his success as he sits fourth in Sand Save Percentage, ninth in Strokes Gained: Putting, and 15th in both Approaches from 50-125 yards and 100-125 yards.
Drive for show, putt for dough, as the old adage goes (and as Hadwin is about to cash a cheque for approximately US$1.13 million thanks to his victory Sunday).
Hadwin has also had confidence in his abilities, bordering on cocky.
And that's OK.
"I've just had a ton of hard work," Hadwin said. "My short game still has its moments and there are some things to improve on, but working with (Coach) Ralph (Bauer) has been great. I've just been focused on the little things.
"We're not trying to reinvent the wheel. Everything I need to play well is all there, it's just a matter of honing it all in."
After he made a double-bogey on the par-4 16th Sunday at the Valspar Championship, he came to the tee of the 215-yard 17th and was debating with his caddy about what kind of shot he should hit, after he saw his playing partner, Patrick Cantlay, knock his tee shot into a greenside bunker.
He and his caddy went back and forth a little bit, and Hadwin finally said, never letting go of the club he had chosen initially, that he would just "hit the s—– out of it."
'It' being said club he had chose.
His shot ended about hole-high. He two-putted, and then went on to make par on No. 18 as Cantlay found another bunker and made bogey.
Adam Hadwin: 'Luckily, I was one shot good enough'
March 13 2017
With a win under his belt (finally), it's likely the floodgates will open.
It's happened that way for Hadwin on every other level of golf he's played, so why not on the biggest stage of them all?
"It's incredibility exciting to be in a position to win, and have to hit golf shots when you need to," Hadwin said. "On 18, I hit two great golf shots. I'm just elated to be sitting here talking as the champion."
While we wait patiently for Graham DeLaet and David Hearn to find the winners' circle – something that just seems more and more inevitable with each passing week – Canadians Nick Taylor, Hughes, and Hadwin have all raised PGA Tour trophies since the fall of 2014.
And given Hadwin's play through this year, don't be surprised if this isn't the only time he does it this year.
[relatedlinks]