When R.J. Barrett was in Toronto recently for a pair of games with Duke University, the 18-year-old hoops phenom was asked if he'd ever met Alphonso Davies, the 17-year-old striker with the Vancouver Whitecaps who will soon be suiting up for European football power Bayern Munich — the Whitecaps just happened to be in Toronto for a match against TFC that week.
What about Felix Auger-Aliassime or Denis Shapovalov, the Canadian teen tennis sensations who were creating all the buzz at the Rogers Cup?
Barrett laughed and said he hadn't. No wonder — being a prodigy is time-consuming, as doubtless any of Canada's swelling generation of world-class athletic talent would probably agree.
It's hard to find time to admire the scenery when you're still climbing.
So we'll go out on a limb here and assume that Barrett or Davies or the rest of Canada's young guns have yet to have a chance to pick the brain of Brooke Henderson, who at age 20 could certainly teach them a thing or two about what it takes to rise to the top of a global sport and meet the hopes and expectations of a nation.
The pony-tailed powerhouse stepped into history by becoming the first Canadian in 45 years to win an LPGA event on home soil — our national championship, no less — when she won the CP Canadian Women's Open at Wascana Country Club in Regina, Sask., on Sunday.
She picked up where Jocelyne Bourassa left off in 1973 and managed what Mike Weir just missed out on when he lost to Vijay Singh in a playoff at the Bell Canadian Open in 2004 at Glen Abbey.
It was a most Canadian win, as any hint of summer was swept away by cold prairie winds and a persistent rain that had the massive galleries — was anyone home in Regina? — packing both sides of every fairway, squeezing under countless resplendent umbrellas. Among the crowds were countless 'Brookalikes' — little girls decked out to watch their hero live and up close. Even on television the energy came crackling through.
We may be on the verge of a golden generation for Canadian sports, but Henderson, the 20-year-old — yes, she's still not legal to drink in most states — from tiny Smith Falls, Ont., has already arrived, lighting the way for those behind.
"Brooke is almost like Canada's Tiger Woods," defending champion and world No. 1 Sung Hyun Park of South Korea had said earlier in the week after playing with Henderson in the opening two rounds. "I was really surprised at how many fans came out to support Brooke today. To witness that was pretty awesome."
Get used to it, I would say.
Those who were on hand as Henderson walked up the 18th fairway with a victory in the bag and a nation ready to eat out of her hands won't forget it anytime soon.
The chill of the icy champagne being poured down her rain suit probably won't be forgotten by her any time soon, either.
For Henderson, the entire week was a master class put on by a young golfer playing well beyond her years. She opened the tournament with back-to-back 66's, heading into the weekend trailing by just one shot. It was a far cry from her situation last year, when she needed to birdie the last hole on Friday to make the cut at Ottawa Hunt and Golf Club and then forced herself into contention with a course-record 63, generating cheers like a rock star at a course just an hour from her hometown and where she's an honorary member.
She couldn't quite finish the fairy tale a year ago, but left little room for doubt on Sunday at Wascana. She birdied the first hole she played and made three more on the front side, offset by a pair of bogeys that left her two clear of the field at the midway point.
Henderson put her stamp on the win with authority, making birdie on the par-five 12th to go up by three, and then stiffing her mid-iron approach to three feet on the 13th. Nothing was left to chance as her older sister Brittany — a former tour pro turned full-time caddie once her sister made her LPGA splash in 2016 — helped with the short putt before her younger sister knocked it home, keeping her lead at three.
Her third straight birdie at the 14th pushed her to 19-under as she kept the gas on full flame, with another birdie on the 16th.
She needed every one, as her playing partner, American Angel Yin, birdied three straight and four in five holes starting on the 11th to get to four-under on the day and 17-under.
A lesser player might have faltered under the heat. Henderson only proved herself more worthy. Her easy wedge to three feet for a final birdie on the last — she closed with a seven-under-par 65 — meant there was nothing left to worry about and she could finally smile widely as a champion.
On came the champagne shower.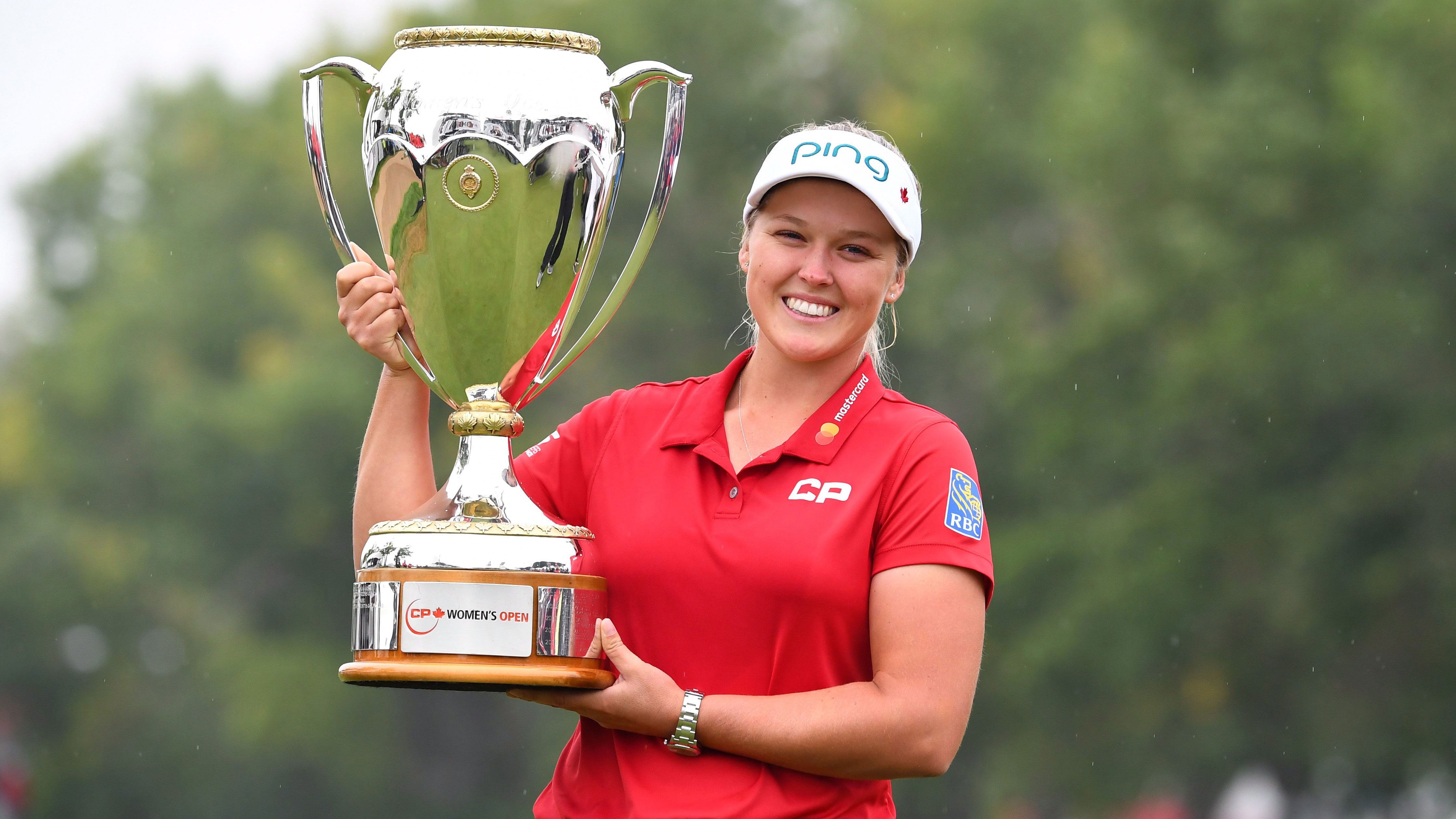 The win will only help cement her pending status as the greatest Canadian golfer of all time, even though she's just getting started. It was her seventh career LPGA victory and only Sandra Post has more wins by a Canadian in the history of the women's tour, with eight — which ties her with Weir and George Knudson, who have each have eight PGA Tour wins, for the most tour wins by a Canadian, male or female.
Golf is the ficklest game but it seems inconceivable, given Henderson's youth and gifts, that she won't blow past those standards in short order. The only thing that's uncertain is what her ceiling is. A Canadian golfer has never been world No. 1, although Henderson was ranked No. 2 briefly after she won her major in 2016.
Who would put a limit on her at this point?
She won her first major title before her 19th birthday, has been a full-time member of the LPGA for three years and has won multiple events all three seasons.
Her win Sunday may be her biggest win to date, but not her last. She's got many more seasons ahead to pile up victories, but she's already accomplished something that she'll never be able to top: winning her national championship, breaking a 45-year drought.
Canada's sports future has rarely been filled with so much promise, but at 20 years old and with a résumé she could easily retire on, Henderson has already delivered.