After winning the Sandra Post Medal as low Canadian at the 2017 CP Women's Open, Brooke Henderson turned to Post herself and said she would get her name on the tournament's trophy one day.
Post told her she hoped she would. She hoped Henderson would get her name on a lot of trophies.
Since that day, Henderson captured the CP Women's Open title in August — fulfilling a childhood dream of winning her national open — and after defending her title at the Lotte Championship in Hawaii Saturday, she tied Post for the most victories by a Canadian all-time on the LPGA Tour.
The eight wins is also the all-time Canadian mark on the PGA Tour, held jointly by George Knudson and Mike Weir.
While eight was the final win for both Knudson and Post — while Weir continues to play occasionally on the PGA Tour and currently on the Web.com Tour — for Henderson, it seems she's just getting started.
"My last win was in 1981… that was another century. I think it's OK to move on," Post told Sportsnet, with a laugh, by phone while watching the final round on TV.
"We're all tied, but I'd be thrilled if she goes on, and I hope she really goes on. I hope she runs that number up for the next Canadian."
Henderson's eighth win on Tour came Saturday by four shots over Eun-Hee Ji.
Although Henderson has struggled with her putter in the past, she said that was the key to her success this week. She made clutch par saves on Nos. 12, 15 and 16 in the final round.
"If I don't make those it's a different story," Henderson told Sportsnet.
Post said she loves how aggressive Henderson plays, and even though Henderson started Sunday with a bogey she managed to steady the ship after going 3-under over her next 10 holes.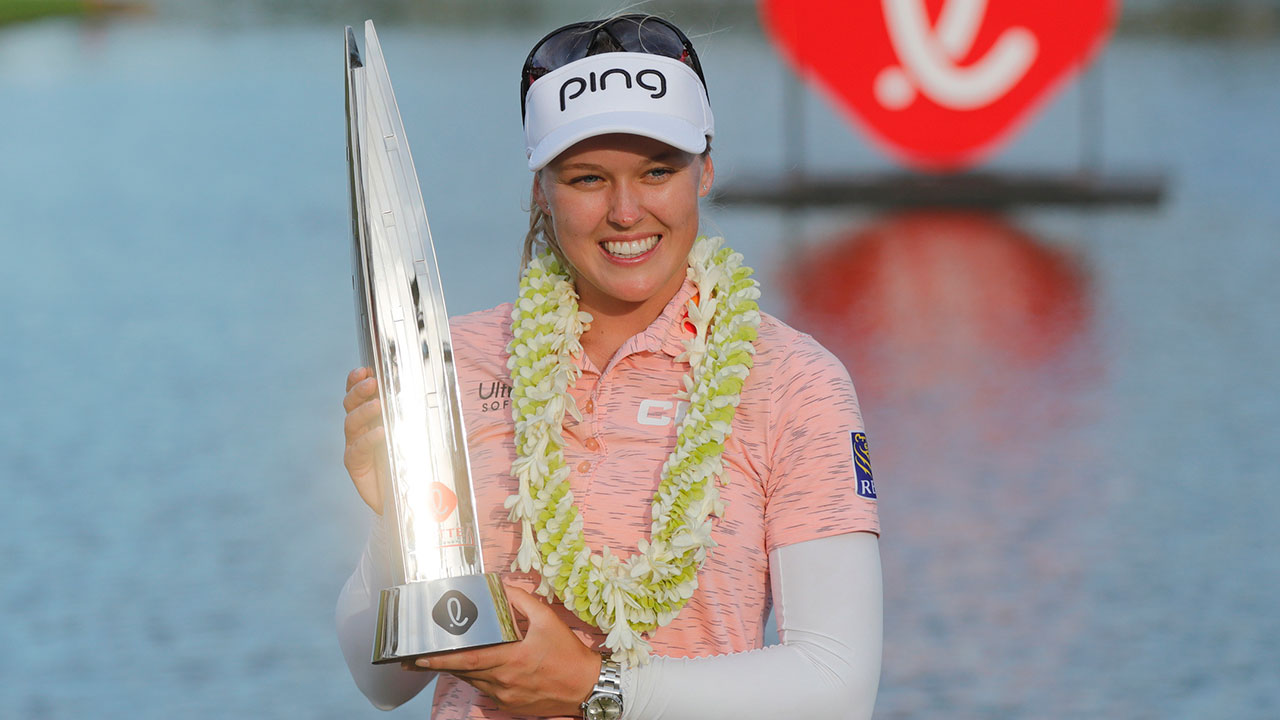 "She plays with no fear," said Post. "What I like is that the Hendersons, including Brittany (Brooke's sister and caddie), is that they haven't changed much. They've stayed consistent with her game plan. She's not always looking for something. Playing on Tour is hard enough, let alone trying to change swings and things like that.
"She knows what she has. Her talent is in the winner's circle."
Henderson said she enjoys being a front-runner on the leaderboard, and that sparked her aggressive approach to the final round, despite a blustery day in Hawaii.
"Normally if you're hitting it pretty well you have the extra confidence. I don't mind chasing, but when you're out in front it gives you that little bit (of) extra momentum," she said. "For me, I'm just trying to make that lead bigger. Some people don't like that feeling, but for me I love that."
Post said Henderson, when she first burst onto the LPGA Tour scene, clearly liked the professional golf life. Being a pro golfer suited her, said Post. She won her first event before even being a full-fledged LPGA Tour member, and Post said she clearly belonged.
Henderson said her sister Brittany, who is now her caddie, helped pave her path to the LPGA Tour. She watched Brittany — who had a scholarship to Coastal Carolina University and is now in their sports hall of fame — and knew what she had to do.
"That's why I made it to the LPGA Tour so quickly is because I watched her go through everything. Once I made it to the Tour, the biggest thing was just to be comfortable out here and have confidence," said Henderson, who also credited playing practice rounds with fellow Canadian Alena Sharp as an amateur and first-year pro as part of her development.
On Saturday Sharp saw Henderson was leading and returned to the golf course from the hotel in Hawaii after finishing her round earlier in the day. She told Sportsnet it was for a simple reason.
"It's a big day for Canadian golf," said Sharp. "Definitely what (Brooke) does inspires all us Canadians. It gives us the will power to know we can do it too."
Sharp, who is having a very solid season herself, was quick to recognize Henderson's talent when she first played the LPGA Tour as a teenager.
The two represented Canada at the 2016 Olympics together and Sharp said what Henderson has accomplished in such a short time as a professional has been "amazing."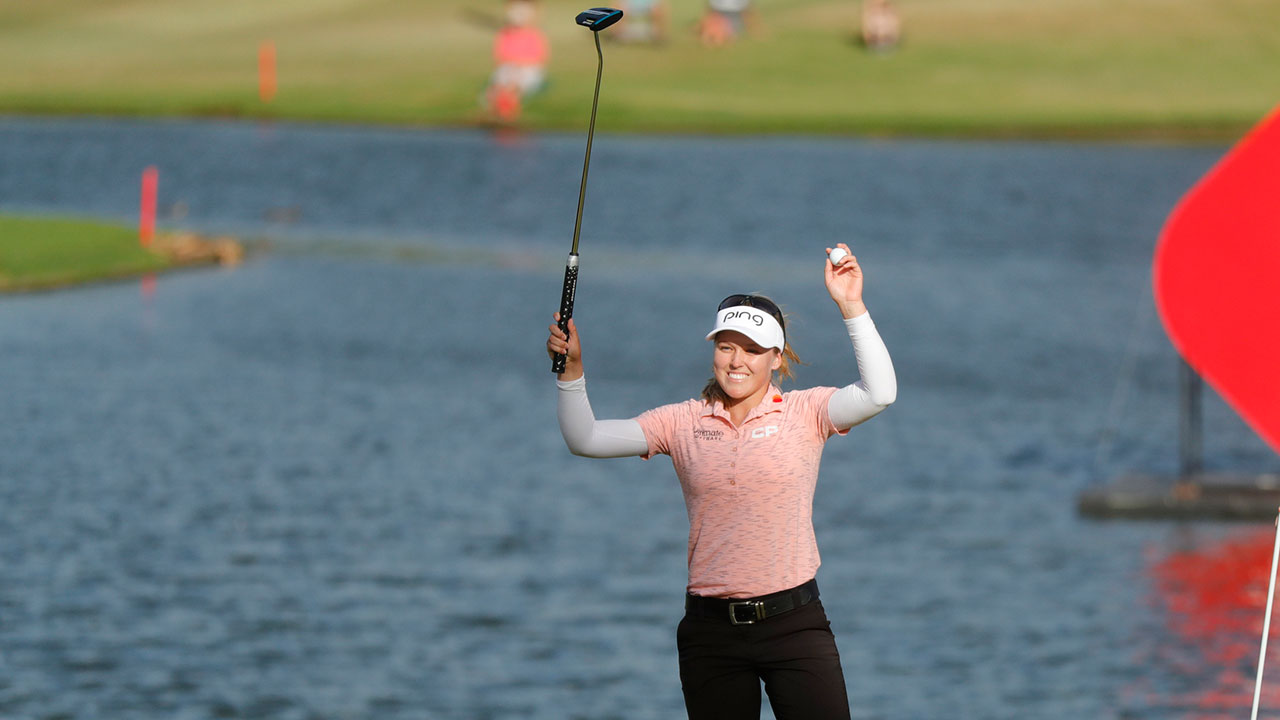 It has been a quick adjustment for Henderson, who has finished in the top-10 almost 40 per cent of her LPGA Tour starts, but while there has been good news in Canadian golf recently — Corey Conners won his first PGA Tour event two weeks ago and played in the Masters — there could be an even brighter spotlight on Henderson's record-tying accomplishment.
Girls' golf is growing, Post said, and to have Henderson part of that conversation is positive.
"Every generation has their challenges," said Post, "but she's at the forefront. Any time we have a winner in this country, male or female, it brings a lot of attention to golf."
Henderson said she watched the highlights of Conners' win and was "really happy for him," as they were on Golf Canada's national team at the same time. She believes golf in Canada is going to continue to grow as there are a lot of up-and-coming amateurs and young pros looking to follow in her and Conners' footsteps.
"Great things are happening," said Henderson.
Great things are indeed happening for golf in Canada. Canadian sport in general — look at Bianca Andreescu in tennis, R.J. Barrett in basketball, or any young Canadian hockey star, male or female — is having a moment.
But no Canadian athlete is rewriting the history books like Brooke Henderson.
She's one more title (which could conceivably come at any time this season) away from becoming the winningest Canadian professional golfer of all time. Post, a Canadian Golf Hall of Famer, believes her record is as good as beat.
But for all the hope for the future, on Saturday night in Hawaii, Henderson was just going to live in the moment. She and Brittany would celebrate the win. But how?
"I think," said Henderson, "we'll go for a swim in the ocean."