Corey Conners, from Listowel, Ont., is having quite the 2019.
In April, the 27-year-old won his first-ever title on the PGA Tour, at the Valero Texas Open, earning the final spot in the Masters (where he finished T46) and a two-year exemption on Tour. That's huge.
And this week, Conners will be teeing it up in his first-ever PGA Championship in New York at Bethpage Black. Next month, he'll be teeing it up closer to home, in Hamilton, at the Canadian Open.
On his way back home to little Listowel for a brief visit last week, Conners sat down with Sportsnet to cover an array of topics — and we're talking a real array. He talked about golf: The win, his wife's fame and some upcoming tournaments. We also talked about his aptitude for mathematics, the Kentucky Derby, his distaste for Brad Marchand's play and what the Toronto Maple Leafs should pay Mitch Marner next season. Conners — who's a big Leafs fan — also made his Stanley Cup winner prediction.
Sportsnet: How has life changed since that win in Texas?
Corey Conners: I get recognized a little bit more, that's about it.
That's it? Who's more famous now: You or Malory? She had some pretty good memes going.
Yeah, I think Malory might've taken that. I got a lot of messages saying: 'Great playing, but your wife really stole the show — she was awesome.' And she's my biggest fan, she travels with me almost every week and it's awesome to have her on the road. It's really cool to see her get some recognition. The following week, playing in the Masters, we'd be out for dinner and a lot of people would come up to her and engage in conversation with her first, just saying, 'Oh, you're amazing!'
I heard you were at the Kentucky Derby. What was that like? The race was bananas. [The initial winner was disqualified].
Yeah, it was kind of a bucket list activity. The Kentucky Derby has been something I've always watched since I was a kid. My dad and I, we'd go and play golf in Lexington, Kentucky, in the spring every year — we'd basically start driving until it got warm enough to play golf. We were the only people golfing but we were happy to be out golfing, usually in the start of March just to get out before the courses opened back home here in Canada. Another racetrack, Keeneland Raceway there, we'd go and tour around. [I've] just always been fascinated with racing … It was kind of an impulse last-minute decision but I was able to go with my wife and then a couple other good friends who I've grown up playing golf with.
Did you wear a fascinator?
I kept it… no. No hat. I couldn't. I couldn't feel comfortable in that.
Bow tie?
Wore a bow tie. Had some light blue pants. Tried to go outside the box a little bit. I'm usually pretty conservative. Couldn't pull off the hat. My wife had a beautiful hat on, she looked lovely and it was a lot of fun.
What did you think of the finish?
Unfortunately I had wagered on the 7 horse, which was the winner, and was the best horse in the race. Unfortunate. We were really jacked up to say the least.
For two minutes. Or 10?
It was a long time, yeah. There was a long delay. You just knew something was up, it didn't feel right… We were just waiting for them to post the official results. Didn't come, didn't come, we were like, 'Oh this could be a problem.' After they made the results official people behind us were on their hands and knees going through their old tickets, because they had thrown the [winning] ticket, it was ripped in half.
Tape that back up!
They were able to find it. It was pretty funny watching them scrambling around to pick up their ticket.
How much would you have won?
[Laughs.] Well, I was very excited with the potential winnings, that's for sure. I was a little disappointed when he ended up being disqualified, but I guess that happens.
You started golfing in Listowel, right? There's a golf course there?
There is, yeah. It's a beautiful facility. Basically ever since I can remember, they've had 27 holes. …There's a lot of small towns in Ontario that don't have golf courses or don't have a golf course nearby or in the next town over, but I was really fortunate to have grown up there and have access to a great facility. I worked there, started when I was 13 years old in the cart barn, washing carts and picking the range. Just always spent time there. Really feel lucky to have grown up in such an awesome place.
I've been to Listowel. I recall the town only had one stop light.
There's two.
There's two. And a golf course?
Yeah, it's an awesome town. It's really growing now which is awesome to see.
Do you think all of Listowel will show up at the Canadian Open next month in Hamilton?
I think most of the town will be there, yeah. [Laughs.] I think there'll be a lot of fans from Listowel watching me. I'm really excited, it'll be an awesome week.
You just played a couple rounds at the host course, Hamilton G&C. What did you think?
I loved it. it's an awesome course, I think it sets up really well for my game. It really is beautiful. I like the style of the course, it's something that really fits my eye, I guess. It's in great condition for this time of year. I know we haven't had very warm weather so far but it's very green, the grass is nice and lush, which is a good sign. I think it'll be in pristine for the tournament. I'm more excited about the Canadian Open now.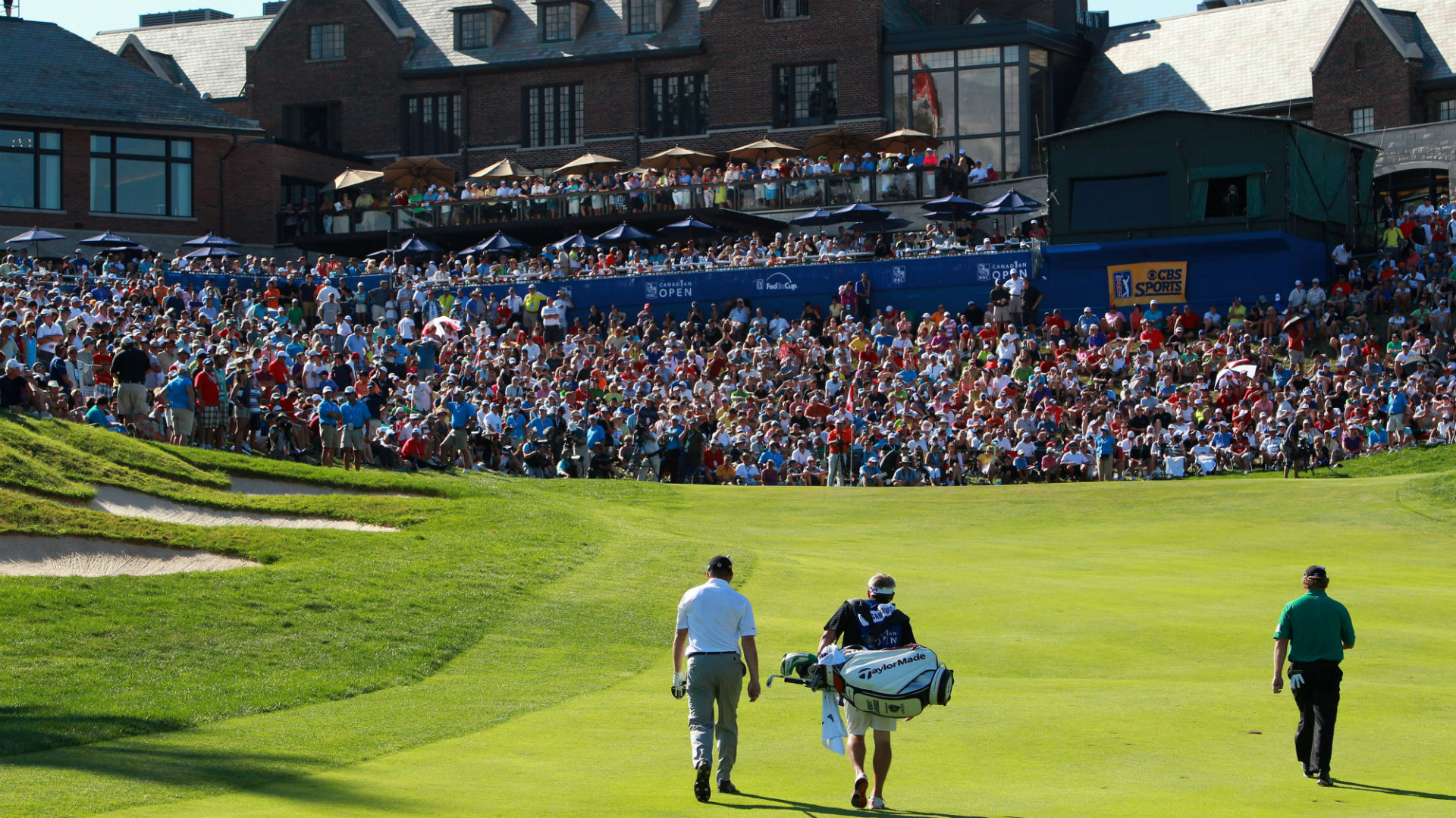 You weren't excited before?
I was excited before, but after seeing the venue it's going to be a really special week. So I'm even more excited.
What about the course suits your game?
It's an old-school traditional design, but it's a bit of a shot-maker's course. You have different options on some of the holes, what club to hit off the tee. I think getting the ball in the fairway is very key, something that I'm good at, and some solid iron shots into the green which are fairly undulating, lots of slopes on them. I think the precision and those parts of my game really set up well, and that's something I'm excited to showcase and test out there.
You've played the Canadian Open a bunch of times. What are you most looking forward to about the 2019 edition?
This one's going to be a little bit different, coming in as a PGA Tour winner and somebody that Canadian golf fans will be excited to see, but it's always been a special event. You get so much support from the crowd. There's so many great golf fans in Canada and they really like the Canadian players, so I'm excited to feel all the positive energy from the fans. It's going to be an exciting week for the spectators, the music series they have, Florida Georgia Line playing, so I think there's going to be a lot of people out there and certainly a lot of people following me. It's not something I'm afraid of. I'm used to playing in front of people, but the more people out there the better, I think. There's going to be a lot of positive vibes for the Canadians.
Are you a country music fan?
Yeah, big time. Country music's my favourite genre, always listening to country music on the radio. My wife Malory is a massive country music fan as well, a big Florida Georgia Line fan, so she's probably most excited for that event. That'll be the highlight of her week.
And how about this upcoming tournament: You'll be making your debut at the PGA Championship.
Yeah, I'm really excited, any time you get to play in a major championship, it's awesome. I think this golf course will set up well for me, as well. It's going to be a very difficult golf course, and those are the courses I seem to play well on. I'm really excited for another good finish. I'm playing really well, I have a lot of confidence in my game. It'll be fun to test things out. I think Bethpage in New York is as strong a test as we're going to face all year and I'm really going to embrace the challenge and hopefully keep playing well and be patient on the golf course, but trust my game and hit lots of good shots.
Solid plan. Do you go into majors and try to treat them just like just another golf tournament?
Yeah, I think for the most part. There's always an extra buzz around the major tournaments like there will be for me at the Canadian Open, but I definitely just try and treat it like a normal week. I think that's the big thing, not getting over-hyped for it, getting into my normal routine, getting in some good practice and preparation, getting a good plan for the golf course like I usually do. That's the main focus.
True or false: You might be the smartest guy on the PGA Tour. [Conners studied actuarial mathematics in college].
I don't like to think of myself that highly, but I'm up there. There's a few smart guys out there. I think everybody knows a lot about Bryson [DeChambeau] and how he approaches the game. He studied physics at school. My actuarial mathematics is impressive, but I wouldn't consider myself the smartest. But I'm definitely in the top tier, and I think that plays to my advantage.
How? Can actuarial math help you on the course?
I think just having an analytical mind, being able to assess different situations, asses the risk, which is a big part of actuarial science. I'm good with numbers, obviously that's a little simpler math, but knowing different distances and being able to compute things quickly helps the speed of play. I'm a fairly quick player, a good decision-maker and stick to my decisions pretty well. I think just being able to think my way around the golf course is a big positive in my game and definitely helps, knowing when to attack, knowing when to be a little more conservative when the risk is too high.
I hear you're a big hockey fan. Was your playoff bracket totally busted?
I didn't have a bracket. I had my mind made up on teams I like and I think I would've been 1 for 8 for picking the correct series winners in the first round. I don't think I'm alone in that respect, because there was a lot of upsets, but I was definitely cheering for the Canadian teams and they all unfortunately didn't get the job done. Also would've picked the Lightning. Would've picked Washington. Wouldn't have had much luck. I may have gotten zero right, to be quite honest.
You're not alone there. Who's going to win the Cup?
I think Boston is. I'm a big negative Boston cheerer, being a Leafs fan, and they've really had our number the last… forever, I guess. [Laughs.] But they have a solid team. That top line, when it's going, they really get the job done and it inspires the rest of the team. I feel like Boston may get it done, as sad as I am to say that, I think I like their chances.
You're probably not a fan of Brad Marchand.
I'm a bit of a negative Brad Marchand fan. Some of his antics, I don't really appreciate very much. But you've got to give him credit, he gets under people's skin, he's a really talented player, he can do it all. I respect him, give him some credit, but definitely not a Marchand fan. I'm sure he's a nice guy but he plays with an edge that's tough for an outsider, not a Boston fan, to enjoy.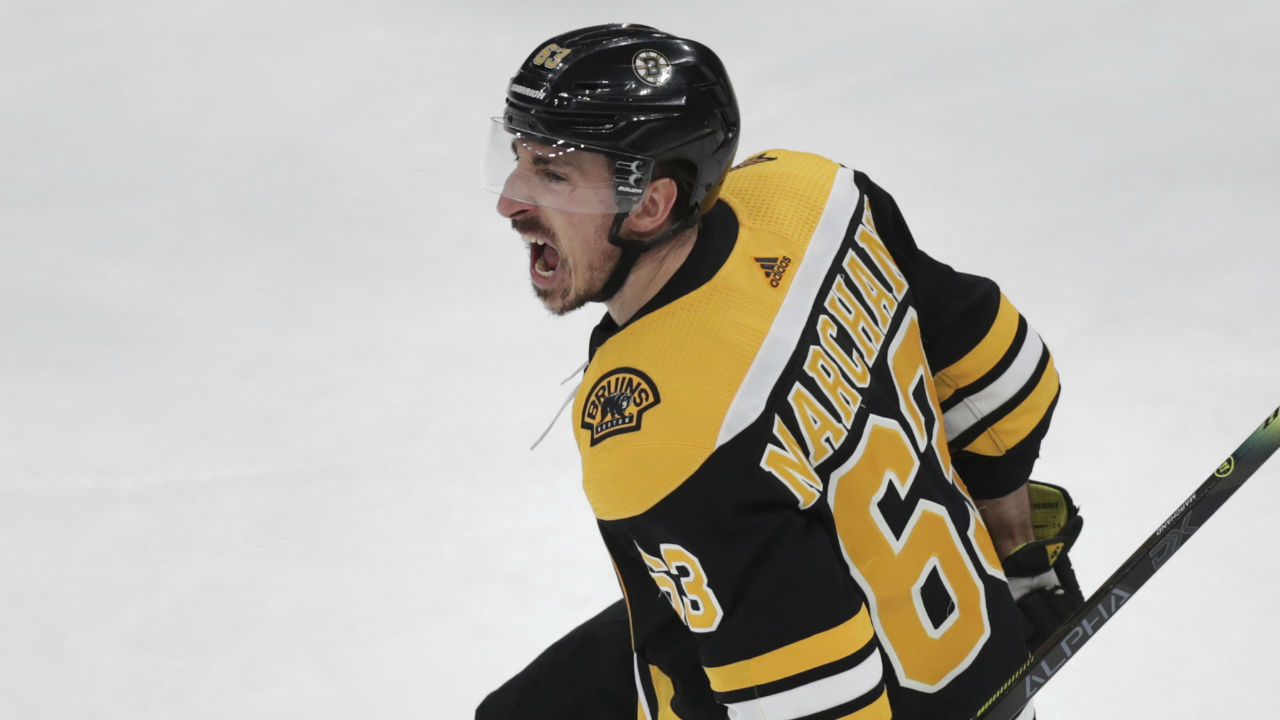 Being a numbers guy and a Leafs fan, what should Mitch Marner make next season?
It's tough. I think he should make quite a lot — I don't know if they'll be able to afford him. I would like if he maybe took a little bit less to stay in Toronto because they've got a bright future, but I think anyone, it's hard to leave money on the table for another opportunity. He's got to be looking in the $10 million a year range. He can sure get it done offensively, he's very talented. I think he's obviously a big part of their team and hopefully he's a big part of their future.
Did you play hockey growing up?
I played starting when I was about four years old until I was 18, until I went to university. I played some AAA when I was younger and kind of made the decision when I was 14, 15 years old to go the golf route. I played in my hometown of Listowel, and we won the OMHA all-Ontario championship the year I played midget hockey. That was really exciting and fun to be a part of that. I was a big hockey player, kind miss playing now in the winter, but it's tough living in Florida to be able to get on the ice. My travel schedule takes me away from home quite often, so it would be hard to commit to something like that.
What position did you play?
Most of my life I played centre and then the last couple years I played defence. I think they wanted a dependable, kind of smart guy to keep the puck out of their own net. I was a bit of a stay-at-home, soft guy on the back end. I didn't enjoy when they dumped the puck in, you going back for it knowing that you're just going to get absolutely crushed.
Is that what made you decide golf was a better fit?
[Laughs] I think I was a little better at golf than hockey and definitely now, the way things have worked out, it was a great decision to have made. I still think about what it would be like to be an NHL hockey player and that would be amazing as well, but I'm very fortunate to be in the position I am with golf, and I've worked hard at it. Hopefully I'll continue to have a good future.