CAMBRIDGE, ON. — Whistle Bear Golf Club head pro Adam Tobin is standing by the golf carts, giving a hole-by-hole description of the course set to host the upcoming Manulife LPGA Classic. "It's very windy here," he says, partway through the description. The wind drowns out the rest of his sentence. And most of the interview.
So, that's what the world's best are up against from June 3–7.
World No. 1 Lydia Ko, U.S. Open champion Michelle Wie, World No. 2 Inbee Park, four-time LPGA Tour winner Lexi Thompson and 17-year-old Canadian Brooke Henderson are among the players in a stacked field who'll be battling the wind and each other for the $1.5-million purse. The tournament is in its fourth year in the Waterloo region.
Sportsnet played the course (badly) and chatted with Henderson, who'll be the fan favourite here come Thursday. She turned pro earlier this season and had a career-best LPGA Tour finish in April when she tied for third at the Swinging Skirts LPGA Classic. Henderson, in case you've somehow missed this, is the blond-haired and blue-eyed kid from Smith Falls, Ont., who's the most promising female golfer we've seen in this country in a long, long, long time.
A few things you should know ahead of the tournament:
*There aren't a lot of trees or wooded areas on this course. (Yet the Sportsnet ball managed to find one.) But what Whistle Bear lacks in trees it makes up for in bunkers. There are so, so, so many bunkers that you might as well keep your sand wedge out. Whistle Bear is home to 103 bunkers.
*No. 8 is the signature hole. Not only is it a beauty—a 146-yard par 3 over water—but odds are Henderson is going to crush it. That's where she was stationed on the tournament's media day back in May, teeing it up over and over and over with each foursome that came through. She probably played No. 8 at least 10 times that day alone. She knows it well.
*Whistle Bear is windy because it's wide open. It's in one of the highest areas in the Waterloo region. Combine that wind with all the water on the course—10 holes have water—and that means you should bring a lot of golf balls. The course's GM Stephan McQueen notes there are "considerable ponds." He also notes, "The recreational golfer, they're finding water here often." True.
*Canadian content in the Manulife PGA Classic includes: four-time Tour winner Lorie Kane (her last win came in 2001); Alena Sharp; Jennifer Kirby; Sue Kim; reigning Canadian women's amateur champion, Augusta James; and Brittany Henderson. Brittany is Brooke's older sister and a rookie on the Symetra Tour, the LPGA's feeder loop.
*Henderson is nice. When the Sportsnet ball sailed way (way, way) right on No. 8, she said: "Perfect," and smiled. Thanks, Brooke.
*Check out Henderson's golf shoes: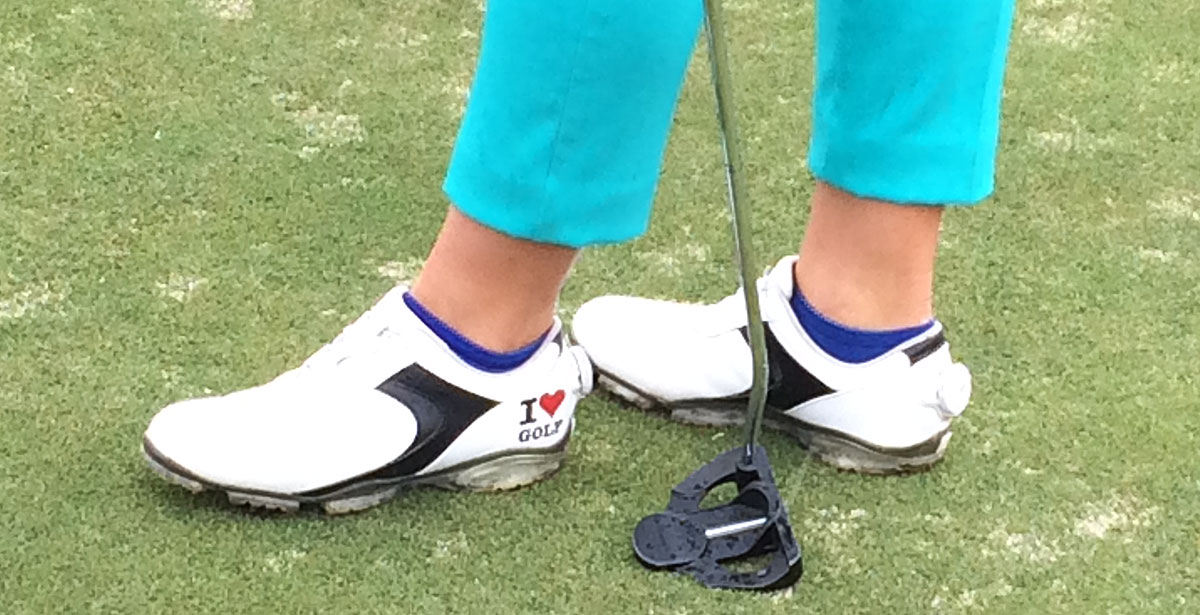 *A few more course notes from Whistle Bear's pro (who you could hear for short spurts when the wind died down a bit). "The front nine is a little more forgiving," Tobin says. "Once you hit 14, it gets tough." No. 16 is the longest hole on the course, at 591 yards.
*Let's call this the Henderson Effect: On the tournament's media day, there was a hockey-sized scrum around her. One writer said it was 10 times as much attention as the tournament drew last year. And when Henderson is contending in a tournament, Canadian traffic on the LPGA Tour website goes up more than 200 percent. This kid is good for the women's game. Henderson isn't yet a carded member of the LPGA Tour because she's only 17, and you have to be 18. If she wins a tournament, you have to think the Tour will allow her to earn status at 17, as they did for Lexi Thompson as an underager.
*No 18 will set up as a nice finishing hole. It's a long par 4 at 476 yards, with a wooded area to the left (which Sportsnet found) and fairway bunkers to the right and left. Says Tobin: "I think a hack will struggle at No. 18, for sure." True.
*After a whirlwind season so far that saw her go from Hawaii to Palm Springs to San Francisco to Dallas to Cambridge in the space of a month, after Monday qualifying and earning sponsor's exemptions to play on Tour, Henderson is looking forward to playing at home. "Canadian fans, they clap for everything—even when you hit a bad shot," she says. "I hope it's crazy." Henderson is enjoying the attention she's been getting lately. "It means you're doing something right," she says.
*If you live in the area, this is not only your chance to see Henderson live, but also to see Lydia Ko in action. She was 17 when she took over World No. 1. The New Zealander is the youngest golfer ever to earn that title. She has won two of 10 tournaments she's played on Tour this season, and her last six finishes have gone like this: Third, T6, second, won, T7, T2.