Tiger Woods was one birdie short.
That's one way to look at it.
The other way, of course, is to say that in only the 14th competitive round of his latest comeback, Woods nearly forced a lot of people who said he'd never contend again to eat their words by coming within a stroke of forcing a playoff at the Valspar Championship in Tampa on Sunday.
It all depends on what standard you wish to hold the 42-year-old legend to at this unusual point in his spectacularly unusual career.
You can think he's not quite all the way back. Or you can think it's incredible that in such a short time he has clearly demonstrated he's essentially all the way back. Those who criticized his swing or thought all the injuries would never allow him to vie for PGA titles are having to think again, and accept that Woods just may be able to get back to the top again.
What we can agree on is that the PGA Tour was again transformed on the weekend. We set our clocks back, and Woods made it seem like it was, oh, 2013 or so. The PGA is back to being a tour on which it's about Tiger and everybody else. He draws crowds like no other player in the sport can, drives TV ratings in a similar fashion, and still has an effect on his competitors like no other player does.
Poor Brandt Snedeker was unlucky enough to find himself playing with Woods for Sunday's final round. After he birdied the first hole to pull into a share of the lead with Woods at 9-under par, Snedeker exploded, finishing with an ugly 78.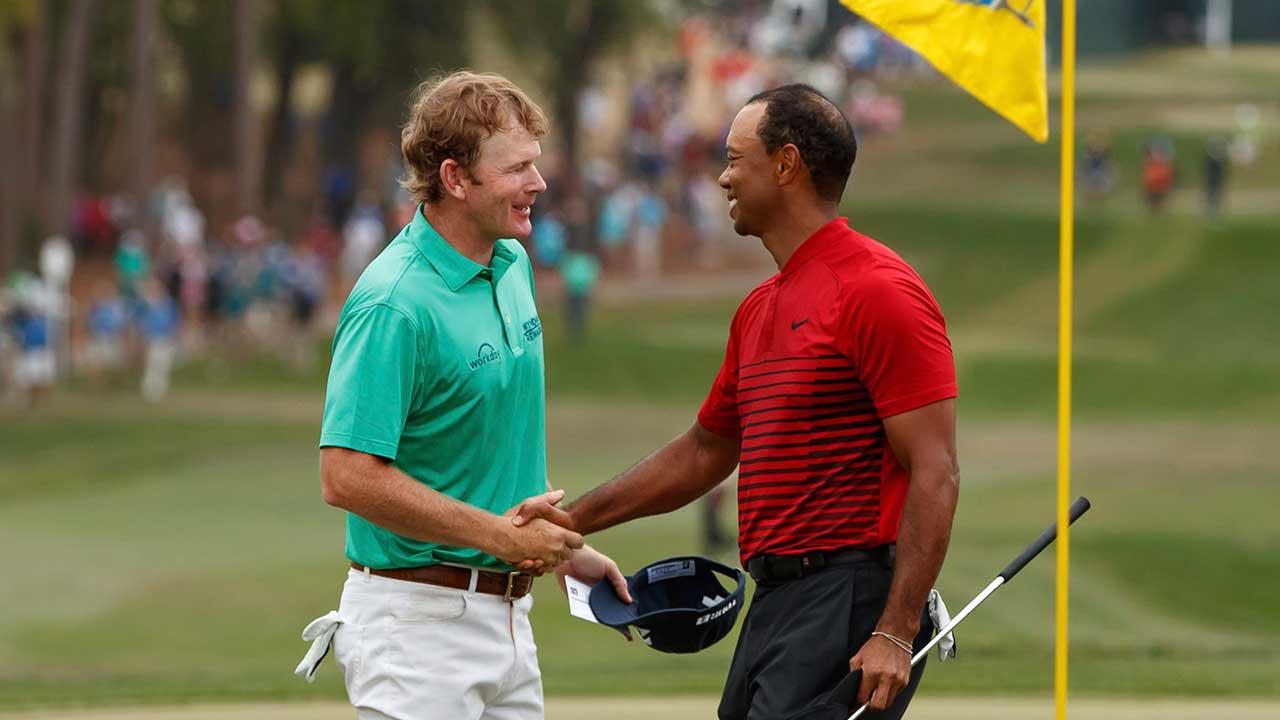 Canadian youngster Corey Conners, meanwhile, led the tournament after 54 holes. He was fortunate enough to not be paired with Woods on Sunday, but instead was one group back in the final pairing with Justin Rose. Playing in Tiger's wake isn't much easier than playing with him, as you're faced with massive crowds literally running away from you all day to catch up with Woods.
Conners, 26, made out only marginally better than Snedeker. Out of Listowel, Ont., by way of Kent State University, Conners was playing in only his 21st PGA event. The unflappable nature and silky smooth swing he showed on Thursday, Friday and Saturday gave way to an understandable case of the jitters on Sunday. He hit a tree with his second shot on the first hole and bogeyed it, bogeyed No. 3 as well and ultimately finished with a 77, a tough but valuable learning experience.
Conners actually ended up one shot behind fellow Canadian Adam Hadwin, last year's Valspar winner.
Patrick Reed, finally, was playing in the group ahead of Woods on Sunday, close enough to feel the impatience of those enormous galleries breathing down his neck. Reed walked on to the 18th green with a share of the lead, but watched in horror as a long uphill putt didn't make it up a ridge and rolled back to his feet, wrecking his chances of winning.
All in all, it was a final Sunday that seemed to show the Tiger Effect can still have an impact if you're playing anywhere close to him.
A vintage Sunday roar for @TigerWoods. pic.twitter.com/oyyUfP1QyE

— PGA TOUR (@PGATOUR) March 12, 2018
English veteran Paul Casey wasn't, and he won the tournament for only his second PGA win. Casey shot 65 with only 21 putts, and then had to wait for eight groups to finish before learning he was victorious. After 47-year-old Phil Mickelson won last week in Mexico, the 40-year-old Casey made it two in a row for forty-somethings on tour.
"I played with a heavy heart. Maybe that was the difference," said Casey, who told reporters he lost a close friend last weekend.
Still, even with Casey's achievement, the headline was Tiger, which is what people love about Woods and hate about him at the same time. His very presence suffocates the rest of the tour even when he doesn't win, just as it did before he ran into his "troubles."
He actually wasn't that good on Sunday, shooting 70 after starting the tournament with rounds of 70-68-67. There were too many missed opportunities. After his birdie on the first hole, he played the next 15 holes at one over par with no birdies.
"I didn't feel that sharp with my iron game," said Woods. "It was one of those days I kept getting a half-club."
But trailing Casey by two shots and facing a 44-foot putt on the 17th green, Woods snaked the putt home to pull within one with one hole to play.
"I hit it with what I thought was good dying pace, and it took forever for that green to take it," said Woods. "It finally did at the very end."
It was an incredible putt, and an extraordinary moment that seemed to end any discussion about whether Woods can compete at the highest levels of the sport again.
On the 18th, Woods hit an iron off the tee, something he did all weekend at the tight Copperhead course. That left him about 185 yards to the green and in need of a miracle, but his approach produced a long birdie test that, this time, he couldn't pass. Casey was overjoyed, both to win, but also not to have to go out there again for a playoff and face those raucous Tiger crowds.
Woods showed length off the tee in all four rounds when he had to, although this course didn't force him to hit driver as much, which had been hurting him in earlier events.
"I keep getting a little better, " he said. "I had a good shot at winning this golf tournament."
Next up is the Arnold Palmer Invitational at Bay Hill in Orlando next weekend, an event Woods has won eight times. If he's going to win a tournament before The Masters next month, it stands to reason this is his best shot.
"I've had some good memories there," he said.
Next weekend's field includes Jason Day, Tommy Fleetwood, Rickie Fowler, Charley Hoffman, Hideki Matsuyama, Rory McIlroy, Rose and Bubba Watson, so there will be lots of competition for Woods. He's now played four events in 2018, missing the cut once, and so far there's no sign of his chronic back issues flaring up.
Casey said the rest of the tour should be thrilled with what Woods is doing.
"I'm a fan of golf as much as I am a player," he said.
It's just a different tour with Tiger. No one can deny that now.