The patrons at Amen Corner waited all day for a birdie on the notoriously difficult 11th, and of course the man who delivered for them was Tiger Woods.
He delivered all day.
Woods, who shot a 4-under-par 68, sits just one shot back of the lead held by a five-some of major champions at 7-under going into the weekend at the Masters.
He decided to wear mock turtlenecks this week – a throwback – and so far his wardrobe choice isn't the only thing that's been part of a vintage Woods performance through two rounds.
Yes, there are a lot of things different about Woods, the man, and Woods, the golfer in 2019 than the last time he wore the collarless shirt. The first act of his career saw a dominating figure that transcended sport and became a global icon. The second: an immeasurable fall from grace.
Now we're in act three. A win last year at the Tour Championship brought the golf world to an excitable apex. But still, we wait. A major championship – after finishing tied for sixth and runner-up at the last two in 2018 – would be a coveted prize, as it always has been for Woods.
The 43-year-old spent most of Friday, save for a weather delay that killed some momentum through holes No. 12 and 13, chomping a stick of gum and trying to chase down the group of leaders that includes Francesco Molinari, Jason Day, Adam Scott, Louis Oosthuizen, and 18-hole co-leader Brooks Koepka, who are a shot ahead.
After the delay, there was what happened on 14. Never a dull moment following Woods.
He threaded his approach through a small opening in the pines to 28 feet, but he limped out of the trees after a security guard slipped on the grass and hit him in the Achilles.
He said after his round "accidents happen" and continued, with a smile, that "other than having four knee surgeries and four back surgeries" he was fine after being hit with a move more appropriate for the soccer pitch than the golf course.
Of course he was: he rolled in the curling birdie with an emphatic fist pump.
On the broadcast, Peter Kostis said it looked like the Woods of old after the putt. "There are some signs of the way Tiger used to play golf," he said. "Situations you expected out of him in years past."
After snapping his drive into the crowd, again, on 15, the microphones caught Woods with an audible "damn it."
The Tiger Woods of old, indeed.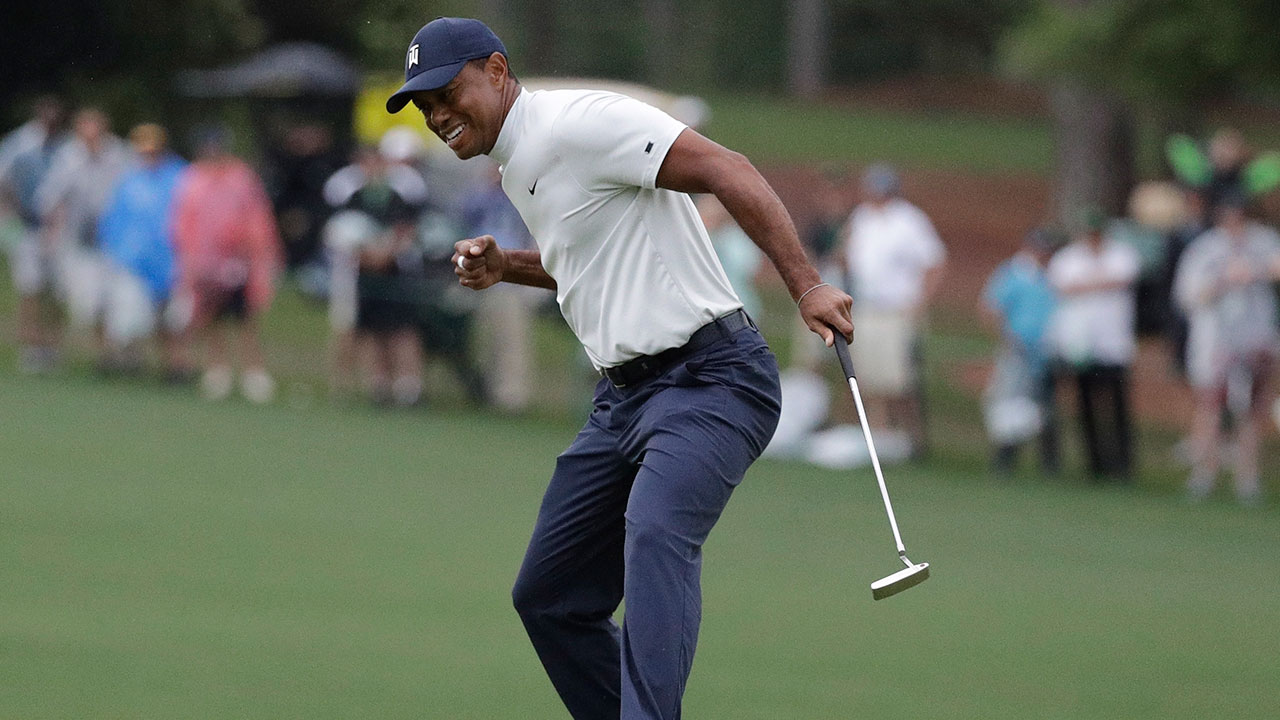 But between the celebratory fist pumps and questions of his health Woods, has, well, as good a chance as anyone to win this golf tournament.
The four-time green jacket winner's Saturday scoring average at the Masters is 69.95, and his lowest-ever recorded score at Augusta National is 65. He's shot 65 twice – both times on a Saturday, and both times en route to winning (1997 and 2005).
"Maybe there is some scoreboard watching," said Verne Lundqvist as Woods came to the par-3 16th, just one shot off the lead at the time.
It was wet all day, and the leaderboard is bunched. Guys were able to take advantage of softer conditions. There are 11 players within two shots of the lead.
And Woods is one of them.
Woods, who has 11 top-five finishes at the Masters but none in six years (he didn't even play the tournament in 2014, 2016, or 2017), had a confident look to himself early in the week. He'll play in one of the final pairings on Saturday, chasing history, as well as five golfers that are part of a generation inspired by him.
But nostalgia will only get you so far.
Woods has hit barely 50 per cent of the fairways. He's in the middle of the pack in putting – from 25 feet and beyond he's first in the field, but from five feet and in he's 84th out of 87 golfers. He averaged 321 yards off the tee in 1997. This week, he's barely hitting 295.
He has, however, hit 75 per cent of the greens in regulation. Woods' iron-play is sharp, and he's not that far out of it as a result.
"The last three major championships I've been right there. It's three in a row I've been right there in the mix," said Woods in a post-round interview.
To stay in the mix after Saturday he'll need to avoid the security guards and probably get in a new piece of gum. He'll need to roll in a few more putts and definitely find a few more fairways. The crowd will be on his side, and maybe even some players will be cheering him on too.
And while he spent Friday moving up the leaderboard, the real moving day will be a test for Woods' stamina – more unpredictable weather is in the forecast – and his scoring ability at Augusta National, as the golfers he is chasing are playing some of the best golf of anyone in the world.
But it's Tiger Woods and the Masters, and in 2019 he has a chance to win.
That's no throwback. It's time to see if can deliver again.