LONDON, Ont. — If you needed any indication that a game between the top two hockey nations on the planet could matter even if there was no hardware or points on the line, look no further than Captain Canada, Marie-Philip Poulin.
"Not gonna lie," she said, standing at ice level at Budweiser Gardens, still wearing her jersey and a straight face after a 1-0 loss to the rival Americans on Tuesday, "I'm probably going to be bruised up a bit after that one."
And the fact is, Poulin and Team Canada are just getting started. The inaugural Rivalry Series—a three-game head-to-head matchup between Team Canada and Team USA, which continues on Thursday with Game 2 in Toronto—is just one third over. There's no question, though: It's on.
After the game, Hilary Knight, the author of Canada's demise this time (and other times, too), in one breath talked about how amazing it was to play a hockey game in a sold-out building in a non-Olympic year. In the next breath, the star American talked about how fun it was to suck the air out of said building, scoring the lone goal in a win over Canada, in Canada, which of course brought temporary sadness to many in Canada.
"It's always a great feeling," Knight said of her goal late in the second period. "It gets really quiet and then it's like, 'wait, did we score?'" She pauses. "Yeah, we did."
Earlier Tuesday, before this Rivalry Series officially got underway, a whole bunch of players talked about what was on the line in the showcase that wraps up with Game 3 on Sunday afternoon in Detroit. Canadian star Rebecca Johnston said it was pride. Teammate Natalie Spooner said it was a chance to shed the underdog label and beat the Americans for the first time in a long time (Canada hasn't won a major title since 2014). Defender Renata Fast said momentum can be gained ahead of April's world championships. And all of that is more than enough.
"I mean, if it were for a piece of gum, U.S. versus Canada," Knight said, eyebrows up, "the rivalry would still be as passion-filled as it is."
If you watched Game 1, you could've been convinced there was not just a stick of gum, but a big cheque going to the winners. This game had all the intensity of one that mattered in scorebooks. Any player headed to the opposing team's net could expect to be met with a facewash, a couple hacks, clutches, grabs and maybe unkind words. Sarah Nurse bowled over (skated through?) American goalie Alex Rigsby, who was sensational, making 33 saves for the shutout (and then Nurse skated to the penalty box). A full-out scuffle broke out when American defender Megan Bozek took down Canadian defender Halli Krzyzaniak on her way to the Canadian net, and then punches were thrown, fans cheered and both women ended up in the penalty box. Later, Poulin ran over Brianna Decker in the neutral zone (somehow, no penalty).
Though Canada had the Americans on their heels early and in the dying minutes, and had the balance of the shots, there was nothing getting past Rigsby. On the one American chance that went in, Canadian goalie Emerance Maschmeyer had no chance, losing a puck through a crowd that went off a body or two, and Knight was on the doorstep.
That did quiet the crowd, but not for long. In the third, when Canada was pressing and in desperation mode, the "Go Canada Go!" cheers were in full force. This crowd really brought it: Fast says she got chills in the warmup, and Poulin swears she couldn't hear coach Perry Pearn talking to the team between breaks, for all the noise. Much of it was high-pitched, too. More than 15 different minor hockey associations were in attendance, and none louder than the Devilettes, who reportedly bought 1,000 tickets. If this was an audition for London as a future home of women's pro hockey, the city nailed it.
And consider this: Snowy and icy weather meant schools were shut down in the city on Tuesday, yet 9,036 people—many of them school-aged kids—turned up at Budweiser Gardens for the 7 p.m. puck drop. That speaks volumes about the support for women's hockey.
This was an educated crowd, too. They knew to cheer expectantly when the puck landed on the stick of Poulin, author of the game-winners the last two times Canada won Olympic gold. They knew to turn it on in the third when Canada was pressing, down a goal. They knew to stand and clap appreciatively when this one ended, even if their team lost.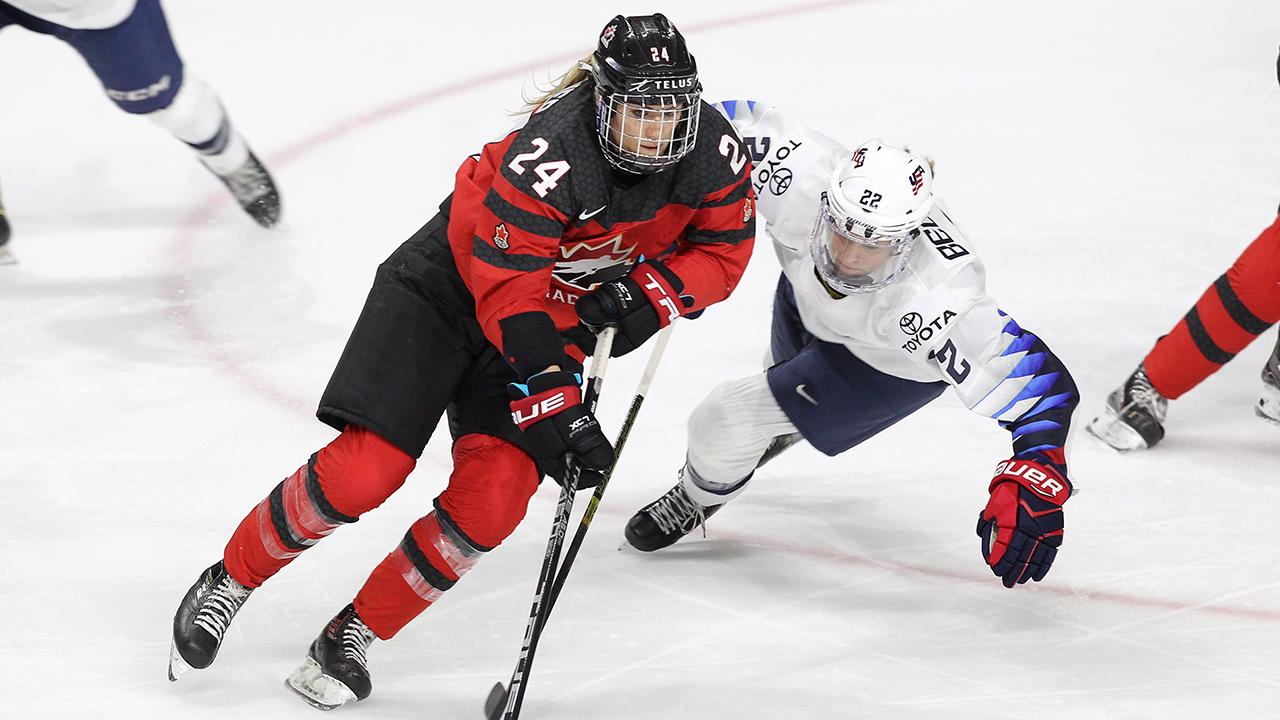 Fast says the players not only want to be on the winning side of this rivalry, but that they have something to prove and to work toward. "This is supposed to be our NHL," she said, after the loss. "We have a responsibility to put on a good show every night, a hard effort and really give the crowd and everyone watching from home a good game. This is an opportunity for us."
It's an opportunity not only to draw in more fans at a time when women's hockey is in the spotlight, on the heels of Kendall Coyne making herself a household name thanks to her jets (which she displays routinely on lesser-seen stages), but for the future of this event. It's the possibility that the two best teams on the planet can face off more than just a couple times a year like they usually do, at world championships and other international tournaments. Only one game in, both Fast and Knight think this Rivalry Series should become not just annual, but biannual. It's not only for the fans, Fast says. "It's for both programs, that's how you get better: Best on best."
"Whether it goes beyond this year or not, I don't know," said Pearn, the Canadian coach. "I'm sure everybody will be monitoring and reading how well this goes and if it goes really well, I'm sure there'll be more partners that want to come on board."
If Game 1 was any indication, this Rivalry Series will deliver the way Canada-USA match-ups always do. Game 2 takes place on Thursday at Toronto's Scotiabank Arena. Puck drop is 7 p.m. ET, and the game will be broadcast live in both Canada and the U.S., as will Game 3.
"There's definitely a lot of pride on the line and there's going to be some tempers and a lot of passion, and I think that's just what makes our rivalry the most beautiful rivalry in sport, is that we bring the level of compete, and on the other side it's a respect level," Knight said. "You respect your opponent that much that you want to gut it out night in and night out."
American head coach Bob Corkum, who came to this program late last year, said he was "just happy to be here" after the win. Corkum was fired in January of 2017 as assistant coach with the Islanders, and after an invite to check out the women's game, he says he was hooked.
"Obviously, the strength on the men's side is much greater, but the women, the skill, the speed, it's all there," he said. "And just the sacrifice that the women at this level have to put themselves through to play at this level, it's really incredible."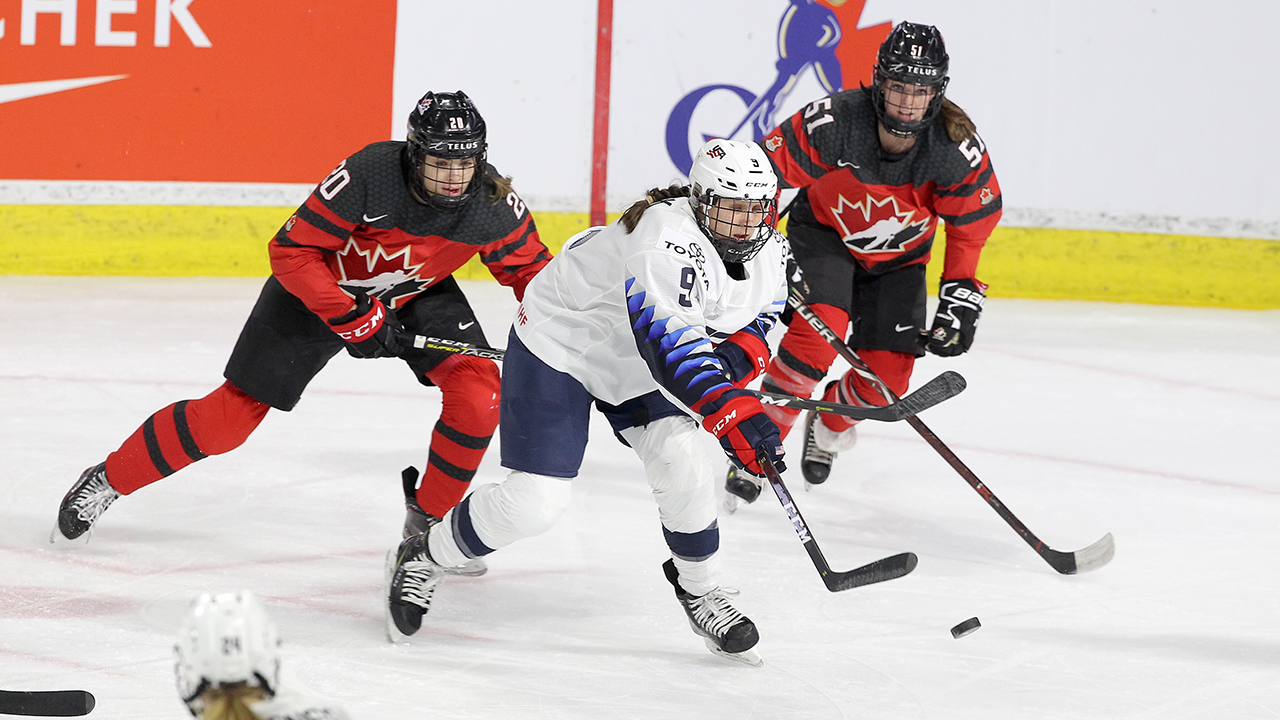 Pearn is coming from the same boat, having coached at the NHL level as an assistant, last with the Canucks in 2016-17. As much as he was disappointed to not come away with a win, the night was a success in his mind.
"The building was full and for the people playing in the game, I think that's the kind of crowd they deserve, because if you look at that from an entertainment standpoint, I think it's a pretty good hockey game," Pearn said. "I was around the NHL a lot of nights and I was glad that I wasn't paying for my ticket in terms of the entertainment value in the game that I was involved with.
"Tonight, I think we gave everybody that spent money on a ticket their money's worth."
Even Poulin, who's as competitive as they come, couldn't help but smile after the loss. The game proved that the support for women's hockey at the highest level is there, and not just in an Olympic year.
"It's just the step forward, that we're gonna get support throughout these four years," she said. "That's what amazes me, the crowd in London and seeing the red and white in the stands is quite awesome."
And then it was time for ice and recovery. It's go-time again on Thursday in this three game set, and Poulin is expecting more of the same. "It's always like a gold medal game when we play the Americans," she said.